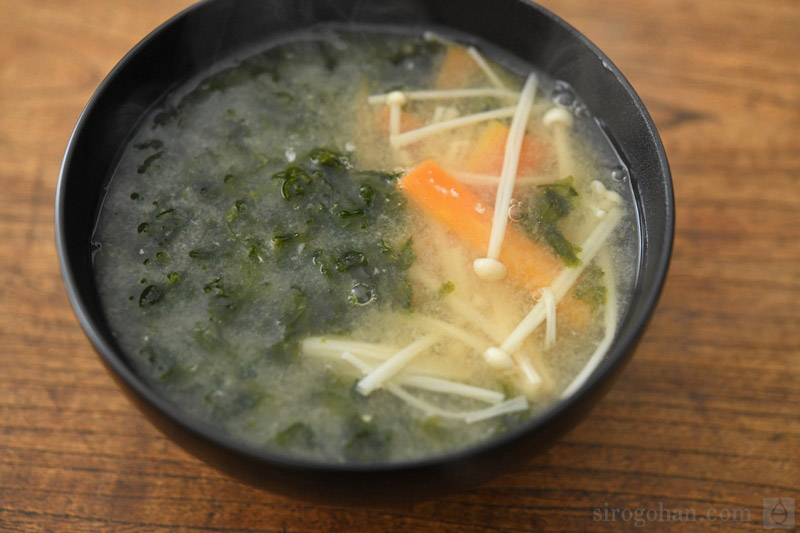 Cooking time: 10 minutes or less
A recipe for miso soup that allows you to enjoy the scent of the shore. First, divide the sea lettuce into a bowl, make miso soup with carrots and enoki mushrooms, and pour it.
Keywords for this recipe

Sea lettuce
Enoki
Carrot
How to make sea lettuce miso soup
Preparation of sea lettuce and vegetables
First, divide the sea lettuce (dried) into a bowl (it is not necessary to heat it in a pan as it will cook quickly).
Cut carrots into strips, and cut enoki mushrooms into strips and cut them in half.
* As for the dashi stock, please prepare your favorite dashi stock, whether it is boiled or dried bonito.
Sea lettuce miso soup recipe / finish
Put 500 ml of soup stock in a pan, add carrots and enoki mushrooms from the beginning, and heat over medium heat.
When it boils, reduce the heat andCook the carrots for 2-3 minutes.
When the carrots are cooked, melt in the miso.* While watching the taste, try adjusting 2 and 1/2 tablespoons of miso as a guide.
Warm it again until just before boiling, then pour it into the bowl containing the sea lettuce.
The miso soup is ready with plenty of sea lettuce spreading in the bowl and enjoying the nice aroma of the shore!
[Supplement]
Personally, I want to make miso soup like a side dish that goes well with rice, so I prefer a stronger taste. Adjust the amount of miso according to the strength of the miso used at home and whether to make the miso soup "a side dish-like thick finish" or "make it a light soup".
..