After a while on hand and experiencing the Realme C25, this Realme smartphone has left me a strong impression by its good configuration, large battery capacity, simple and close design. Today, I will bring you the Realme C25 performance review that I promised in the Realme C25 battery review last time. Let's start.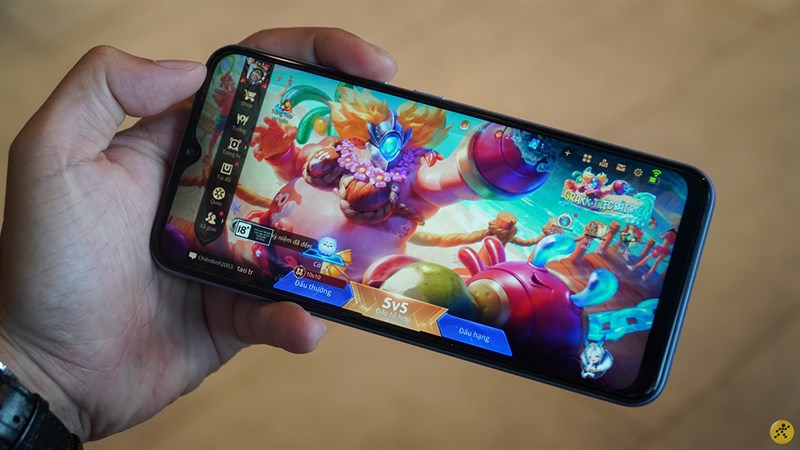 See more: On hand Realme C25: An impressive 6,000 mAh battery, stable configuration with G70 helio, simple and friendly design
1. Hardware configuration parameters of Realme C25
Before entering the performance review, I would like to repeat a little about the configuration of the Realme C25 that I am using to evaluate:
Screen: 6.5 inch size, IPS LCD panel, FullHD + resolution.
CPU: Helio G70, 12 nm process.
GPU: Mali-G52
RAM capacity: 4 GB.
Battery: 6,000 mAh, fast charging 18 W.
Internal memory: 128 GB.
OS version: Android 11.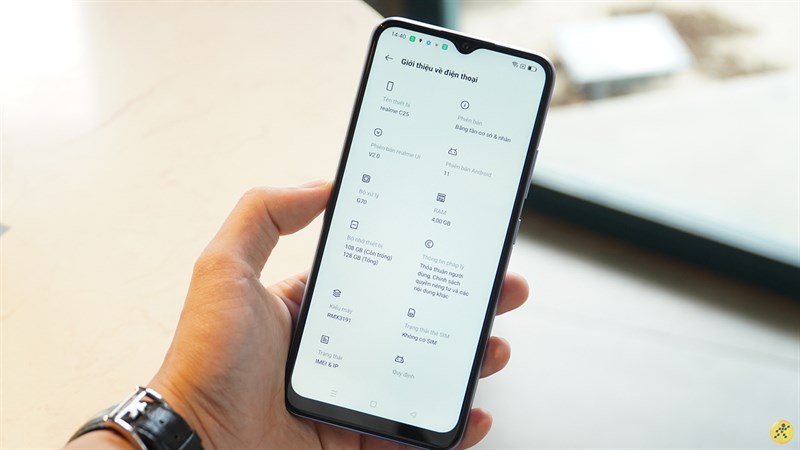 With the gaming experience I have said the device gives the ability to battle the game is stable, but how is it okay? Let's check it out in the practical experience.
2. How will the power of the Realme C25 be expressed in numbers?
To have a more general overview of the performance of Realme C25, I used the machine to score the performance using Geekbench 5. The Helio G70 chip equipped on the Realme C15 reached 385 single-core and 1,303 points multi multiply.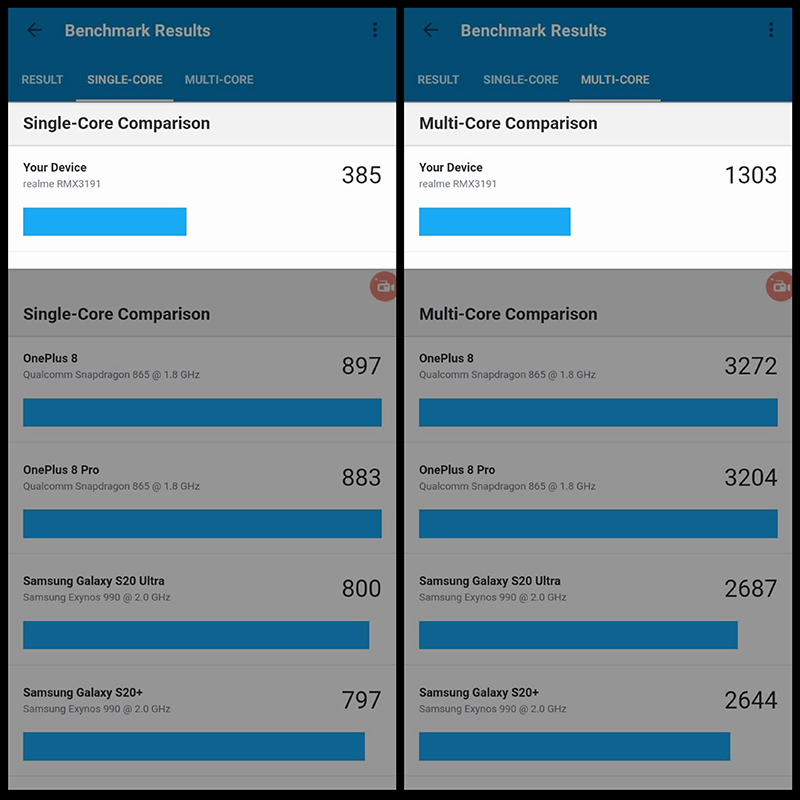 In my opinion, the score is for reference only and practical experience is important. Right below will be the actual gaming experiences.
2. Realistic battle game on Realme C25
In addition to using the performance scoring application to evaluate objectively, I also download and play 3 popular games such as: Lien Quan Mobile, PUBG Mobile and Call Of Duty Mobile for your reference. One part is to monitor and evaluate the performance, the other part to be able to have a bit of entertainment.
To be able to evaluate the most objectively, so I also record all the data about FPS, configuration and actual gaming experience, you can refer to via the link here.
Arena of valor
The first is Lien Quan Mobile, instead of the settings and settings in the game at the highest level that the machine can play smoothly.
HD resolution: high.
Image quality: Average.
Details: Medium.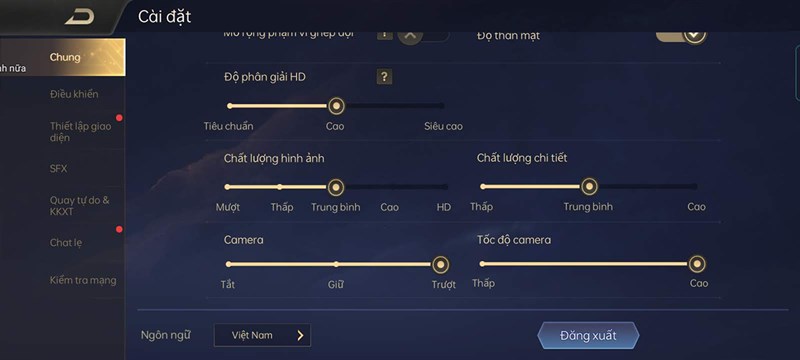 For a MOBA game like Lien Quan Mobile, Realme C25 has to say that it is very smooth handling all from the image to the effects in the game. Unfortunately, the configuration of Realme C25 cannot open High FPS with 60 fps, but I only play with 30 fps by default.
Although not up to a high FPS of 60 FPS, Realme C25 still maintains a stability from 28 to 30 FPS, lagging still occurs but not too much and does not affect the user experience. I really have to give praise to the Realme C25 when it offers great stability.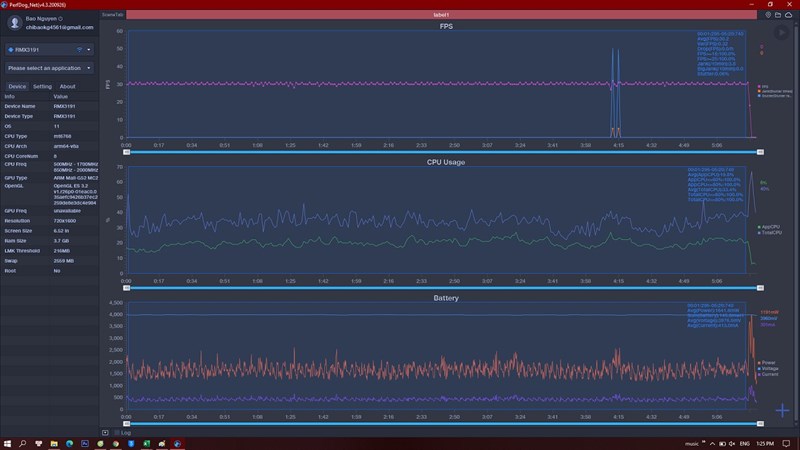 PUBG Mobile
Next is PUBG Mobile, I will also set the game at a graphics level that the machine can play as smoothly as possible, usually I will prioritize reducing the graphics from HD to balance to prioritize increasing the frame rate. The image is extremely high to optimize the smoothness of the experience.
Graphics: Balanced.
Frame rate: extremely high.
Anti-aliasing: On.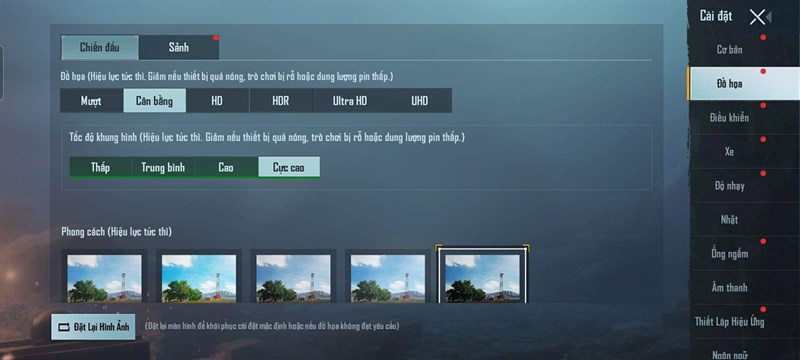 With PUBG, FPS does not reach the maximum of 60 FPS, but only stops at 40 FPS. During my experience playing PUBG with a relatively good level of detail, it was difficult to see details far away, but in return, the FPS was maintained stably with an admirable frequency from 28 to 30 FPS. The phenomenon of lag or FPS lag during the game still appears, but the frequency is not too much.
Personally, Realme C25 with Helio G70 chip has performed very well when providing a stable experience for a machine with modest configuration like Realme C25.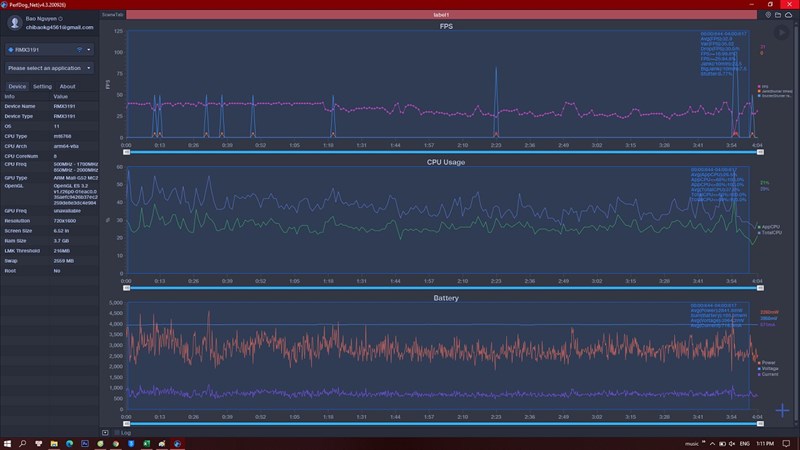 Call Of Duty Mobile
Finally, the Call Of Duty Mobile game, similar to PUBG Mobile, I will also lower the image quality a little more to prioritize the number of frames per second, doing so Realme C25 will give a smoother experience. and more stable of the game.
Image quality: High.
Frames per second (FPS): Max
Enabled modes such as: Depth of field, Anti-aliasing, Shadow.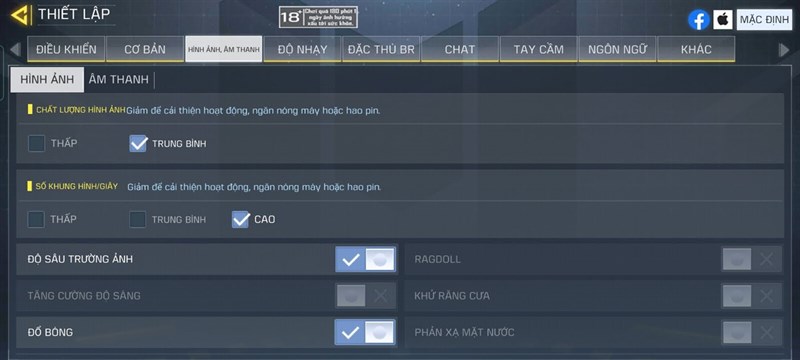 At first I thought that Realme C25 would be difficult to carry this game. But compared to reality, I feel the experience of moving frames is very smooth. Actually, Realme C25 does not seem to have any difficulty when fighting Call of Duty Mobile, on the contrary, the machine also gives an extremely stable playing experience, even though the FPS chart fluctuates continuously.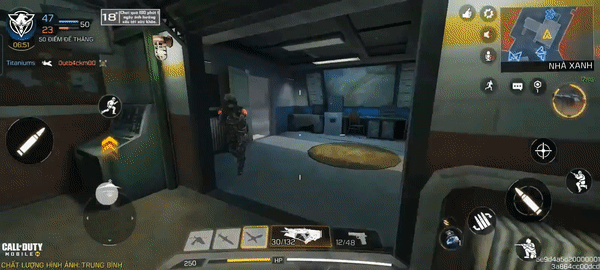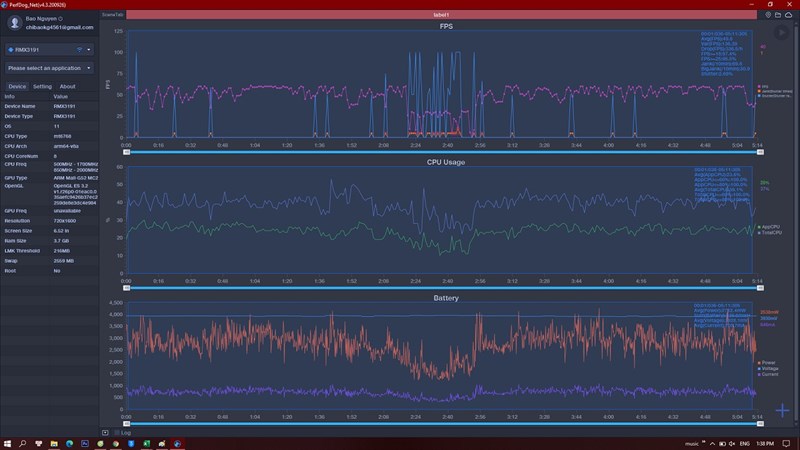 Realme C25 with 6,000 mAh battery for impressive continuous gaming capabilities
As I said, besides the moderate configuration, the Realme C25 stands out the most is still a 6,000 mAh battery. I am curious that if I play a game continuously for many hours, how long will it take for the 6,000 mAh battery of the Realme C25 to run out of battery?
To answer that question, I will do a continuous gaming test of one game until the battery runs out on the Realme C25. Before starting, I would like to share a little bit of the conditions I have to test.
Play a single game until the battery runs out
Brightness: 100%.
Plug in wired headphones throughout.
Turn on WiFi and social media notifications.
Do not turn on battery saver, screen adaptive, GPS and Bluetooth.
Dot from 100% from the time of charging withdrawal to 0%.
And my results obtained after a long time playing games on Realme C25 are as follows: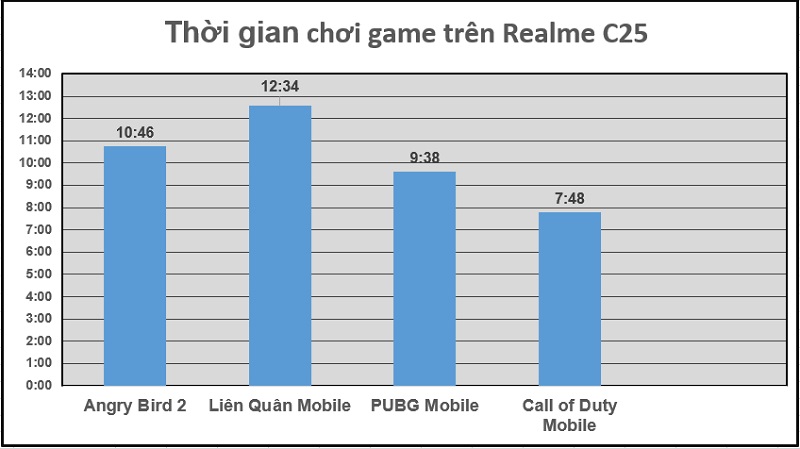 Play a game from full to low
Brightness: 100%.
Plug in wired headphones throughout.
Turn on WiFi and social media notifications.
Do not turn on battery saver, screen adaptive, GPS and Bluetooth.
Dot from 100% from the time of charging withdrawal to 0%.
As I thought, Realme C25 with 6,000 mAh battery gives me very long gaming time. In general, the time I can experience the games is very long ranging from about 8 hours to about 12 and a half hours.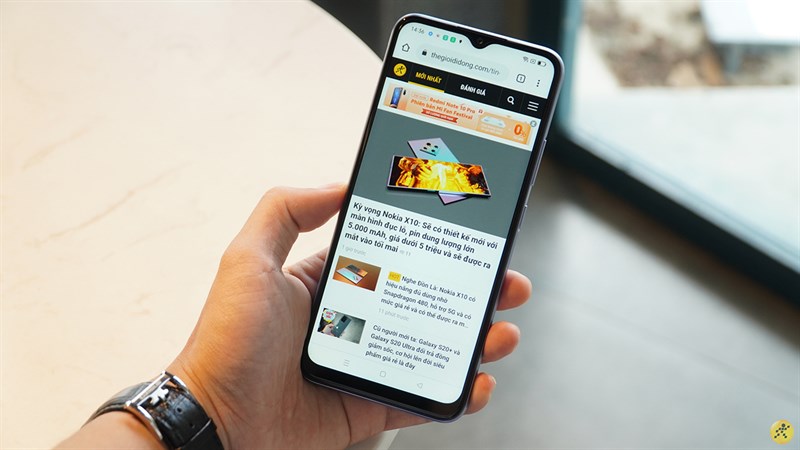 I know that few of you can play games on your phone continuously like that, but the purpose of the above test is mainly to let me see if Realme C25 can bring time to use for entertainment, gaming or work well or not?
After I have been fighting the game continuously, I would like to draw a comment that: Realme C25 is a machine with very good usage time, the machine will meet the needs of you from working, playing games, and entertainment. continuously.
Epilogue
Overall, the Realme C25 is a smartphone with a not too high profile, but it can still give us very good performance. Whether it is the task of playing games or light work, the machine will provide us with outstanding usage time with a massive 6,000 mAh battery.
What do you think about this Realme C25? Please leave your comments in the comments.
Thank you for taking the time to follow the article.
See also: Realme GT 5G detailed review: Boom with Snapdragon 888 chip, compact overall and 120 Hz screen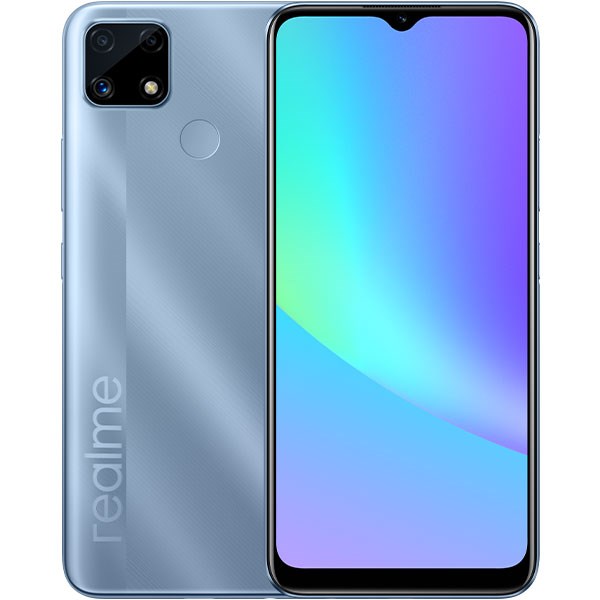 Realme C25
4.690.000₫
See details
Edited by Vuong Gia Bao
Not satisfied with the article
304 views
Related posts
🎧 24h what's in technology HOT 18/4: Xiaomi CEO shares photos on Mi 11X's hand, iPhone 2022 will use the hole punch screen


7 hours ago

Only today buy Realme C25 with super attractive hotsale deals, time is only in hours, quickly buy now


21 hours ago

Looking for a smartphone with a buffalo battery that uses 2 to 3 days to run out at a price of under 5 million, but must have a fast charger, buy now


1 day ago

Realme C25 battery review: 6,000 mAh battery for more than 11 hours of use is enough for you to be satisfied?


2 days before

Realme Q3 uses Dimensity 1100 5G chip to expose the specifications and price is very attractive, expected to be sold out when on shelves


2 days before

Realme 8 5G confirmed the configuration and revealed press photos with youthful, impressive Supersonic Blue color


3 days ago
.