As reported, after nearly a week of official launch, the first Windows 11 Preview version has also been sent to the participants of the Windows Insider testing program.
Most of the major Windows 11 changes that Microsoft introduced last week are in this Preview version. Thus, you can experience all the new features, new looks and more.
The main change in the design interface of Windows 11 is that the Taskbar is placed in the middle, almost similar to the Dock of macOS. The Start menu is also refreshed with a simpler interface. The windows have rounded corners, new logos and icons. The notification center is also changed and indispensable are the new wallpaper collections of Windows 11.
So, should we experience this version of Windows 11 Insider Preview or should we wait for the official version? Is this practical experience in Windows 11 Insider Preview okay to use for everyday tasks?… Let's answer some related questions together below.
1. Are the hardware drivers compatible in Windows 11 Insider Preview?
The answer is yes.
Although it is a new operating system version, most of the hardware drivers are compatible. Including graphics and sound drivers. They work perfectly.
The trick is that after installing a new Windows 11 Insider Preview from the installation ISO package, connect to the internet and wait for a few minutes, then the system will automatically identify, download and install all hardware drivers. Finally, you should restart your device for the best experience.
2. Does the use of Windows 11 Insider Preview need to be activated in order to have unlimited features?
The answer is: No.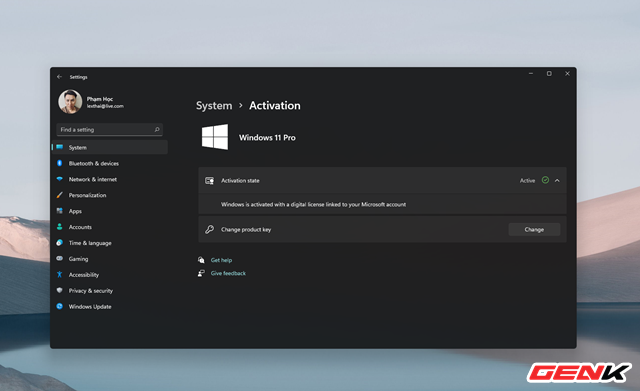 You do not need to activate the Windows 11 Insider Preview license because while configuring the installation, the operating system will ask you to sign in with a Microsoft account. And if this account has a subscription to the Windows Insider program, of course you don't need to worry anymore because it will be activated automatically.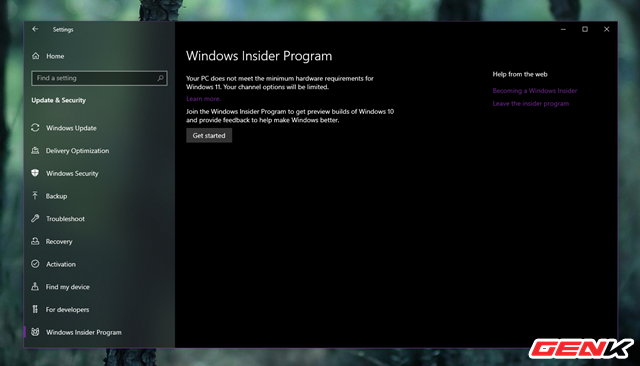 Readers can sign up for the Windows Insider program directly from Microsoft's website or from Settings > Update & Security > Windows Insider Program of Windows 10.
3. Does Windows 11 Insider Preview cause 100% Disk Usage??
The answer is: No.
It can be said that Windows 11 Insider Preview is a completely "smooth" version. It's not like early beta versions of Windows 8.1 or even Windows 10.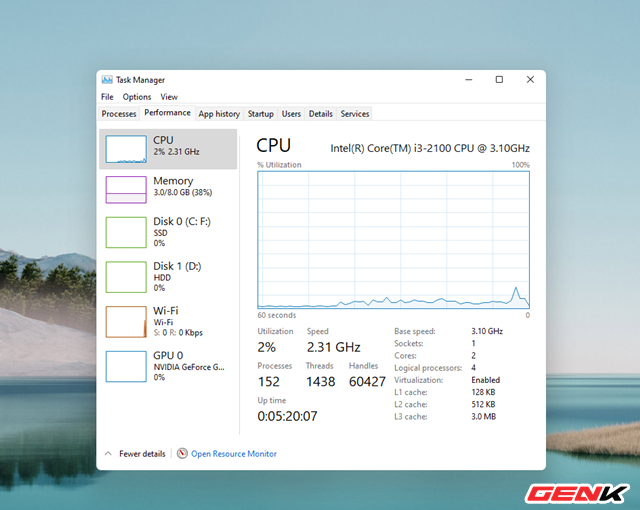 Of course, after installing and updating the hardware driver, you should also reboot a few times to stabilize the system.
4. My computer does not meet TPM 2.0 requirements, so how can I install and experience Windows 11 Insider Preview?
The answer is yes.
As reported, Windows 11 requires very strict hardware. Besides the basic requirements such as dual-core 1Ghz 64-bit chip, 4GB RAM, 64GB hard drive… Windows 11 also requires TPM 2.0 security chip.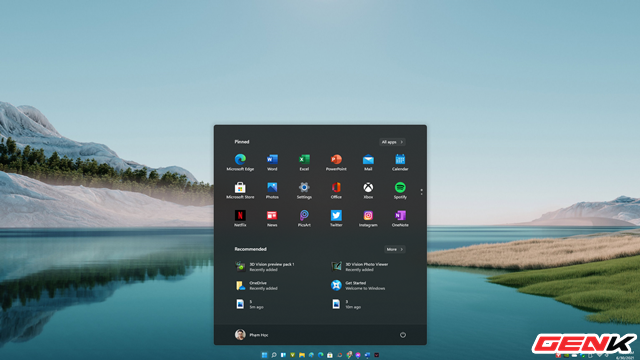 According to initial information published by Microsoft, a PC that only needs a TPM 1.2 chip is eligible to upgrade to Windows 11. However, Microsoft later corrected this information, and said that Windows 11 requires a PC. must have a TPM 2.0 chip. In addition, the list of supported CPUs shows that only Intel 8th generation or higher or AMD Ryzen 2000 or higher chips can install Windows 11.
If unfortunately your computer cannot meet the requirements to be able to install Windows 11, you still have a specific way of "passing" as follows.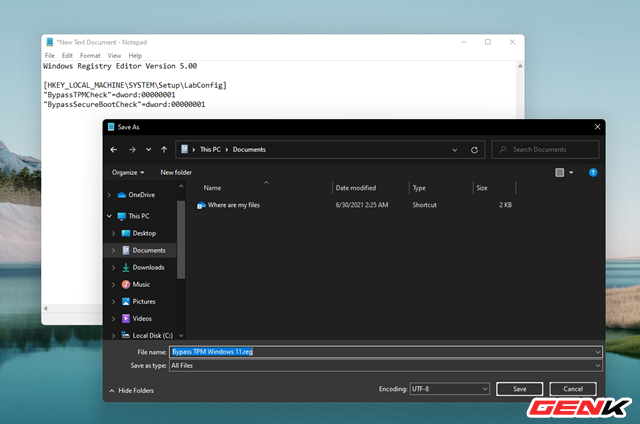 Right-click the Desktop and select New > Text Document. Copy and paste this code https://controlc.com/4e8feba4 in. Then save it with any name and change the file format from TXT to REG. Then save somewhere to avoid the Windows 11 installation partition.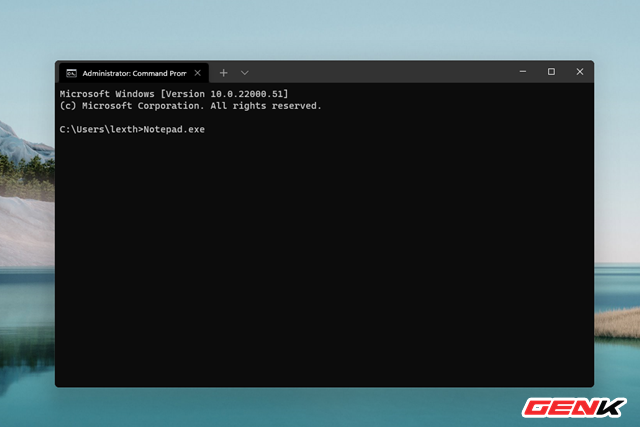 Proceed to install Windows 11 from DVD or USB, but when the TPM check window confirms that the computer cannot install Windows 11, quickly press the Shift + F10 keyboard shortcut to open the Command Prompt window. Then enter the command "Notepad.exe" and press the ENTER key.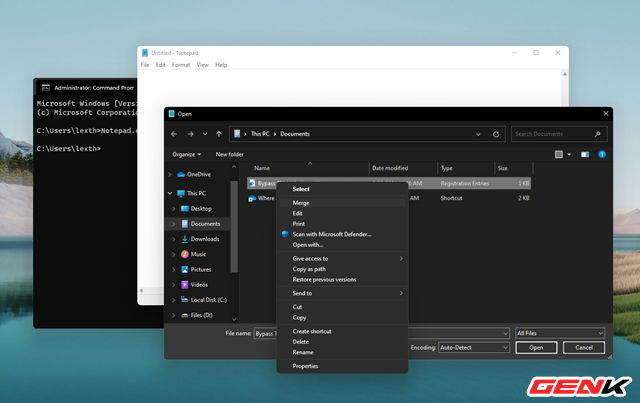 The Notepad window appears, click File -> Open. Navigate to the location of the REG file that you created in Step 1, right-click and select "Merge", then press YES in the window that appears to confirm and launch the file.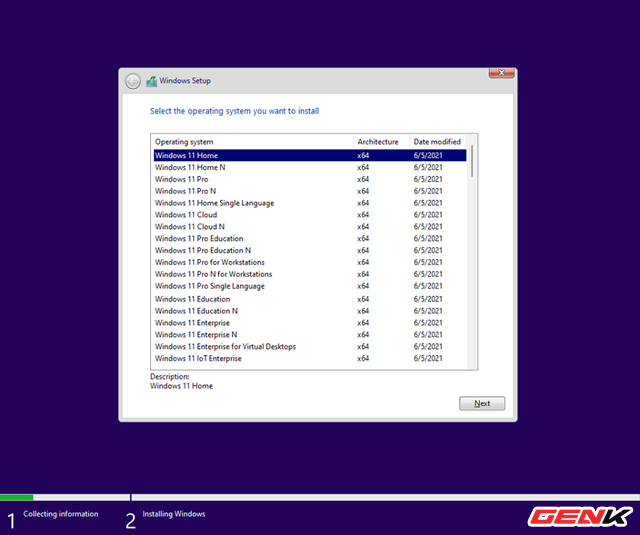 Now the TPM check window has disappeared and displayed in front of you is the Windows 11 installation version selection interface.
5. Is the game experience on Windows 11 Insider Preview ok?
The answer is: OK.
Although it is a beta version, Windows 11 Insider Preview offers an extremely stable game experience like in Windows 10 20H1. The phenomenon of FPS drop or jerky lag is not present.
In terms of gaming, Microsoft says this is an important part of Windows 11 as the new operating system will add Auto HDR, a feature in the Xbox Series X/S, which will be part of Windows 11. Turning on Auto HDR will be added. High dynamic range (HDR) for a large number of games running on DirectX 11 and DirectX 12 make them look better than before. Microsoft also promises the speed and performance of gaming on Windows 11 will be better than Windows 10.
6. Will the software and applications run stably on Windows 11 Insider Preview?
The answer is yes.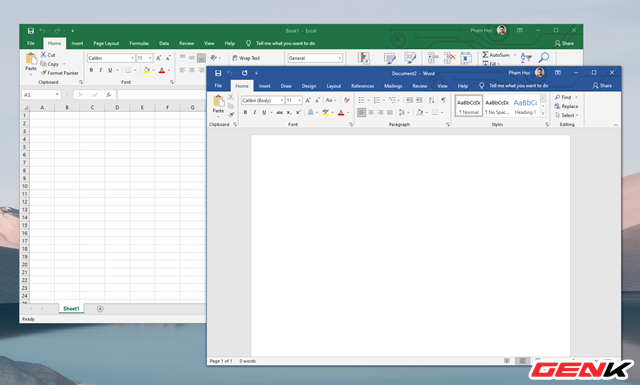 Popular and professional software such as Photoshop or Microsoft Office work stably, without any errors or crashes during use.
Summary
In general, Windows 11 Insider Preview is still an experimental version, so choosing to use it every day is not advisable. However, in terms of stability and compatibility, it is possible to install and experience for a long time. All decisions are up to you.
Hope the article will be useful to you.