Surely gamers are not fancy before INNO3D's extreme iChill line, and besides, this NSX still has cheaper, more affordable options and typically the RTX 3070 Ti X3 OC in the article. this.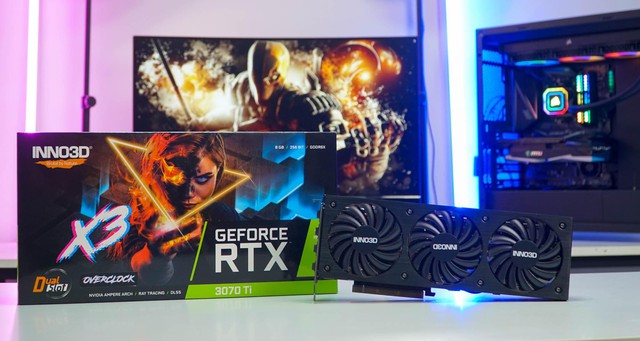 The appearance of the INNO3D RTX 3070 Ti X3 OC looks quite gentle when it is simply a square armor outside the heatsink. Accompanied by 3 9mm radiator fans to blow cooling air for all.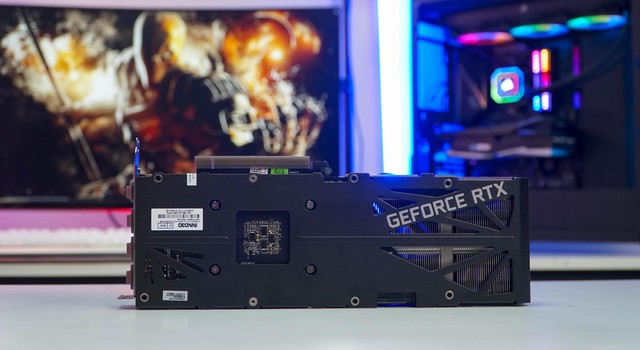 However, this graphics card still creates its own highlight when installed in the case with the backplate inherited from the iChill series with many cut lines, both beautiful and helping to let hot air escape more easily. In fact, when inserted into a PC in the usual way, this is the most prominent part and INNO3D has impressed its product in a very simple but effective way.
Some close-up pictures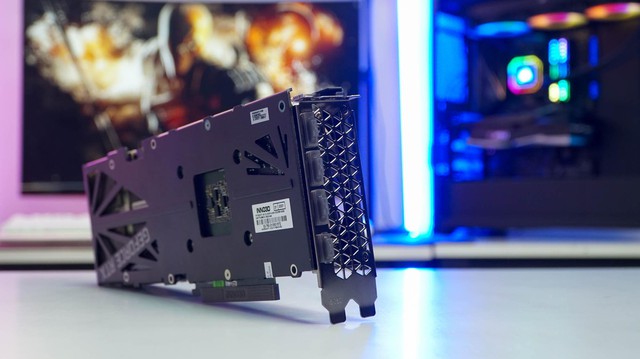 The RTX 3070 Ti series introduced by NVIDIA is focused on gamers with limited virtual currency mining performance. Specifically, NSX locked with hardware right in the GPU core, causing the hashrate to drop to ½, miners from there will not spend large amounts of money to buy these graphics cards. As a result, it is very possible for gamers to buy an RTX 3070 Ti to fight the game.
Back to the INNO3D RTX 3070 Ti X3 OC, we will test the product's gaming performance through the rig as follows:
Mainboard: ASUS Crosshair VIII Dark Hero (Wi-Fi)
CPU: AMD Ryzen 9 5900X
RAM: 2 x 8GB Corsair Vengeance RGB PRO SL 3200MHz
Source: Corsair HX750
SSD: Seagate FireCuda 520 2TB
Operating system: Windows 10 Pro Build 19041
The first will be the game Shadow of the Tomb Raider with the archeological adventures of the beautiful Lara Croft.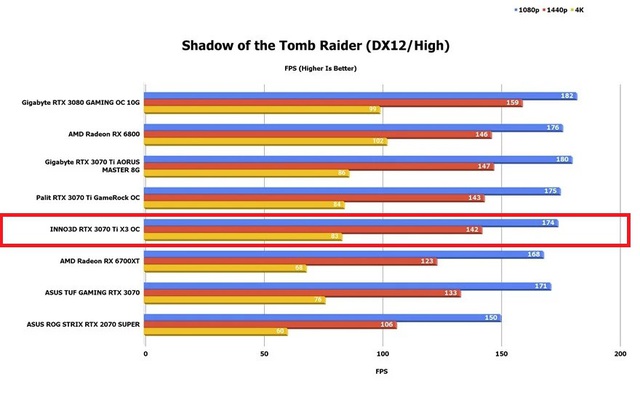 At the high setting of Shadow of the Tomb Raider, the INNO3D RTX 3070 Ti X3 OC can fight smoothly at all popular resolutions, even 4K is above 80fps and plays perfectly.
Next is Horizon Zero Dawn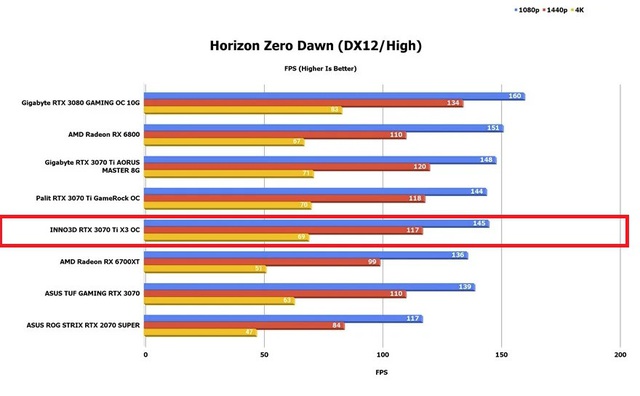 Similar to Shadow of the Tomb Raider, this graphics card can fight well in both full HD, 2K and 4K frames with high settings. Horizon Zero Dawn is obviously a bit heavier at lower fps, however even playing with 4K resolution is fine when the frame rate is above 60fps.
Try your hand at a very beautiful shooter, Metro Exodus: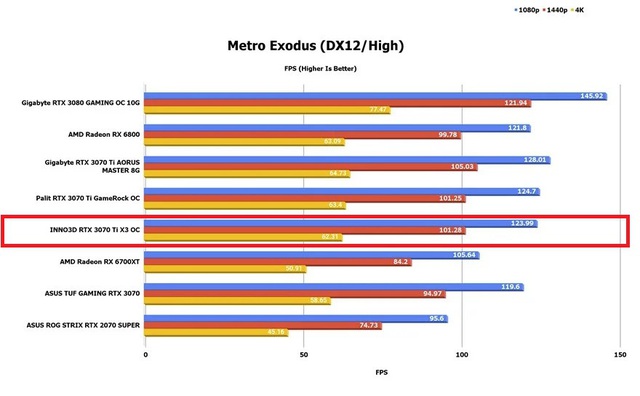 With Metro Exodus, the INNO3D RTX 3070 Ti X3 OC still maintains good performance when the average fps at 4K resolution is above 60. However, for hardcore gamers who specialize in playing first-person shooter series, owning a screen. If you have high-speed graphics, you should probably upgrade to a higher graphics card to get fps above 100.
Finally, the open world game Assassin's Creed Valhalla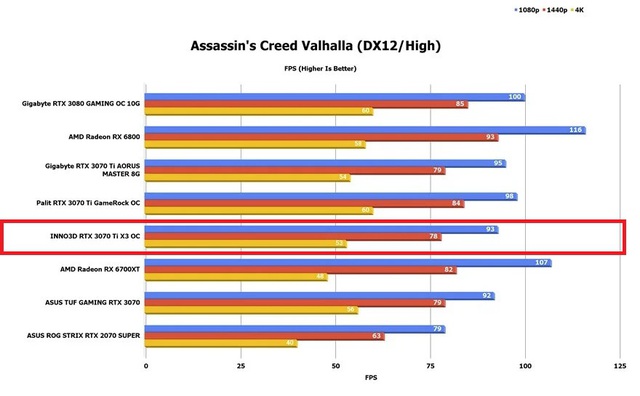 It can be seen that the fps level is quite low compared to previous games, but the INNO3D RTX 3070 Ti X3 OC still fights well at 2K and Full HD resolutions. At 4K resolution, the average fps is only 53, lower than the standard of 60 smoothness.
In terms of temperature, this graphics card performed very well with a full load of only 71 degrees Celsius in an air-conditioned room of 22 degrees Celsius. This is an understandable result when the INNO3D RTX 3070 Ti X3 OC is equipped with a heatsink. quite lean comes with 3 large blowers.
In general, the INNO3D RTX 3070 Ti X3 OC can meet the high-level gaming needs of gamers, smoothly playing many AAA games at high settings even with a 4K screen. However, if you want to maximize everything, it is relatively difficult, requiring spending more money to buy the RTX 3080 series and above.