#Qiming #Venture #Capitals #12th #CEO #Cloud #Summit #Week


On November 18-20, 2020, Qiming Venture Capital CEO Cloud Summit Week came as scheduled.
This 12-year event was hosted by Qiming Venture Partners.It aims to provide CEOs with an opportunity and platform to fully communicate and discuss, witness the pioneering power of technology and innovation, discuss the opportunities and challenges faced by TMT and the medical and health field in the face of huge changes, and at the same time look forward to future directions and trends .
Since 2009, Qiming Venture Capital CEO Summit is based in China and has a global perspective. It has always been a major event to promote the exchange and cooperation of investment companies and other high-quality resources in the industry.Following the tradition of many years, Qiming Venture Capital CEO Summit represents the highest level of relevant subdivisions in terms of agenda setting and guest lineup.
In 2020, a sudden new crown epidemic ravaged the world, redefining the world pattern, global economy, era and innovation. Change permeates every aspect of economy, society and human life.The two major areas of TMT and medical health that Qiming Ventures focuses on have highlighted important values ​​in fighting the epidemic, assuming responsibility, restoring the economy, and restoring confidence.Related investment and entrepreneurial opportunities are also rapidly emerging.
At a historic moment like this year, persistence and resilience are vital to any company, so the theme of the summit week is"Toughness leads to far." This implies that Qiming Ventures believes that for innovators, only by assuming a mission, maintaining resilience, insight into trends, and seizing opportunities can the crisis be solved.
Unlike previous years, this year's summit weekFully shifted from offline to online, from closed-door meetings to public meetings, and reinstalled through online live broadcast. The summit time has also been expanded from one and a half days to three and a half days. The conference will also be presented in both Chinese and English.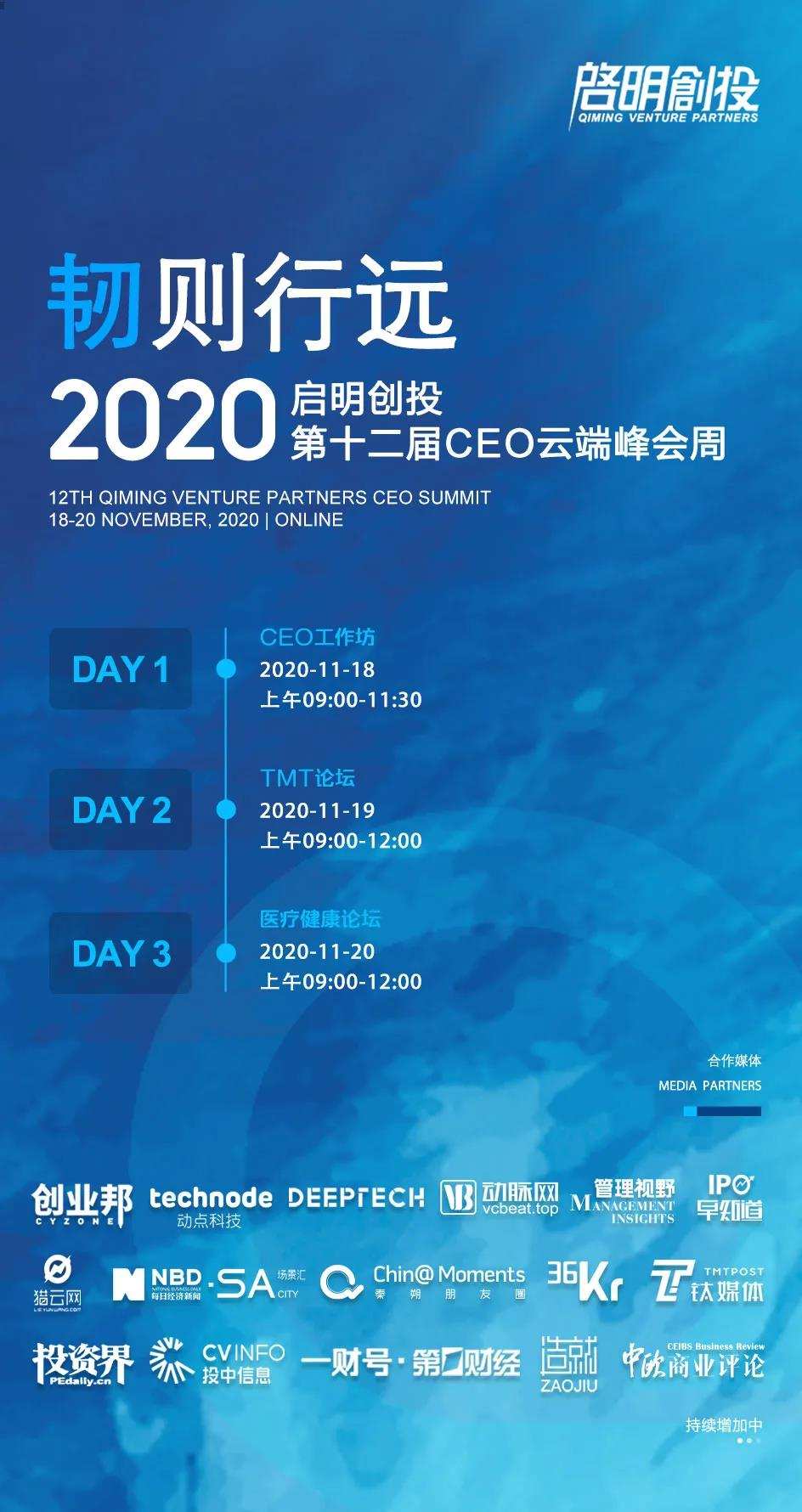 On the agenda setting,Qiming Venture Capital CEO Summit Week carried out a major "expansion". In the three-day schedule, a new CEO workshop was added on the first day to discuss topics related to corporate strategy, corporate and capital markets, and the second and third days were respectively For the TMT and medical and health forums, we will discuss a number of topics that are of general interest.
In terms of topic design,In the CEO workshop, experts from top investment banks, law firms and other institutions will explain in detail how to implement equity incentives, how to build and dismantle the red chip structure, as well as the A-share market reform process and the corporate listing process under the registration system , The successful listing strategies of Hong Kong stocks and U.S. stocks are highly professional and "grounded" at the same time, effectively helping CEOs solve core issues closely related to strategy and capital markets.
This summit alsoad hoc"Truth or Dare-CEO Ten Questions Qiming Venture Capital Partners",How does Qiming Venture Capital empower investment companies?What value has been, is and will be brought to the investment enterprise? Through the questions of the CEO representative, the three managing partners will answer them one by one.
In terms of lineup,At this summit, 18 CEOs from top companies on the most popular SaaS, semiconductors, new consumption, medical and health tracks gathered here. Gan and Lee Pharmaceuticals, known as the "King of Chinese Insulin", and Kang Xi, the global new crown vaccine leader Nuobiology and other sub-sectors, including founders and CEOs of leading companies such as Biren Technology and Woqu Technology, will participate in the two-day forum, many of which are the first to share entrepreneurial experience and experience; multiple partners of Qiming Venture Capital People will also share their investment experience and insights on the spot.
It's worth mentioning that Qiming Ventures will cooperate with manyMedia partnersAt the same time, we will convey topics related to innovation and entrepreneurship to the founders of innovative enterprises and the public from all angles.
On November 18-20, 2020, Qiming Ventures welcomes you to join the 2020 Qiming Ventures 12th CEO Cloud Summit Week to stir your thoughts and go to tomorrow together.

.