MISA is one of the best accounting software available today. The purchasing module in Misa helps users to manage the purchase details, the value as well as the quantity of each item. To help you manage your purchase more effectively, join ElectrodealPro to download Misa software to use and track the Misa purchasing module.
Related posts
How to use misa, use MISA accounting software
The reasons why you choose MISA accounting software
How to install MISA, setup accounting software
Fix the error of not typing Vietnamese on MISA
Top most effective accounting software for revenue and expenditure
Misa software is one of the familiar accounting software that helps businesses manage purchase orders, sales and purchase contracts, calculate discounts, service prices, … The software is suitable for domestic and foreign purchases in buying imported goods, through warehouse or not through difficult. With many management reports, it helps the director and accountant to closely manage the purchasing situation and monitor the liabilities of suppliers.
Purchasing module in Misa
Refer and download the latest version of Misa here: download MISA software
Automatically allocate the cost of purchases
The special thing is when using Misa, users can automatically allocate the purchase costs according to the value of the item or the quantity of that item. Helping businesses track goods according to specification codes such as IMEI number, frame number, machine number, …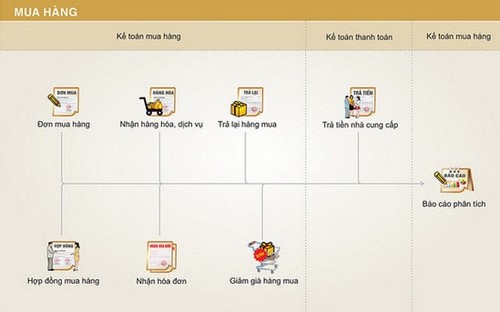 Business process diagram for purchasing on Misa sme.net
Fully perform purchasing operations
Misa fully satisfies purchasing operations such as: buying domestically, buying imported goods, buying services, buying goods through warehouse, buying goods without going through stock, buying goods first and then buying goods later, buying goods and receiving goods. before invoices and later, buying goods with discounts or discounts on purchases, …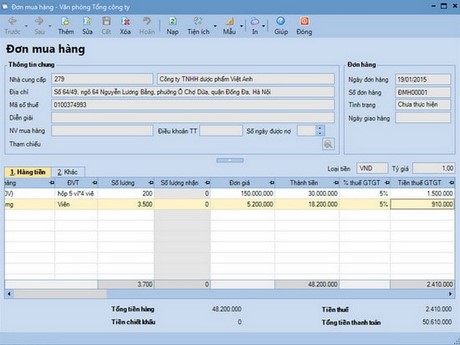 Allows to track purchase costs
In the purchase module in Misa, the user can automatically allocate the purchase cost such as: shipping fee, loading and unloading fee, …. pre-customs costs for each item according to quantity, value, or determined by the accountant. A special point is that the accountant can choose multiple purchase expense vouchers to allocate to one purchase vouchers or vice versa one expense vouchers allocated to many purchase vouchers.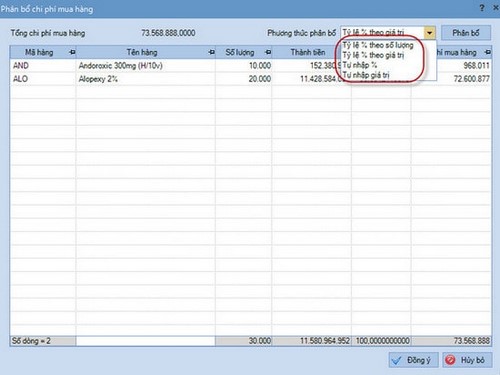 Allows tracking payment of items, purchases at discounts
The purchasing module in Misa meets the service of returning purchased goods in 2 forms: debt deduction or cash back, issuing invoices to return purchased goods to suppliers, making out-of-stock receipts together with returned goods. suppliers or do not ship with the goods.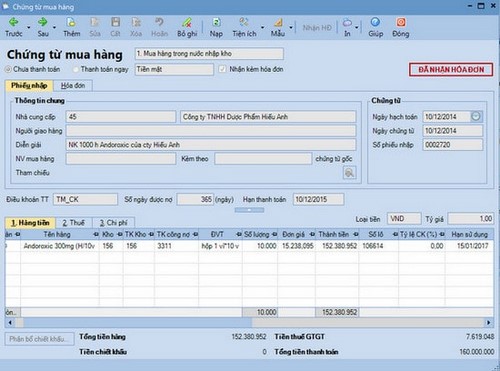 Track liabilities, supplier payout status
The misa purchase module also allows businesses to track the actual order situation, and make purchase orders for each item of each supplier.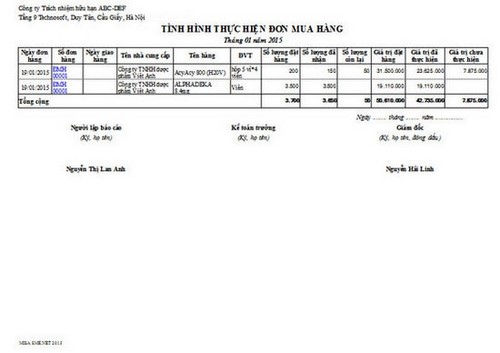 Managing liabilities, total liabilities
The purchasing module in Misa also has the ability to strictly manage debt according to each invoice, individual supplier or group of suppliers. Especially, the software also allows to manage the liabilities payable by each purchasing employee, by each project, by contract.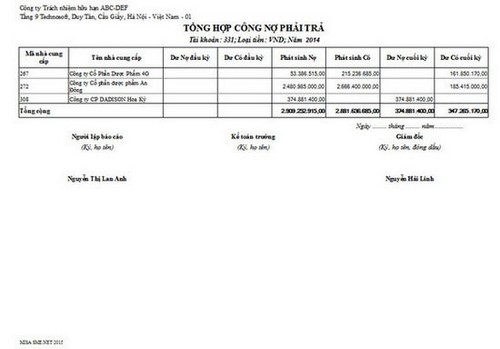 Track the purchase situation by each supplier
Users can easily view supplier payables summary reports at any time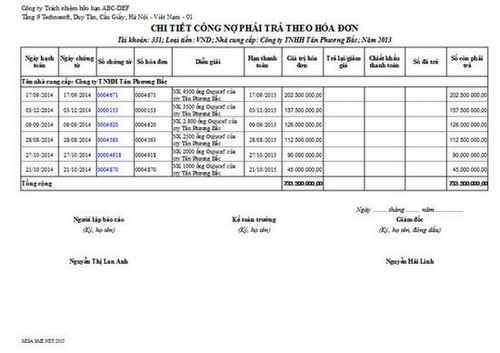 Track detailed documents and books
Misa software also provides a full range of vouchers, books and detailed reports, purchase synthesis, … in accordance with state regulations. In addition, the software also has many management reports to help accountants and leaders to strictly manage the purchase and debt situation.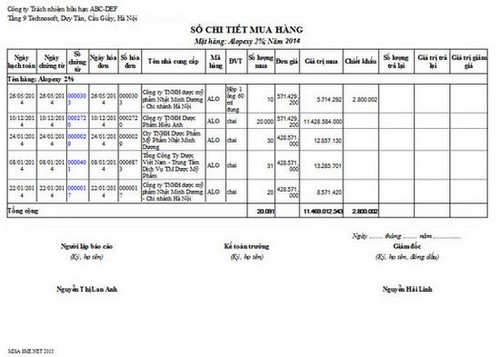 https://thuthuat.taimienphi.vn/phan-he-mua-hang-trong-misa-3770n.aspx
With the purchase module in Misa, small and medium businesses can easily manage the quantity of purchased goods and the amount of goods payable to suppliers. Misa software helps companies manage purchases more efficiently, manage documents or books, and liabilities more effectively.
.