Ratchet & Clank: Rift Apart gives nods to Jax & Daxter, Sly Cooper and other PlayStation productions.
Ratchet & Clank: Rift Apart officially releases today! Exclusive to PlayStation 5, Sony's new flagship console, the lombax and the robot are back for this new next-gen opus, after a very successful reboot in 2016, now available for free in 60 FPS.
As a PS5 exclusive, Insomniac Games was able to take advantage of the power of Sony's new hardware, and offer a graphic experience worthy of a Pixar production. An impressive result which does not leave you indifferent. But Ratchet & Clank Rift Apart also offers a number of easter eggs, and addresses nods to other historic PlayStation productions.
Warning, the following article contains spoilers for Ratchet & Clank: Rift Apart.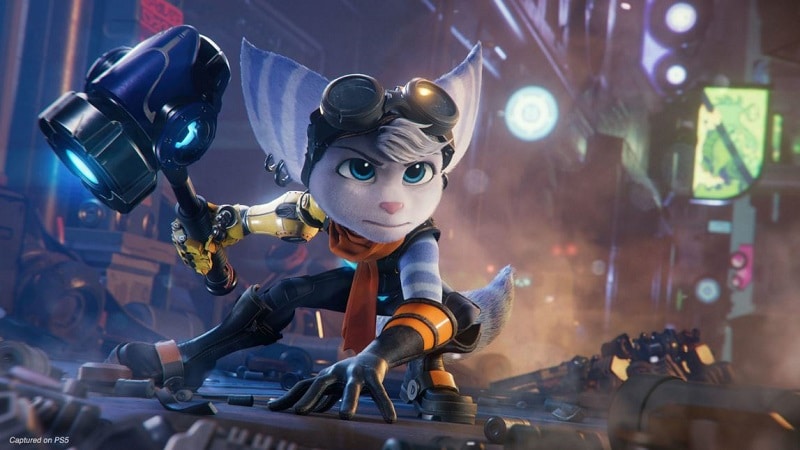 Ratchet & Clank: Rift Apart, PlayStation items and characters from another dimension
The developers of Insomniac Games have apparently paid tribute to their colleagues at PlayStation Studios. The studio has indeed introduced in Ratchet & Clank: Rift Apart easter eggs from Jak & Daxter and Sly Cooper, in particular. One of the weapons of the game, the RYNO 8, allows objects from other dimensions to appear. These random objects crash to the ground and deal damage to surrounding enemies.
These items are mostly trivial, but some are directly associated with PlayStation productions. And for good reason, it is possible to make appear… Jak and Sly Cooper themselves! A fun nod that pays homage to the sagas of the PlayStation brand. But that's not all. It is also possible to reveal certain enemies of Horizon Zero Dawn, including the new opus in preparation on the side of Guerrilla Games, but also the Jeep of Uncharted 4, which will soon arrive on PC.
Ratchet and Clank alone are strong representatives of the PlayStation brand. With a first game released in 2002, the series will soon celebrate its 20th anniversary. The two Insomniac Games characters are the only "surviving" PlayStation mascots in their class. Indeed, in the 2000s, the Ratchet & Clank series was accompanied by sagas Jak & Daxter and Sly Cooper, developed by Naughty Dog, studio in charge of The Last of Us and Uncharted, which will soon be adapted into series and film respectively, and Sucker Punch Productions, who recently released the much-loved Ghost of Tsushima, which is also going to make it to the big screen.
Source : comicbook.com


Alex Herbil