Elements of a reputable professional website design company
You do not know what factors are a reputable website company, I will guide you by checking the factors below.
Reputable website design company
1. Long time in the profession
A professional and reputable company is a branded and long-standing company in the field of programming and website design. Normally, we should choose companies that have been established for many years, proving that they have long operated and maintained many websites in the market to believe that is still a safe choice.
This does not mean that companies or individuals that are just starting out web services are unprofessional and reputable, there are many startups and new technology that do very good services but most people often choose the more secure.
2. Clear advice
When you are a person who needs to make a website, you probably want to sell or promote your products and services to many people to get more people to buy. And of course there are a lot of things you don't understand about internet marketing and how websites work. A company with a long history in the profession can advise you to perform the work on your own website to bring customers back from the online channel clearly and specifically right from the first time.
Even if you are new to programming, how to choose a website platform to create a professional website that helps you sell. A company that specializes in programming is ready to answer you about the best techniques of programming languages ​​if you want to learn such as HTML, CSS, JavaScript, PHP, WordPress so you can grasp the information. Basic information that you want to master come here.
Especially for those who have not mastered making a website and then doing business on the website. In fact, writing an original website only takes 5-10% of your time and effort on the internet to bring in revenue. The remaining 90 – 95% of the time is spent optimizing the content and channels around a website.
3. Website with full SEO standard features
Standard SEO is a rather vague concept when most of us know its existence. But is it really SEO standard or not, we….don't know. Only when a lot of people have bought a website and written thousands of articles, SEO for many years will not know that their website has problems.
There is a basic tool we have technical tools to check SEO standards before you buy a website, to avoid you buying a poor quality website is Google Developer Speed, you open a web browser and type the above tool then enter the website path you want to check. The higher the website score, the more SEO-standard the website is, but this is just a basic tool, can't say too many things, the most accurate still needs a person with good technique or even a programmer. SEO standard website specialist for evaluation.
You can take my website as a sample, which has been optimized for SEO standards so that you can refer and study at light.com.vn.
4. Compatible on many devices Tương
Is continuous testing the only way to see if your website is up and running? A lot of websites open on computers, the template is normal, but when they change the types of devices that open the website, such as different types of web browsers on computers, phones, and tablets, will the frame break? Is the text and image content easy to read?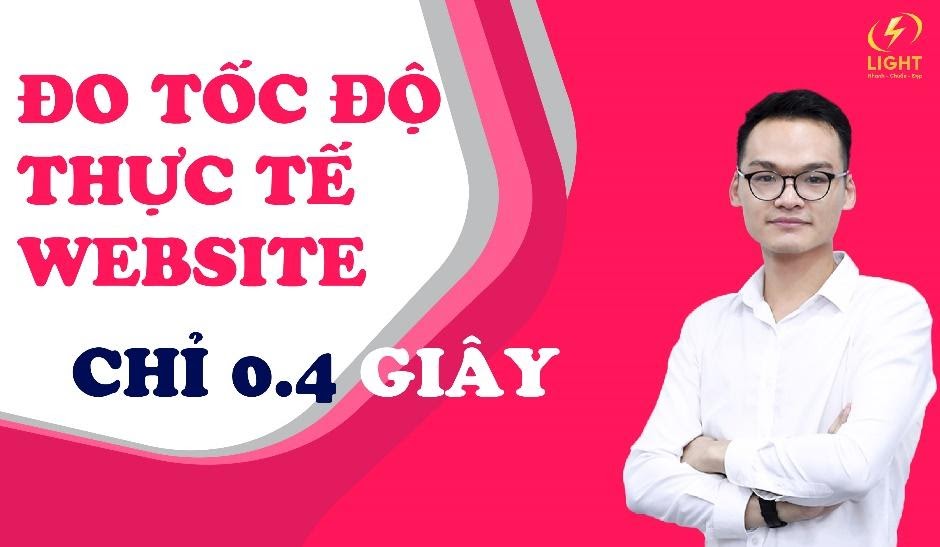 Actual speed of light's website
5. High speed
A professional website always needs high speed, high speed to help increase customer experience. According to statistics on the internet, if a website takes longer than 3 seconds to load, it will lose potential customers because they will exit and visit another page, so you have to visit to see how fast the website is? Usually less than 1 second is best.
With our website service, the speed can reach from 0.1 to 0.5 seconds even if you upload a lot of heavy images to the website, besides there are many other features you can see at light.com.vn/dich- vu-thiet-ke-website-chuan-seo-chuyen-nghiep.
In short, what is a reputable professional website design company?
Including the above 5 things, you must make sure to consider factors such as: the number of years of website business, clear specific advice, the website must have enough SEO standards, compatible with many devices and high speed.
.