Home page
Assessment form
Preliminary evaluation Honda HR-V 2021
Preliminary evaluation Honda HR-V 2021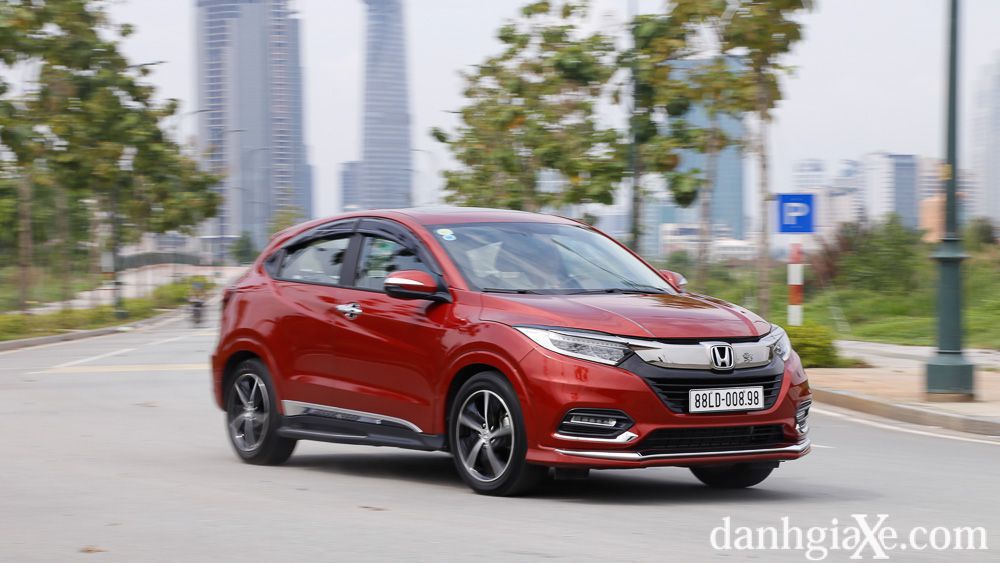 overview
Assessment group score
| | |
| --- | --- |
| Designs | |
| Operate | |
| Convenient | |
| Safe | |
| Price | |
Are you interested in this product? Send your information to us to get the latest quote from the company
General introduction
First launched in Japan in 2014, Honda HR-V is the top-selling model in more than 100 countries around the world with cumulative sales of up to 1.8 million units as of August 2018. However, sales of Honda HR-V in Vietnam plummeted from about 2,200 cars in 2019, and by 2020 there will only be nearly 1,400 units.
Price
Honda HR-V 2021 belongs to the urban SUV-style segment with rivals such as Ford Ecosport or Hyundai Kona. While competitors have a very good starting price of only 603 million (Ecosport) or 636 million (Kona), the price on HR-V is up to 786 million dong. In this review, the main representative for Honda HR-V is the most advanced L version. This is a car imported from Thailand and gets a 100% promotion on registration fee if you buy a car in January 2021.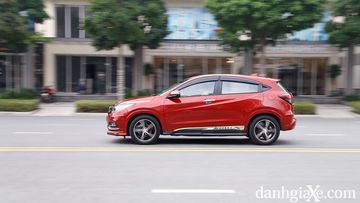 The suggested retail price (VAT included) of the Honda HR-V is:
Honda HR-V version G is 786,000,000 VND
Honda HR-V version L: VND 866,000,000
Exterior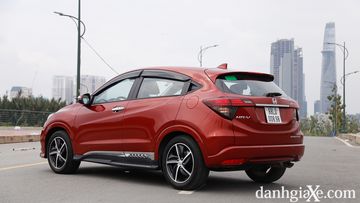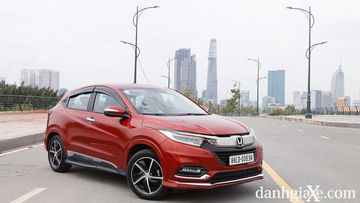 With the concept of an attractive crossover, the HR-V combines the dynamics and safety of an SUV. From the outside, the Honda HR-V feels like a spacious car like a mini van but bold in the style of a coupe with the tail swiped down low.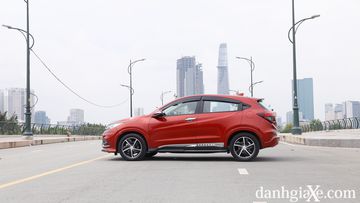 In terms of size, the Honda HR-V is 4,334 mm long, 1,772 mm wide and 1,605 mm tall, respectively, and the longest wheelbase 2,610 (mm) in the segment offers spacious interior space. In addition, the Honda HR-V also offers two top-of-the-line parameters: ground clearance 170 (mm) and a turning radius of only 5.7 meters.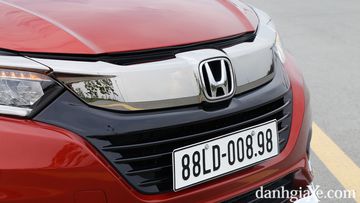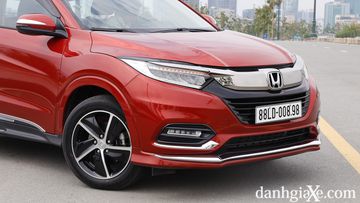 Modern FULL LED fog lights and front lights – unique in the B-SUV segment – equipped on the HR-V also contribute to a feeling of sharpness but equally elegant.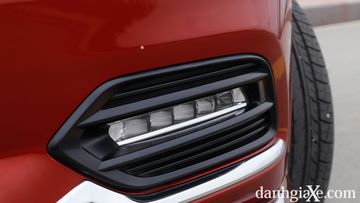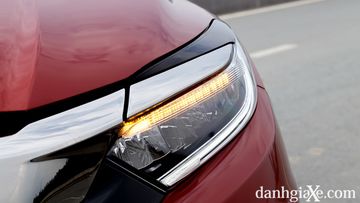 The modern front fascia with four horizontal grille, chrome rim and Honda logo is proudly located in the central area. Front lights including headlights, daytime running lights, high suspension brake lights and turn signal lights are all equipped with modern LED technology.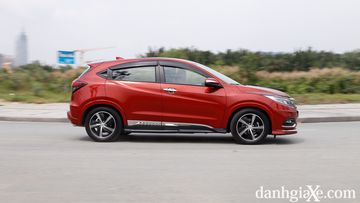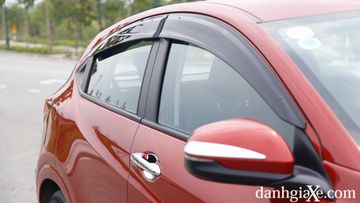 The capo has a sporty look when it is stroked low with embossed veins. The bodywork has two more ribs on each side for a stronger feel.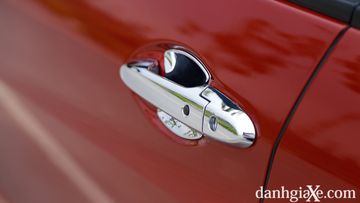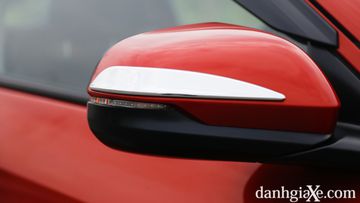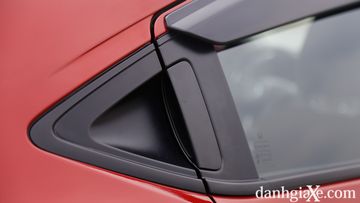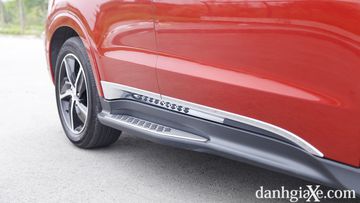 On the Honda HR-V, the cast wheels are also quite well designed with a size of 17 inches creating a beautiful propeller effect when moving. The rear door handle is integrated on the glass dome, creating a sporty personality like a 2-door coupe.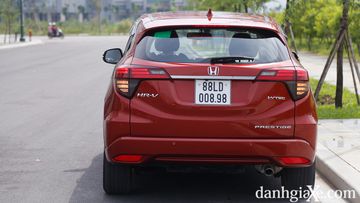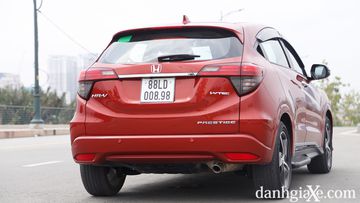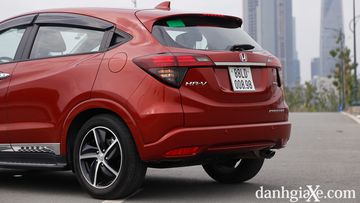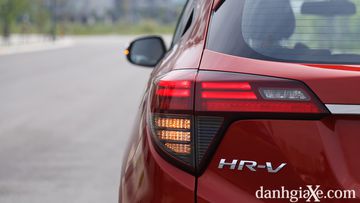 The Honda HR-V rear end is equally impressive with the LED taillights, only a little regret that the turn and reverse lights are still halogen. The taillights extending from the body to the tailgate together with floating ribs create a coherence. The lower bumper also has an equally sporty design with integrated reverse sensor.
furniture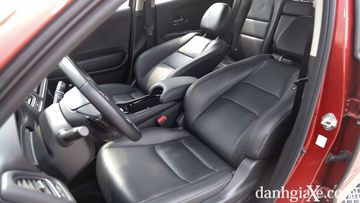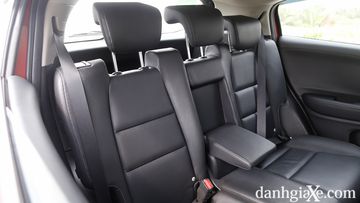 To provide customers with an urban SUV with a comfortable space, soft materials are used for most of the contact surface of the all-new HR-V. The center-mounted fuel tank design allows the storage compartment to be optimally expanded and the spacious rear seats provide a minivan-like feel.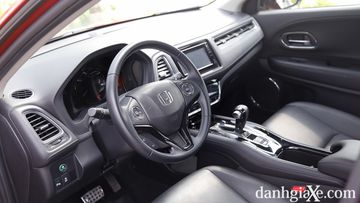 The compact, supportive dashboard design highlights a sense of spaciousness, creating a space for both driver and passenger enjoyment. The center console is located quite high compared to the vehicle floor, optimizing convenience and personal space to give customers a higher sense of quality.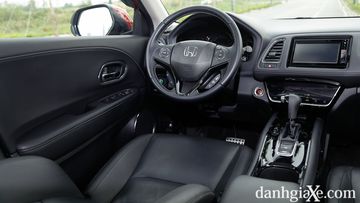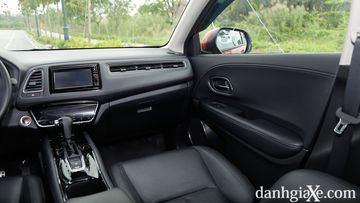 All interior and seat details of the HR-V use soft leather around the passenger seat, meticulously hand stitched, to bring a feeling of relaxation to the passengers.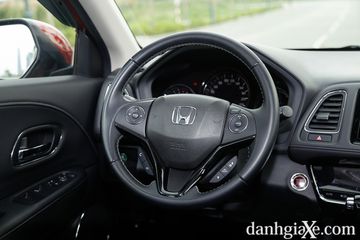 Like other Honda models, the HR-V uses a familiar three-spoke steering wheel. More specifically, the steering wheel also integrates the cruise control cruise control system. Below are two groups of buttons that control the information screen in the copper cluster and listening to phone calls.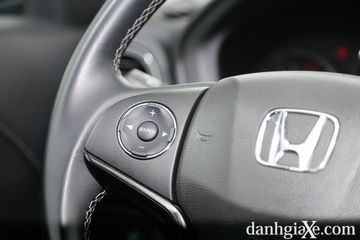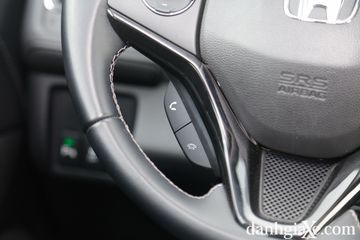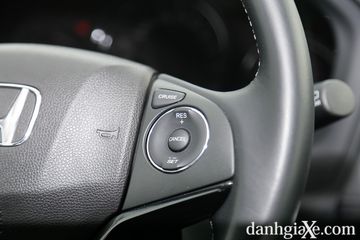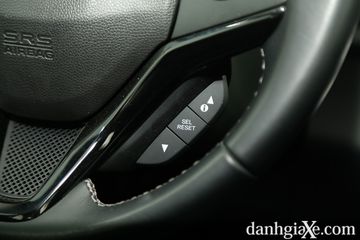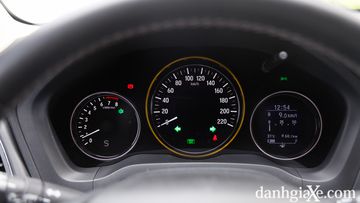 The information display cluster in the HR-V consists of three adjacent circles, from left to right, the cycle – speed – monochrome screen displays information such as trip, odo, fuel consumption. , the remaining travel distance with the amount of fuel in the tank, etc. The cluster of symbols is designed to be big, clear, contrasting color scheme, so it is easy to observe the operating status of the vehicle.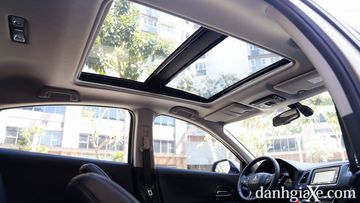 The new HR-V offers many unique in-segment features such as Panaroma Panoramic Sunroof (L) with 3 different modes (Tilt mode, Clear Glass mode and Stained Glass mode) that promise to bring customer a relaxing experience throughout the journey.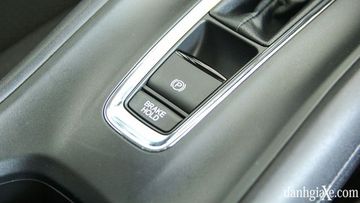 In addition, the HR-V is equipped with many other advanced features such as: Electronic handbrake operated by modern buttons, convenient and comfortable for users; Brake Hold automatic brake mode.
Audiovisual system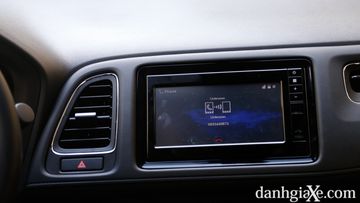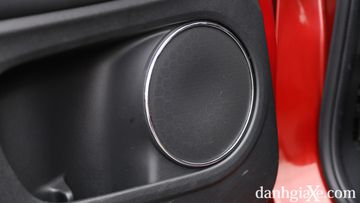 HR-V uses a user-friendly 6.8-inch touch screen that integrates many functions such as USB connection, HDMI, Bluetooth, Speed-based sound compensation mode (SVC-Speed ​​Sensitive Volume Compensation) … ; At the same time, providing customers with many other utilities such as: button start, smart key and automatic door lock when the key leaves the sensor area.
Air conditioning system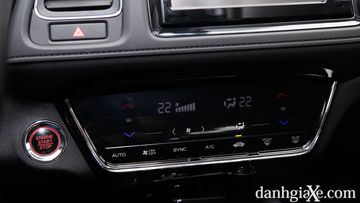 The all-new HR-V uses a user-friendly smart touch interface. An advanced electrostatic touch panel allows users to quickly adjust the temperature and wind speed with simple operations like using a smartphone.
The spacious storage compartment with the floor lowered and expands to 1,180 mm and the height of 650 mm above the ground when the rear door is opened makes loading and unloading bulky luggage a lot easier.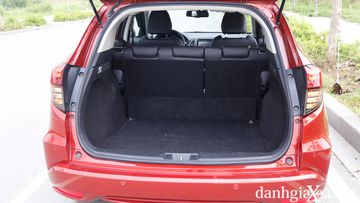 The cabin length and cargo space can also be expanded with the Magic Seat – unique in the segment and even more flexible than the higher-end SUVs.
Operation and safety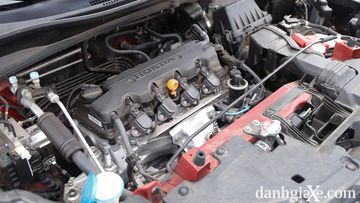 The HR-V is powered by a 1.8L i-VTEC engine, achieving a maximum power of 141Hp at 6500 rpm and a maximum torque of 172 Nm at 4300 rpm.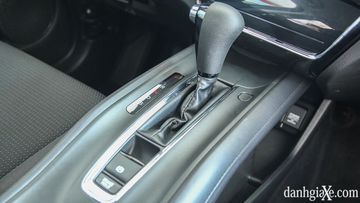 In addition, Eco Assist technology (with ECON Mode and ECO Coaching) combined with the sporty paddle shifters on the steering wheel plays an important role in helping the driver achieve the best fuel consumption. .
Safe
The all-new HR-V provides the highest level of protection possible for passengers in the vehicle as well as pedestrians. With a full range of features such as Anti-lock Braking System (ABS), Electronic Brake Force Distribution (EBD), Electronic Stability (VSA), Hill Start Assist (HSA), Force Control System Traction (TCS), Brake Warning Light (ESS) and Six Airbags (L) including front seat airbags, side airbags (L) and curtain airbags (L), HR-V customers can Be assured of your safety thanks to the high technology standard safety equipment.
In addition, HR-V is also equipped with a number of other advanced safety features such as: reversing camera with 3-angle support, reverse sensor (L), automatic rain-wiper sensor (L), absorption chassis. ACE impact force and compatibility … As a result, HR-V has achieved the highest 5-star safety certification according to ASEAN NCAP in the category of Adult Passenger Protection (AOP) and Child Passenger Protection (COP). ).
General evaluation
It can be said that Honda HR-V is an urban SUV that deserves "money for rice" for those who love a car with a beautiful and impressive SUV design. With its unique pricing approach, Honda continues to delight brand enthusiasts from Japan with a product for individual people.
Technical specifications
Honda HR-V L
866 million
Vehicle shape
5-seater SUV
Number of seats
5
Number of windows
4.00
Engine type
Engine capacity
1.80L
Maximum capacity
141.00 hp, at 6500.00 rpm
Maximum torque
172.00 Nm, at 4300 rpm
Gear
Drive type
Fuel consumption level
0.00l / 100km
Air conditioning
Do you find the article helpful?
Featured reviews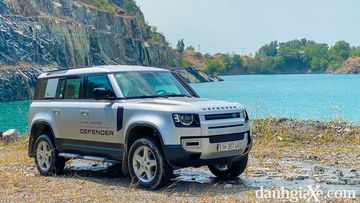 Detailed assessment of Land Rover Defender 110 2021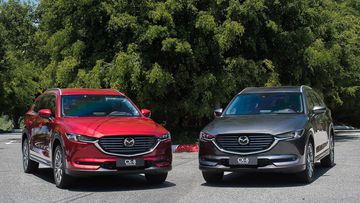 Mazda CX-8 2021 preliminary assessment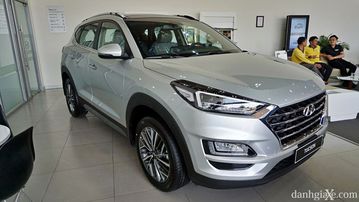 2021 Hyundai Tucson preliminary review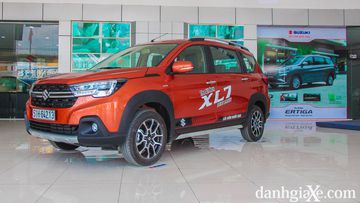 Preliminary assessment Suzuki XL7 2021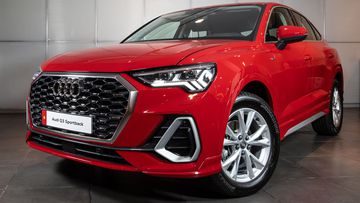 Audi Q3 Sportback 2021 preliminary review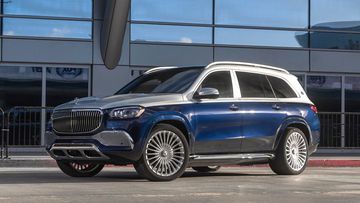 A preliminary assessment of the Mercedes-Benz GLS 600 Maybach 2021
Featured article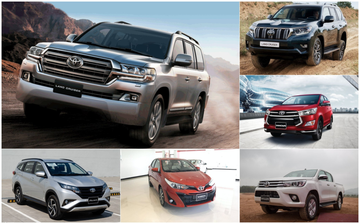 Toyota Vietnam recalled vehicles to replace fuel pumps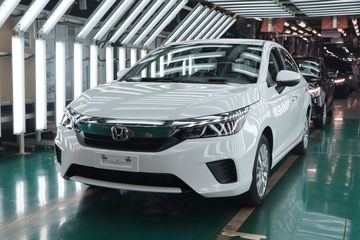 Honda Vietnam shipped the 100,000th car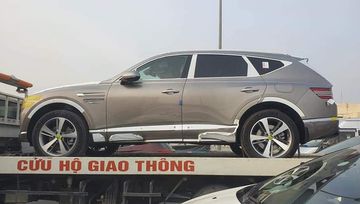 Genesis GV80 2021 returns to Vietnam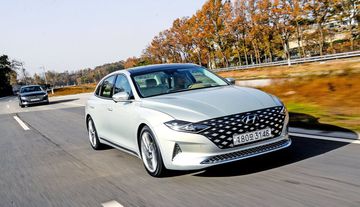 Top 10 best-selling cars in Korea by 2020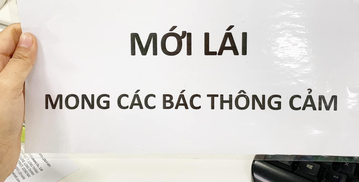 5 An essential accessory for a novice car driver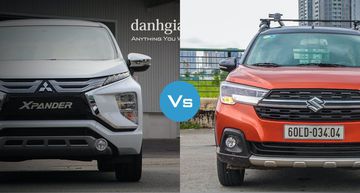 Buy a family car to choose Mitsubishi Xpander 2021 or Suzuki XL7 2021?
new post
Faculty of NX

Posts: 811

Toyota Vietnam recalled vehicles to replace fuel pumps

Toyota Vietnam officially announced the implementation of the Expansion Summoning Program to inspect and replace fuel pumps on Camry, Corolla, Innova (manufactured and assembled vehicles) and Alphard, Fortuner, Land Cruiser 200 models. Land Cruiser Prado, Camry, Hilux, Hiace (imported car).

Thanh Long

0972520567

Posts: 252

Honda Vietnam shipped the 100,000th car

Honda Vietnam Company (HVN) welcomes the 100,000th car release – Honda City model at Vinh Phuc factory, celebrating an important milestone in the company's development history.

Believe

Posts: 1897

Genesis GV80 2021 returns to Vietnam

One year after being released and on the shelves in many other markets, Genesis GV80 2021 is now also available in Vietnam in the form of imported complete units.

Believe

Posts: 1897

Top 10 best-selling cars in Korea by 2020

In the domestic market, the two "national" car manufacturers, Kia and Hyundai share, dominate the rankings, and foreign brands have no chance to step in.

Thanh Long

0972520567

Posts: 252

5 An essential accessory for a novice car driver

If you are a new driver, not proficient in handling situations on the road, please refer to and install the following 5 accessories.

Thanh Long

0972520567

Posts: 252

Buy a family car to choose Mitsubishi Xpander 2021 or Suzuki XL7 2021?

Mitsubishi Xpander and Suzuki XL7 are two models with outstanding sales in the 7-seat MPV segment. In 2020, Mitsubishi sold more than 16,000 Xpander cars. This figure on the XL7 is nearly 4,000 cars since the launch in July 2020. Attractive price, adequate comfort and high versatility are the advantages of these two models.

Faculty of NX

Posts: 811

VinFast introduces Theon and Feliz electric motorcycles

VinFast has introduced Theon and Feliz – two electric motorcycle models to be introduced at an experience event in Hanoi. In which, especially Theon with features never seen in any electric motorcycle in the Vietnamese market.

Believe

Posts: 1897

VinFast introduces 3 brand new models in Vietnam

Vietnamese customers will have 3 new options under the VinFast brand name this year, including VF31, VF32 and VF33.

Faculty of NX

Posts: 811

Detailed assessment of Land Rover Defender 110 2021

Detailed evaluation of Land Rover Defender 110 2021 – Review and comment on details of Land Rover Defender 110 2021 for interior and exterior design, safety equipment and performance.

Faculty of NX

Posts: 811

Honda Vietnam announced sales in December 2020 and the whole year 2020

Facing the complicated evolution of the COVID-19 epidemic, in the whole year 2020, HVN still strives to bring quality products and professional services in both the automobile and motorcycle business,