Home page
Assessment form
Preliminary assessment of the Volkswagen Passat 2019
Preliminary assessment of the Volkswagen Passat 2019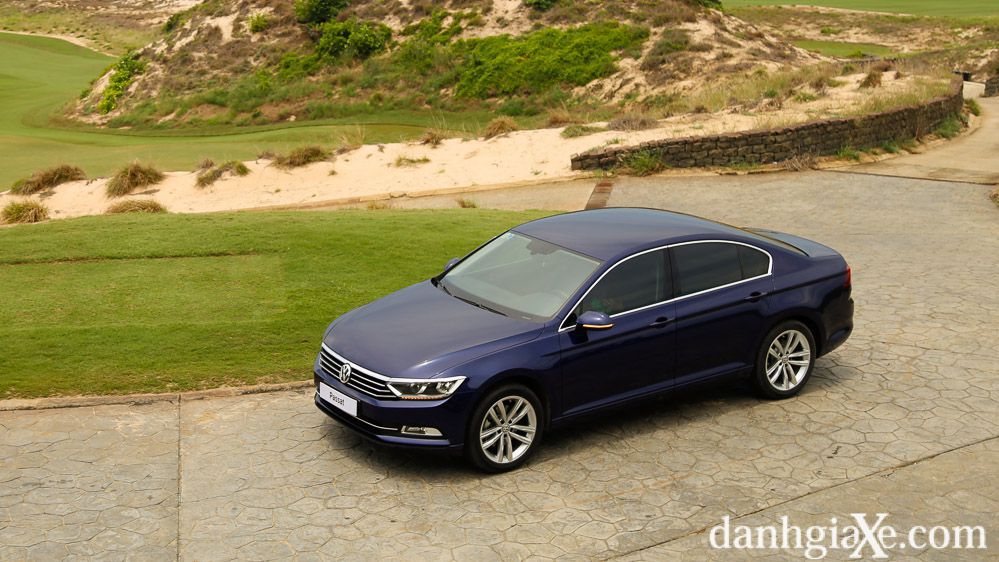 overview
Evaluation group scale
| | |
| --- | --- |
| Designs | |
| Operate | |
| Convenient | |
| Safe | |
| Price | |
Are you interested in this product? Send your information to us to receive the latest quotes from the company
Introduce
In the segment of small luxury cars, Volkswagen Passat is an outstanding candidate no less trio like Mercedes-Benz C-Class, BMW 320i or Audi A4.
First launched in 1973 and spanning 8 generations in 44 years. The medium-sized Volkswagen Passat Sedan is a prominent name, showing the durability, elegant design and the feeling of "passion" that the car brings to the driver. At the time the 8th generation was introduced, Passat immediately confirmed its appeal thanks to its modern design when it won the "European Car of the Year" award in 2015.
Price
Volkswagen Passat is imported CBU and genuine distribution through Volkswagen Vietnam. Vehicles with sales prices corresponding to the following versions:
Volkswagen Passat GP: VND 1,266,000,000
Volkswagen Passat Comfort: VND 1,380,000,000
Volkswagen Passat Bluemotion: VND 1,480,000,000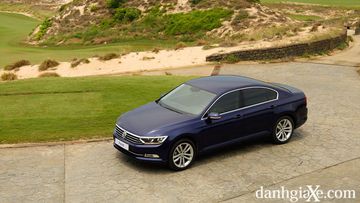 In terms of price, Volkswagen Passat has the best starting price compared to competitors in the same segment. In addition, Passat is also close to the D-class sedans from Japan in the lower segment. For those who are passionate about German cars and feel typical driving, this is a pretty good opportunity to own.
Exterior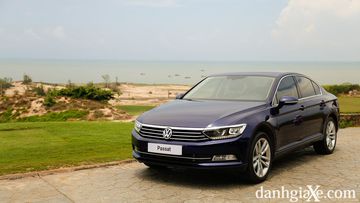 First launched in 2015 at the Paris Motor Show, Volkswagen Passat has changed the new design with a more luxurious and modern language. However, the overall vehicle is quite "eye-catching" with most customers though not too pitiful, outstanding, but the style of Passat brings elegance, elegance and European-style beauty and a little bit sports car owner.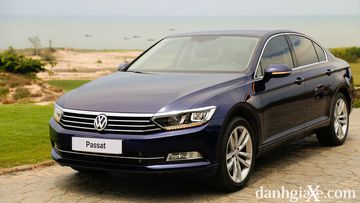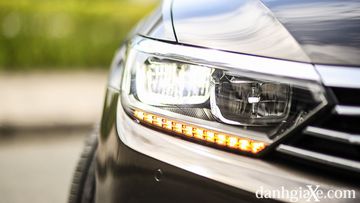 Looking directly at the front cluster, Volkswagen Passat is attractive with a luxurious 4-bar chrome grille. Headlights integrated signal lights, designed with curves and angles and the headlights / cos are chrome border to bring the feeling of "cool", can not "mix" where the car goes transfer on the road. Moreover, Volkswagen Passat is equipped with LED headlights, which produce a "trendy" white light as well as higher luminescence efficiency than many traditional lamps.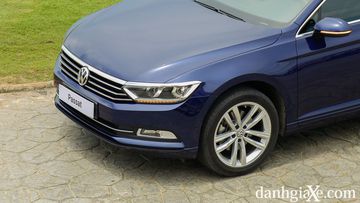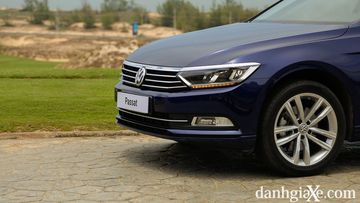 The front bumper of the car is equally beautiful with a chrome-plated horizontal bar integrated with fog lamps designed sharp. Combined with a set of 18-inch dual-spoke alloy wheels measuring 18 inches and a 14mm lower body height, the sporty substance is the final taste that embellishes a sedan with a "German taste".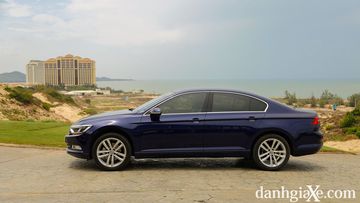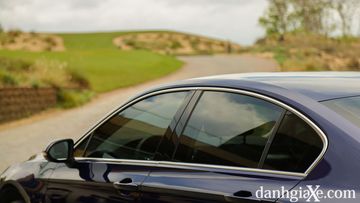 Besides, the Volkswagen Passat is equally healthy with the ribs on the bonnet and bodywork, which brings incredible charm. These lines combined with two stylish headlights make this car even more attractive. The gently sloping hood extends from the A-pillar to the C-pillar and strokes to the rear to create a strong feeling. Rearview mirrors are quite modern oval shape, integrated LED turn signal lights fashion and features electric adjustment / folding.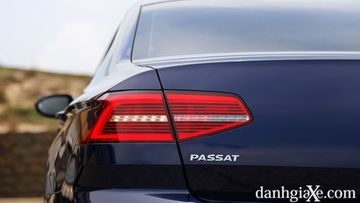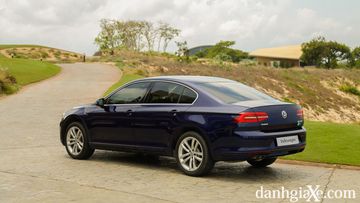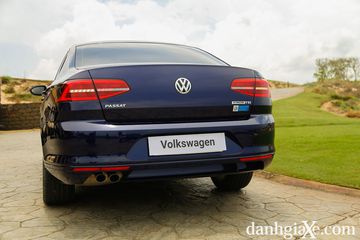 The rear of the car has a simple design but still exudes elegance, modernity and luxury. Just like the body, the rear possesses angular veins combined with flat LED taillights that exude the strong personality of Volkswagen Passat. Number plate area is designed with fancy trapezoid shape, the rear bumper is quite nice, along with the dual exhaust set on the left.
furniture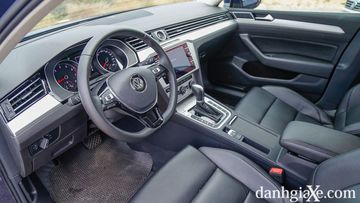 Not only has the impressive change in appearance, the interior of Volkswagen Passat has also been changed quite a lot to bring modern and classy driving space through a series of comfortable equipment compared to the previous generation. Interior space of the car creates a sense of luxury exactly like the high-end German cars.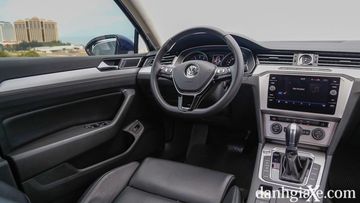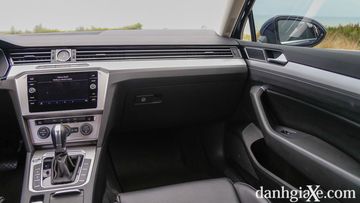 Not using many luxurious materials such as wood, but the interior of Passat brings a modern and youthful feeling. The dashboard is bright with a silver tone, the air vents are angled and equipped with chrome borders.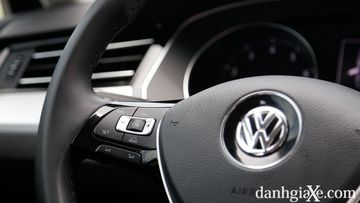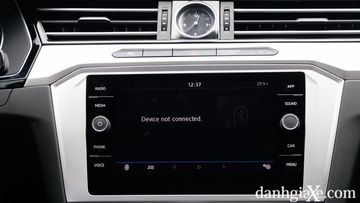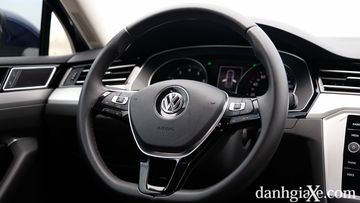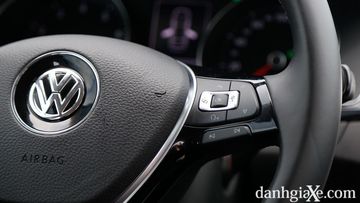 The sporty, three-spoke steering wheel is wrapped in leather for a firm and comfortable feel with integrated function knobs. Clear and comfortable dashboard, a small screen in the middle will notify parameters such as fuel consumption, speed, km traveled, etc., which is very useful for tracking your journey.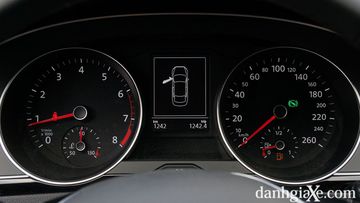 Compared to previous generations, the eighth generation of the Volkswagen Passat has a wider cockpit area, creating a sense of comfort for both the driver and passengers on the vehicle. This car is aimed at families as well as young business customers and enhances usability.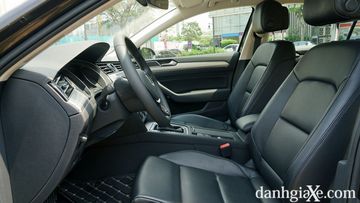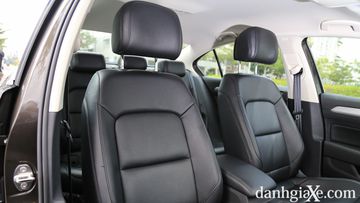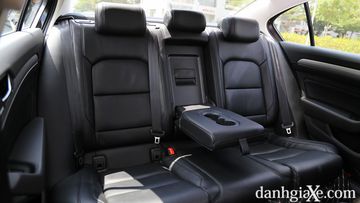 Convenient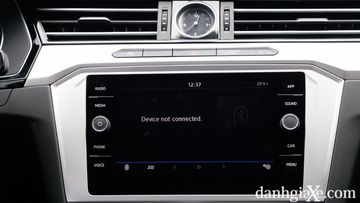 The entertainment system with an 8-inch central touch screen comes with Bluetooth, AUX, CD, USB and memory cards and an 8-speaker sound system for good quality, helping drivers and drivers Guests in the car can relax more by the pressure from driving.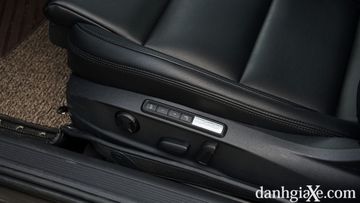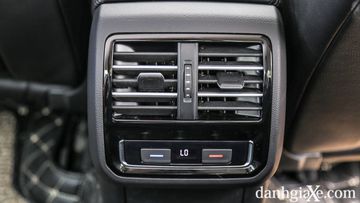 One of the highlights on the Volkswagen Passat is high-quality leather sports seats, driver's seat and front passenger with 14-way power adjustment, memory function, backrest inflatable and driver massage … Seat rows The back can be folded in a ratio of 60/40 and smoothly with the trunk to help you transport large objects. Indispensable is the private door for the rear passengers, which increases comfort and does not need to depend on the driver.
Operation – safety
Passat BlueMotion is equipped with Volkswagen's TSI engine block, 1.8 liter capacity, 4 turbochargers producing 177 horsepower at 5,100 – 6,000 rpm, maximum torque of 250Nm right from the round low speed 1,250 – 5,000 minutes. Control the performance of the Passat is a DSG dual-clutch 7-speed automatic transmission.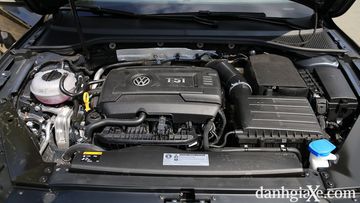 With passive safety system, Volkswagen has fitted Passat 6 protective airbags (2 front airbags, 2 curtain airbags and side airbags), in addition to a toggle on the side airbag to ensure safety. when there are children sitting. Tire pressure warning system (TPMS), Cruise Control and electronic speed-sensing power steering (EPS). In addition, Passat also has anti-lock braking system ABS, anti-skid when accelerating ASR, ESC electronic balance, traction control system EDTC, PDC parking distance control and electronic differential lock EDL.
General assessment
In the segment of small luxury sedans with quite a lot of models "on equal footing", Volkswagen Passat is a worthy model to buy with beautiful design, fuel economy and attention to the driver. Besides, the price from VND 1.48 billion for the high-end BlueMotion version is also quite reasonable for a CBU imported model from Germany. If you need a Passat with more basic equipment, the GP version with a price of 1.26 billion will be the perfect choice.
Technical data
Volkswagen Passat

1,450 billion

Volkswagen Passat

1,600 billion

Volkswagen Passat CC

1,661 billion

Volkswagen Passat 2.0 TDI 4MOTION B7

Contact

Car body




Sedan

Car body




Sedan

Car body




Sedan

Car body




Sedan

Number of seats




5

Number of seats




5

Number of seats




5

Number of seats




5

Number of windows




4.00

Number of windows




4.00

Number of windows




4.00

Number of windows




4.00

Engine type




Engine type




Engine type




Engine type




Engine capacity




1798.00L

Engine capacity




2.00L

Engine capacity




2.00L

Engine capacity




2.00L

Max power




177.00 horsepower, at 5500.00 rpm

Max power




200.00 horsepower, at 5500.00 rpm

Max power




210.00 horsepower, at 5100.00 rpm

Max power




Maximum torque




250.00 Nm, at 1500-5000 rpm

Maximum torque




280.00 Nm, at 1,800 – 5,000 rpm

Maximum torque




280.00 Nm, at 1,700 – 5,000 rpm

Maximum torque




Gear




7.00 level

Gear




6.00 level

Gear




6.00 level

Gear




Drive type




Drive type




Drive type




Drive type




Fuel consumption




7.30l / 100km

Fuel consumption




7.00l / 100km

Fuel consumption




7.00l / 100km

Fuel consumption




6.35l / 100km

Air conditioning




Manually adjust an area

Air conditioning




Air conditioning




2 regions

Air conditioning




Number of airbags




6 airbags

Number of airbags




Number of airbags




8 airbags

Number of airbags



Did you find the article helpful?
Featured review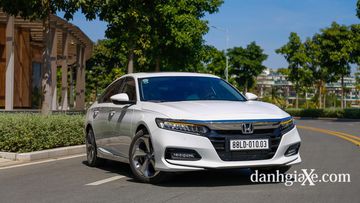 Detailed evaluation of Honda Accord 2020 car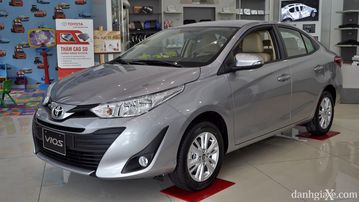 Detailed evaluation of Toyota Vios 2020 car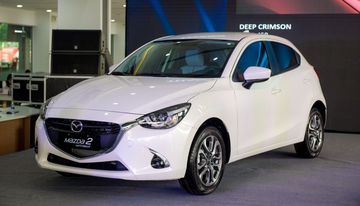 Preliminary assessment of Mazda 2 2020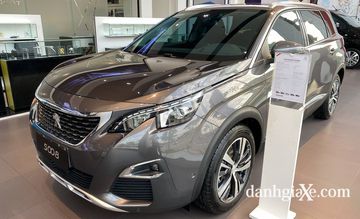 Preliminary evaluation of Peugeot 5008 2020 car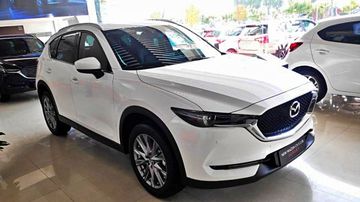 Preliminary assessment of the Mazda CX-5 2020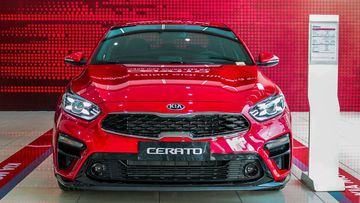 Detailed evaluation of Kia Cerato 2020 car
Featured article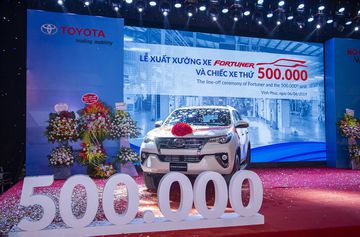 Toyota Vietnam sold nearly 80,000 vehicles in 2019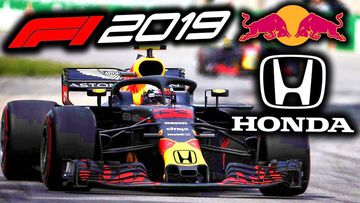 Overview of Honda's motorsport activities in 2020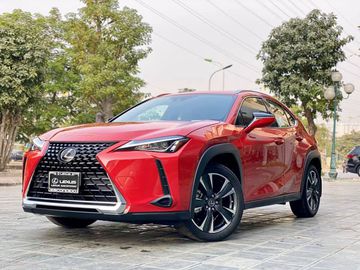 Close up of the first Lexus UX 200 back to Vietnam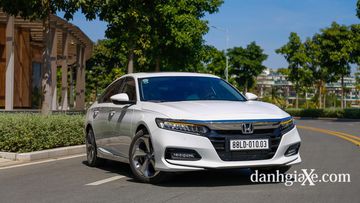 Detailed evaluation of Honda Accord 2020 car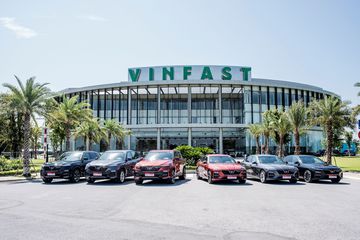 VINFAST will sell nearly 67,000 cars and motorcycles in 2019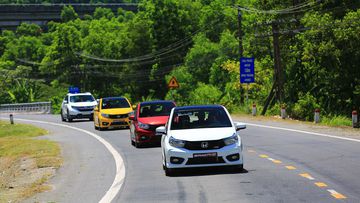 Honda Vietnam sells more than 2.5 million motorcycles and 33000 cars
new post
NX

Article: 424

Honda Vietnam sells more than 2.5 million motorcycles and 33000 cars

Honda Vietnam (HVN) announced its business results in December 2019 and the whole of 2019. Accordingly, in December 2019 as well as in 2019, with continuous efforts, HVN has achieved The successes in both automobile and motorbike business, and at the same time contribute positively in social activities, bring customers more joy, gradually conquering the goal of becoming a Company. social expectations.




NX

Article: 424