Home page
Assessment form
Preliminary assessment of the Ford Tourneo 2019
Preliminary assessment of the Ford Tourneo 2019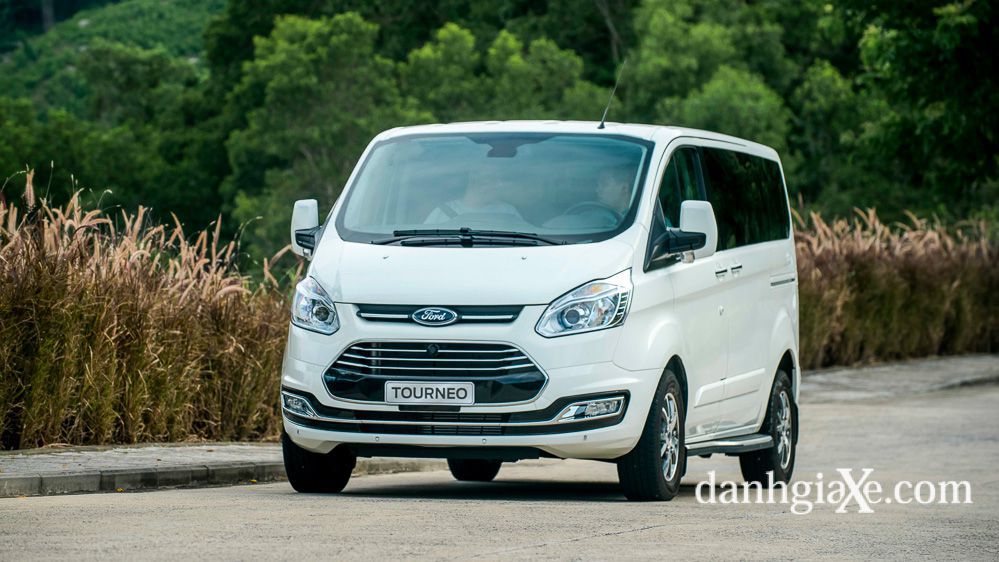 overview
Evaluation group scale
| | |
| --- | --- |
| Designs | |
| Operate | |
| Convenient | |
| Safe | |
| Price | |
Are you interested in this product? Send your information to us to receive the latest quotes from the company
Introduce
In recent years, the market for high-class MPV cars has been developing strongly due to the demand for a spacious, smooth car and "full-service" for passengers. Previously, only 16-seat passenger cars like Ford Transit or Hyundai Solati could be used, and the interior was more luxurious, now customers can choose Kia Sedona, Peugeot Traveler or Ford Tourneo models. has just launched and extremely good price.
Price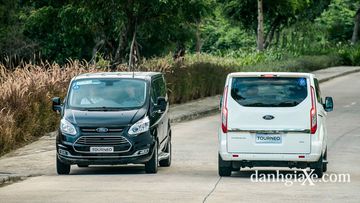 Ford Tourneo is the latest model to be assembled at Ford's factory in Hai Duong. This model has a starting price of VND 999 million (Trend) and VND 1,069 billion (Titanium), significantly lower than that of Kia Sedona from VND 1,129 billion or Peugeot Traveler of VND 1.7 billion. The advantage of Sedona and Traveler is that the use of diesel engines is due to the fact that it is for family cars, the agency often has to move around the city, the diesel version will certainly save more fuel and cost. diesel is also cheaper than gasoline.
Exterior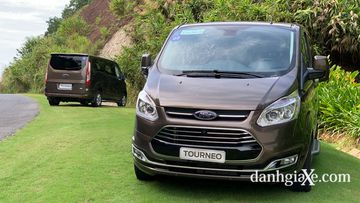 Ford Tourneo has a strong appearance with a "Dramatic" design similar to Ford's sporty touring cars, with a large dynamic hexagonal grille.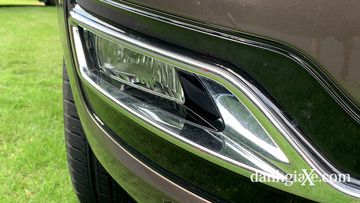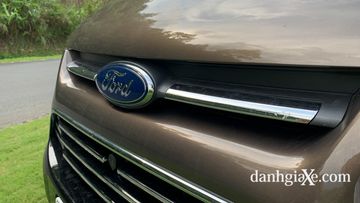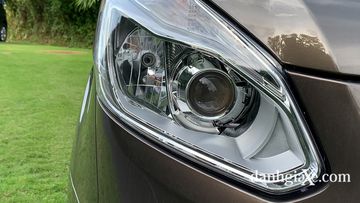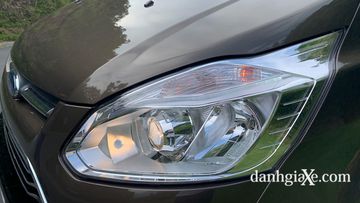 Pair of headlights with LED strip lights stroked along the muscular shoulders of the car nose. The air intake and large design of the lights show a strong combination of chrome-plated contours around the fog lamps, sturdy taillights on both sides of the car to create a luxurious and elegant personality. count. Vehicles using lens lights but only halogen bulbs, if using LED lights would be better. Besides, the feature to automatically turn on / off the light is not equipped.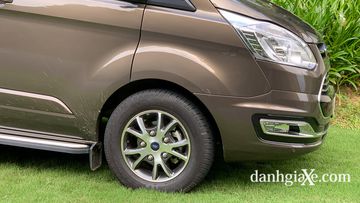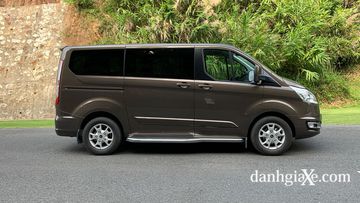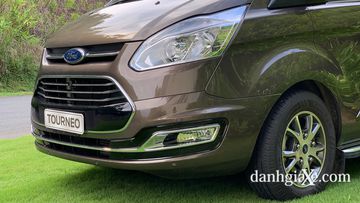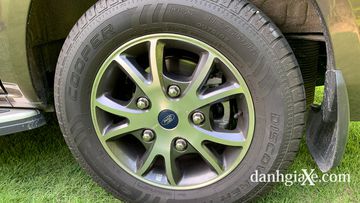 Ford Tourneo is an impressive MPV line with a large design, superficial body, rugged but still ensures a large airflow angle of aerodynamic design. The overall dimensions of the tourneo Length x Width x Height are: 4976mm x 2095mm x 1990mm. Wheelbase 2933mm and ground clearance 149mm.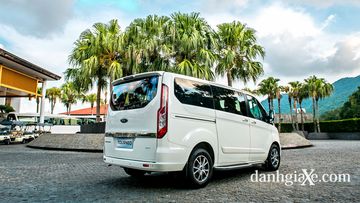 The side of the car is a solid, solid square block with a sliding door that opens on both sides conveniently, accompanied by thick chrome footsteps winding up to look luxurious. Outside rearview mirrors are extremely large, adjust the power, combining the bottom mirrors to increase the viewing angle. The window uses high quality dark glass, the overflow design extends seamlessly from the front to the back. The elaborate details, rounded rounded lines, show the ruggedness, robustness and dynamism of the high-class MPV multi-purpose vehicle.
furniture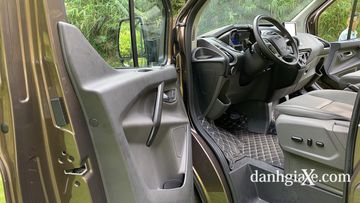 The new difference that stands out in the interior of the MPV Ford Tourneo is the center console with a user-friendly layout and integration with other smart devices. Tourneo driver's seat can be adjusted 10-way power in Titanium and 6-way mechanical adjustment in Trend.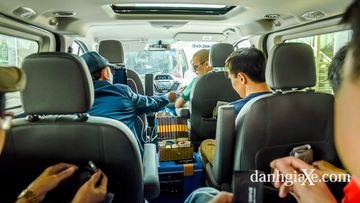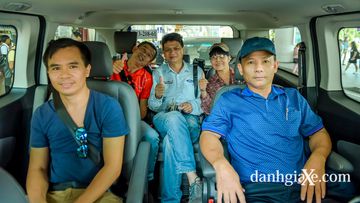 With a superlative size, this is a 7-seater MPV that gives customers the most flexibility and comfort in using cabin space. The new Ford Tourneo has 7 spacious seats, the 2nd row arranged 2 independent seats, can change back and forth to 200mm extremely wide.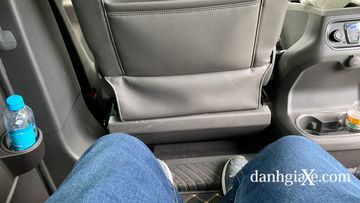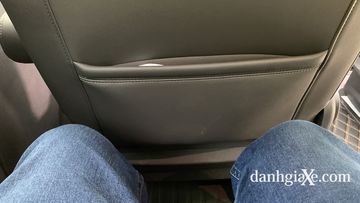 When pushing the second row of seats up to the distance of the passenger knee and the back of the driver's seat is still about 20cm quite spacious. And only when all the 2nd row seats are pushed, the 3rd row has 3 new seats about 5cm wide leg with head and shoulders quite airy to bring comfort to both passengers taller than 1m7.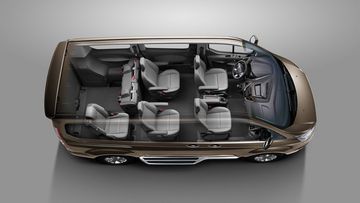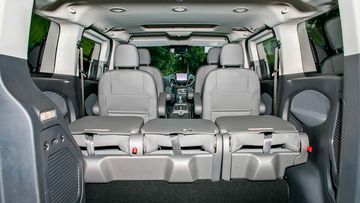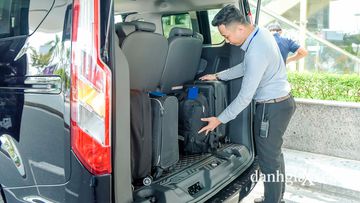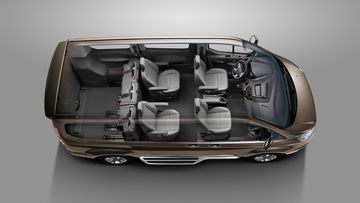 The floor is completely flat so that passengers can easily move into the car compartment or move from the second row to the third row. In particular, the third row can be folded independently of each back of the flat seat. Table, or remove when rolled up in a 60/40 ratio to allow passengers extra space. The car's rear door with 1.4m high and 1.22m horizontal square cheese, low floor is also very easy to store things.
Ford Tourneo excels in the segment because of its very wide horizontal design, it measures more than 2 meters across. Comfortable interior for 7 people and luggage with plenty of space to sit, move or interact.
Convenient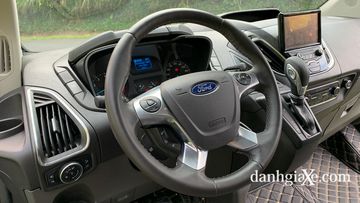 The driver's seat and control area include a completely new gear lever, screen, and dashboard that have been pushed up, enhancing the usability with spacious driving space, clear visibility and steering angle. with a floating 7 inch color touch screen that can watch videos from USB source, cruise control (Titanium version).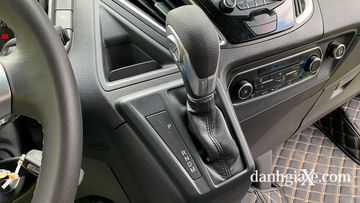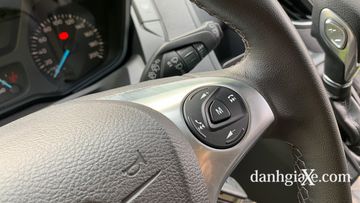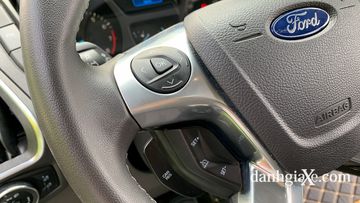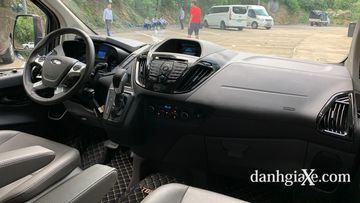 The air-conditioning system has also been improved to cool faster with 2 indoor units, 2 front and rear climates, 3 air blowing compartments with separate face and foot air outlets. 6-speaker sound system is arranged evenly around the car, can customize the balance of the sound balance both front and rear of the car. In addition, the steering wheel is very compact and thick with a control button, 4-way adjustment and smooth leather. Ford Tourneo also has electric sunroof on both versions.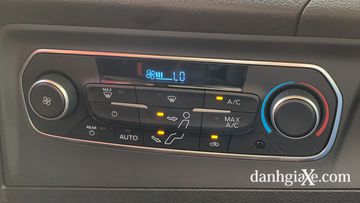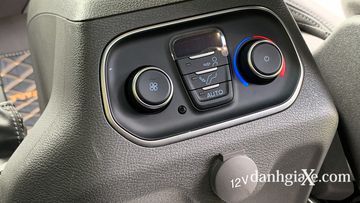 Inheriting sophisticated characteristics from Europe, Ford Tourneo is also equipped with " Follow Me Home " function that illuminates the road and automatically shuts off after 30 seconds, which is very convenient and creates a sense of safety when leaving the car in the dark place. In addition, Ford Tourneo also has a remote control key, which can lock both the vehicle or the tailgate. In addition, the car also has a sunroof and this is one of the very popular equipment in Vietnam.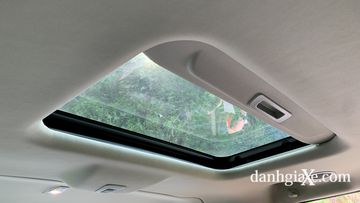 Operation – Safety
Ford Tourneo adopts the latest powerful Ecoboost engine technology, fuel economy, CO2 emissions reduction and vehicle operating costs for customers. Both Titanium and Trend versions are equipped with the 2.0L Ecoboost I4 engine, producing 203PS / 5500vp, 300Nm / 3000vp torque.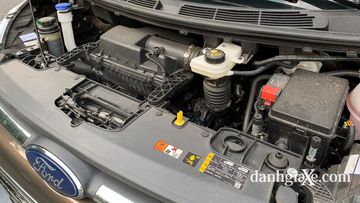 The maximum traction at 3000 rpm is an extremely exciting experience when speeding this massive 7-seater vehicle. The 2.0L Ecoboost engine (GTDi) with 3 outstanding technologies including direct fuel injection, high-speed turbocharger, Ti-VCT variable valve helped Ford Tourneo increase power very quickly, reducing up to 15% CO2 emission (meeting EURO 5 emission standard) and saving 20% ​​of fuel.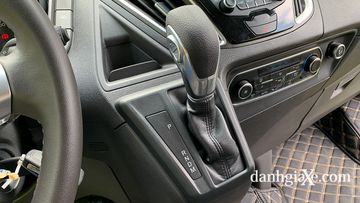 Ford Tourneo uses front-wheel drive system, this option helps the floor to release the floating pedestal with the transmission shaft, flat floor and easier seating arrangement. Ford Tourneo is equipped with a 6-speed hydraulic automatic transmission, which also has a manual transmission (M) function that is very useful when driving on downhill roads. Advantages of hydraulic gearbox for fast, smooth, smooth transmission quality when accelerating and saving fuel.
Ford Tourneo is equipped with hydraulic power steering to enhance cabin comfort. The hydraulic power steering system with a completely mechanical structure helps the driver feel the force acting directly from the road surface on the wheel to bring a true driving feel, easily regulating body stability.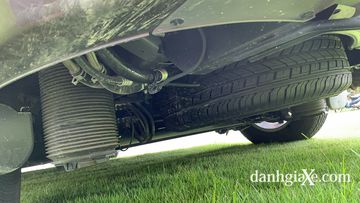 The electronic air suspension automatically adjusts the amount of air to adapt to the vehicle load, absorbing the vibration from the road surface to create maximum comfort for the people in the car while increasing stability when the vehicle is running at a speed. High, smooth ride all the journey.
Electronic air suspension (RAS) is a system that uses many advanced technologies with height sensors, air compressors, and electronically controlled ECU to help make passengers feel comfortable. More comfortable and comfortable.
Ford Tourneo (Titanium) is also equipped with 6 airbags: 2 front airbags; 2 side airbags and 2 curtain airbags for the 2 front doors. 3-point seat belts are available for all seat positions. ISOFIX child safety seats are also fitted in many seat positions. Comes with highlights:
• 8 collision warning sensors and Parking Assist Camera (Titanium version) and reversing camera
• The entire suite of modern electronic safety technology virtually available on the Ford Tourneo includes; ABS braking system, EBD brake force distribution, ESP, electronic anti-slip, TCS anti-slip, support HLA sloping departure.
• The all-new Ford Tourneo is equipped with disc brakes both front and rear. The rearview mirror in the car is automatically anti-glare, the side mirrors are large and comes with a convex mirror to increase the maximum visibility, child door lock on 2 sliding doors.
General assessment
With a good price and spacious design as well as a range of safety equipment, Ford Tourneo is a good choice for large families or businesses requiring a high-end MPV car. If the diesel version is available, the Tourneo will be even more perfect.
Technical data
Ford Tourneo
999 million
Car body
7 multi-purpose seats
Number of seats
7
Number of windows
5.00
Engine type
Engine capacity
2.00L
Max power
203.00 horsepower
Maximum torque
300.00 Nm
Gear
Drive type
Fuel consumption
0.00l / 100km
Air conditioning
Automatically 2 regions
Did you find the article helpful?
Featured review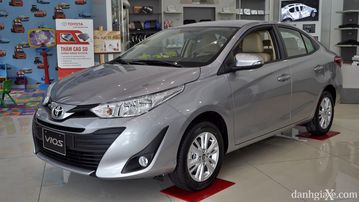 Detailed evaluation of Toyota Vios 2020 car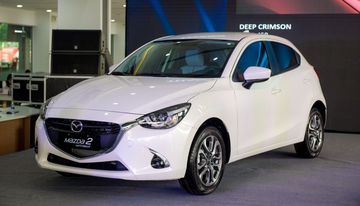 Preliminary assessment of Mazda 2 2020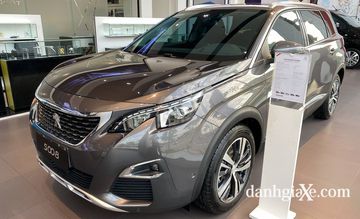 Preliminary evaluation of Peugeot 5008 2020 car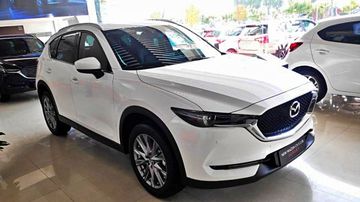 Preliminary assessment of the Mazda CX-5 2020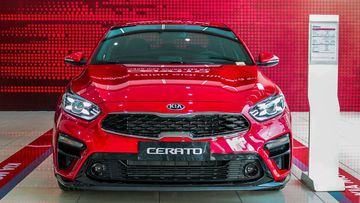 Detailed evaluation of Kia Cerato 2020 car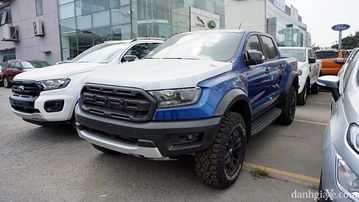 Preliminary assessment of the Ford Ranger Raptor 2020
Featured article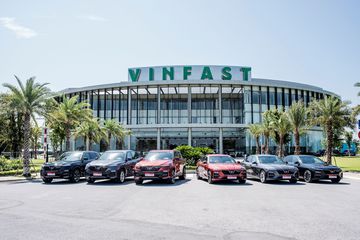 VINFAST will sell nearly 67,000 cars and motorcycles in 2019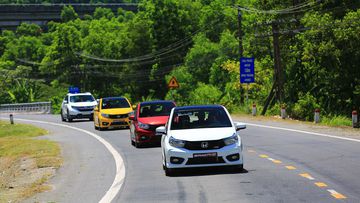 Honda Vietnam sells more than 2.5 million motorcycles and 33000 cars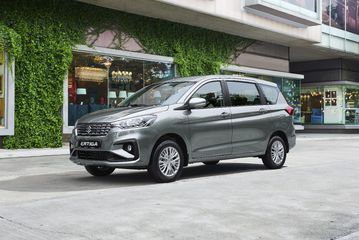 Suzuki strives to conquer the Vietnamese market with the quality of products and services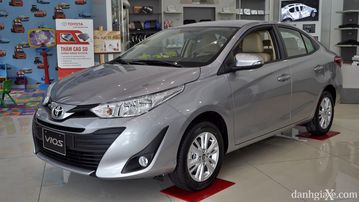 Detailed evaluation of Toyota Vios 2020 car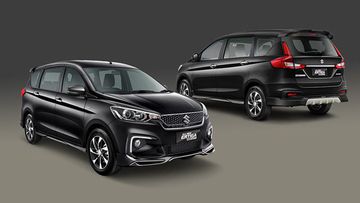 Suzuki Ertiga 2020 is about to return to Vietnam, fighting Mitsubishi Xpander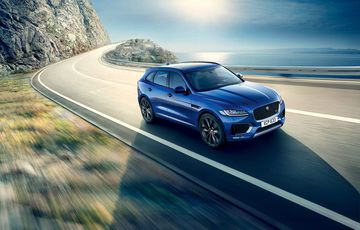 Jaguar promotes 300 million VND for F-Pace on the occasion of Tet holiday 2020
new post
NX

Article: 421

Honda Vietnam sells more than 2.5 million motorcycles and 33000 cars

Honda Vietnam (HVN) announced its business results in December 2019 and the whole of 2019. Accordingly, in December 2019 as well as in 2019, with continuous efforts, HVN has achieved The successes in both automobile and motorbike business, and at the same time contribute positively in social activities, bring customers more joy, gradually conquering the goal of becoming a Company. social expectations.




NX

Article: 421

NX

Article: 421