Home page
Assessment form
Preliminary assessment of the BMW 740Li LCI 2020
Preliminary assessment of the BMW 740Li LCI 2020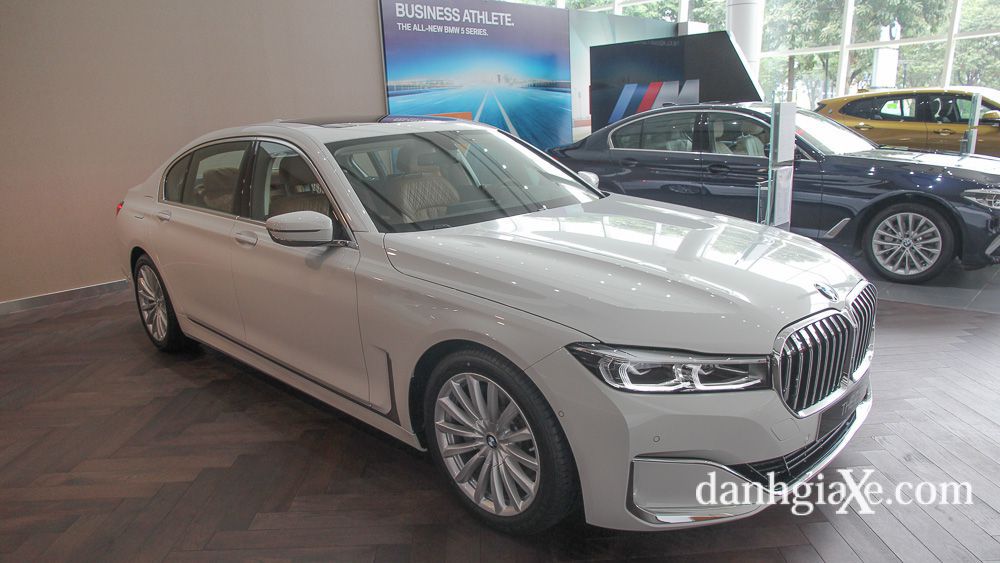 overview
Evaluation group scale
| | |
| --- | --- |
| Designs | |
| Operate | |
| Convenient | |
| Safe | |
| Price | |
Are you interested in this product? Send your information to us to receive the latest quotes from the company
Introduce
BMW 7-Series is a counterbalance of famous names in the luxury car industry such as Mercedes-Benz S-Class, Audi A8 or Porsche Panamera. In Vietnam, BMW 7-Series is a G11 generation model, priced from VND 4,099 billion.
Price and origin
BMW models in Vietnam distributed by Thaco are imported complete units. The price of BMW 7-Series is as follows:
BMW 730Li: VND 4,099 billion
BMW 740Li: VND 5,359 billion
BMW 740Li (LCI): VND 5,599 billion
BMW 750Li: VND 9.299 billion
BMW M760Li: VND 12,999 billion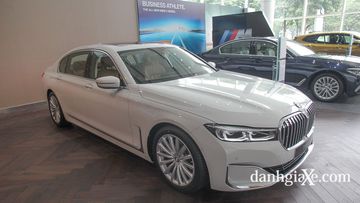 Currently, BMW 7-Series is a large luxury sedan with the best starting price of nearly VND 4.1 billion. Mercedes-Benz S-Class is priced at 4.25 billion, then Porsche Panamera is 5.25 billion while Audi A8 has the highest price of 5.8 billion. The rolling price of BMW 740Li LCI 2020 in Hanoi is 6,301 billion VND, Ho Chi Minh City is 6,189 billion VND and the provinces and cities are 6,171 billion VND.
Exterior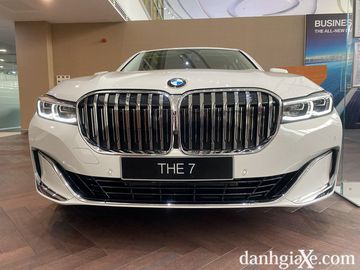 The BMW 730Li carries powerful but sophisticated lines exuding elegance and unmistakable personality. The whole beauty is hidden inside 5238 x 1902 x 1484 (mm) in size Length x Width x Height, the wheelbase of 3210 (mm) brings an extremely spacious and comfortable interior space for passengers. . The front bumper is elegantly designed, the chrome contours run long and it wraps around the eye-catching LED fog lamps.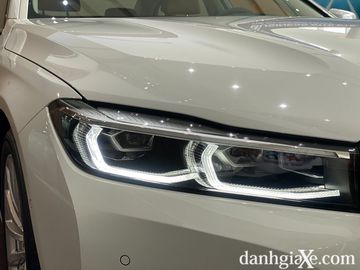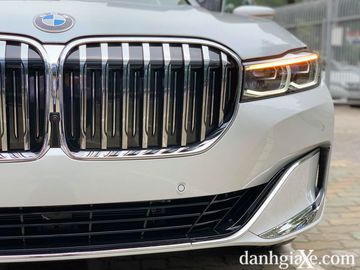 The front is still a "kidney-shaped" grille, but the 740Li LCI 2020 enhances the ability to automatically close / open when the car is moving, in addition to the familiar LED-shaped LED headlights. , automatically adjusts projection angle and controls the range of light in combination with the cornering extension system.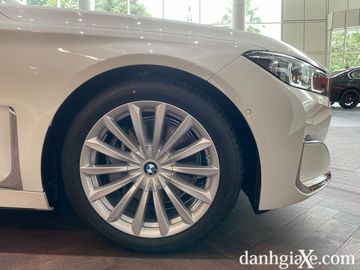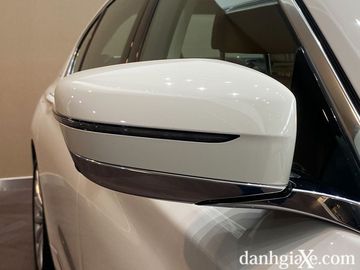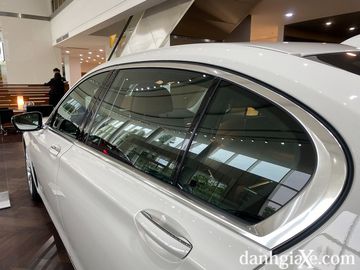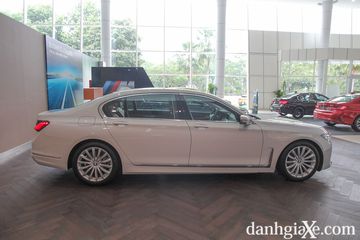 The body of the car features a silver door brace stretching from the wind diffuser and a luxurious 19-inch alloy wheels. Especially, the 2020 BMW 740Li LCI is equipped with modern runflat tires, allowing the car to continue moving even when it has a puncture, so the 740Li will not have spare tire like some other brothers. In addition, the 740Li LCI 2020 is further adorned by a sharp rearview mirror with integrated turn indicator, power adjustment / anti-glare function.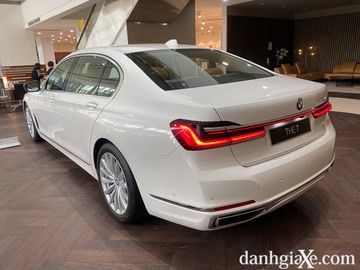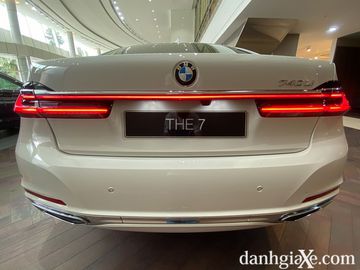 Seen from behind, the sedan from Germany continues to show elegance and elegance with polished chrome lines on the rear doors, bumpers and dual exhaust. LED taillights and reflective lights are arranged in harmony, creating a beautiful overall for 740Li LCI 2020.
furniture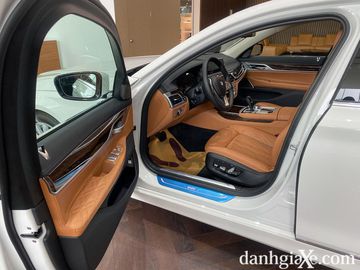 Going inside, you will come to the superior interior space, "luxurious" is not only a description in the catalogs, it is shown by every 730Li in every corner and details, whether single the easiest.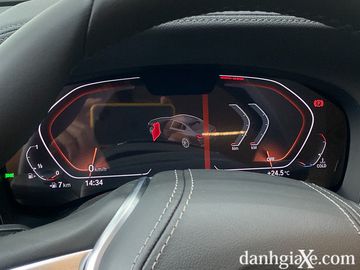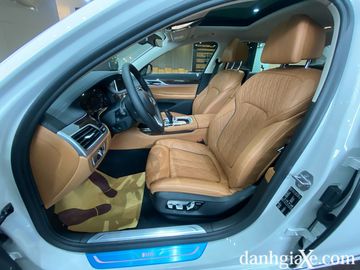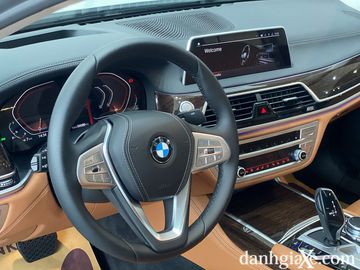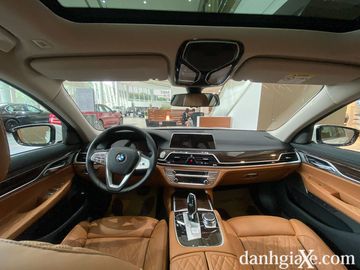 In Vietnam, the BMW 740Li LCI 2020 comes standard with high-quality Nappa leather seats, besides elegant wood trim and interior interior with full leather upholstery with beautiful brown tones, The road is only made cleverly and very meticulously, making the atmosphere completely different.
You will be completely comfortable whether sitting in any position thanks to the airy ceiling space and legroom up to 1.12m. Both front and rear seats provide the utmost care and care for users with electric adjustment, heating, ventilation and massage features.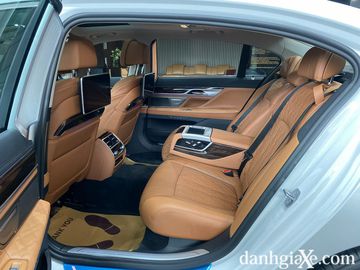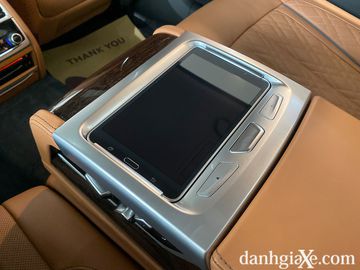 The second row when necessary, just need to stow the armrest on the back of the seat to be able to accommodate three adults, BMW still fully equipped with 3 seat belts although the rear floor is not flat can cause a bit inconvenient for the middle seating position.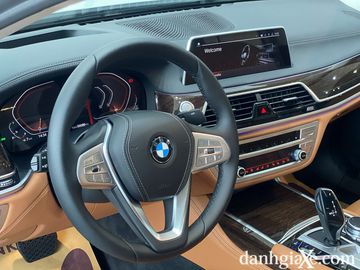 The steering wheel of the BMW 730Li is a three-spoke, leather-clad premium wood trim with delicate silver function buttons that allow adjusting the sound, answering the phone hands-free, setting the speed limit … The number is neatly designed with the display of the hand position right on the body, pointing directly to the driver for visual observation, in addition to a P button to activate the parking assistance function quickly and conveniently .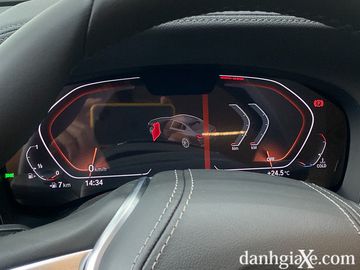 The dashboard of the beautiful digital control with contrasting colors clearly and vividly displays the operating parameters of the car and engine. In addition, the 2020 BMW 740Li LCI also has a Head-Up Display (HUD) function that displays information right on the windshield to make it safer for drivers to be able to directly track information while still observing. situations on the road.
Equipped with amenities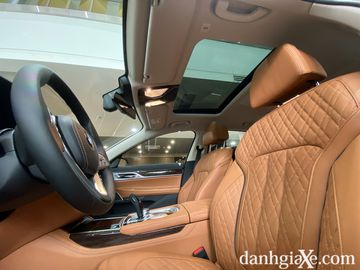 BMW offers a long list of state-of-the-art luxury features that cater to the people sitting on the 740Li LCI 2020, whether you sit in the front or the back, you can still enjoy your rides thanks to the dedicated and thoughtful car from Germany. It is worth noting that the car has additional ventilation systems on the back of the front and rear seats that are suitable for hot weather like in Vietnam.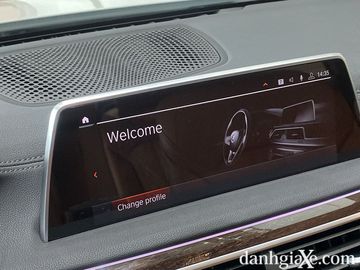 Starting with the BMW Gesture Control gesture control system, it brings a very interesting experience with the ability to receive orders through 6 manual movements, including default commands such as answering calls, things Adjust the volume and a command is customized according to the intended use. In addition, the 740Li LCI 2020 also supports connecting smartphones via Bluetooth and USB.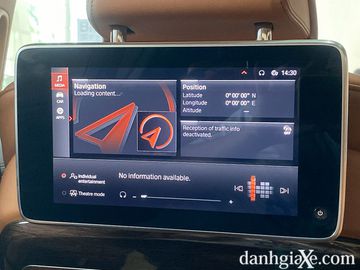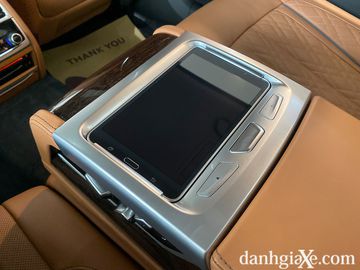 Rear passengers will get the BMW Touch Command control cluster, with a tablet arranged in the center of the second row and can be held as needed to allow custom air conditioning or separate entertainment clusters. , as well as track travel or use the massagge function, a 15-liter refrigerator for the rear seats
Along with that is the Harman Kardon audio system with speakers appearing throughout the cockpit, the DVD player (or CD), the headphone jack, two touch screens and two auxiliary air vents.
Operation – Safety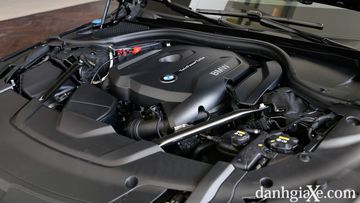 The specifications of BMW always satisfy the fans and 740Li LCI 2020 is no exception. TwinPower Turbo twin turbocharged 3.0L engine has 6 cylinders in line, delivering maximum power of 340 horsepower at 5500 – 6500 rpm and maximum torque of 450Nm at long cycle wide: 1500 – 5000 rpm.
Combined with 8-speed automatic transmission for the sedan extremely impressive acceleration, just 5.6 seconds to reach 100km / h, maximum speed of 250km / h and fuel consumption announced by the manufacturer. Output is 7.2 liters / 100 km.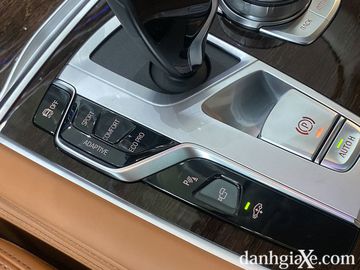 Sitting behind the steering wheel, you can choose one of three driving modes that best suit your personality and road conditions: Sport – Comfort – Eco Pro. Depending on the choice, the air suspension on both front and rear axles will adjust the "stiffness" as well as the chassis height to optimize the performance of the BMW 740Li LCI 2020. Besides, two wheels later with the ability to "self-navigate" depending on the speed makes 740Li LCI 2020 move more flexible and stable.
There is also an additional feature that regenerates power when decelerating, which contributes to recovering the engine power lost, reused through the battery charger and supply to the system. power system.
Safe
The 730Li is the first BMW Series 7 to adopt Carbon Core technology, the body made of carbon fiber reinforced plastic will combine with tempered steel and aluminum, not only to help reduce weight but also increase bearing capacity, absorption. impact when collision occurs and protect passengers more safely.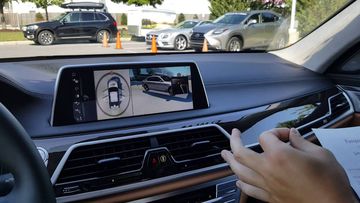 Other safety features include active protection, a 360-degree camera system around the car, electronic parking brake, parking control system as well as parking assistance and self-locking. door when the car is running.
Conclude
With the equipment in the "top", it can be said that the BMW 7-Series is a large luxury sedan not inferior to any rival in the same segment. However, the price is not really a big problem because the car is imported CBU rather than assembled in Vietnam as rival Mercedes-Benz S-Class.
Technical data
BMW 740Li LCI

5,599 billion

BMW 740Li

4,868 billion

BMW 730Li

4.223 billion

BMW 730Li

4,279 billion

Car body




Sedan

Car body




Sedan

Car body




Sedan

Car body




Sedan

Number of seats




5

Number of seats




5

Number of seats




5

Number of seats




2

Number of windows




4.00

Number of windows




4.00

Number of windows




4.00

Number of windows




4.00

Engine type




Engine type




Engine type




Engine type




Engine capacity




3.00L

Engine capacity




3.00L

Engine capacity




3.00L

Engine capacity




3.00L

Max power




340.00 horsepower

Max power




326.00 horsepower, at 5500.00 rpm

Max power




258.00 horsepower, at 6600.00 rpm

Max power




Maximum torque




450.00 Nm

Maximum torque




450.00 Nm, at 1,380 – 5,000 rpm

Maximum torque




310.00 Nm, at 2,600–3,000 rpm

Maximum torque




Gear




8.00 levels

Gear




8.00 levels

Gear




8.00 levels

Gear




Drive type




Drive type




Drive type




Drive type




Fuel consumption




7.20l / 100km

Fuel consumption




9.10l / 100km

Fuel consumption




8.70l / 100km

Fuel consumption




8.70l / 100km

Air conditioning




4 automatic zones

Air conditioning




Automatic 04 zones

Air conditioning




4 zone automatic

Air conditioning



Did you find the article helpful?
Featured review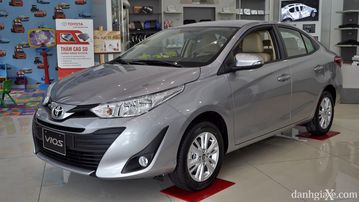 Detailed evaluation of Toyota Vios 2020 car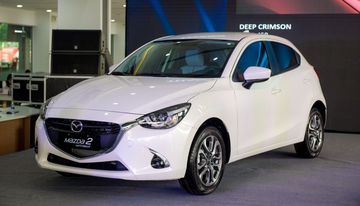 Preliminary assessment of Mazda 2 2020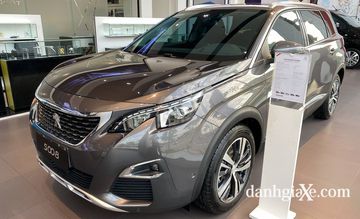 Preliminary evaluation of Peugeot 5008 2020 car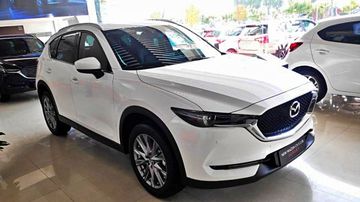 Preliminary assessment of the Mazda CX-5 2020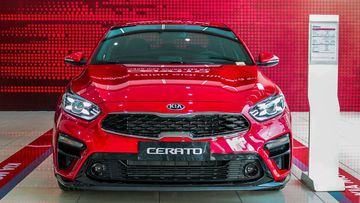 Detailed evaluation of Kia Cerato 2020 car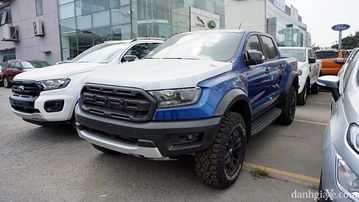 Preliminary assessment of the Ford Ranger Raptor 2020
Featured article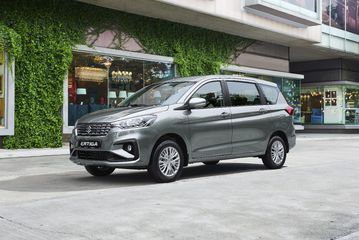 Suzuki strives to conquer the Vietnamese market with the quality of products and services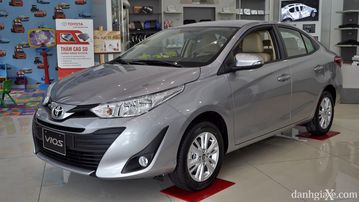 Detailed evaluation of Toyota Vios 2020 car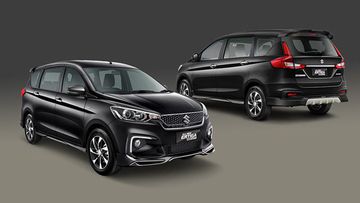 Suzuki Ertiga 2020 is about to return to Vietnam, fighting Mitsubishi Xpander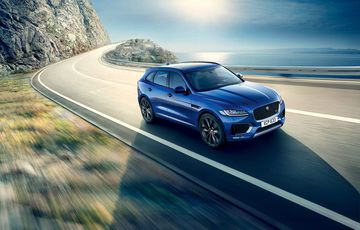 Jaguar promotes 300 million VND for F-Pace on the occasion of Tet holiday 2020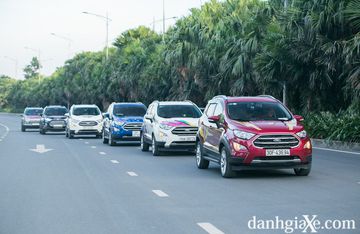 Ford Vietnam reached a sales record in 2019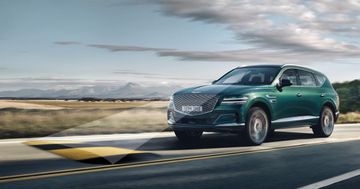 Genesis GV80 – Hyundai's first luxury SUV officially launched
new post
NX

Article: 419

NX

Article: 419