Home page
Assessment form
Preliminary assessment of Jaguar XF 2019
Preliminary assessment of Jaguar XF 2019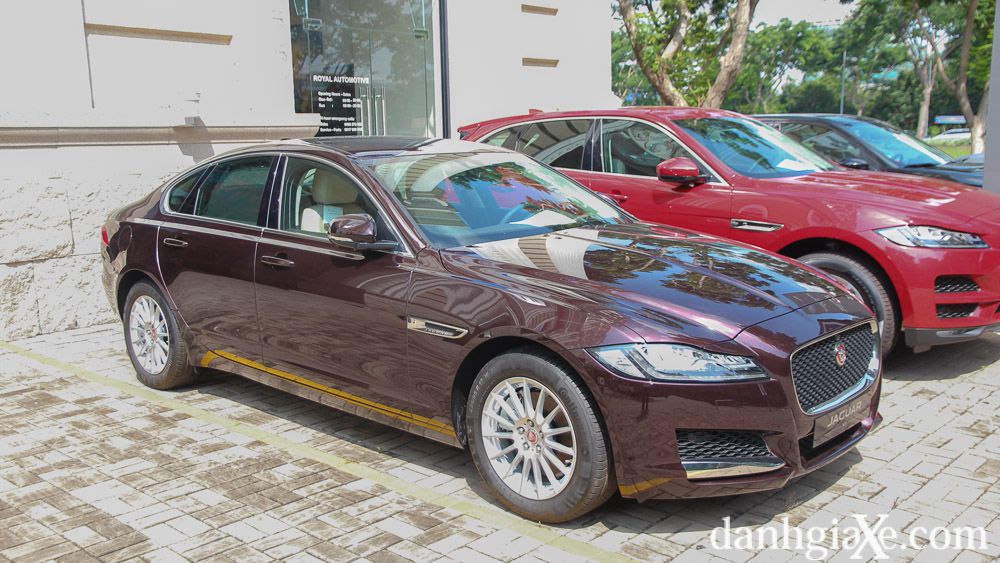 overview
Evaluation group scale
| | |
| --- | --- |
| Designs | |
| Operate | |
| Convenient | |
| Safe | |
| Price | |
Are you interested in this product? Send your information to us to receive the latest quotes from the company
General introduction
In the midsize luxury sedan segment, the majority of customers often refer to the trio of German luxury cars are Mercedes-Benz E-Class, BMW 5-Series, Audi A6 and Lexus GS, and they often forget one. The name comes from England – Jaguar XF.
This is a second-generation model of XF with upgrades both in appearance and equipment, not only increasing the appeal to those who "trot" the jaguar mascot, but also helps Jaguar's sedan lineup. more sophisticated with XE and XJ.
For detailed advice and get the best Jaguar cars nationwide, please contact:
Northern

0934 179 149

(Mr Trung)
Central

0934 179 149

(Mr Trung)
South

0917 853 656

(Mr Tri)
(Please click on the phone number to make a call)
Price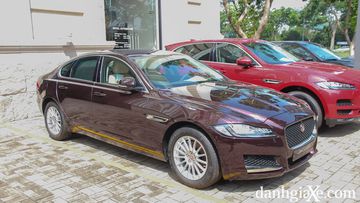 The official selling price in Vietnam for the current XF has not been announced exactly, only know that besides the Prestige Si4 version uses a 2.0-hp turbocharged 2.0 engine and the rear-wheel drive system appears in the review. this time. The current Jaguar XF has a starting price of VND 2,799 billion, higher than the BMW 520i at VND 2,389 billion or the Audi A6 of VND 2.27 billion if compared with the whole car import.
Jaguar XF 2.0P 200PS Prestige: 2,799 billions dong
Jaguar XF 2.0P 200PS Prestige (high option): 2,929 billion
Exterior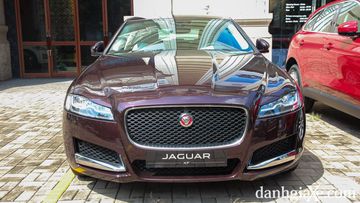 First of all, considering the dimensions, the 2019 Jaguar XF has a total length of Length x Width x Height of 4,954 x 1,987 x 1,457 (mm), a wheelbase of 2,960 (mm) and a minimum ground clearance at full load of 116 (mm). These numbers are enough for XF to overtake the E-Class, BMW 5-Series, Audi A6 and Lexus GS to become the most powerful vehicle in the current segment.
Taking a closer look at the look of XF 2019, Jaguar brings a few notable changes in the front and rear light assemblies, combined with decorative details to create a strong, youthful but still full overall. elegant and attractive.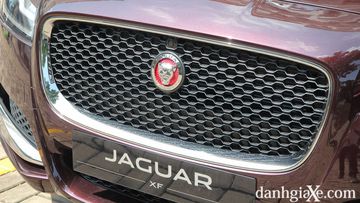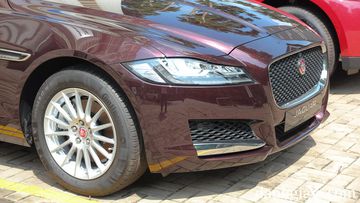 The appearance of the XF 2019 is clearly masculine but still shows some majesty and elegance in Jaguar's very own "nobility". Comes with a honeycomb grille with chrome-plated edges, a large front bumper as well as sharp embossed ribs on the cap, two air intakes below are expanded more than before and two additional bright metal bars ball.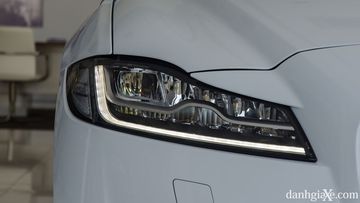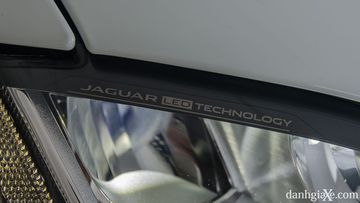 The focus cannot be ignored is Jaguar's modern lighting system for the new generation XF. The "eyes" guide the driver equipped with exclusive Jaguar LED Technology with headlights / core and daytime running lights "J Blade" completely made up of LED bulbs.
In addition to the ability to illuminate and identify clearly and beautifully, the features that the British automaker integrates inside also have auto on / off, automatically adjust the projection angle when driving with the wash lamp full of utilities .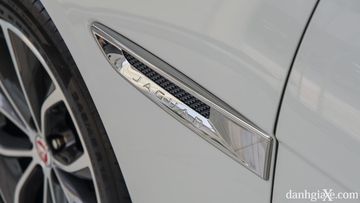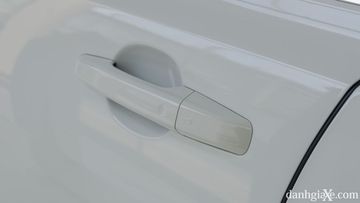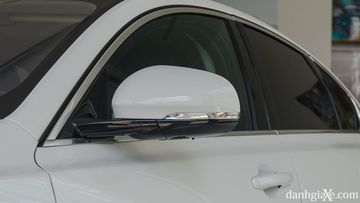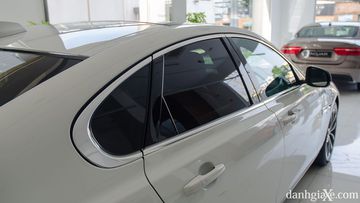 From the side, we can see the body lines that have been meticulously elaborated by Jaguar to every detail, from the embossing from the nose of the car stretching along the body to the tail of the wind, the hood clawing backwards. as in sports coupes, to the chrome-framed glass door frames and the B-pillar made of high-class glass, instead of just painted black but rivals.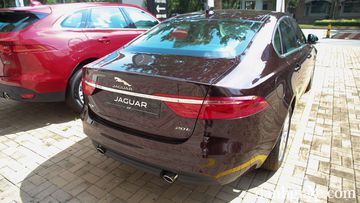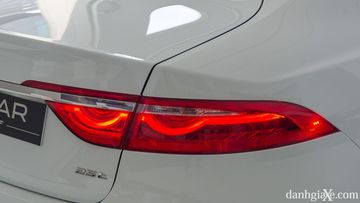 At the rear of the car, Jaguar XF 2019 has a harmonious overall when the layout towards the balance and the jaguar and the shiny Jaguar lettering as the center. Inside the slender tail light clusters hugging from both sides of the body is a full-size LED array with the design inherited from the bendable F-Type coupe that is very beautiful, connecting these two light strips is a splint. luxury chrome.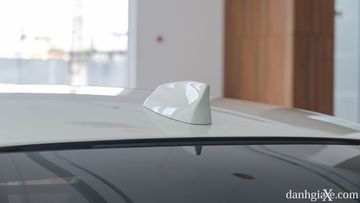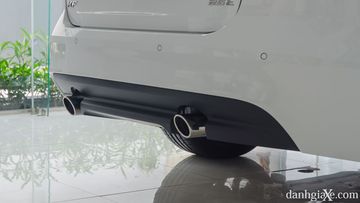 In addition, although not too clear, the sporty appearance is still somewhat unsettling when Jaguar puts in an XF with a fish fin antenna, a slightly modified spoiler tail and a pair of dual exhaust pipes surrounded by the Dark plastic rear bumper.
furniture
Going back a bit with the dimensions, compared to its predecessor, the XF 2019 has a shorter and shorter body, but in return, the two-axis distance is now increased by 51mm to help the foot space up to 87mm same height as the ceiling for the front row is 991mm, for the rear seats is the same 970mm.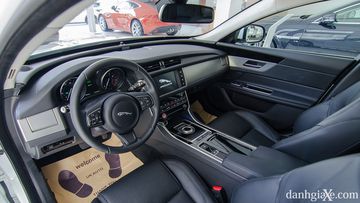 And not just an abundance of space, Jaguar of course will make even the most difficult customer to be satisfied with the different class of Riva Hoop design style, blended with high interior materials. grades include Gloss Figured Ebony wood and Dark Hex alloy. In addition, the layout of the interior is full of science combined with a list of convenient features "take care of" to help passengers always comfortable when traveling with XF.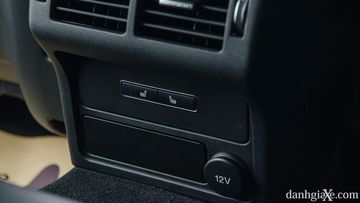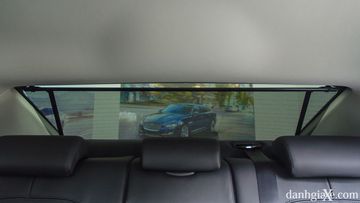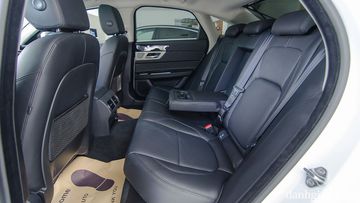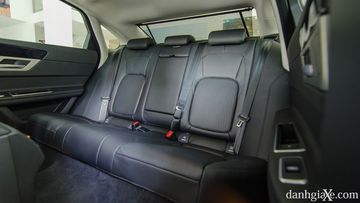 The two rows of seats are covered with soft leather, the seat cushions, backrest and headrest are meticulously calculated to give the user the best care, sitting posture is always comfortable and relaxing. The two front seats feature eight-way power adjustment and four backrest cushioning options, while the driver's seat adds three additional location memory, which will help family members easily get their favorite sitting position. like when taking turns controlling XF.
The rear seats are spacious enough for all three members, legroom and ceiling space is very abundant even for people as tall as 1m80, but the middle seating position should be better for children when The drivetrain and side air vents are a bit overwhelmed. In return, Jaguar has been observant when equipped with three seat heating levels and an electric blinds in the rear glass door, providing true privacy and coziness for passengers.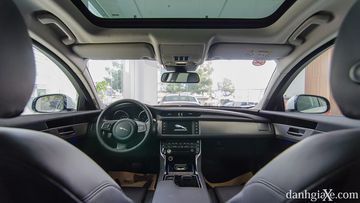 Refinement and flexibility are the adjectives I have for the tabloid panel of the new generation XF, although designed with the driver-oriented design, the upper line "moving" is very elegant. Combined with that is the center console area arranged "in a straight line", immediately reaching both the gear lever and the armrest between the two front seats. These two factors make the cabin both youthful and modern, while exuding elegance and nobility.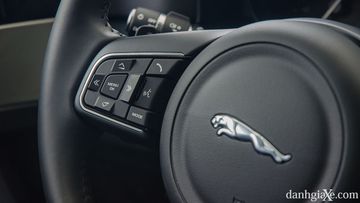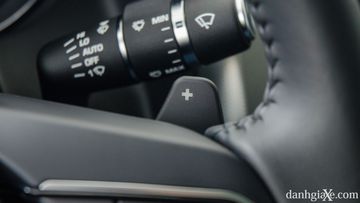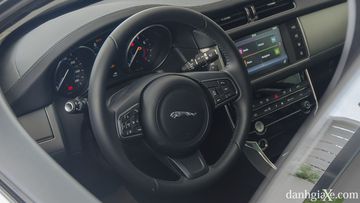 The steering wheel at XF 2019 is still Jaguar's familiar simple, three-spoke design. You will definitely love the feel of touching the smooth skin surface as well as using the neatly organized function buttons at 3 o'clock and 9 o'clock. And as an incentive for the driver to use two gearshift paddles, Jaguar arranges at the center of the steering wheel a powerful newspaper, as I am a speed lover, these details really ". suggestive "and full of appeal.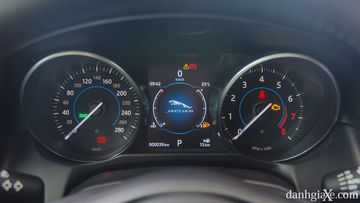 The instrument panel displays in a sporty XF Prestige 2.0 Si4 version when the two velocity clusters and the rev counter are rimmed with 3D embossed chrome, alternating between a multi-information screen and a strong blue tone. A simple yet effective design not only makes the cabin more beautiful, but also makes it easy to visually track parameters.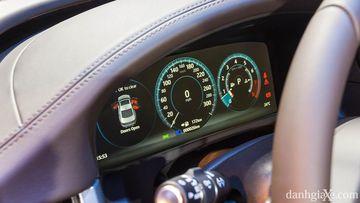 And if you still want to drive with the XF to be more exciting and truly classy, ​​Jaguar offers a 12.3-inch display called Virtual Instrument that is extremely sharp. The equipment is included in the InControl Touch Pro infotainment system package and customers can choose it, similar to the speed / gearshift / navigation display on the Head-up Display steering glass.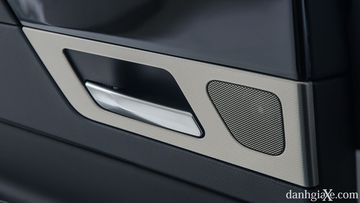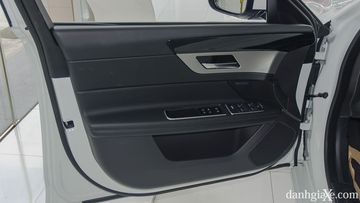 Inside the car door, the British carmaker uses a range of high-quality materials, from dark painted wood panels, expensive carbon coating, chrome-plated door switches to leather and stitching completely floating pedestals. hands, in addition to four glass doors are equipped with one-touch electric adjustment. These equipment not only make the cabin more luxurious, but also make passengers always feel comfortable and comfortable with XF.
For detailed advice and get the best Jaguar cars nationwide, please contact:
Northern

0934 179 149

(Mr Trung)
Central

0934 179 149

(Mr Trung)
South

0917 853 656

(Mr Tri)
(Please click on the phone number to make a call)
Convenient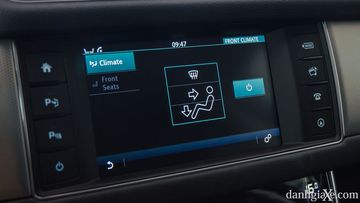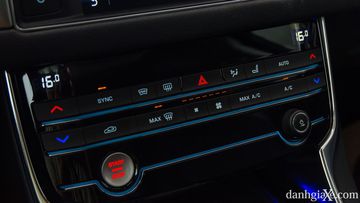 Taking on the role of bringing fresh air and comfort throughout the travel process of passengers is an independent two-zone automatic air conditioning system and comes with air cavity for the rear seats. The point seems to be nothing too different and outstanding for a luxury car, but Jaguar often brings details that are not in the spec sheet and difficult to measure with money.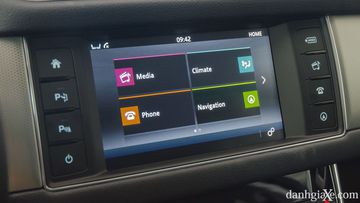 As mentioned above, Jaguar offers two options for customers: InControl Touch or InControl Touch Pro. The first option, with an 8-inch touch screen and front function buttons, can easily control all entertainment features or the air-conditioning system. The list of features includes satellite navigation, hands-free calling, Bluetooth / USB / AUX / iPod / Radio connectivity, Internet access via Wi-fi transmitter, 13 Maridian speakers of 380 Watt. All will help the driver and the passengers to entertain and enjoy their trip in the best way.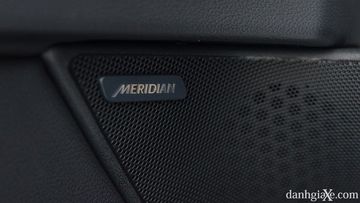 More advanced, XF will own 10.2-inch touch screen with the ability to display 3D maps or music storage up to 10Gb, most notably the Maridian 17 speakers with capacity of 825 Watt "quality" "From Jaguar's optional upgrade package. This will be the perfect choice for technology believers or those who are demanding, want to experience sound at the highest standard on an original car.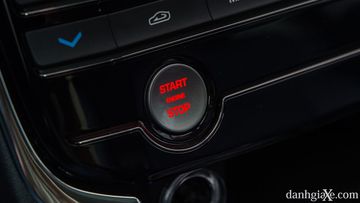 Other facilities not to mention in the XF 2019 include a smart key that comes with a push button and a one-touch door opening / unlocking to make getting in and out more convenient; Integrated cruise control system limits the speed to support the driver more leisurely and safe; One-touch electric sunroof makes the cabin more airy; The optional 10-color decorative lighting system brings elegance and distinct class to the interior.
Operation – Safety
According to information from genuine Jaguar importer, Vietnamese customers will be able to "hold the reins" of XF 2019 through two dynamic systems as follows:
• 2.0L Si4 turbocharged petrol engine, 8-speed automatic transmission and rear-wheel drive. All produce 200 horsepower and reach maximum torque of 300 Nm allows the car to reach a maximum speed of 234 km / h, the ability to accelerate from 0 -100 km / h in 7.1 seconds. Combined fuel consumption of 7.5L / 100km.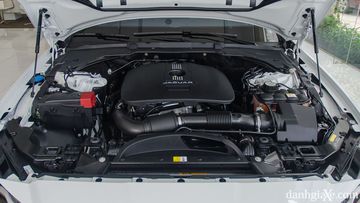 Jaguar XF is also equipped with 4 driving modes, including Normal (normal), Eco (Eco), Winter (winter, foggy, smooth) and Dynamic (sport). In addition, XF has the ability to operate flexibly thanks to the All Surface Progress Control (ASPC) technology that automatically recognizes slippery and less frictional roads such as rain or crushed stone, from It warns and maintains itself at a speed of 3.6 to 36 km / h.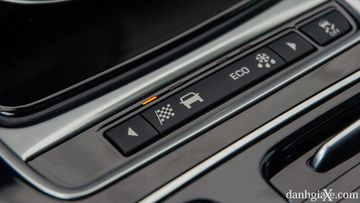 Extra powerful support for strength and superior operating technologies, Jaguar is also a pioneer in making XF completely with aluminum alloy chassis, which helps reduce weight but still ensure stability and safety. for passengers. In addition, the British car company also arranged the bars in the engine compartment, minimizing the vibration affecting the cabin even when the car starts to start.
Customers can be assured of the safety features fitted to the teeth for XF. The list of protections and support from Jaguar includes:
• Electronic level assist system compatible with driving modes
• Support up and down slopes with the ability to maintain speed
• Reverse camera
• Parking assistance with front / rear sensors
• Remote locking system combining central lock and security system
• 06 airbags
• Neck injury protection for front seats
• Electronic hand brake
• Warnings of wear and tear
• The collision sensor system with pedestrians ahead
For detailed advice and get the best Jaguar cars nationwide, please contact:
Northern

0934 179 149

(Mr Trung)
Central

0934 179 149

(Mr Trung)
South

0917 853 656

(Mr Tri)
(Please click on the phone number to make a call)
General assessment
It can be seen, Jaguar XF 2019 is not for those who accept a "luxury car", easily caught, recognized and quickly glided on the street. The sedan with the jaguar logo has an irresistible appeal to the opposite person, not only because of its elegant British aristocratic appearance but also the strong internal power hidden under the capo.
As for the user, high-class furniture meticulously crafted with superior comfort and safety features will be a clear evidence of the phrase "expensive", totally worth every penny. Customer for XF.
Technical data
Jaguar XF Prestige 2.0 Si4

2,799 billion

Jaguar XF Saloon – Premium Luxury Si4

Contact

Car body




Sedan

Car body




Sedan

Number of seats




5

Number of seats




5

Number of windows




4.00

Number of windows




4.00

Engine type




Engine type




Engine capacity




2.00L

Engine capacity




2.00L

Max power




200.00 horsepower, at 5500.00 rpm

Max power




240.00 horsepower, at 5500.00 rpm

Maximum torque




236.00 Nm, at 2000 – 4000 rpm

Maximum torque




340.00 Nm, at 2,000 – 4,000 rpm

Gear




8.00 levels

Gear




8.00 levels

Drive type




Rear axle

Drive type




Fuel consumption




0.00l / 100km

Fuel consumption




0.00l / 100km

Air conditioning




Automatic two zones

Air conditioning




2 regions

Number of airbags




06 airbags

Number of airbags




6 airbags
Did you find the article helpful?
Featured review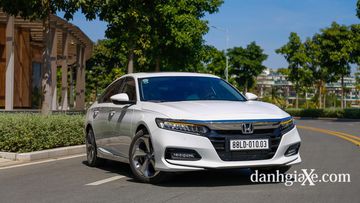 Detailed evaluation of Honda Accord 2020 car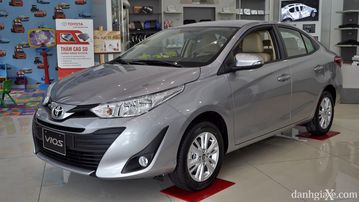 Detailed evaluation of Toyota Vios 2020 car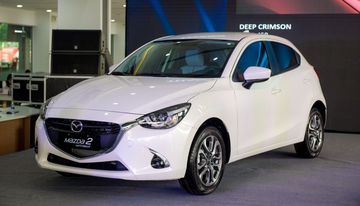 Preliminary assessment of Mazda 2 2020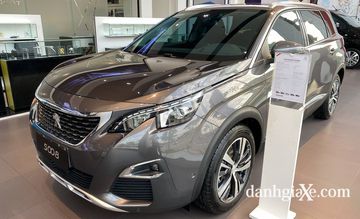 Preliminary evaluation of Peugeot 5008 2020 car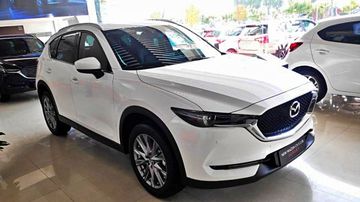 Preliminary assessment of the Mazda CX-5 2020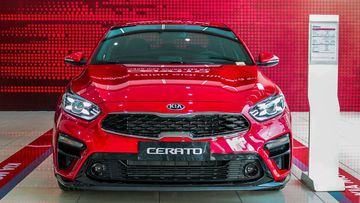 Detailed evaluation of Kia Cerato 2020 car
Featured article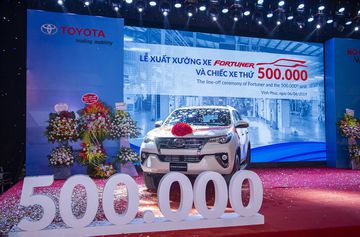 Toyota Vietnam sold nearly 80,000 vehicles in 2019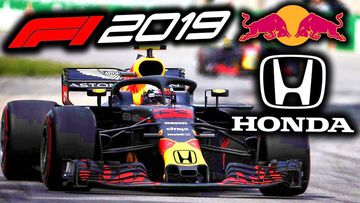 Overview of Honda's motorsport activities in 2020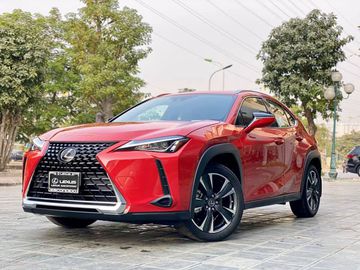 Close up of the first Lexus UX 200 back to Vietnam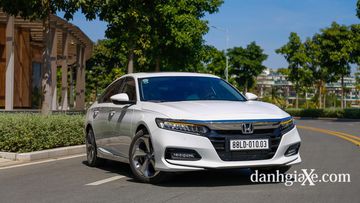 Detailed evaluation of Honda Accord 2020 car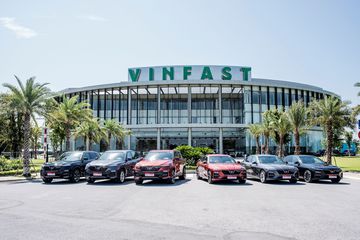 VINFAST will sell nearly 67,000 cars and motorcycles in 2019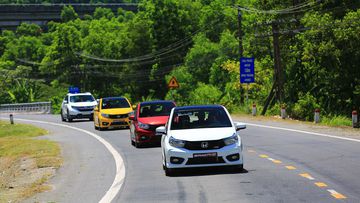 Honda Vietnam sells more than 2.5 million motorcycles and 33000 cars
new post
NX

Article: 424

Honda Vietnam sells more than 2.5 million motorcycles and 33000 cars

Honda Vietnam (HVN) announced its business results in December 2019 and the whole of 2019. Accordingly, in December 2019 as well as in 2019, with continuous efforts, HVN has achieved The successes in both automobile and motorbike business, and at the same time contribute positively in social activities, bring customers more joy, gradually conquering the goal of becoming a Company. social expectations.




NX

Article: 424