By default, when you install a font, software applications that support text editing and typing will automatically recognize the font you just installed, if you use a graphics program, such as the error Photoshop Portable does not recognize UTM fonts. , UVN, please see the cause and remedy in the article below.
Related posts
How to install beautiful fonts for Photoshop Portable
Select font in Photoshop, create beautiful, artistic text in Photoshop
Vietnamese typing method on Photoshop CS6
The Vietnamese typing method in Photoshop, writing Vietnamese in Photoshop
How to write accented text in Photoshop
First of all, I affirm you, whether you use Photoshop Portable or the full Photoshop version, you can fix the error of not receiving the font, not just font UTM, UVN but also other fonts.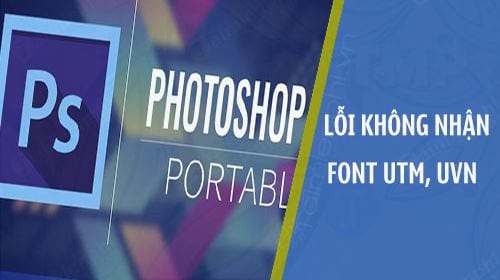 How to handle Photoshop Portable does not recognize UTM, UVN fonts
Photoshop Portable does not accept UTM, UVN fonts
If you have the font installed UTM, UVN successful but you check the selection Font on Photoshop Portable but do not see these 2 fonts, try some of the following ways:
Method 1: Delete and reinstall UTM, UVN fonts
This way, you go to the section Font in Windows (Normally C: Windows Fonts) find out if two fonts have just been installed:
– If not, then the installation may be faulty and you need to reinstall these 2 fonts. See the instructions install the font here.
– If you have seen these 2 fonts already Photoshop Portable If you do not receive, then delete these 2 fonts and then download again Font UTM and Font UVNto reinstall font to fix.
Method 2: Copy, Paste directly into the Font of Windows
This way is basically the same as in Method 1, but this is a manual action that helps you to control, directly monitor the copy and paste font to see if there are errors arising during the operation, thereby helping you. know the cause of the error and provide a way to fix it.
You also check that there are 2 fonts UTM, UVN in the directory Font of the Windows or not -> then reload these 2 fonts according to the download link in Method 1 and copy and paste the font as instructed in Method 1.
Method 3: Exit Photoshop Portable and then turn it on again to receive the font
Normally, you reinstall the font in the two ways mentioned above, then the applications that support editing will automatically recognize the font, including software. Photoshop Portable.
In case other applications such as Word, Excel, Powerpoint … have already received the font but Photoshop Portable If you do not recognize, the application may be faulty, frozen … you just need to turn off, exit or interrupt the process of the application and then reopen it, the application will receive the newly installed font.
Method 4: Install a new Photoshop or use another Photoshop Portable version
If you have tried all 3 methods above and still cannot fix the error of not recognizing the font UTM, UVN it is very possible Photoshop Portable You are using faulty.
To fix, you can reinstall the full Photoshop version or download the copy Photoshop Portable other to use.
– Download version Photoshop CS6 Here: Download Photoshop CS6
– Download version Photoshop Portable CS6 Here: Download Photoshop Portable
Above is the post to share some software error checking and troubleshooting Photoshop Portable does not accept UTM, UVN fonts. These are the four most common causes in the process of users using and working with Photoshop.
https://thuthuat.taimienphi.vn/photoshop-portable-khong-nhan-font-chu-utm-uvn-44346n.aspx
If you see there are other causes and fixes, please share and leave a comment to discuss and exchange before we add more. Thank you for following the article!
.