Research results show that children who are regularly read by parents to be able to read and develop languages ​​many times more than those addicted to using electronic devices.

Because of the busy work, many parents often give their smartphones or tablets to their children to avoid disturbing working parents. Many people consider this to be the best childcare method, but they don't know it is one of the ways to curb their brain development in the first 5 years of life.
A study by the Cincinnati Children's Hospital's Reading and Reading Discovery Center (Ohio, USA) has shown that a child's brain watching multiple phone screens will be less cognitive and literate later. . The study was conducted on 47 healthy preschool-aged children divided into 2 groups: reading and watching phones, computers … on average 2 hours / day.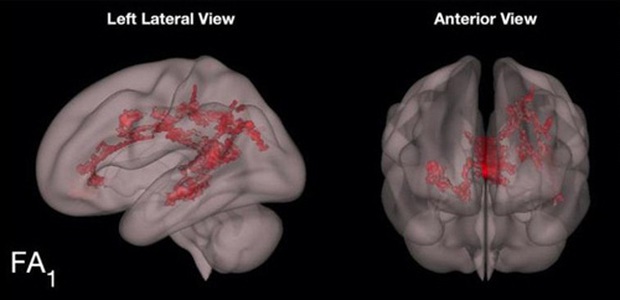 This is the left side and the front of the child's brain often read by parents to read. The red section shows the increase of organized white matter in the area responsible for language and reading skills.
This is on the left and in front of a child's brain or electronics. The blue section shows widespread widespread underdevelopment and lack of white matter in the same area that supports the child's learning.
These are the clearest evidence for comparing children to reading and watching too much television will affect the difference. The study's lead author, Dr. John Hutton asserts: "This is the most important stage in the child's brain development. Because newborn babies have more neurons than any other stage in their life. Depending on the care of parents will affect the link between these neurons with each other ".
Brain gray matter contains cells that help regulate body activities. White matter is made up of fibers, often distributed in bundles called bands, forming connections between brain cells and the rest of the nervous system.
The increase and organization of white matter in the brain is important for our ability to communicate and learn. When the white matter is not well organized, the communication system will be affected and delay learning new knowledge of young children.
"Children are born with lots of neurons but basically, they are empty cells", Dr. John Hutton shared,"Depending on the conversations, the discovery and parental care, these cells gradually fill up and strengthen the young brain. ".
With Dr. Hutton's experience, early experiences will harden connections in a child's brain. Anything that is not used well is brain-trimmed and died. "Although the brain can be altered and developed at any age, it will be most effective in the first years of life, when at this stage, the neuron will be most produced. It's important to have early childhood experiences. "
In addition to brain scans, children who participated in the study were also screened for cognition. When it was time to show, children who used electronic devices for more than 1 hour a day had lower literacy skills, reduced ability to use language expressions, and name their subjects. This result is in stark contrast to children who are regularly read by their parents.
"We see the negative side of regular phone viewing on a child, specifically affecting the language ability, reading comprehension. On the other hand, activities that benefit different parts of the brain, stimulating the imagination like playing toys, going out to explore nature will be more suitable for a preschooler than sitting in front of a phone screen.", Dr Hutton expressed.

(Source: CNN)
.