Asus ProArt Studiobook 16″ is a high-end graphics laptop model. What makes this model different from other laptops in the same segment is the knob located right below the keyboard.
Positioned to the left of the touchpad, this knob gives users the ability to flexibly adjust different options and features during work.
See more: Asus TUF Dash F15 review: Eye-catching design, long battery life
Specifications of Asus ProArt Studiobook 16
CPU: AMD Ryzen 5900HX
GPUs: Nvidia RTX 3070
RAM: 32GB
Memory: 2TB M.2 PCIe SSD
Screen: 16-inch, 4K OLED HDR
Size: 14.3 x 10.4 x 0.8 inches
Mass: 2.4 kg
Asus ProArt Studiobook 16: Design
ProArt Studiobook 16 has a modern design with the main color tone being dark blue. Every detail of the laptop, from the ProArt logo located in the center of the lid, to the touchpad, the keyboard is covered with a dark navy blue layer.
Wrapped in a metallic finish, ProArt Studiobook 16 offers a premium and modern look. With an overall size of 14.3 x 10.4 x 0.8 inches and a weight of 2.5 kg, the Studiobook 16 looks bulkier and heavier when compared to the MacBook Pro 16 (14 x 9.8 x 0.7 inches, weighs 2.17 kg), Dell. XPS 15 (13.6 x 9.1 x 0.7 inches, weighs 1.95 kg) and Lenovo ThinkPad X1 Extreme (14.2 x 10 x 0.8 inches, weighs 1.81 kg).
Asus ProArt Studiobook 16: Connector
Asus ProArt Studiobook 16 is fully equipped with a variety of connection ports with a variety of types, giving users a workspace with full amenities.
Along the left edge of this graphic laptop are 2 Thunderbolt 4 ports, 1 USB Type-A port, 1 HDMI port, 1 anti-theft lock slot, AC power port. Meanwhile, on the right side is an Ethernet port, a USB Type-A port, an SD card reader and a 3.5mm headphone jack.
Asus ProArt Studiobook 16: Monitor
Asus ProArt Studiobook 16 is equipped with a screen with a diagonal size of 16 inches, 4K resolution and using an OLED panel. The screen is divided into 16:10 aspect ratio, providing an impressive image quality first in the segment.
During our testing, the Asus laptop's screen is capable of covering 100% of the DCI-P3 color gamut, which is more vibrant when compared to competitors MacBook Pro (78%), XPS 15 ( 85%) and the ThinkPad X1 Extreme (84%).
Most laptop screens using OLED panels on the market usually have lower brightness than those using backlighting. However, in our test, the ProArt Studiobook 16's display has an impressive brightness level of 404 nits. This level of brightness is comparable when compared to other competitors, namely the XPS 15 OLED (398 nit), ThinkPad X1 Extreme (426 nit) and average (428 nit).
Asus ProArt Studiobook 16: Keyboard and touchpad
Thanks to a spacious body size, ProArt Studiobook 16 has more than enough space to equip a full-size keyboard with a numeric keypad right next to it. The keys of the keyboard set have a good bounce and are spaced a fair distance apart, allowing me to easily get used to it in a short period of use.
The touchpad of the device has a 2-way size of 5.1 x 2.6 inches, giving users a wide use surface. The surface of the touchpad is made of glass, allowing me to easily move my finger to perform mouse pointer controls in Windows 10.
In addition, located on the body of the Asus ProArt Studiobook 16, there is also a knob, which the manufacturer named "Asus Dial". This knob is placed negative compared to the body, located in the palm rest area on the body. The outer edge of the crown is finished with a grained texture, which helps to increase the grip of the user's finger during use.
This knob can be used to change basic system settings, such as changing the screen brightness or increasing or decreasing the volume of the speakerphone.
Asus ProArt Studiobook 16: Performance
The ProArt Studiobook 16 version that we used in the review is equipped with an AMD Ryzen 5900HX chip. The laptop delivers a level of speedy performance, allowing us to easily work with a variety of applications without any lag. The machine has excellent multitasking ability, as evidenced by the smooth interaction with more than 30 Chrome tabs without overloading the system.
Using Geekbench 5 to score performance, the Asus laptop achieved an impressive score of 9158. In the comparison group in this article, only Apple's MacBook has a higher performance score than ProArt Studiobook. 16, with a result of 12477 points. The remaining competing models have lower performance scores than the Asus, namely the XPS 15 (7477 points), the Thinkpad X1 Extreme (7244 points).
The speed performance of ProArt Studiobook 16 was demonstrated in the video transcoding test with the HandBrake application. Specifically, Asus' graphics laptop only took 6 minutes and 6 seconds to complete the conversion of a 4K video to 1080p resolution.
And yet, ProArt Studiobook 16 is also equipped with a very fast SSD. In our test, the Asus laptop finished copying a 25GB file in just 17 seconds, with an average data write speed of 1557 MBps.
Asus ProArt Studiobook 16: Graphics processing capabilities
ProArt Studiobook 16 is equipped with an Nvidia GeForce RTX 3070 graphics card with 6GB of VRAM. It possesses an impressive level of graphics processing performance, allowing you to work smoothly with all different image editing applications.
The device is also capable of playing games smoothly. Specifically, when we played the game Sid Meier's Civilization VI: Gathering Storm, the laptop ran with an average frame rate of 92 fps, much higher than the current graphics laptop segment (72 fps).
Testing the laptop's graphics processing capabilities with the 3DMark Fire Strike test, ProArt Studiobook achieved an impressive score of 17152, much higher than other models in the same segment such as XPS 15 (8433 points) and X1 Extreme (8433 points). 16739 points).
Asus ProArt Studiobook 16: Battery life
The ProArt Studiobook lasted 6 hours and 17 minutes in our battery life test, specifically after continuous web surfing over wifi, with the screen brightness set at 150 nit. This is an impressive level of battery life for the class, allowing you to work for a long time before having to recharge.
Asus ProArt Studiobook 16: Heat dissipation
ProArt Studiobook's high-performance components emit a fairly high level of heat during use. The good news is that the manufacturer has equipped the laptop with a relatively effective cooling system to overcome that situation.
The machine's cooling system is made up of 2 102-blade fans, 6 heat pipes and 7 sensors. The ProArt Studiobook kept a fairly stable temperature after we let it run an HD video for 15 minutes.
In areas with the highest heat levels, ProArt Studiobook has a temperature threshold of 36 degrees Celsius. And in areas where your hands directly touch, specifically in the touchpad and keyboard positions, there are times the temperature is measured. 24 and 28 degrees Celsius respectively.
Asus ProArt Studiobook 16: Software
The manufacturer encapsulates all the device's utility tools into a single software called MyAsus. At the main screen of the software, you can see the current battery life of the laptop. At the same time, there are options for the display tone and the current status of the voice mic.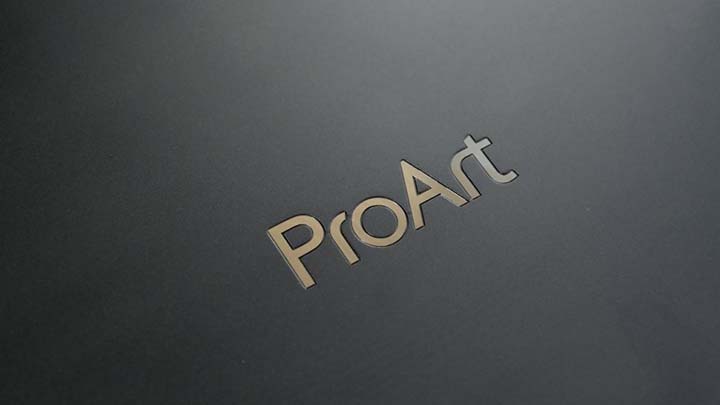 summary
Asus ProArt Studiobook 16 is a high-end graphics laptop. It has an impressive level of performance, allowing users to quickly complete any workload efficiently. Equipped with a 4K OLED screen, Asus ProArt Studiobook 16 gives users a first-class image quality in the segment. If you are looking for a comprehensive graphics laptop in the high-end price segment, then the Asus ProArt Studiobook 16 will be a good choice.
See more: Review Asus ROG Zephyrus G15: The best gaming laptop in the segment
Plus mark
Brilliant 16-inch screen
Equipped with many connection ports
All-round performance
Modern design
Minus point
Slightly bulky design
Battery life is only mid-range