PC shipments stop falling in 2019, rising for the first time in eight yearsHave you changed your phone in 19 years?
2020-01-19 14:48:51
10 Likes
12 Favorites
45 reviews

This article is reprinted with permission Super network, original title "Report: 2019 full-year PC out of eight for the first time since the volume of positive growth," the authors: NI Jia sound, please do not reprint without permission.
The slow shrinking of the PC market has been going on for several years, and the "PC is dead" argument is also a commonplace and not new. When people generally sang the PC industry, this year it slapped industry analysts with their own results, straightened their arms and shouted: I'm not damn yet.
Yes, after eight years of negative growth, global PC shipments have experienced an unexpected pick-up in 2019. According to Canalys' estimates, the growth rate is as high as 2.7%, which is more than many predicted values. Mainly, there was a record increase in PC shipments in the third quarter of this year, and it performed well in the fourth quarter, the traditional holiday quarter, which eventually led to a rebound in PC shipments throughout the year.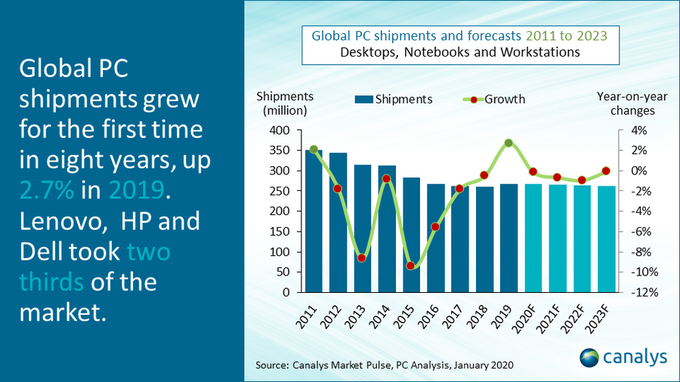 Even though many big customers are plagued by the shortage of Intel CPUs, they have also handed out more dazzling transcripts in 2019.The top three giants in the global PC market-Lenovo, HP and Dell all have good results this year. Growth, of which Lenovo's annual shipments increased by 8.6%, regaining the number one position in shipments, while HP's growth was slightly lower than Dell's 5.3%, which was 4.7%. It is also worth mentioning that Apple still maintains the fourth position, with a growth rate of 3.3%, indicating that the Mac family can sell this year.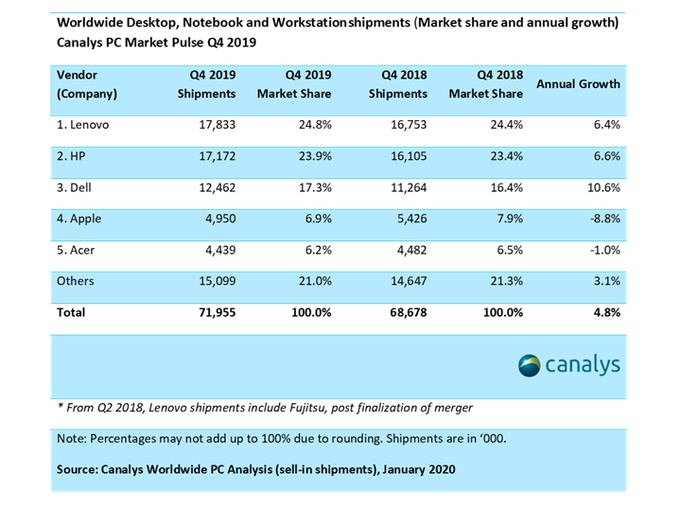 However, even with the decline and rise, analysts are still not optimistic about the data of 2020 and the next few years. The research director of Canalys believes that in 2020, the global PC market will be affected by macroeconomic factors and will not perform well. In addition, Xerox's malicious acquisition of HP, a PC giant, has also brought uncertainty to the market, so in the opening chart, we see that Canalys' forecast for the next few years is not optimistic, and the PC market will continue to maintain Slow shrinking for several years.
Reproduction without authorization

.