Partron products have made their mark with users by emphasizing sound quality, compact design, cheap price and superior battery life than products in the same price segment. This has been confirmed through the predecessor headphones such as PBH-200, PBH-300 and PBH-400.
The True Wireless headset trend has been around for a long time, but Partron recently launched its first True Wireless headset Partron PWE-100. Despite its late launch, the Partron PWE-100 is a product to look forward to.
Some key features of Partron PWE-100:
1. The highlight is the detailed sound quality and honesty from the first experience
Since the launch of new products, Partron has boldly applied new audio technologies to its headphones. Partron PBH-300 and PBH-400 have successfully applied SF Driver technology and become one of the good headsets in the price segment. Coming to Partron PWE-100, the airline has paid off its effort.
Partron PWE-100 is using HF Driver (Hyper Fidelity) audio technology – an achievement in the field of sound in Korea in 2019. According to audio experts, the Driver of Partron PWE-100 has The ability to reproduce sound at Hi-res Audio level, fidelity and detail is also very high, even higher than many high-end headphones using other drivers.
In Ho Chi Minh City, Partron held an Offline meeting at Tinh Te Café, Partron PWE-100 also had the opportunity to be refined by the community members on the ears compared to many higher competitors in the segment and all received the positive reviews.
2. Compact design, super light weight
Partron PWE-100 is designed in the form of In-ear only 5g each earphone and the box weight is 30g. The design is minimalist because HF Driver is very small in size, earplugs suitable for most sizes of human ears including women and children. Therefore, Partron PWE-100 is difficult to fall when exercising, jogging or exercising.
3. High battery life
With a small design, the Partron PWE-100 has a super battery life of listening to music and talking continuously for 6 hours, standby time of 300 hours and recharge time of 2 hours. In addition, the company also equips a Type-C charging port to fast charge the charging box. In the charging dock there's a very strong suction magnet that keeps the headset from falling and activates charging right after putting the headset in the charging box.
4. Use the new Qualcomm Bluetooth chip
Although at a price of about 2 million VND, Partron has invested a lot when equipped with Qualcomm's new Bluetooth 5.0 chip, which has APT-X on both ears, which very few headphones in this price segment have.
Thanks to the Qualcomm QCC3026 TWS chip, Partron PWE-100 greatly reduces the latency, making the listening and listening experience very enjoyable for users.
5. Application of connecting and adjusting Partron Connect
This time Partron has invested more in building specialized applications to support the headset. On the Partron Connect app, users can adjust the default volume up or down on the headset as the default is larger or the default is smaller.
In addition, the application also supports adjusting Equalizer such as adding bass, treble to each person's preference and each music stream.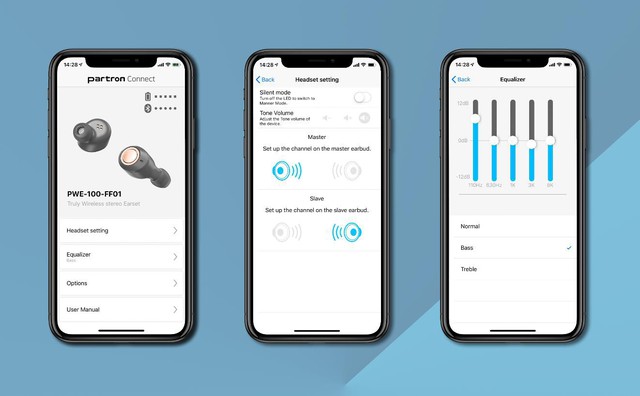 Moreover, users can turn off or turn on the LED to extend battery life, set up voice notification reading and update the latest firmware version right on this app.
Partron Connect supports both IOS and Android operating systems with two main languages: Korean and English depending on the installation language of the device.
6. Reasonable price with great gifts
Although using the latest Qualcomm QCC3026 TWS chip and Korea's HF Driver technology, the Partron PWE-100 is genuine distributed by Partron Vietnam at just under 2 million VND. In addition, the company is also very psychological when giving users a leather bag worth 500,000 VND in this opening sale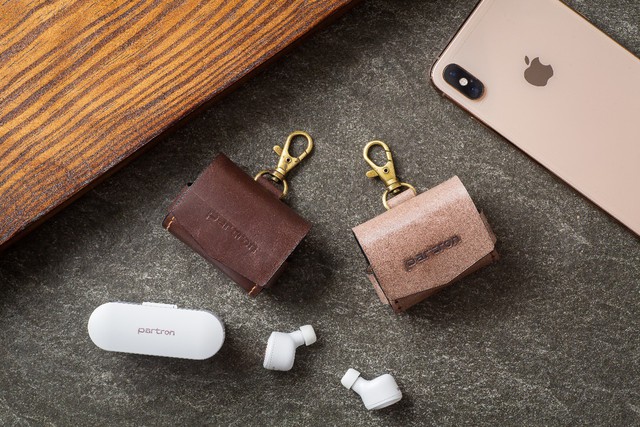 The product is currently on shelves at genuine Partron dealers such as Cellphones, Hoang Ha Mobile, Tiki.vn, 3K shop, Xuan Vu Audio, Ido Audio, Phukien.vn, Poma.vn, Song Long Media, Phukiensamsung , Phukienhay.vn, TMT Shop.
List of agents see here.