Recently, Climbing launched the first notebook Rising Air 13.3 with AMD Ryzen R5 3500U processor, which has already started pre-sale in Jingdong Mall, and the first sale price is only 2999 yuan.
Pansheng started with a high-performance DIY host, and has now become a well-known domestic gaming equipment brand, and its product line has been further expanded. In addition to the much-watched gaming product line, Pansun has also gradually laid out business computer product lines. Following the Shangrui series desktop computers, Pansun also recently announced its entry into the notebook industry and launched the first Shangrui series notebook computers using AMD processors: Pansun Shang Rui Air 13.3.
Climbing Shang Rui Air 13.3 is equipped with a Ryzen R5 3500U quad-core processor, with a main frequency of 2.1 GHz, a dynamic acceleration frequency of 3.7 GHz, and a Radeon Vega 8 core display. Built-in dual-channel 8 GB memory, 512GB NVMe SSD, nominal read speed of 2500MB / s. Equipped with 45Wh battery, nominal battery life is 10 hours
Climbing Shangrui Air 13.3 uses precision cutting technology, comfortable and delicate feel, light body, 1.31kg weight, 18.5mm at its thickest point. The Zenith Air 13.3 is equipped with a 13.3-inch IPS screen, covering 72% of the NTSC color gamut and a resolution of 1920 * 1080. In terms of interface, Pansun Air 13.3 is equipped with a USB 2.0 interface, a TF card reader, an HDMI interface, a USB Type-C 3.1 interface, and a headphone jack.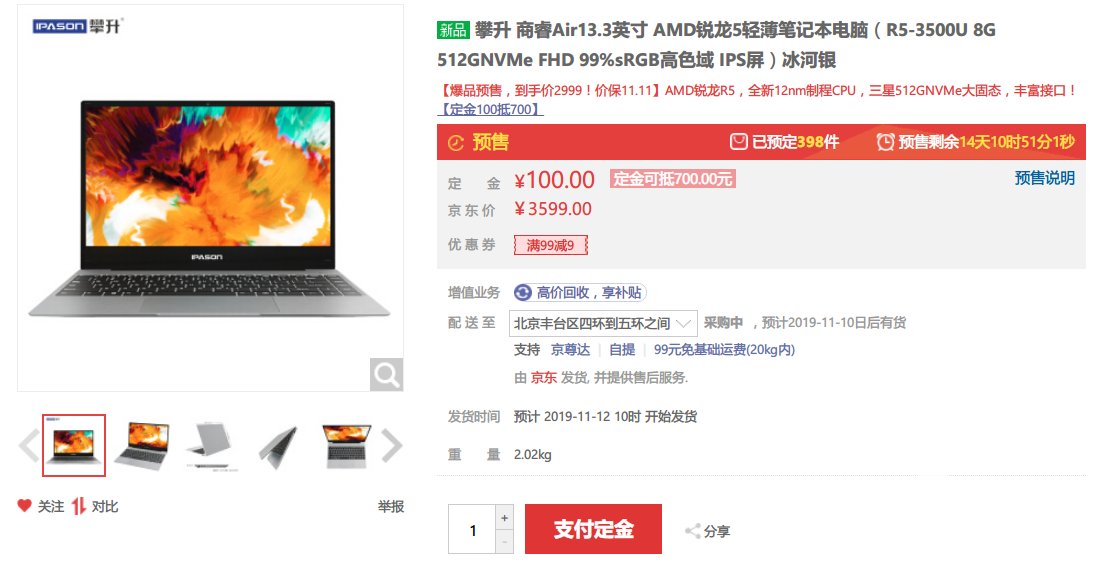 Climbing Shangrui Air 13.3 is officially priced at 3599 yuan. During the first sale of JD Mall, the 100 yuan prepayment can be deducted from 700 yuan, and the price at hand is only 2999 yuan. The cost performance can be said to be very high. Those who are interested can go for more details.
.