Overcoming many household brands nominated for this category, Panasonic has won awards for its antibacterial, antibacterial, unique, and advanced technologies on its modern refrigerators.
Mr. Azuma Yusuke – Senior Manager of Marketing Department – Panasonic Vietnam Refrigerator washing machine line said: "During its 50-year presence in Vietnam, Panasonic has affirmed its position as the leading electronics manufacturer in bringing modern technology products and being active in community activities. Our business orientation in Vietnam for the next 50 years is to transform from a company that produces household electronic products into a comprehensive healthcare solution provider. The development of bactericidal products is an important step in realizing this orientation as air pollution and food quality are a threat to the people. The award "Refrigerator with the most effective sterilization technology" voted by readers and Tech Awards experts is our pride and encouragement in this new journey.
NanoeX – active sterilization technology equipped on 6-door refrigerators – Kills 99.99% of bacteria, reduces up to 2.8 times of pesticide residue (after washing) and effectively prevents odors
In 2018, Panasonic introduced the Nanoe-X antibacterial deodorizing technology from air conditioning to high-end refrigerators. Nanoe-X are nano-sized ionic particles, produced from moisture in the air, containing up to 4.8 trillion original molecules (-OH). These ion particles are spread to every corner of the refrigerator by the air flow, reaching bacteria, viruses in the air inside the refrigerator, taking away the available hydrogen (H) of bacteria to change the structure. bacterial protein, forming new water molecules, thereby inactivating, stopping the growth and growth of bacteria and viruses in the air.
In particular, Nanoe-X has the ability to weaken the bonds in the insecticide on the surface of fruits and vegetables, making it easy for pesticides to be washed off with water, as well as the ability to remove odors and kill 99 , 99% mold bacteria. Therefore, ensuring food safety and hygiene for the health of users.
Blue Ag + – equipped on 2-wing and 3-wing refrigerators – removes and kills up to 99.99% of bacteria thanks to blue light technology combined with silver
Blue Ag + technology uses blue light to activate the silver Ag + crystal to create free (-OH) radicals. These (-OH) radicals combine with hydrogen radicals present in bacteria and convert to water, killing bacteria.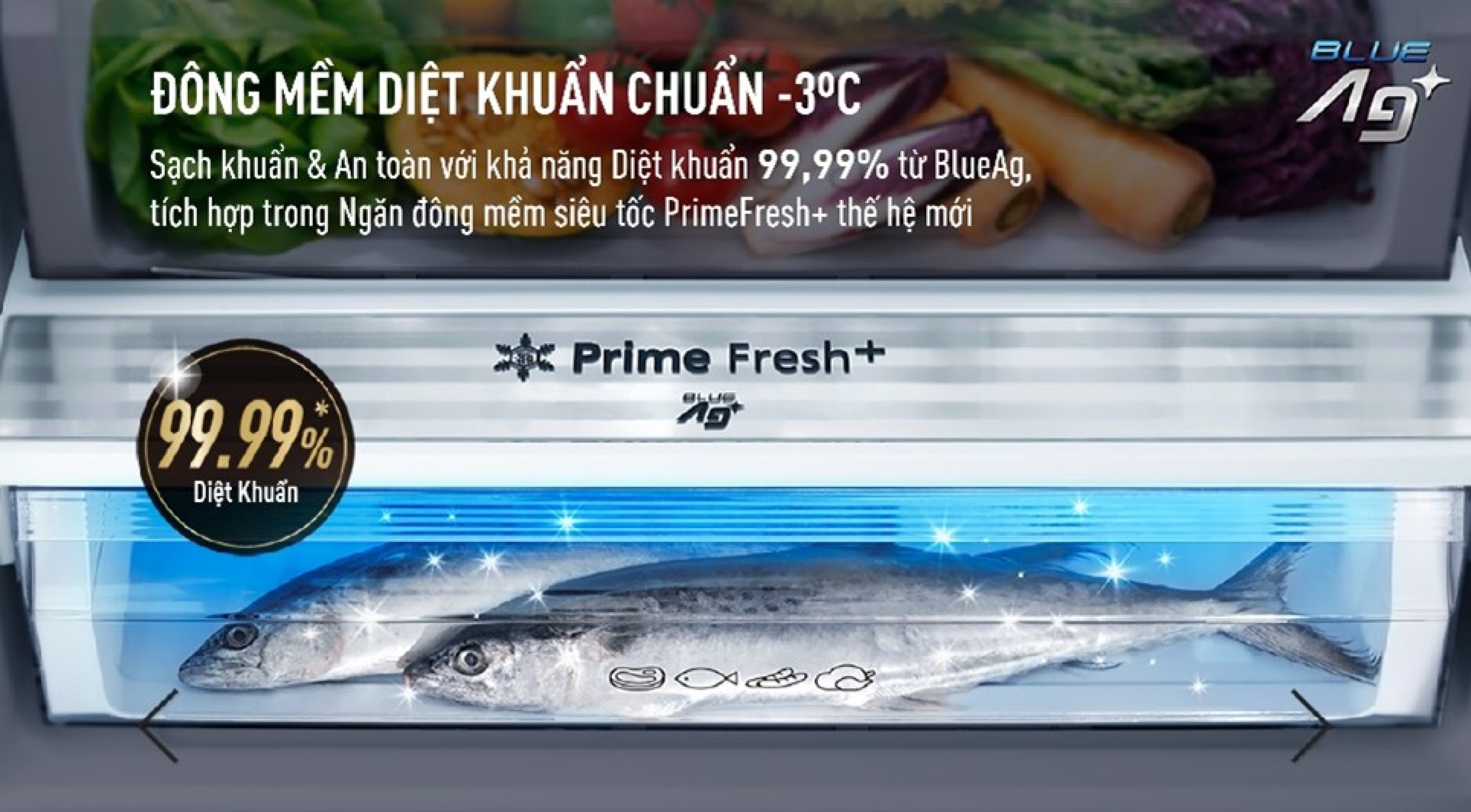 Blue Ag + technology is applied by Panasonic to the -3 degree C standard soft copper compartment, making this compartment a unique and outstanding feature of Panasonic (the -3 degree C standard sterilization soft freezer). Thereby killing 99.99% of bacteria, helping food to be fresh and delicious for 7 consecutive days and convenient to cook without thawing or applying in a washing machine for the only feature available on Panasonic washing machines – washing and sterilizing by cold water.
Ag Clean – antimicrobial deodorizing technology – application on all refrigerators
Ag Clean technology applies the anti-bacteria ability of silver ions (Ag +) to keep the refrigerator clean of bacteria, air circulation, and cleaner through the silver filter.
According to research, silver ions in Ag Clean technology have the ability to neutralize the respiration of bacteria cells, limit and inhibit the growth of new bacteria from food and fight the spread of odors. inside the refrigerator. Thanks to that, the food is not only preserved fresh and delicious, but also ensures the health of the whole family.
Get antimicrobial foreign water, effectively deodorize by carbon filter technology and antibacterial materials
Panasonic refrigerators are also known for their convenient antibacterial and deodorizing external water dispenser. Users do not need to open and close the cabinet many times to get cool water, but just take cool water from the water dispenser outside the cabinet.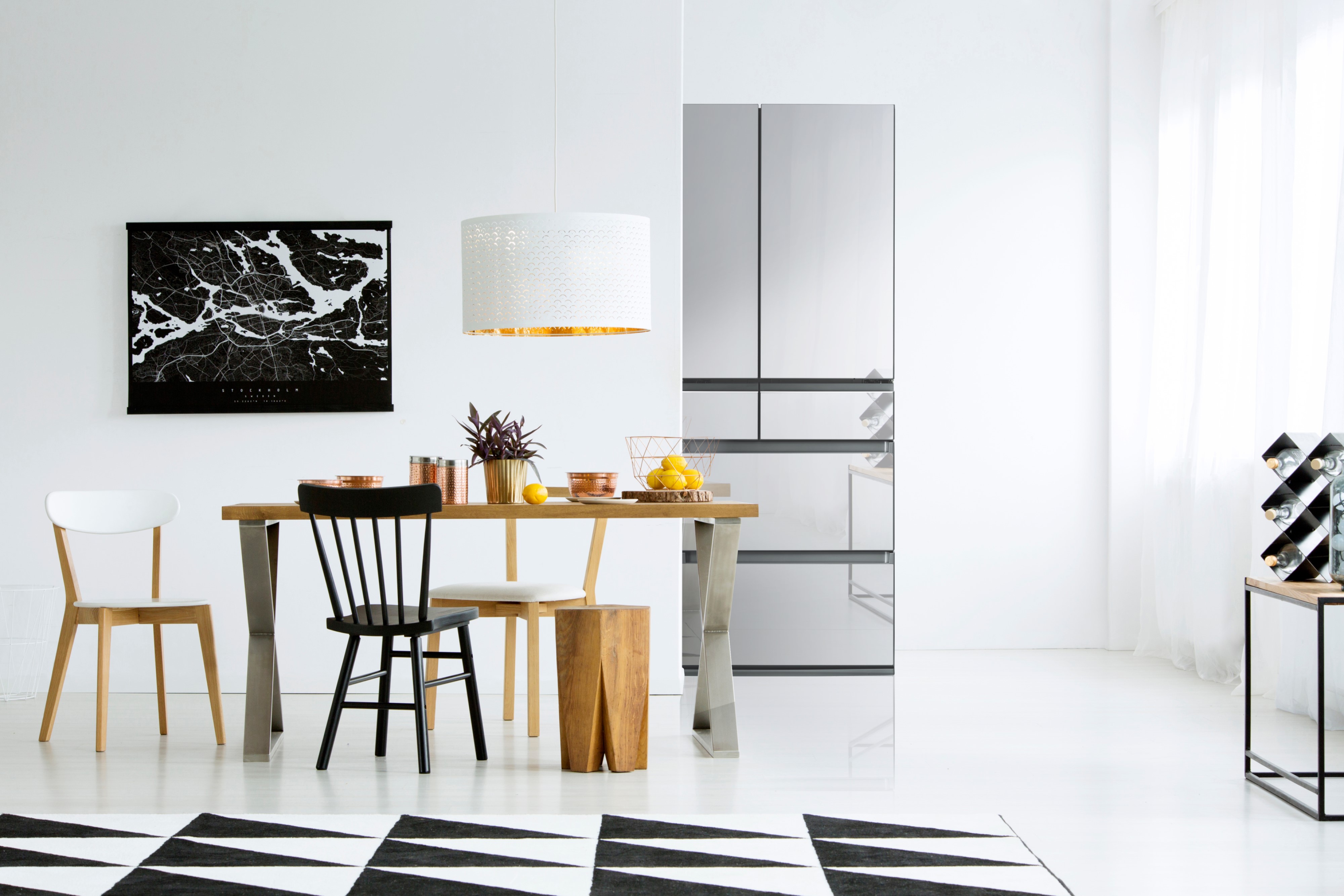 The highlight of this feature is that the tank is made from a special antibacterial material, does not contain BPA carcinogens and effectively deodorizes by carbon filtration technology, as well as extremely convenient with water tank design. the largest segment (3 liters).
Panasonic occupies the No. 1 market share of the top-loading washing machines in Vietnam
(Techz.vn) According to retail sales data from GfK, Panasonic is the number 1 brand and leader in sales of top-loading washing machines in Vietnam in 2019. This confirms confidence of Vietnamese consumers towards Japanese brands when choosing electronic products, especially for the upper-load washing machine segment of the washing machine market.
.