The purpose of this meeting is to review the most significant events of each of the weeks of competition of theOverwatch League 2021 as well as our main expectations for the upcoming matches. Today we look back on the twelfth week of competition.
The 2021 season of l'Overwatch League It's ongoing and we're already halfway through the third tournament, the Summer Showdown. So many teams have already played their four placement matches and the standings are gradually taking shape. to find out which teams qualify for the elimination matches starting next weekend. And it's a real pleasure to see the Paris Eternal team at the top of this ranking.
Indeed, for the moment the Parisian team has recorded three victories for one defeat and thus places itself in a very good position. It will be necessary to wait until the end of the placement match phases to discover the final classification, but only a few teams could manage to climb back into it. This is why the Paris Eternal have just secured a place in the top 4 of this third tournament and it is more than likely that we will be able to find them during the next phase of the Summer Showdown.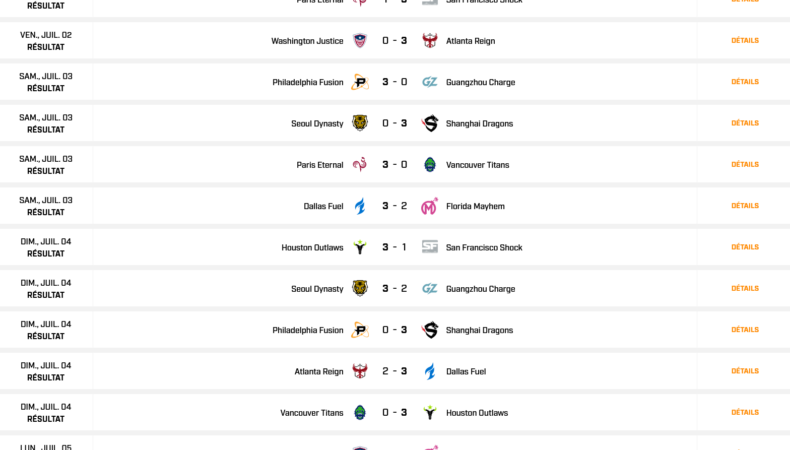 So three teams are to be watched closely in the West Division, namely Atlanta Reign, Washington Justice and Los Angeles Gladiators. The latter could thus get ahead of the Parisian team if they manage to win their next two games next weekend. The situation for the San Francisco Shock does not appear to be improving as they may not even qualify for the playoffs for the first time this season.
On the east side, the Seoul Dynasty continue to dominate the table by offering us quality matches, closely followed by the Shanghai Dragons who won their first two placement matches. There is little doubt that we will find these two teams once again in the regional elimination matches. The New York Excelsior and Chengdu Hunters also remain in a good position and their next matches will be decisive.
Our expectations for the coming weeks of the Overwatch League
The next placement matches will start tomorrow evening until Saturday, after which we can attend the regional eliminations the next day. We can't wait to see the final standings which could have some good surprises in store for us, unfortunately with the absence of many teams that had shone in previous seasons. More than ever the transfer window of this season will have upset the rankings and forecasts and bring a real breath of freshness in theOverwatch League 2021.
So we will be able to discover this weekend the results of Hangzhou Spark, Philadelphia Fusion, Atlanta Reign, Washington Justice, Los Angeles Gladiators and London Spitfire, which will allow us to discover the final standings and the teams selected for the next phase of this third tournament of this season. New teams could reach the final weekend for our greatest pleasure.



Linkas