If you encounter a hacked system attack, you may be at risk of billions of VND. The time has come for businesses to reconsider the priority for security.
Understanding the worries of enterprises, BizFly Cloud always pays great attention to, focusing on ensuring maximum security for all information and customer data placed on our system.
Protect the server on the network
For intranet:
At BizFly Cloud, each customer will have a separate internal LAN system. Other client servers will not be able to access or communicate through each other, thus completely eliminating the possibility of internal attacks.
For internet:
A security system called BPR – Border Protection Router will stand in front of the server of the business, continuously monitor the entire traffic, detect unusual activities, suspicious behavior, unauthorized access to the environment. Internet.
Strict data security
Access to the client's system will have to go through a rigorous process set by BizFly Cloud and only a few high-level engineers will be allowed to access the customer's server.
The process consists of steps:
Step 1: At least 2 engineers will join the authentication (1 person keeps the private key, one holds the OTP code).
Always have at least 2 engineers working on the customer data area.
Step 2: After successful login, the system will automatically send notice to BizFly Cloud CEO to explain the reason for accessing the server.
Data integrity protection
The Storage system runs replicate-3, the data will be backed up daily to another Datacenter.
Backup system runs underneath to protect when customers delete the wrong volume (disk) or lose data when not backed up or not yet created a snapshot: The data copies will be auto-backup by daily cycle and retain some latest backup.
Encryption Policy: NIST publication encryption algorithms, servers registered for authentication (RADIUS, TACACS) and SSL or TLS used for servers and applications registered by COMODO CA Limited.
Security alerts 24/7/365
Using BizFly Cloud system means that customers will be protected 24/7. The system will immediately notify when detecting that the server is attacked, provide information on the state of attack, where the attack flow comes from so that customers are always proactive and respond quickly and promptly. . The experienced technical team is always ready to respond and support 24/7 to ensure the highest availability for running services of customers.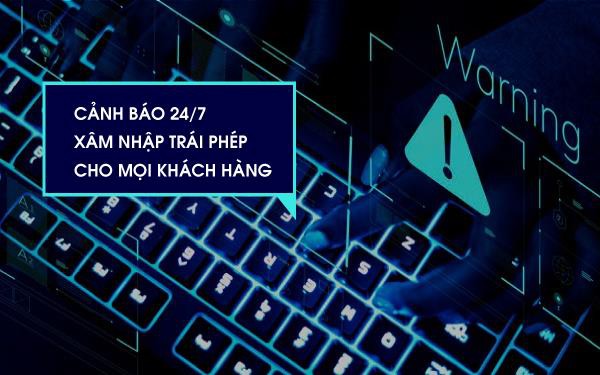 As a reputable service provider, BizFly Cloud always focuses on improving the quality of security for all products and services, not only Cloud Server.
The team of technology engineers is trained from major universities at home and abroad, and has extensive experience participating in large projects of VCCorp, as well as working with foreign partners. We are constantly researching, updating, and improving the most advanced security and security programs in the world today.
Therefore, BizFly Cloud customers can be completely assured, focusing on solving business affairs without having to worry about the infrastructure system below. BizFly Cloud has all the hard work to help businesses. And 24/7 support is available for FREE.
For foreign suppliers, businesses may need to use a separate security service if they want more protection on the system.
Not only taking on the task of safety for the entire internal system of VCCorp – BizFly Cloud is the leading company in the field of communication and internet in Vietnam. It is also responsible for deploying and securing infrastructure for businesses. leading in many fields that require high system integrity such as newspapers, television, and e-commerce during the past years such as Dan Tri, Tuoi Tre, Soha, CafeF, Vietnam Television VTV, commercial pages Adayroi e-commerce, …
For readers interested in cloud services provided by BizFly Cloud can be accessed at:
Website: https://cloud.bizfly.vn/cloud-server/
Support hotline: 024 7302 8888/028 7302 8888