Price range of 3 million, probably will not be able to surpass the smartphone Vsmart Active 1 in terms of configuration, performance as well as the ability to smooth battle heavy games are on the market.
First, let's talk about the price of this product, currently the CellphoneS listed number is 3.3 million VND for Vsmart Active 1, along with a gift of backup charger Energizer 10000 mAh UE10022 (converted value 300,000 VND).
After applying the promotion, Vsmart Active 1 is taken to the region price 3.09 millionThis number is attractive enough for many users who are interested in this product.
Vsmart Active 1 smartphone with the most terrible configuration at 3 million price range
It is not wrong to say that Vsmart Active 1 is a smartphone with the best hardware configuration in the current low-end segment. If we have previously "praised" Xiaomi as a phone carrier to devalue with the application of Snapdragon smartphone series at popular prices. Now, the title "devaluation" will probably be reserved for Vsmart with Active 1 model.
It costs about 3 million VND, but Vsmart Active 1 is equipped with Snapdragon 660 processor, mid-range chip provides stable and smooth processing performance that has rained the wind in high-end mid-end segment. Good handling is because the Snapdragon 660 is made up of four 2.2GHz Kryo 260 cores and four Kryo cores at 1.8GHz.
In addition, the Adreno 512 integrated GPU offers an impressive graphics processing experience, if a user regularly plays heavy mobile games, choosing Snapdragon and GPU Adreno ensures stable frame rates. experience.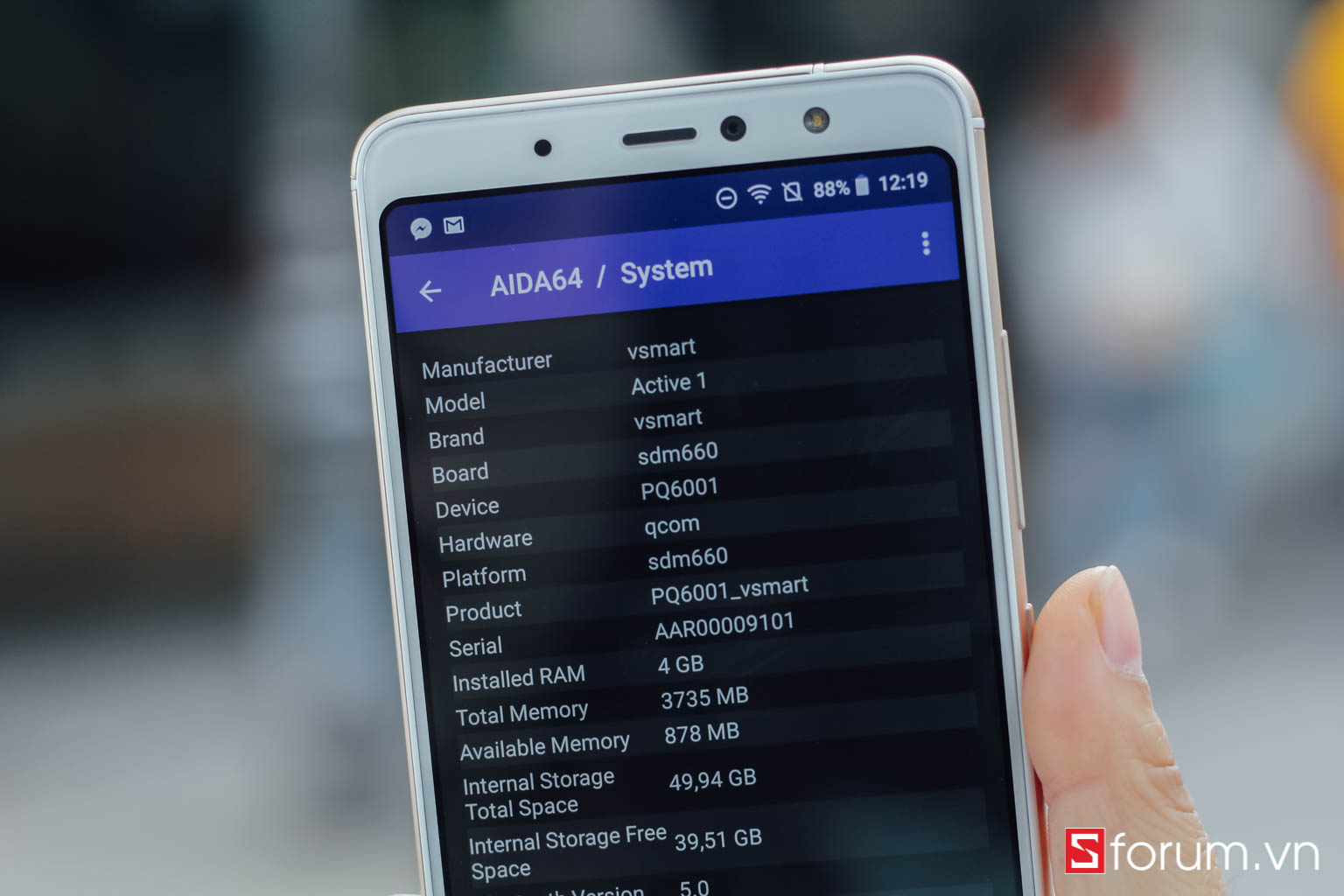 Vsmart Active 1's RAM level only stops at 4GB but not 6GB as we often see. But speaking, it must be said again, with Snapdragon 660 processor and cheap price of only 3 million, the user probably should not ask too much from this product.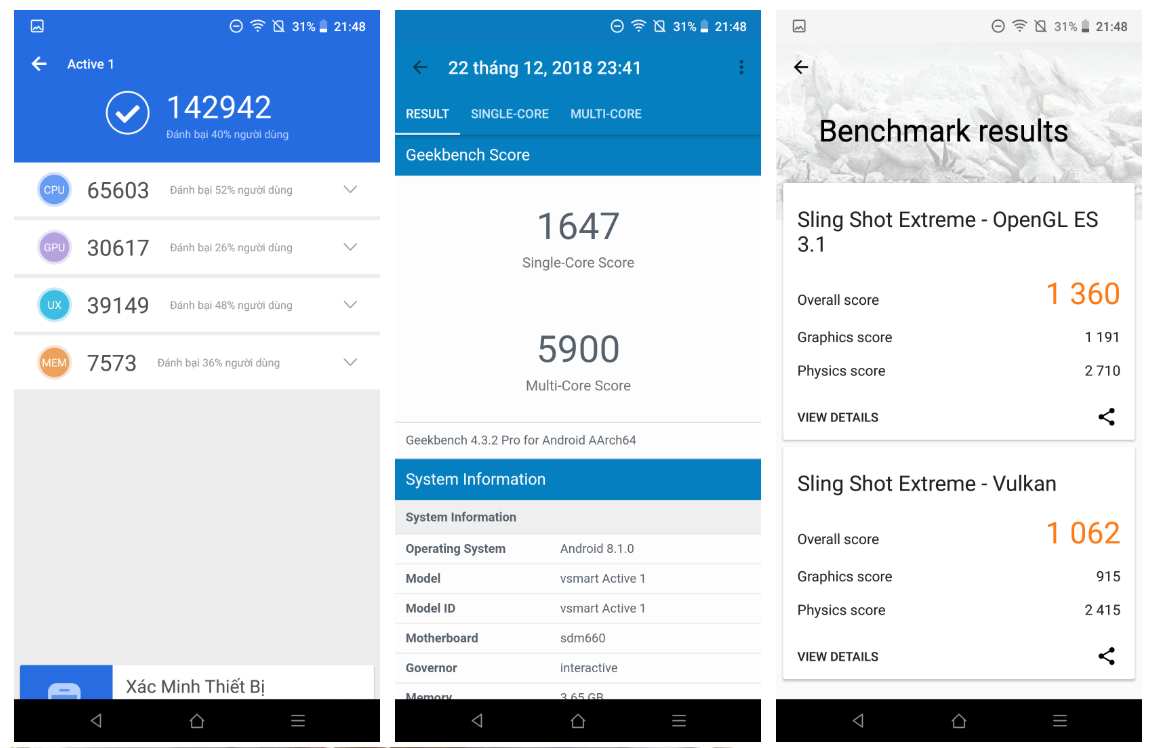 Vsmart Active 1 works with the VOS interface, but this interface doesn't change too much from pure Android, and so it's quite light and smooth. This is also a factor that helps Active 1 work more smoothly with 4GB RAM.
Vsmart Active 1's internal memory capacity is 64GB, which is a huge amount for users to store personal files and documents comfortably without having to worry about memory full problems. In addition, the Active 1 can expand the internal memory with the handy memory card slot.
Large display, high resolution
Comes with a huge hardware configuration, the Vsmart Active 1 also has a large display screen up to 5.65 inches in 18: 9 design, so the content display space is better than the 16 : 9 traditions.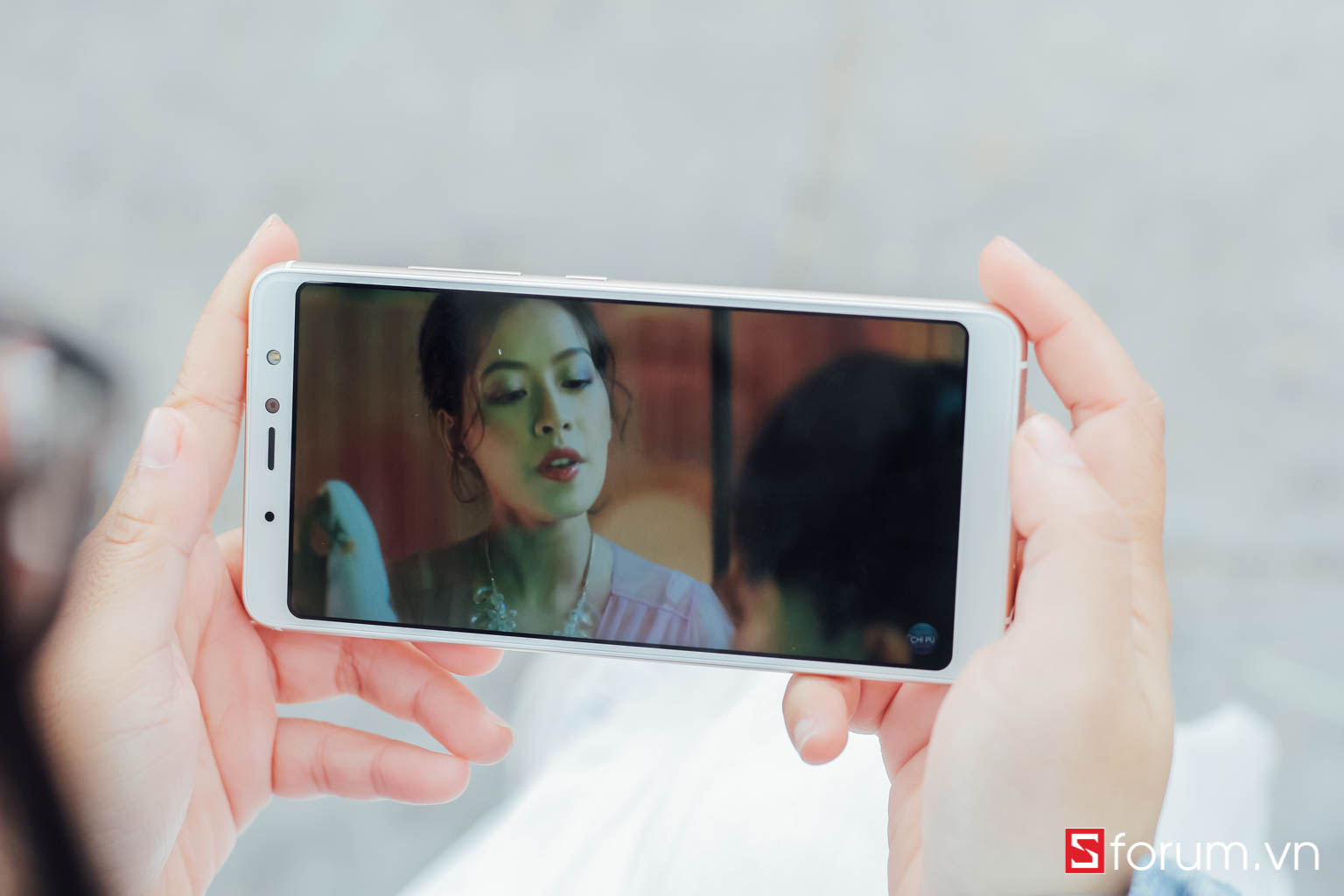 More specifically, Vsmart is extremely proud when equipped with IPS LCD panel and Full HD + resolution for Active 1. While devices of the same price may just stop at HD + level. This enables Vsmart Active 1 to have good detail reproduction, high brightness and wide viewing angle to ensure clear content even under intense sunlight.
Dual main camera system, 8MP selfie camera, 3,100mAh battery support fast charging
Speaking of Vsmart Active 1, we can not mention the camera system of the camera, with dual camera on the back of 12MP + 5MP parameters, besides the usual basic photos, this camera system will help users to have The photo is removed professionally and beautifully.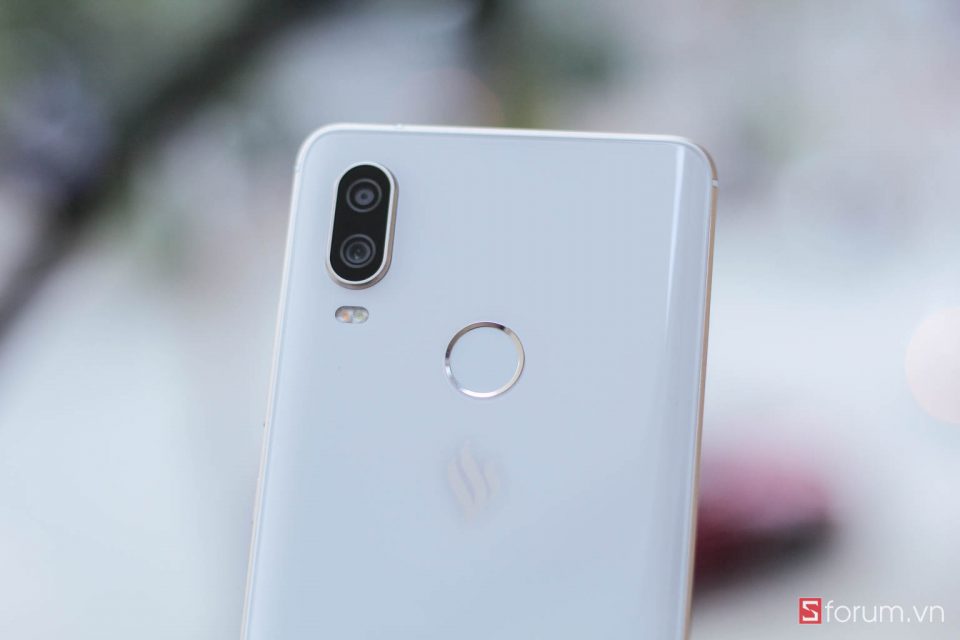 The 8MP selfie parameter camera, is not too big but it is enough to be able to create a full selfie photo in bright enough conditions.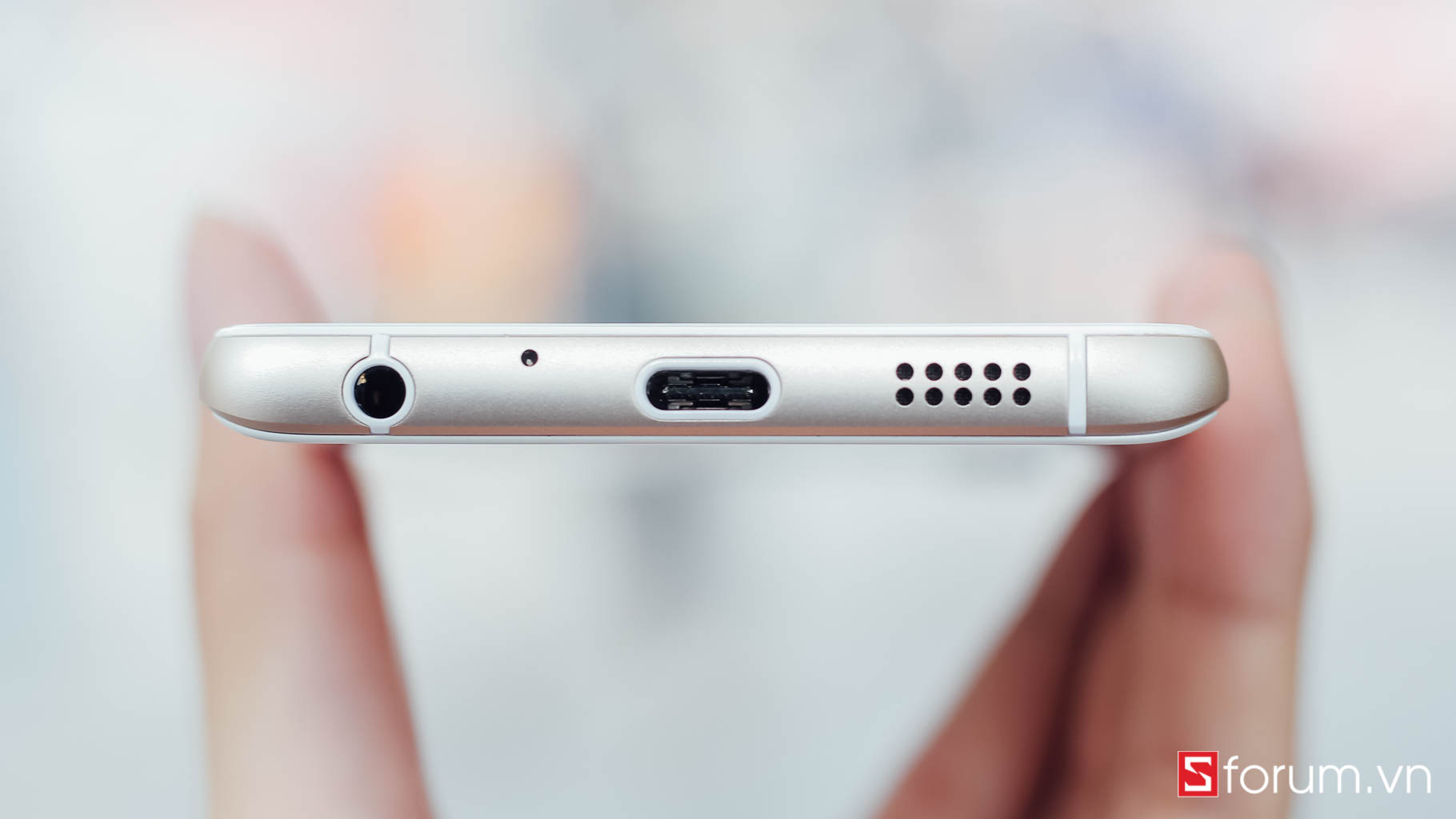 Vsmart Active 1 has a capacity of 3,100mAh battery, according to many users, it is enough for 1 day to use with average demand (less playing games, mainly surfing the web, listening to calls). Interestingly enough, when Vsmart comes equipped with fast charging technology for this low-cost model, users can save a lot of time when charging via USB-C port of Active 1.
Vsmart Active 1: A bargain in the price segment of VND 3 million
Vsmart Active 1 still has a 1-touch fingerprint sensor system located on the back, which helps increase security as well as manipulate online payment from internet banking faster and safer.
As can be seen, with the price of only about 3 million Vsmart Active owns almost all the features that users need. More specifically, the terrible hardware configuration provided by the Snapdragon 660 chip and 4GB RAM, 64GB ROM, will ensure users always have smooth, stable user experience for a long time.
BUY NOW VSMART ACTIVE 1 GOOD PRICE
Currently, when customers buy products of Vsmart mobile brand at CellphoneS, there will be a chance to win 25 vouchers at VinPearl Phu Quoc with a total value of over VND 100 million. Besides, CellphoneS also launched a shocking discount program for all Vsmart products.
Note:
The lottery time will begin on: 12h30 on 3/7/2019
Form of lottery: Dial up the phone number on the purchase Random.org and Livestream directly on Fanpage CellphoneS.
For more details about the program, visit the link here.



Hoa Duc