Although the new OnePlus 7 Pro appeared about a month ago, the phone proved to be one of the most advanced smartphones in the market with unique features and reasonable prices.
While the big guys like Apple and Samsung quickly released smartphones that strike straight into the high-end segment for $ 1,000 with the luxurious iPhone XS and Galaxy S10 models, the OnePlus 7 Pro aims to offer a low price. more than 699 USD but impressive is no less competitive.
At an approximate price of iPhone XR (750 USD), many consumers have made comparisons on 2 OnePlus 7 Pro and iPhone XR devices. At first glance at the configuration, it seems that the OnePlus 7 Pro has a few small advantages. However, when put into practical use, whether the phone will be more dominant. Please come to the comparison between OnePlus 7 Pro and iPhone XR to learn more about this.
Design
In fact, the Apple iPhone XR is not a compact and compact phone, but still overwhelmed by the OnePlus 7 Pro. The phone from OnePlus has a significantly longer height as well as a wider, thicker and a bit heavier than the iPhone XR.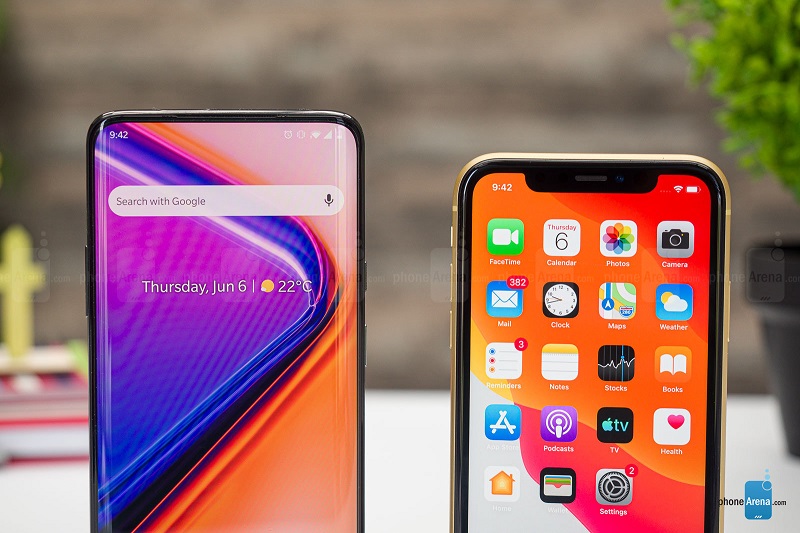 In terms of appearance, on the front of the OnePlus 7 Pro impresses with extremely thin screen edges, real border when using selfie pop-up camera on the top edge. This factor combined with the size of the machine makes the overall shape quite large.
Meanwhile, Apple iPhone XR has a more compact design, luxurious design with simple and neat lines. The iPhone XR has the same rabbit-ear monitor as the other iPhone series in the last few years, with the "notch" section containing a voice headset, selfie camera and Face ID system.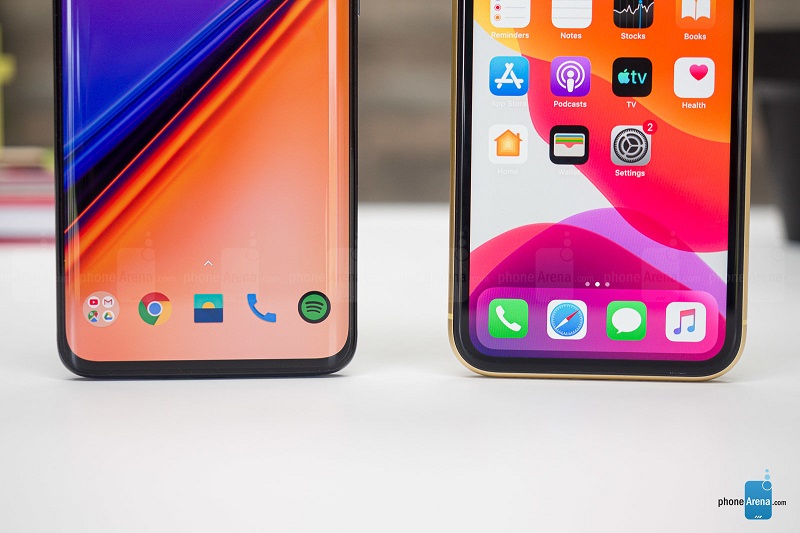 Both phones have a sturdy structure thanks to the extremely good fabrication, which makes the grip feel very comfortable. However, both possess glass material, although this design brings luxury but it will be easier to crack or break if the external force is strong.
Display
On the display screen, the OnePlus 7 Pro proved much more powerful than the Apple iPhone XR phone.
To bring the price of iPhone XR lower than that of XS but still keep a strong configuration, Apple has decided to put the IPS LCD screen into this phone. Of course, the screen on the iPhone XR is still capable of displaying very well with a high resolution of 828 x 1792 but the OnePlus 7 Pro is also invested more on the screen.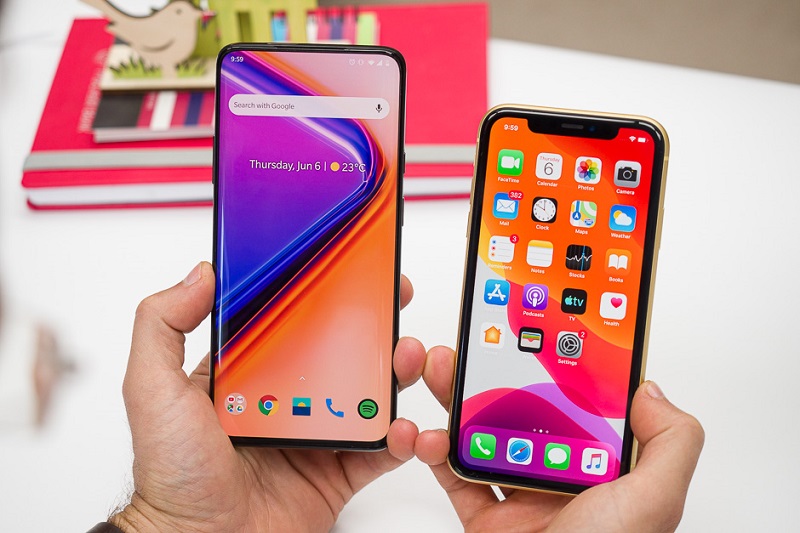 One Plus 7 Pro owns AMOLED screen so the images are more vivid than IPS on iPhone XR. Higher resolutions of up to 1440 x 3120 provide excellent sharpness for small details.
Another point that makes a great display on the OnePlus 7 Pro is the refresh rate (refresh rate) of up to 90Hz. Almost all phones on the market, except for some gaming smartphones, have a refresh rate of 60Hz. With refreshing the image 90 times a second, the OnePlus 7 Pro clearly shows the smoothness in its visibility.

Display quality comparison table between OnePlus 7 Pro and Apple iPhone XR
Although the One Plus 7 Pro's 90Hz screen will consume more battery power than other displays, a little percentage change of battery to provide such great visibility is absolutely worth it.
Interface and operating system
OnePlus 7 Pro uses Oxygen interface based on Android OS 9. Oxygen UI is one of the best Android variants on the market today. This interface possesses tweaks to experience a number of custom graphics and animations, along with perfect performance. Besides Oxygen UI also adds some unique applications and a variety of good personalization options provided by OnePlus.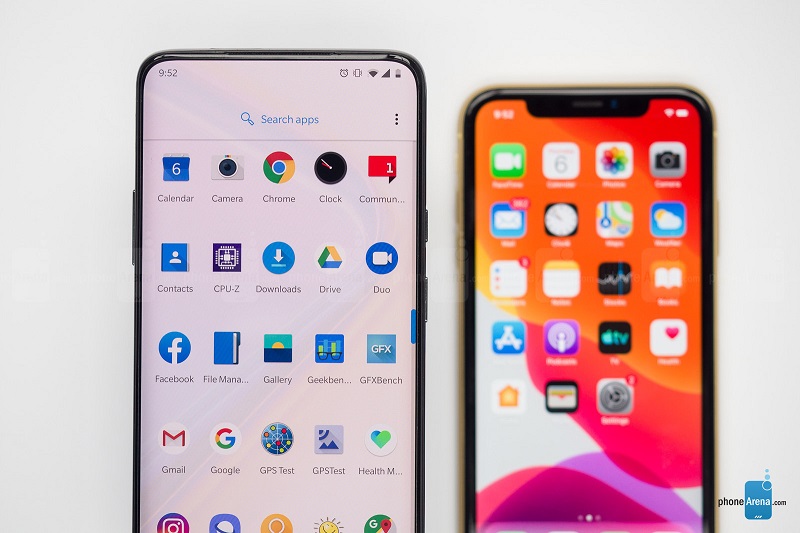 Regarding online storage services, web applications, … on OnePlus 7 Pro, the best way is to use Google services because OnePlus does not provide any alternatives.
For iPhone XR, iOS 12 still proved to be a very powerful, flexible and advanced operating system. When looking for more detail in the Settings section, users will notice that iOS 12 on iPhone XR offers surprising levels of flexibility and personalization.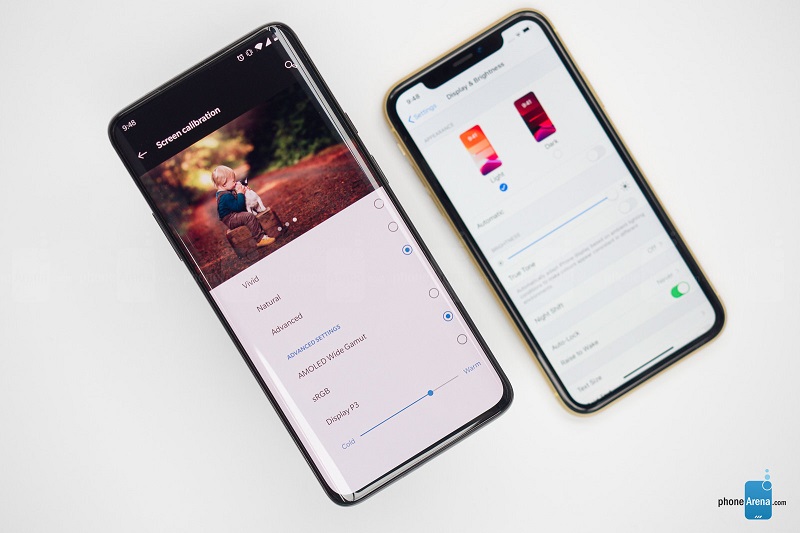 Similar to other iPhones, Apple also offers a complete set of applications and services to ensure user data is securely backed up on iCloud and synced on other Apple devices. If users combine to use the XR iPhone with a Mac or iPad computer, the usage needs will be much simpler.
Performance and memory
Both the OnePlus 7 Pro and iPhone XR are real "strong guys". However, the iPhone XR has a more powerful graphics and processor chip thanks to the 7nm Bionic Apple A12 chip. Besides, iPhone XR can be used for many years. Users can be confident that Apple will release all official iOS updates for iPhone XR within the next 4 years.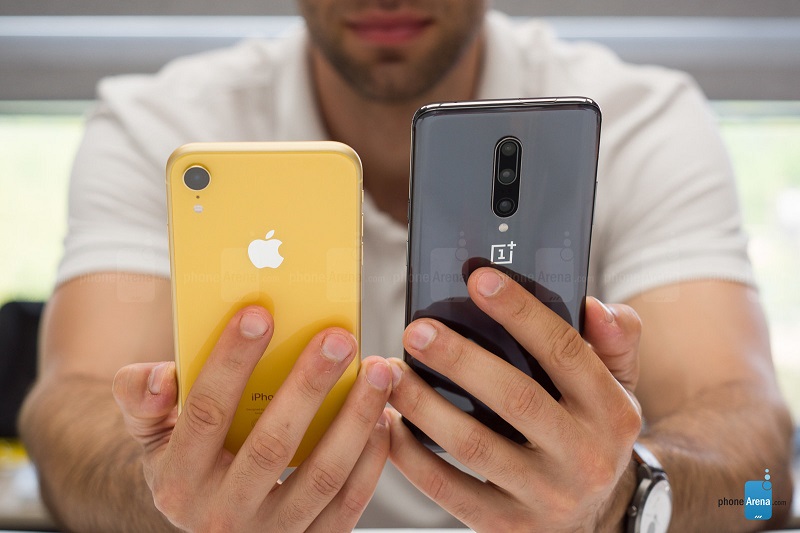 For the OnePlus 7 Pro, this phone has the most powerful Qualcomm Snapdragon 855 processor in Android today. Combined with the fast speed of the Oyxgen interface with 90Hz screen, it can be said that OnePlus 7 Pro is the fastest Android phone today.
For its predecessors, OnePlus also supports the software for a long time so the OnePlus 7 Pro can be fully updated and used for at least the next few years.

AnTuTu

Single core Geekbench

Geekbench multi-core
In terms of storage capacity, the lowest version of iPhone XR has 64GB of internal memory, which is quite comfortable to use but if shooting 4K video, capacity will really be a problem. Moreover, iCloud can only store 5GB for free, many users will need to upgrade iCloud capacity to 50GB. However, the upgrade cost is not really worrying when the current price is $ 0.99 a month.
Users of OnePlus 7 Pro will be less worried about storage capacity when the device has the lowest internal memory of 128GB and free storage with Google account of 15GB.
Camera
In terms of hardware, the iPhone XR only has a single rear camera but works surprisingly well. Meanwhile, Pro 7 is the current leading device of OnePlus with 3 rear cameras including: 1 48MP main camera, 1 8MP telephoto camera and 2 super wide 16MP camera cameras.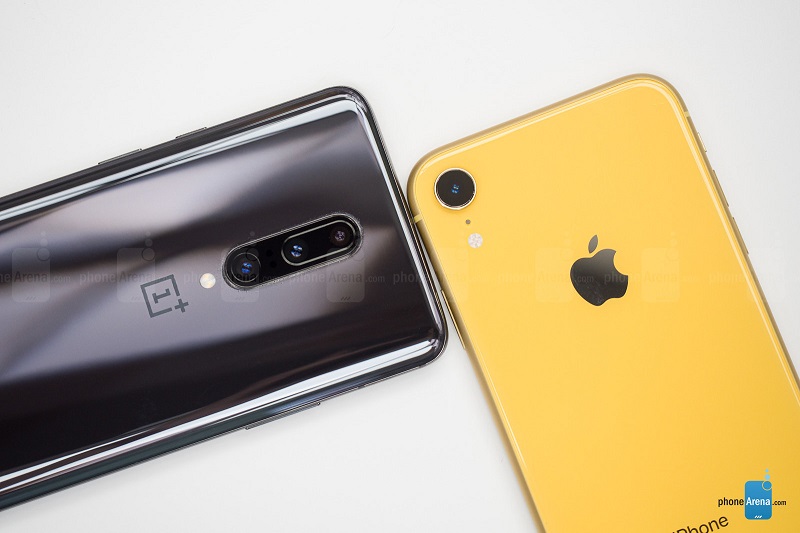 Here are some photos taken by 2 devices (on the left is a picture taken by OnePlus 7 Pro, on the right is iPhone XR).
It can be easily seen that there is no big difference in the quality of daytime photos of 2 devices. Both the OnePlus 7 Pro and iPhone XR have similar exposure and color reproduction levels. Of course, the OnePlus 7 Pro will have an advantage in shooting angles thanks to the flexible 3 camera kit.

Compare image processing speed when shooting auto

Compare the speed of image processing when shooting HDR
Although both have portrait mode, but because the iPhone XR only owns a single camera, the photos will sometimes cause a bit of distortion, a wider shooting angle, more background. Meanwhile, with the help of a telephoto camera, the portrait mode of the OnePlus 7 Pro works very well.
Regarding video recording capabilities, both phones support shooting in 4K quality, the result is much better than other quality with beautiful movies containing lots of details. However, the scenes on the iPhone XR are more vivid, with better color reproduction.
Multimedia entertainment
iPhone XR owns a large 6.1-inch display screen, but the OnePlus 7 Pro is equipped with a screen of up to 6.7 inches, combined with OLED technology, real overflow display and higher resolution. This makes the OnePlus 7 Pro a smart phone that offers great video viewing capabilities.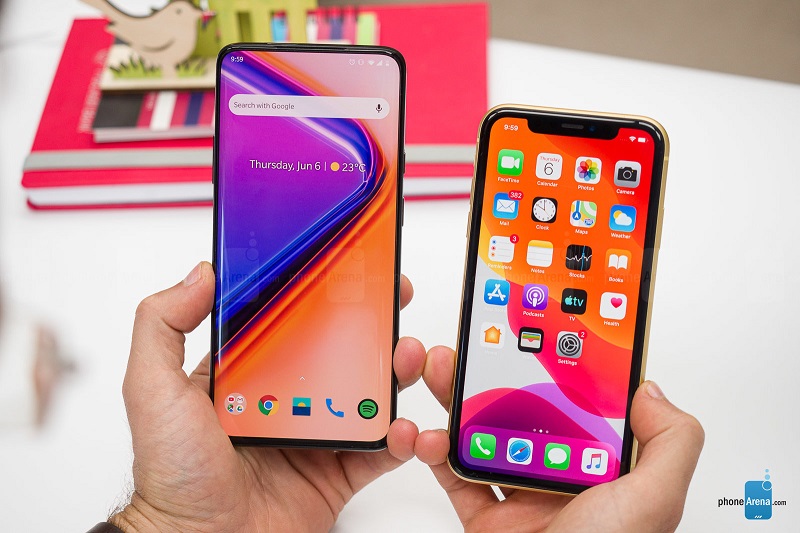 We all know that Google owns its own app store for areas such as music, movies or e-books, but Apple's service system tends to be superior and more complete thanks to its vast amount of applications. , Apple Music, Podcasts, iBooks, …
In the comparison of external speaker sound quality, the fact that both devices possess sound is not much different. Perhaps the iPhone XR has a stronger sound but not really significant in both volume and quality.
Battery life
As smartphones become more important as well as the more features they possess, the bigger the display, the more users are interested in devices with better battery life and better life.
It's good because neither iPhone XR nor OnePlus 7 Pro cause disappointment. Results from the tests show that the OnePlus 7 Pro has an excellent battery life of up to 9 hours and 10 minutes, but the iPhone XR has even better results with 11 hours 1 minute.
Comparison table of battery life
The display also plays an important role in battery life because the OnePlus 7 Pro has a 90Hz OLED display that consumes more battery power than the iPhone XR's IPS LCD screen. Users can use the OnePlus 7 Pro monitor at 60Hz to reduce battery consumption a bit.

Comparison table of charging time
Therefore, iPhone XR has an advantage over battery life, however, the OnePlus 7 Pro has an advantage over charging speed. With the Apple charger provided for iPhone XR, the time to fully charge the battery is 3 hours and 12 minutes. Meanwhile, the OnePlus 7 Pro comes with OnePlus's fast charging technology, Warp Charge charger, and thus the battery charging time is only 1 hour 16 minutes.
Also, with iPhone XR users can use wireless charger, but the OnePlus 7 Pro does not support this feature.
Conclude
The OnePlus 7 Pro is an innovative smart phone, not afraid to challenge competitors, even in the high-end segment, which not only offers a high experience but also has a nice price. If you talk about the problem of this phone, it is probably a huge size that is unsuitable for users who prefer compact devices.
With the iPhone XR, this can be considered a cheaper version of the iPhone XS when some hardware elements have been changed to reduce product costs but still keep the high-end configuration with the A12 processor chip as well as even with a camera but the images and video footage are very good.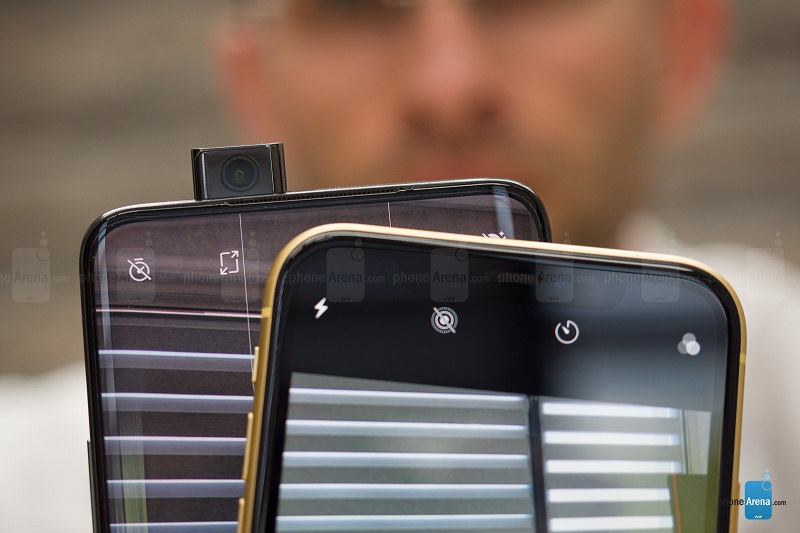 For Apple users, the iPhone XR will be a good choice with a price not too high as XS, as well as for users who are not too important on monitors with a frequency of 90Hz. On the contrary, for users who prefer large-sized devices with a lot of multimedia content, the OnePlus 7 Pro will be a suitable device with a price of a few dozen dollars less than the iPhone XR.
---
Currently, to help readers understand the latest and hottest technology information, CellphoneS officially established fanpage "Sforum.vn" news site, here information about attractive technology always updated regularly and continuously.
Please like Sforum.vn page by following link: https://www.facebook.com/SforumTech.
Or visit the Sforum.vn website to instantly read extremely hot technology news.


Nguyễn Chính