As the title of the article, today I will be on hand and quickly experience the Huawei Band 6 smart bracelet after the device was officially launched on April 5. Huawei's smart bracelet possesses many highlights such as an extremely large AMOLED screen, extremely long battery life of up to 2 weeks and supports many excellent health features. Don't let you wait any longer, let's start with Huawei Band 6.
See also: Can receive pre-order information for Huawei Band 6 at a super attractive price, with limited gifts worth up to 500,000 VND
Huawei Band 6 AMOLED screen for ultra display experience size is 1.47 inches
It can be said that Huawei Band 6 is currently the smartband model that owns the largest screen compared to competitors in the same segment priced below VND 2 million. Specifically, Huawei's smart bracelet is equipped with a Full View AMOLED panel with a size of up to 1.47 inches, resolution of 194 x 368 px, screen-to-body ratio of 64%. The display of the Huawei Band 6 is said to be 148% larger than its predecessor, the Huawei Band 4 Pro.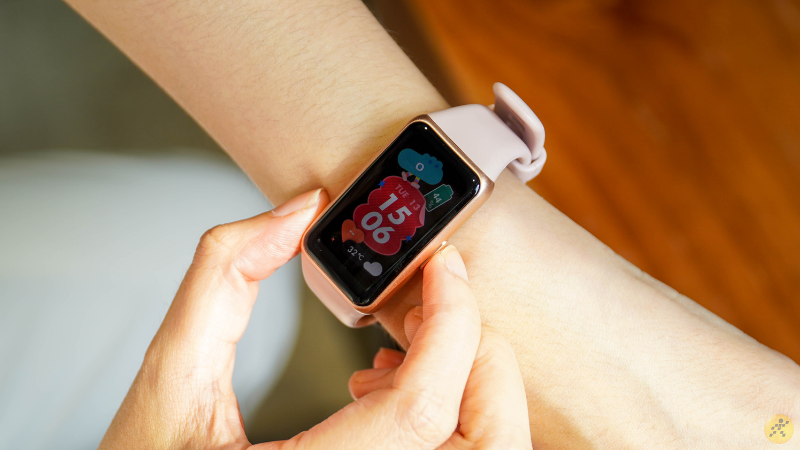 The biggest advantage that the large screen gives the device is the ability to display more information. Personally, when using smart wearable devices, I always need a lot of data such as weather, date, heart rate, distance traveled, calories, … and the screen on Huawei Band 6 responded Very good response to that.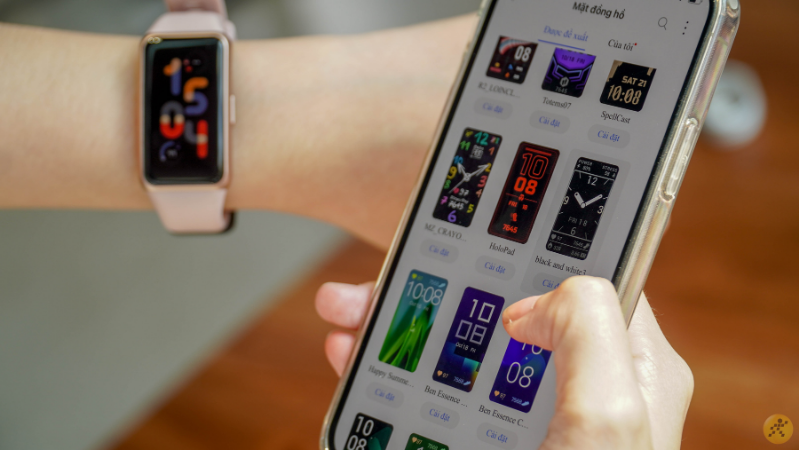 Moreover, Huawei's smartband also allows me to customize many different types of watch faces (with many layouts of data that I need), so I don't feel bored when using the device.
Huawei Band 6 has a compact and lightweight design for a comfortable wearing feeling
The compact design is definitely one of the strengths of Huawei Band 6. Specifically, this smart bracelet measures only 43 x 25.4 x 10.99 mm with a very light weight, only about 18 grams (excluding strap part). Thanks to these factors, the Huawei Band 6 feels extremely comfortable, so light that it makes me think my wrist is not wearing anything.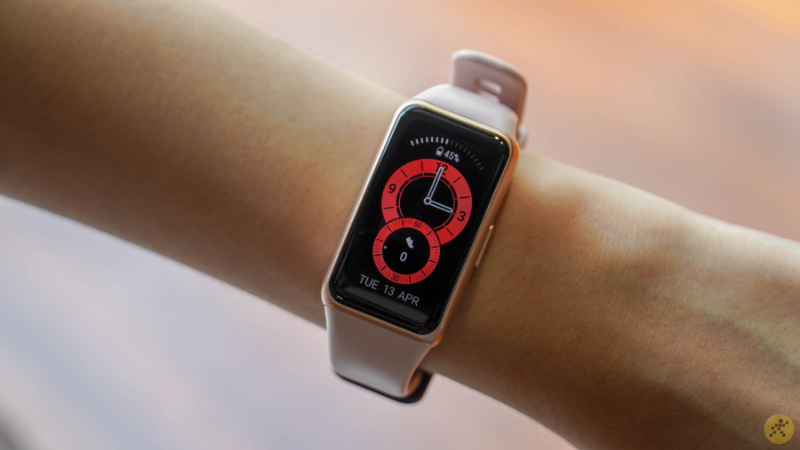 In the body, both the frame and the surface in contact with our skin are made from durable polymer fibers and especially the frame is made of a fake metal pattern that looks quite luxurious. The Huawei Band 6 also has an extremely hand-friendly silicone strap, so you don't have to worry about wearing a lot, causing your skin to sweat and irritate.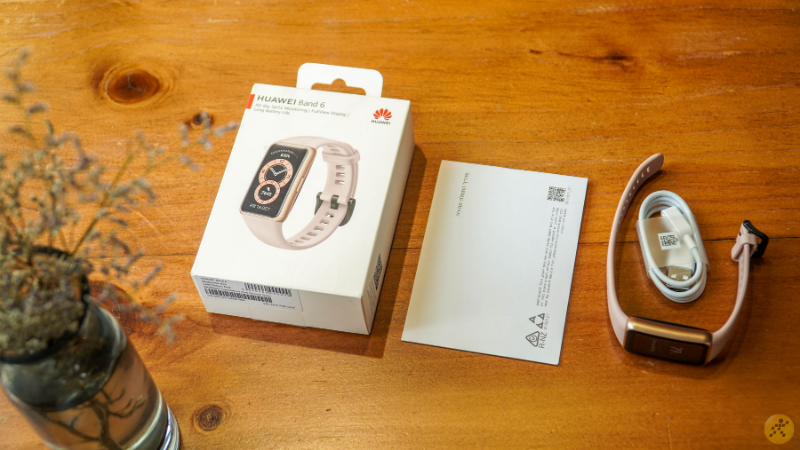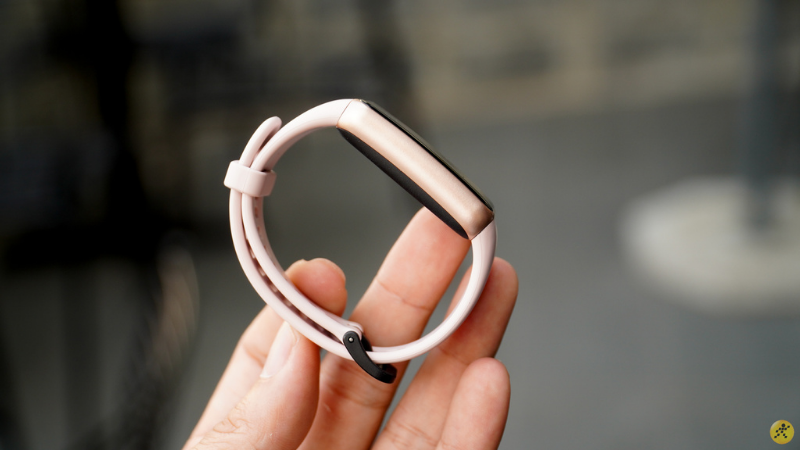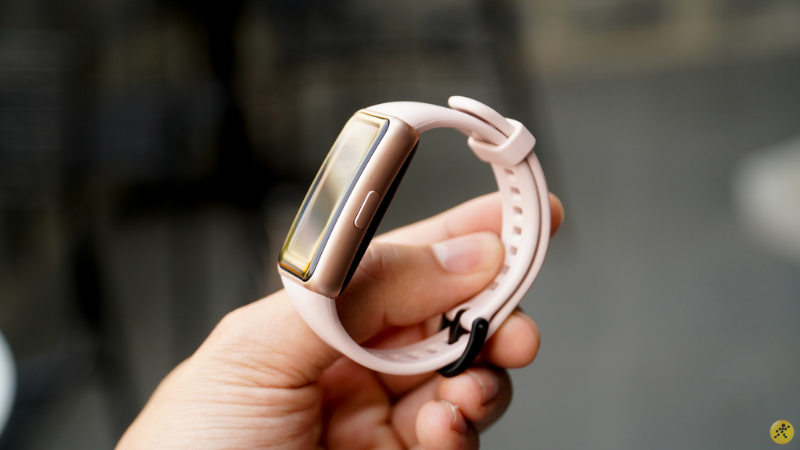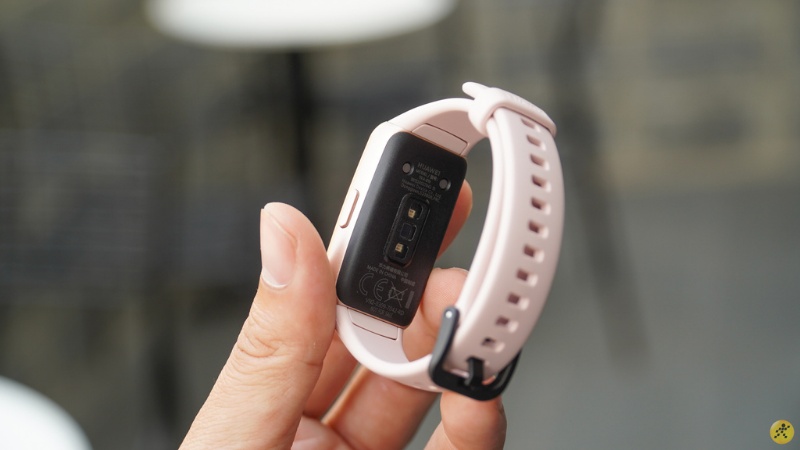 Personally, I like the gold color scheme of the bezel and the pink band on the Huawei Band 6. The overall appearance of the device is not too feminine and with a guy like me, it still suits you. sir.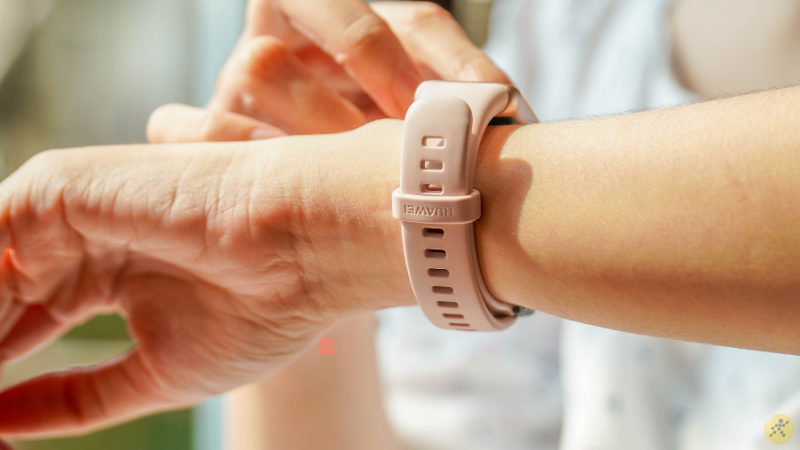 And yet, I also noticed a very subtle point located in the strap fixation on the Huawei Band 6. Specifically, as shown in the picture below, you can see that this fixed part has a protruding silicon part to hold it firmly. The strap does not slip out of our hands. It may be difficult to describe the description, but you can go to the Gioi Di Dong store nearest you to experience it.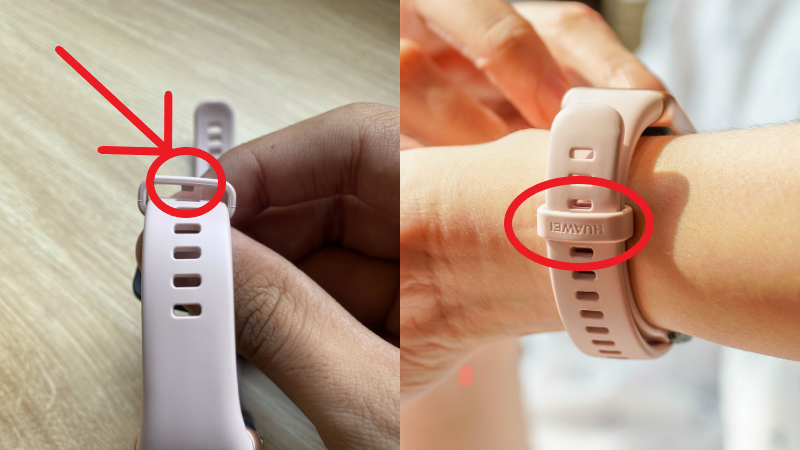 With Huawei Band 6, you will no longer have to worry too much about your health
Smartbands are born to monitor our health and Huawei Band 6 is no exception. The device possesses many health-related features such as sleep tracking, menstrual cycle monitoring, support for 96 different exercise regimes, measuring oxygen levels in the blood, heart rate measurement or even. keep track of your stress level.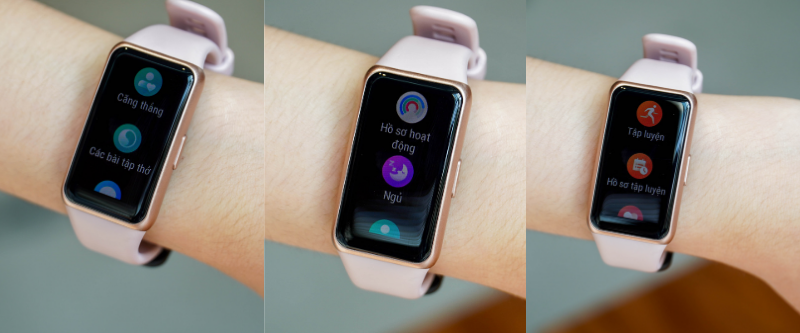 Personally, I often use the function of monitoring the stress level and measuring the oxygen concentration in the blood and found that the device gives a very fast and sensitive measurement speed, and the accuracy level is also relatively high.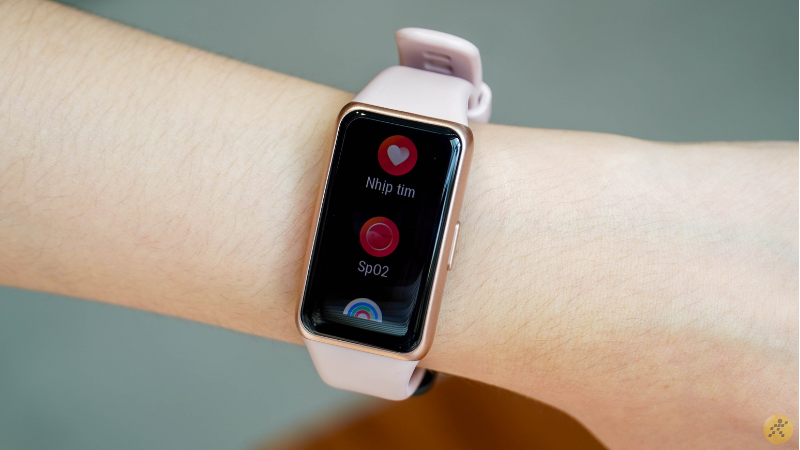 Well, in addition, Huawei Band 6 can also receive notifications from smartphones, very convenient in some cases when I go out on the street and cannot take the phone out to check.
How long can the battery on Huawei Band 6 last?
Regarding the battery life of Huawei Band 6, the device can completely last up to 14 days and 10 days if used continuously, according to the advertising agency. I have worn practical experience and found that the battery of this smartband is really long-lasting, from 100% to 76% (for 3 days and I wear it 24/24 always, with the function of measuring the oxygen concentration in the blood and measuring the pulse rate. heart continuity).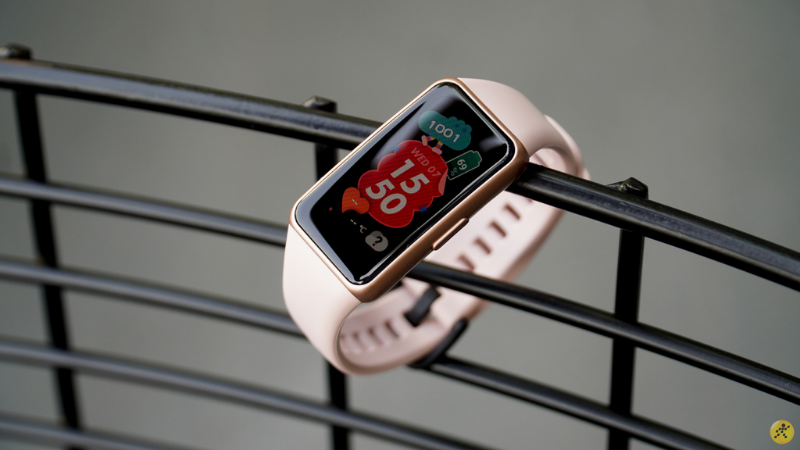 How long does it take to recharge after Huawei Band 6 runs out of battery? The answer is about 2 and a half hours (this time I charge from 0% up to 100%). One thing I realize during the charging process of Huawei Band 6 is that the device will slow down after reaching a level of more than 40% to avoid overheating and damaging the battery life.
summary
In the price of less than 2 million VND, I believe Huawei Band 6 will be an indispensable choice if you are in need of a smart wearable with many good health monitoring features, large screen and especially with a compact design.
So what do you feel about the Huawei Band 6? Please leave your comments in the comments section of this article, thank you very much.
See also: Huawei Band 6 with elegant design, many health features coming to MobileWorld at an attractive expected price
Edited by Nguyen Anh Tuan
Not satisfied with the article
1,482 views
Related posts
Huawei P50 will be released tomorrow, exposing realistic photos with deviated camera design, extremely powerful configuration with Kirin 9000 … (Updating)


2




13 hours ago

Officially pre-order Huawei Band 6 with a super attractive price, with limited gifts worth up to 500,000 VND


17 hours ago

Huawei P50 Expectation: Using 120 Hz screen, there will be a Snapdragon version, 5,000 mAh battery, Google service returns


1 day ago

Huawei Band 6 premium bracelet launched in Vietnam: Track SpO2 all day, continuous battery for 2 weeks, price only 1.49 million


1 day ago

Huawei P50 Pro expectation: Owning a high-end design, equipped with a total of seven cameras along with Kirin 9000 chip


1 day ago

Exclusive sale of Huawei MatePad 128GB with irresistible hotsale available only in Mobile World, buy now


1 day ago
.