ASUS is inherently one of the well-known brands for gaming laptops and popular laptops for young people. However, for business customers / small businesses, they need thin and light laptops with long battery life and that is why the ASUS ExpertBook laptop line was born. In today's article, let's have hands on ASUS ExpertBook B9 (B9400) to see what's special about it!
See also: On hand ASUS ROG Zephyrus Duo (2021): Dual screen and terrible configuration
Unique accessory set of ASUS ExpertBook B9 Bộ
Before going into the main character, I will dedicate a separate section to talk about the accessories inside the box of ASUS ExpertBook B9. The first is the case with a unique scratch pattern that ASUS has included with the product. I have to admit that this accessory is extremely well finished, each stitch is meticulously processed. Especially inside this case, there is an extremely soft velvet layer, which helps to better protect the laptop.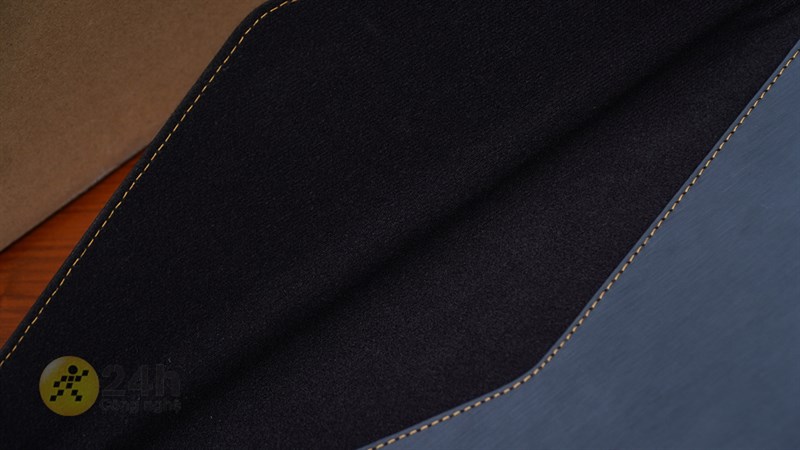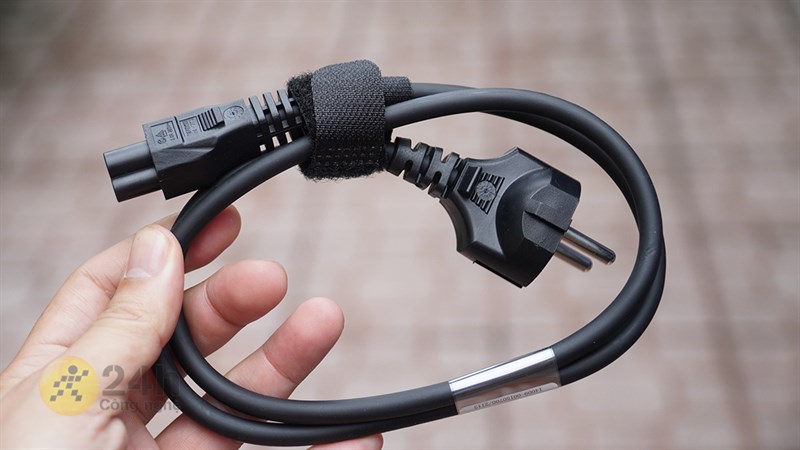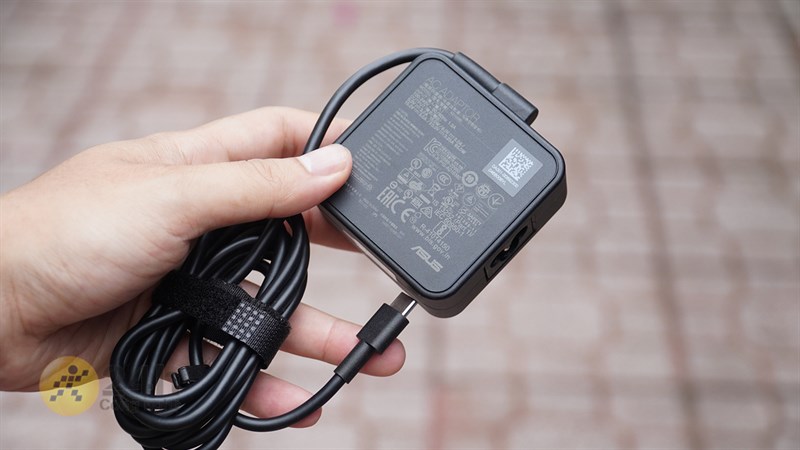 Besides the charging cable, Type-C to Ethernet port, the box of these two accessories is also used as a stand for the ASUS Expert Book B9 laptop. I must admit this is a very good environmental protection move from ASUS.

I have tried it, and found that this laptop stand is relatively sturdy even though it is only made from recycled paperboard. When I put the ASUS ExpertBook on, there was no movement, because on the bottom there are two quite solid anti-slip stickers.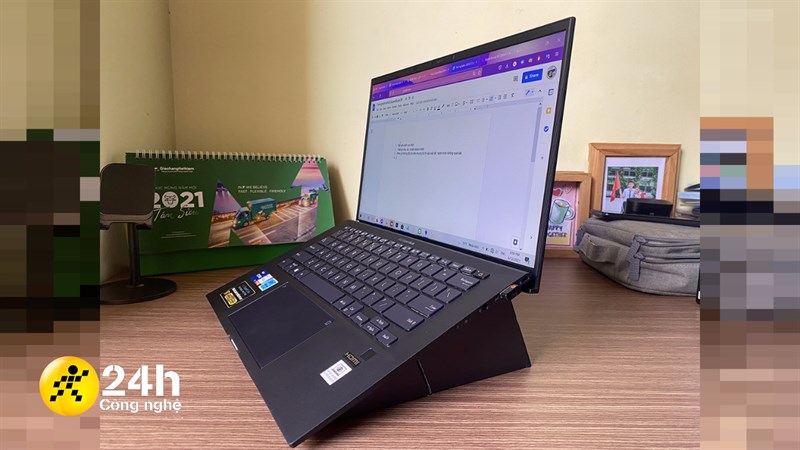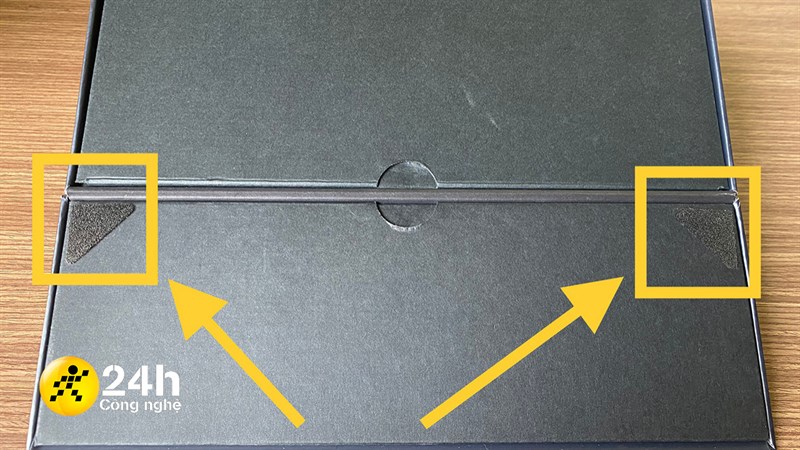 However, I regret a bit because this bracket accessory covers the heat sink of the ASUS ExpertBook B9, so during use, I found the device to heat up quite a lot. You can watch the clip below.
Design of ASUS ExpertBook B9: Thin and light but durable laptop
Now we come to the main character, the ASUS ExpertBook B9. The first thing that impressed me about this laptop model is that it is so light, the overall weight is only about 1 kg and I can completely hold this laptop with one hand. This is possible because ASUS ExpertBook B9 is equipped with a lithium-magnesium alloy chassis that is 16% lighter than its predecessor.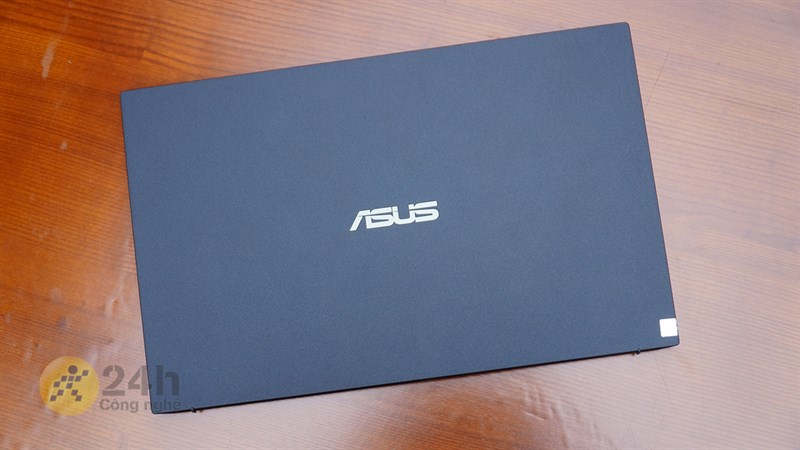 In addition, ASUS also uses a high-precision CNC cutting process, limiting redundant details and minimizing unnecessary voids inside. Thanks to that, the entire chassis of the ASUS ExpertBook B9 is stronger and stronger than what is achieved by the traditional metal stamping method.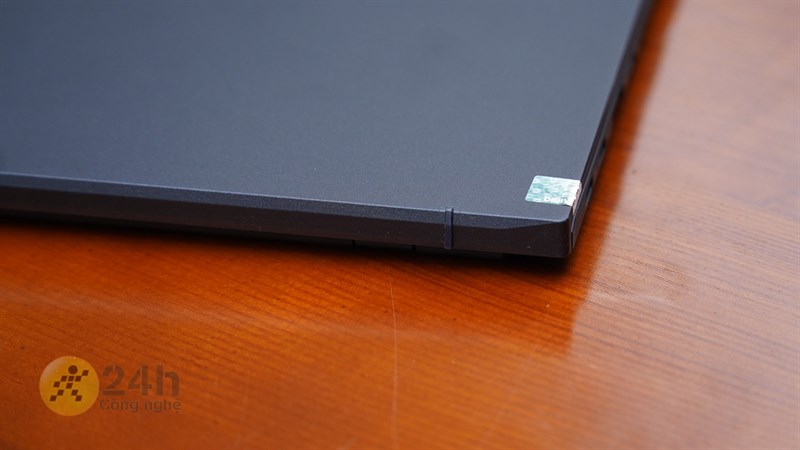 And yet, ASUS ExpertBook B9 also has the extremely good durability of certified US military standard MIL-STD 810H. The device has also undergone rigorous internal testing including panel pressure testing, drop and impact testing to ensure durability. So we won't need to worry about bumps or accidental drops during daily use.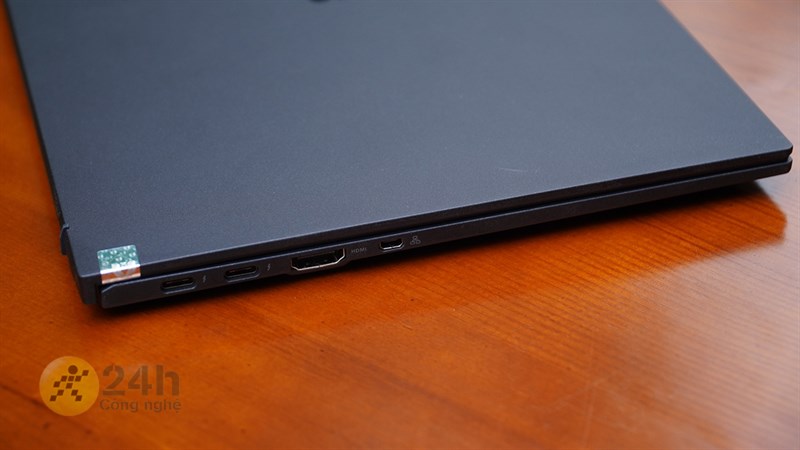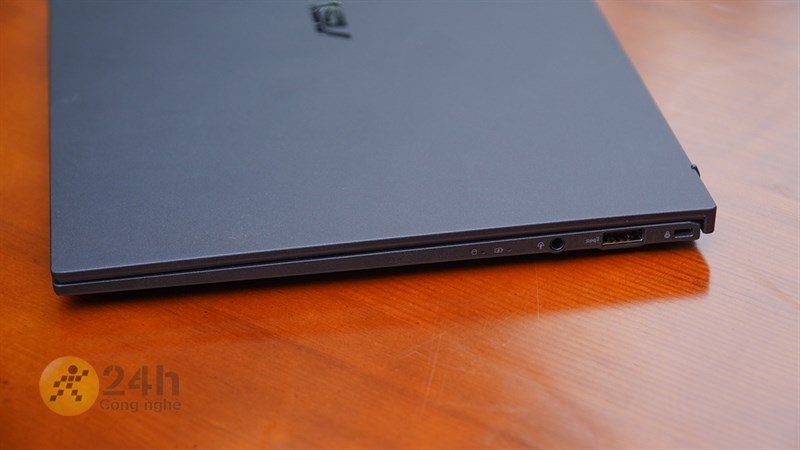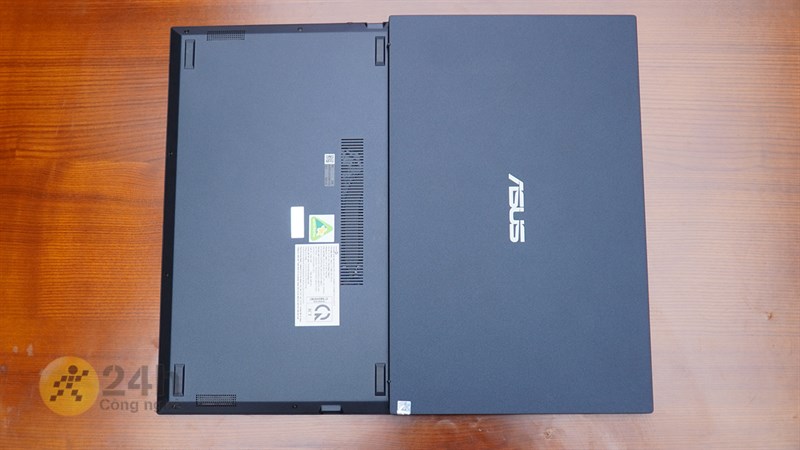 Opened up inside, I felt quite surprised with the 4mm thinness of the screen border on ASUS ExpertBook. The device is equipped with a 14-inch screen with an anti-glare panel to reduce unwanted reflections, so I can use the device in bright environments and reduce eye strain after many hours of use. Especially, the top edge of the screen also has a switch to cover the webcam, helping me better protect my privacy.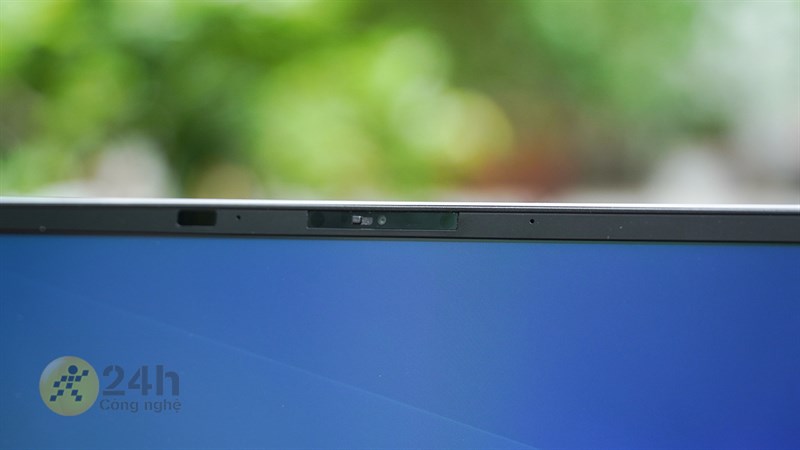 Right at the bottom is the keyboard part of the ASUS ExpertBook B9, which is designed in the form of a chiclet keyboard (the keys are designed slightly concave in the center, the distance between the keys is also increased). Thanks to that, the typing feeling is quite smooth, the keys have good elasticity with a key travel of 1.5 mm. In addition, the ErgoLift hinge of this laptop also automatically tilts the keyboard to a higher angle for the most comfortable typing position.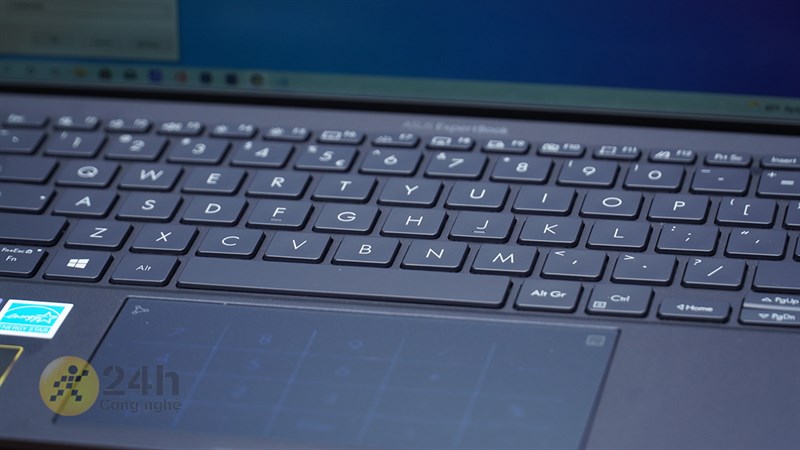 Speaking of the keyboard, I can't help but mention the TouchPad that can be converted into an extremely convenient numeric keypad. I just need to click on the NumberPad icon in the upper right of the touchpad to turn it on and click on the icon on the left to switch between two brightness settings for the numeric keypad. This TouchPad part is also made spacious to help me have more space to manipulate the device.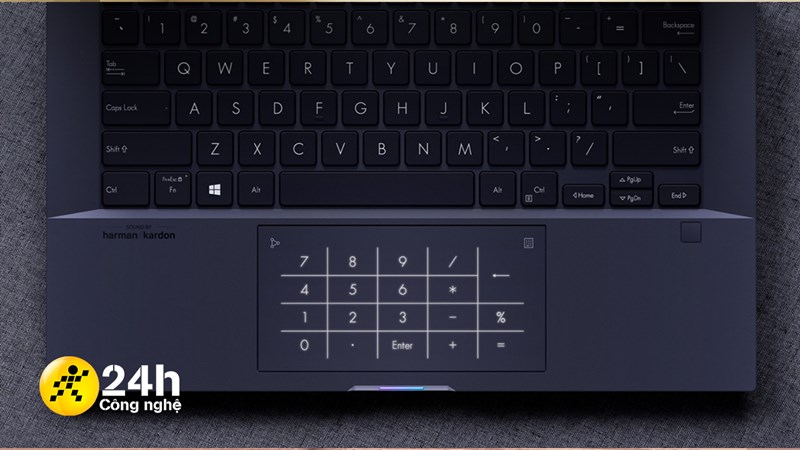 ASUS ExpertBook B9 has powerful performance and long-lasting battery life
Despite carrying such a compact body, ASUS ExpertBook possesses very strong performance. The specifications of this laptop are as follows:
CPU: Intel Core i7-1165G7 (11th generation).
GPU: Intel Iris Xe Graphics.
RAM: 16 GB LPDDR4X available (expandable up to 32 GB supported).
Internal memory: 1TB M.2 NVMe PCIe 3.0 SSD.
Operating system: Windows 10 Home.
Battery capacity: 66 WHr, Li-ion 4 batteries.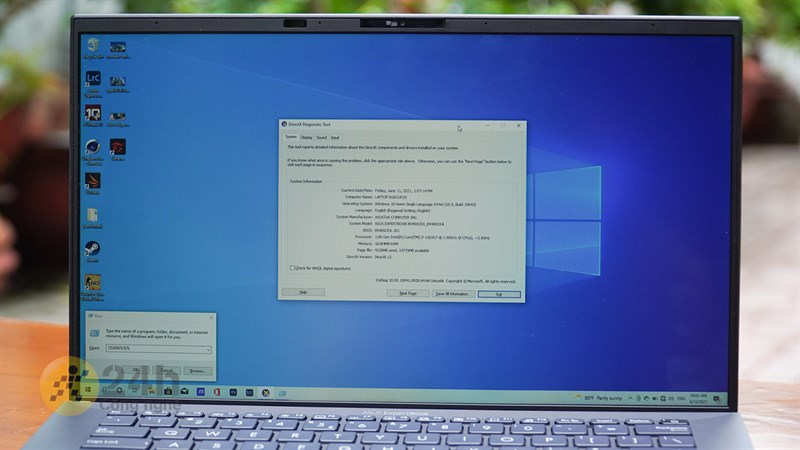 I believe with this configuration, ASUS ExpertBook B9 will be more than enough to meet many light office tasks to heavier graphics tasks, especially for business/small business customers with a large volume of business. dense work. I have experience through some common tasks and editing images with Photoshop on this laptop, everything is handled smoothly and stably.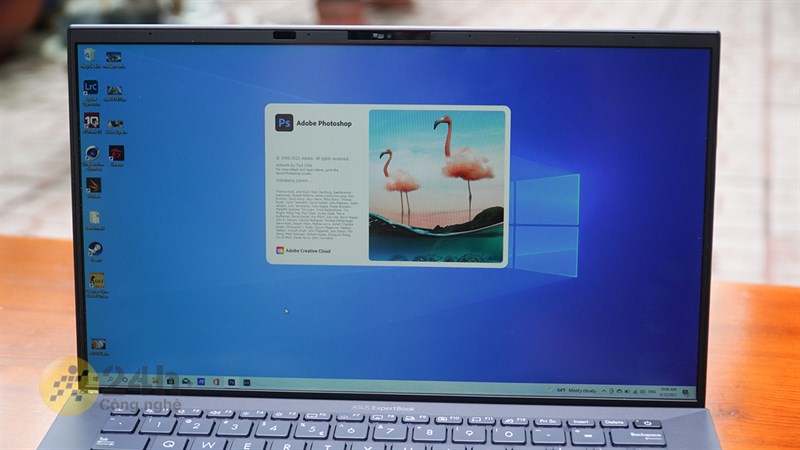 Besides, the 66 WHr battery capacity of ASUS ExpertBook B9 will also serve the user's all-day use well. As announced by ASUS, the device has enough battery life for an entire day on a single charge, supported by power-saving panel self-refreshing technology. At the same time, fast charging technology allows us to charge 60% of the battery in just over 30 minutes, I tested it when the system was off / in standby mode.
summary
Just now are my first impressions after being in the hands of ASUS ExpertBook B9 (B9400CE). Personally, I think this laptop has a lot of other interesting points that I have not discovered, perhaps I will save it in a detailed review of it. So what do you think about ASUS ExpertBook B9? If so, don't forget to comment below the article to let me know!
See also: On hand ASUS ROG Zephyrus G15 (2021): Delicious inside and out
Edited by Vuong Gia Bao
Not satisfied with the article
198 views
Related Posts
The shortage of semiconductor supply globally causes the price of electronic devices to rise, Chinese firms also have to give up.


04/06

TOP 5 laptops with thin and light design, easy to carry like a notebook, weighing less than 1kg are being traded at Mobile World


03/06

It seems that ASUS is working with Qualcomm, preparing to launch a powerful smartphone running Snapdragon 888 chip, up to 16GB RAM


02/06

On hand ASUS ROG Zephyrus G15 (2021): Comprehensive from design to performance, too delicious for a gaming laptop


31/05

On hand ASUS ROG Zephyrus Duo (2021): Handy secondary screen, 'dinosaur' configuration and powerful design


30/05

On hand ASUS ROG Strix G15 (2021): Many outstanding advantages in a new, more compactly optimized design


28/05
.