The Special Event
Price reduction of up to 40%. New rates that are simple and easy to understand
NTT DoCoMo announces "Gigaho" and "Gigalight" for separation plans
Taku Tanaka (Editorial Department)
On April 15, 2019, NTT DoCoMo announced new price plans "Gigaho" and "Gigalight". The main feature is that the price has been reduced by up to 40% while greatly simplifying the complicated fee structure. Let's explain the details.
* Prices in this article are standardized by tax.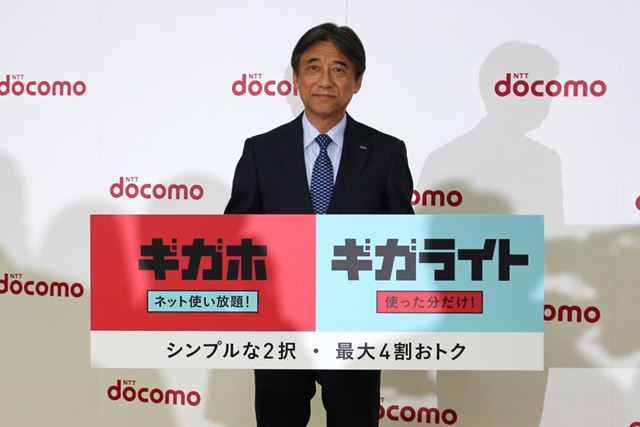 Announcement of 5 new charges such as "Gigaho" and "Gigalite"
The new rate plan announced this time is for a so-called "separation plan" that prohibits a set contract for communication contracts and terminal charges for a certain period. It was a plan that had been announced in October last year that the price will be reduced by 20-40%. The target is limited to users who have ended the period of "Monthly Support" or who have purchased a new terminal that will be released after June 1st.
There are five new rate plans: 2 types of rate plans for smartphones, "Gigaho" and "Gigalight", "Data Plus" for tablets, "Keitai Run" for mobile phones, and "Kids Mobile Type Run" for children's mobile phones. . Previously separate "basic charges", "sp mode", and "data communication" were packaged in one package, making it a fairly easy-to-understand plan. Let's explain each in turn.
"Gigaho", a plan for heavy users of smartphones, costs ¥ 6,980 per month and has a monthly communication capacity of 30GB. The communication limit when exceeding this is 1Mbps for both transmission and reception, which is greatly relaxed compared to the conventional 128kpbs. It can be said that the plan is close to unlimited use.
Another plan for smartphones is "Gigalight" for light users. Monthly charges are in a four-step system: 2,980 yen (up to 1GB), 3,980 yen (up to 3GB), 4,980 yen (up to 5GB), and 5,980 yen (up to 7GB). If you want to exceed 7GB, the communication limit is 128kbps as usual.
"Data Plus" is a price plan that assumes two tablets, etc., and is combined with "Gigaho" and "Gigalight" to share data communication capacity. The fee is 1,000 yen per month.
"Keitairun" is a low-priced charge of 1,200 yen per month for a mobile phone with a data communication capacity of 100MB per month (128kbps when exceeded).
"Kids Mobile Type Run" is a voice call plan for FOMA compatible kids mobile phones that can use voice calls for 500 yen per month.
These fee plans have been reverted to selecting a plan for each individual, but domestic voice calls between family members can be made free of charge by creating a family group. The fees listed are for 2 years and are at the time of contract. When canceling in the middle of two years, a cancellation fee of 9,500 yen will be incurred.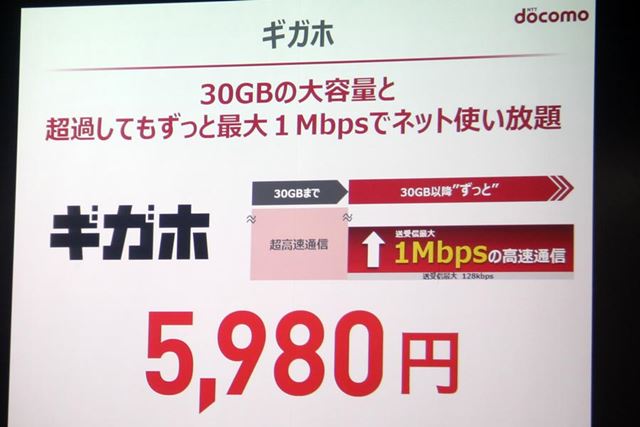 In the presentation materials, the fee for "Gigaho" is 5,980 yen, but this applies "Family Discount" based on a family contract of 3 or more lines that account for 70% of users.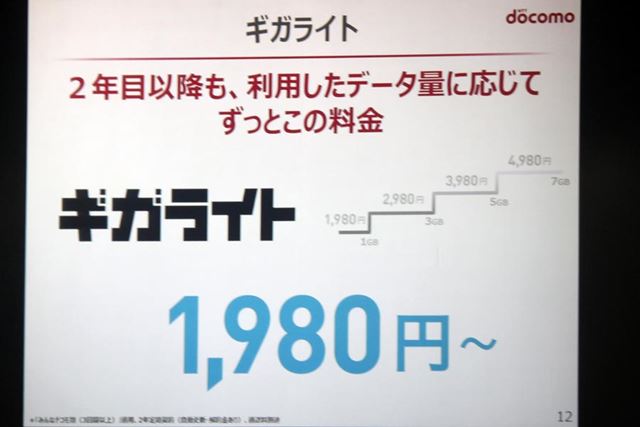 Gigalite, a staged rate plan, is also 1,980 yen per month by applying Family Discount.
"Family discount" is prepared as a discount menu that can be combined with "Gigaho" and "Gigalight". This means that by creating a group with relatives within the third degree, you can receive a discount of 500 yen per month for a group of 2 lines and a maximum of 1,000 yen per month for a group of 3 lines or more.
In addition, "DOCOMO Hikari" was also renewed as "DOCOMO Hikari Set Discount" for new charges. By applying this, the monthly charges of "Gigaho" and "Gigalite" are discounted by up to 1,000 yen. In addition, docomo Hikari's contract is not limited to the person's name, but may be contracted by someone in the third degree relative.
By using "Family Discount" and "docomo Hikari Set Discount" together, "Gigaho" can be used for 4,980 yen per month, and "Gigalight" can be used from 1,980 yen per month ("Docomo Hikari" is not applicable for 1 GB or less) Also, if it is up to 3GB, it will be a discount of 500 yen per month).
As an optional service, there are also options for voice calls called the "5-minute call free option" for 700 yen per month and the "Unlimited Call Option" for 1,700 yen per month. The tethering option has been abolished and tethering can be used without any options or procedures.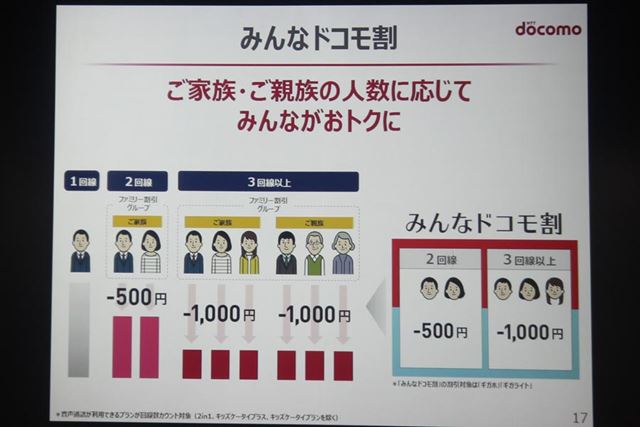 "Family Discount" applied to "Gigaho" and "Gigalite". 3 For relatives within the same degree, the conditions of the target are relaxed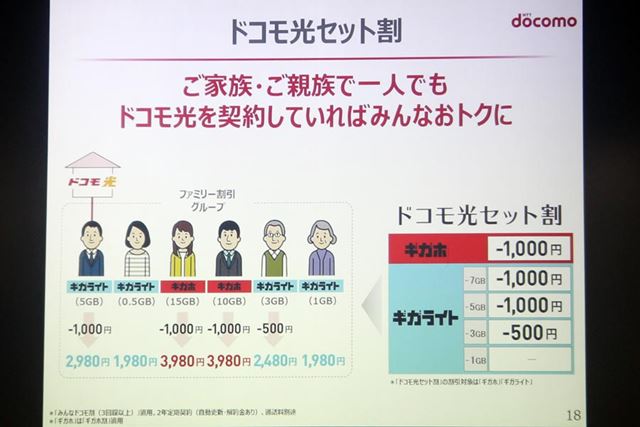 Another discount "docomo Hikari Set Discount". This also applies if someone in the third degree has a contract with docomo Hikari, so the conditions are moderate
Special offers and campaigns for new charges are also available
Benefits for long-term contractors for users of "Gigaho", "Gigalite" and "Keitarun" were also announced. This means that d points (limited period / use only) are returned to the user in the birth month.
Points are proportional to the d-point club stage, 3000 points for users of the highest "Platinum Stage (contract 15 years or over 6 months d point acquisition number 10,000 points or more)", "4th stage (contract) 2000 points for "10 or more years or 6 months d point acquisition number 3000 points or more)", 1500 points for "3rd stage (contract 8 years or 6 months d point acquisition number 1800 points or more)", "2nd stage 1000 points for "4 years or more for contracts over 600 years" and 500 points for "1st stage (for less than 4 years for contracts or less than 600 points for 6 months)" Granted (users need a procedure to grant points).
In addition to this, as a campaign accompanying the start of the new rate plan, if you join " Gigaho '' by September 30, 2019, " Gigaho Discount '' will be discounted 1,000 yen per month for up to 6 months, A "Smartphone Discount" has also been announced, which allows users of mobile phones or other mobile phones to sign up for "Gigaho" or "Gigalight" for a discount of 1,000 yen per month for up to 12 months.
The new fee will end at the end of May.
Comparing the old and new charges, the biggest drop in price is for light users with low monthly communication capacity. If you share 5GB of the existing "Basic Share Pack" with 3 people (about 1.67GB per person), the total amount will be 10,440 yen, but the new charge "Gigalite" (used up to 1GB per month) will be 3 If you contract by name, it will be 1,980 yen x 3,940 yen for 3 contracts, and it has been reduced by about 40% as previously announced.
Conversely, if you are a "docomo with" subscriber who continues to receive a monthly discount of ¥ 1,500, the traditional rate plan may be cheaper. In addition to providing a simple charge simulation corresponding to the new charge from April 15th, a full-scale simulation "firm charge simulation" will be provided from May 22nd.
It seems that discounts that do not comply with regulations are being considered for the price of the terminal that is noticed in the separation plan, but it will be difficult to significantly reduce prices as before. One of the measures is to increase the specific gravity of middle range machines such as the current docomo with target machine, but it seems to consider reducing the burden on users as much as possible even on high-end machines.
Regarding the current rate plan and discount service for "Kake-hodai & Pake-airu", "Monthly support", "Device purchase support" and "docomo with", acceptance of new contracts will be terminated at the end of May (current status) The contract will continue.)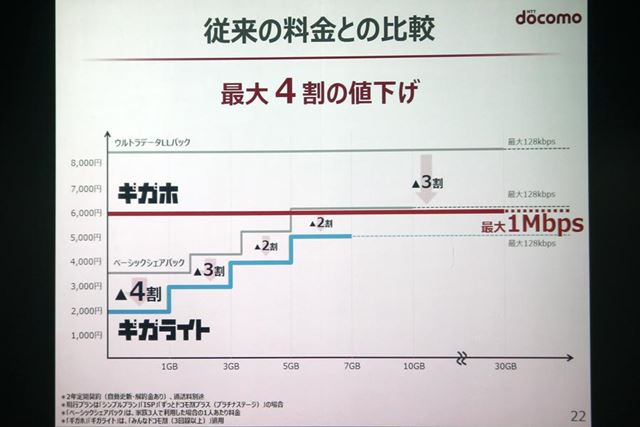 The price cuts for the new price are large for light users who have been feeling upfront until now.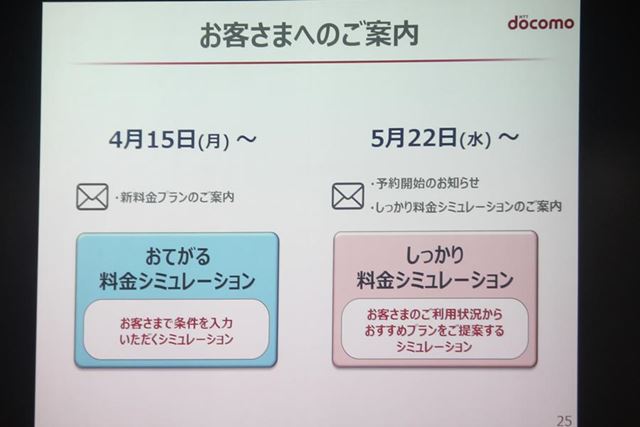 A simplified version of the price simulator will be available from April 15th today. A full-fledged simulator "Fix Charge Simulator" will be offered from May 22nd

Taku Tanaka (Editorial Department)
FB's friends are four Hikikomori digital monowriters. The virtual feat is fuckingless with a lot of misconversions, and the real feat is a mastery in both timing and frequency due to late arrival of the last train.
Check the details of products and services introduced in the article