Japan's largest game event "Tokyo Game Show 2016" [hereafter TGS2016] will be held at Makuhari Messe, Chiba for four days from September 15 to 18, 2016. The highlight of this year is "VR [Virtual Reality]". This year is said to be the "VR first year", and the venue was set up for the first time in a "VR corner" specializing in VR, and there were many booths in the general exhibition area where exhibition booths of various large and small manufacturers lined up. Related exhibitions were held and a glimpse of the forefront of VR. Here, we will report mainly on the VR booth pattern.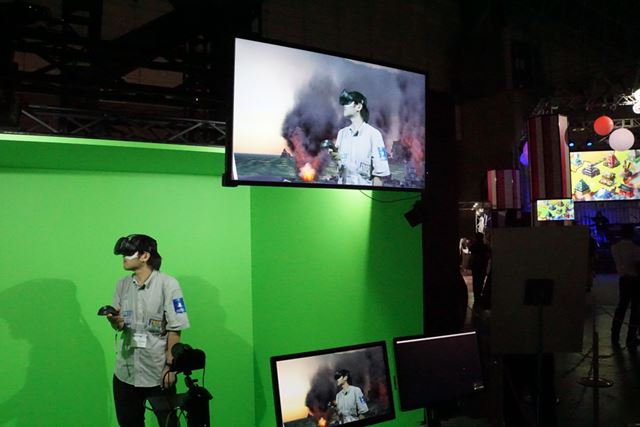 SIE showing a lot of titles for PS VR just before release and showing new possibilities of games
VR related exhibitions were held everywhere in the TGS2016 venue, but the Sony Interactive Entertainment booth with the largest exhibition booth at the venue attracted particular attention.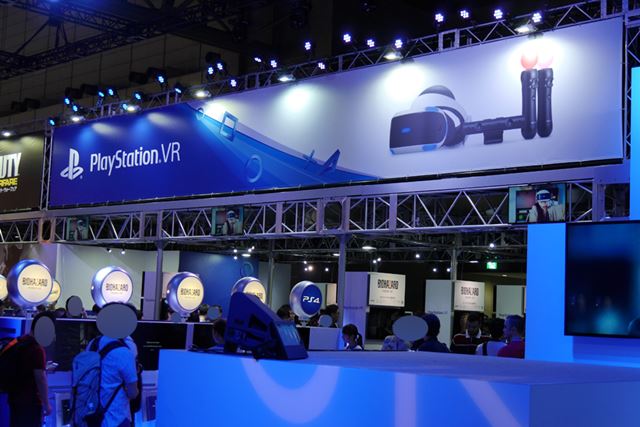 TGS 2016 Sony Interactive Entertainment Booth
This year marks the third time since the 2014 exhibition of "Project Morpheus", and a number of "PlayStation VR" [hereinafter referred to as "PS VR"] test stands will be set up soon, including "Resident Evil 7 Resident Evil" and "Idolmaster Cinderella Girls View". Introducing content under development for PS VR such as "Involution", "Summer Lesson: Hikari Miyamoto Seven Days Room" and "Shin Godzilla Special Demo Content for PlayStation VR". He promoted a new gaming experience with VR.
At this timing, which was slated for release on October 13, many people rushed to the booth in spite of business days, and the enthusiasm of the booth was tremendous. On the 17th, which is the general release date, the PS VR trial numbered tickets are gone quickly. Next week, we will start accepting the final reservations that will definitely be available on the release date. This momentum is likely to continue for the time being because there are many people who have not yet made a reservation.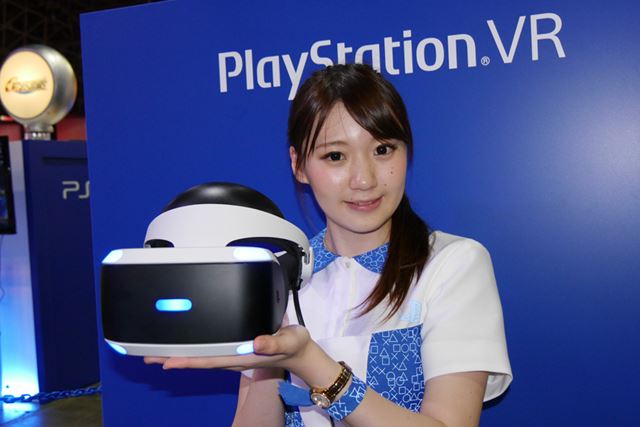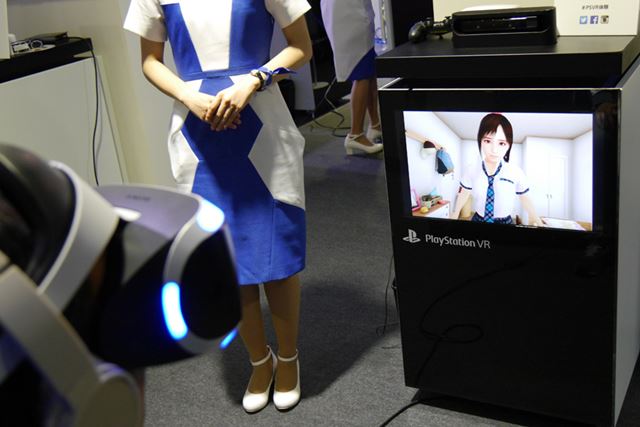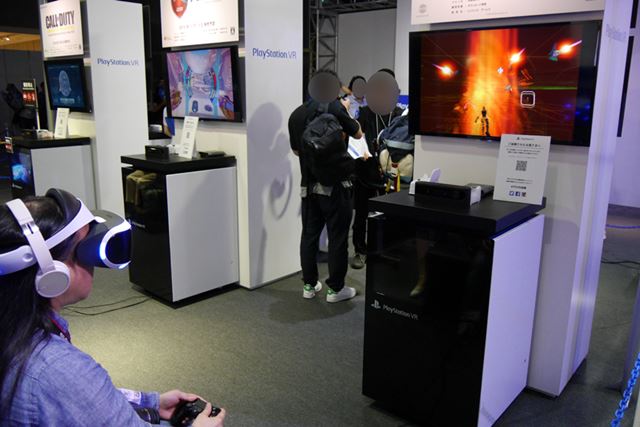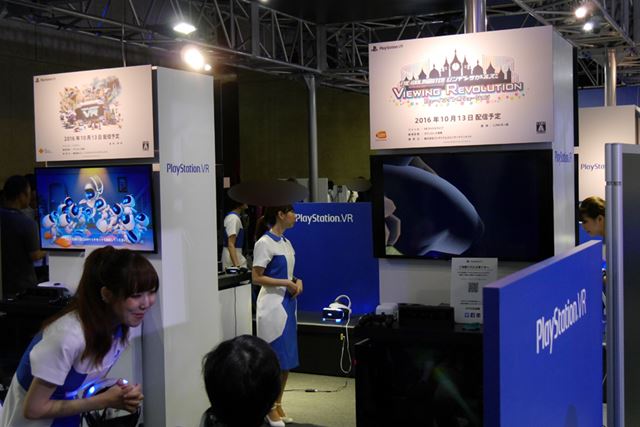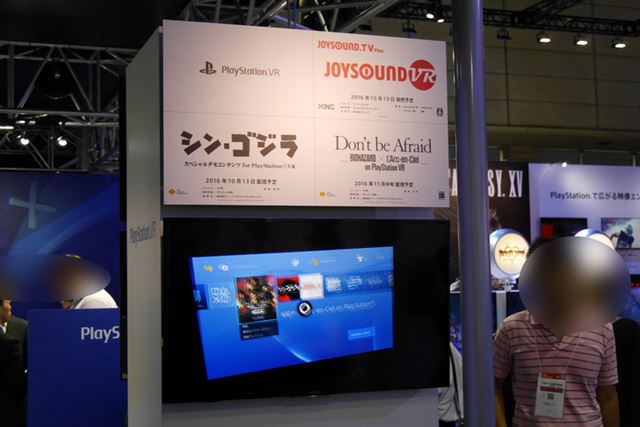 HTC Vive appeals room scale VR in combination with a PC. Exhibiting six contents that make use of the features
Along with PSVR and Oculus Rift, the hottest VR device "HTC Vive". A large-scale exhibition booth was set up in the VR corner set up at the venue this year, and a number of demonstrations were performed taking advantage of the features of the device, which allows a room-scale VR experience by combining a PC and a dedicated device.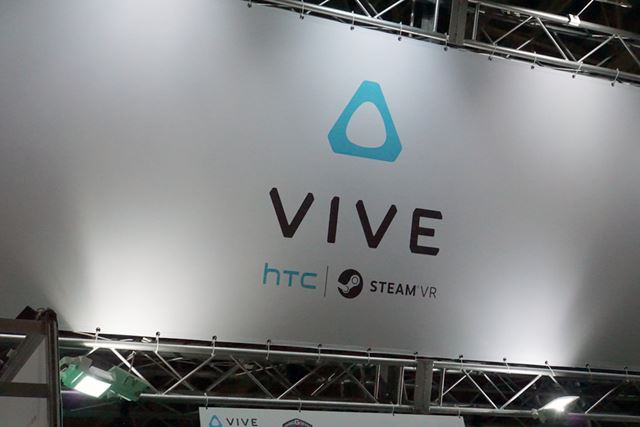 HTC with a large exhibition booth in the VR corner
The author was also able to experience the content "Hop Step Sing!" That AMD and Kodansha jointly exhibited. Polygon Pictures and Kodansha's VR idol project "Hop Step Sing!" Has already provided content that allows you to watch idol live for VR devices for smartphones, but this time tuned to HTC Vive Experience what you did. The content itself is that you can support the idols while standing on the same stage as the idols and watching live, but this time you can experience from the same viewpoint as those who are experiencing even if you are not experiencing using the green back It was like that. VR is often not understood unless you actually experience it, but it was interesting to enjoy other people through this kind of trial.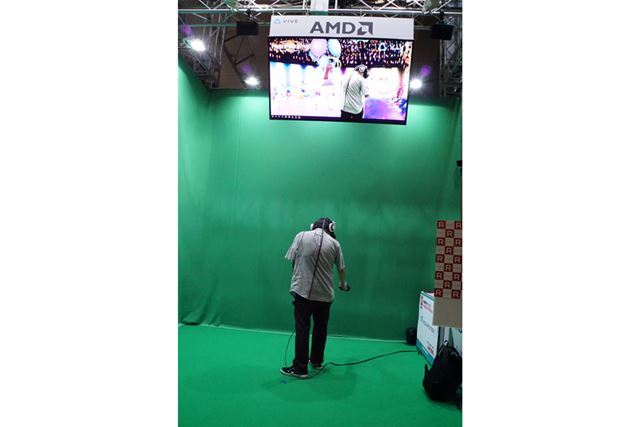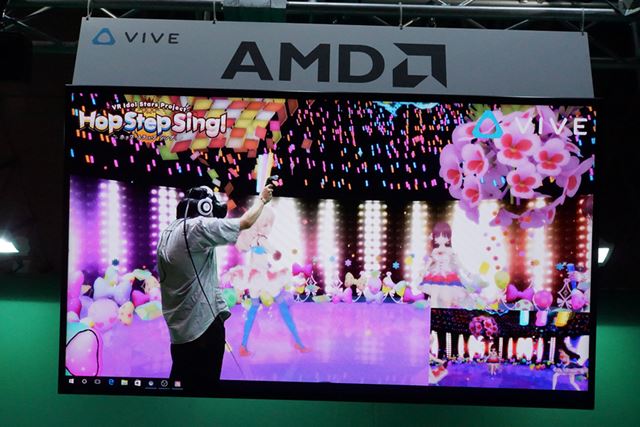 In addition to this, using the content of Square Enix's "Missing Million Arthur", you can experience card battles in VR, etc., and people in different places can use VR to enter the same world A total of 6 contents were exhibited, including "Linked-door loves Space Channel 5" where you can enjoy various communication such as SNS and mini games. Among them, "Linked-door loves Space Channel 5" was attracting a lot of interest from the users who visited it because the collaboration with "Space Channel 5" released in Dreamcast was announced in advance.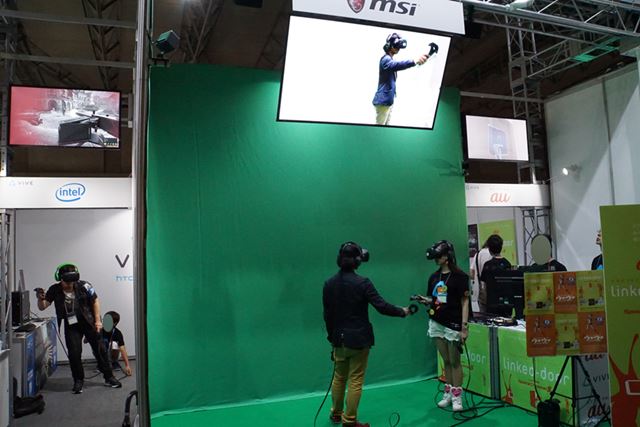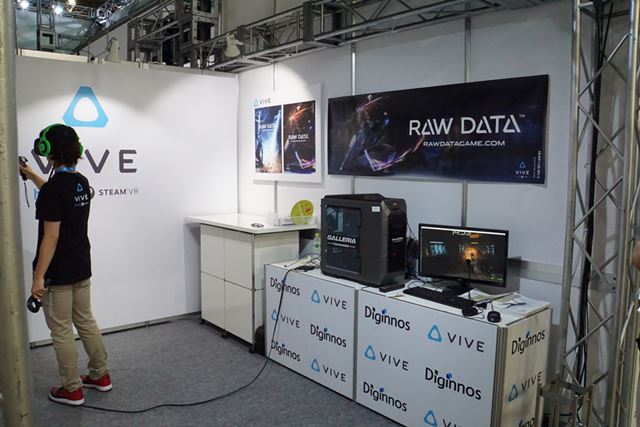 VR related exhibitions will also appear at game maker booths. Be attractive with various contents besides PS VR
Many VR-related exhibits were also held at the booths of game makers developing game titles.
At the Capcom booth, a large number of actual PS VR machines were prepared, and a trial demonstration that allowed users to experience the VR version of "Resident Evil 7 Resident Evil" scheduled to be released in 2017 was conducted. There were only a few booths where you could experience PS VR at booths other than SIE. In addition, at the "Resident Evil Museum" at the corner of the Capcom booth, a new innovative music collaboration between "Resident Evil" announced at the "2016 PlayStation Press Conference in Japan" and L'Arc-en-Ciel the other day. A video test content "Don't be Afraid -Biohazard x L'Arc-en-Ciel on PlayStation VR-" is available. It was appealing to provide a new VR experience different from games.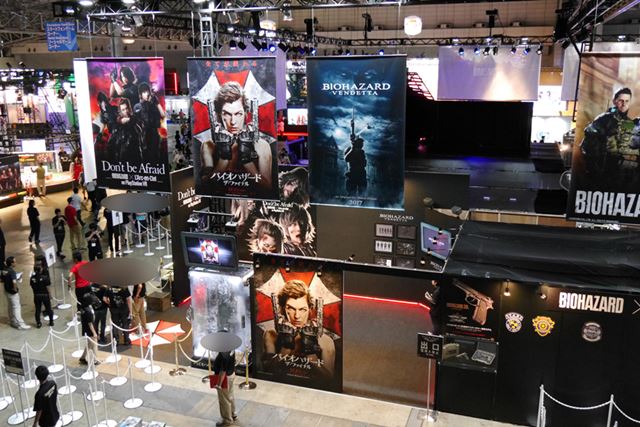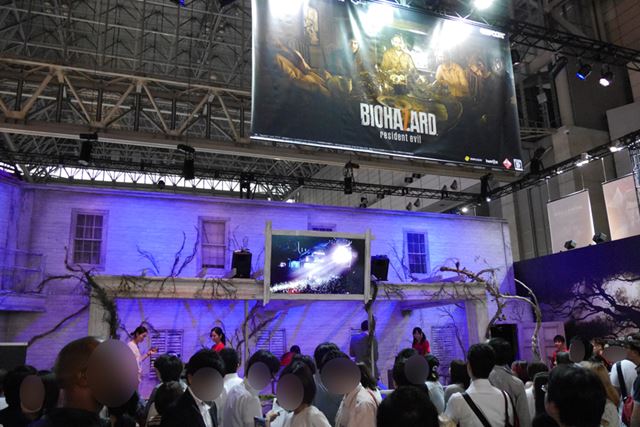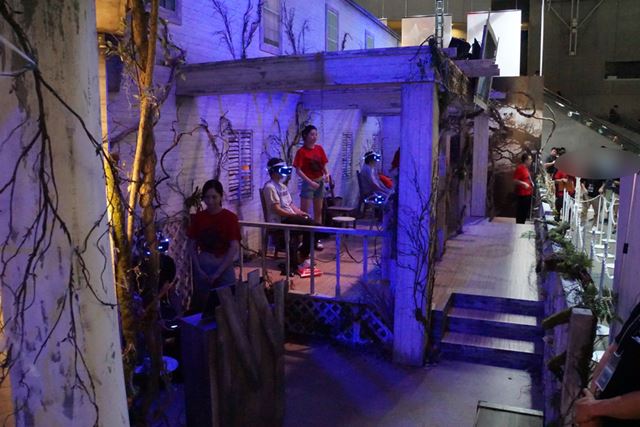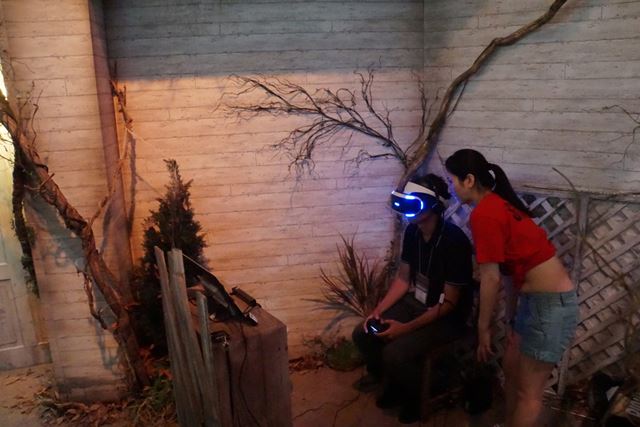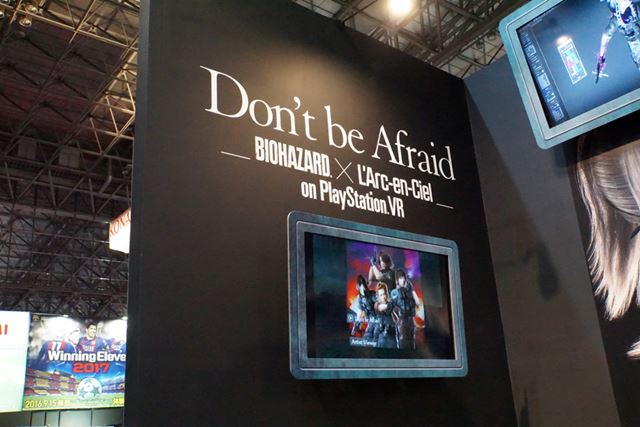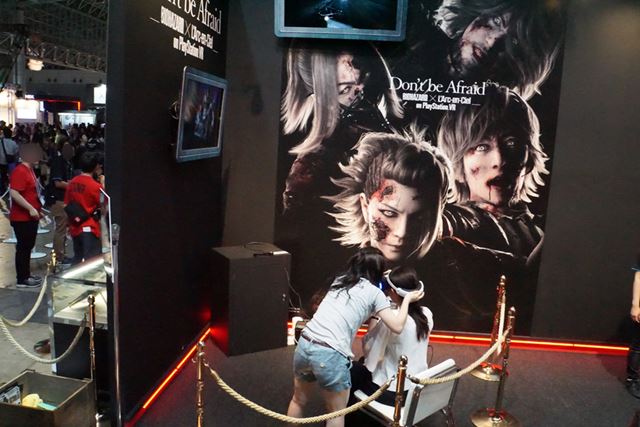 At the Square Enix booth, there was a demonstration called "Project Hikari" that combined VR and manga. This is a very unique attempt to go to the world of manga using VR technology, and in the demonstration using the content of " Wedding Ring Story '' serialized in " Monthly Big Gangan '', 2D and 3D have been exquisitely fused so far Enjoy an unprecedented manga experience. SQUARE ENIX had the image that they were developing cutting-edge games, so I was very surprised that they were actively developing content other than these games.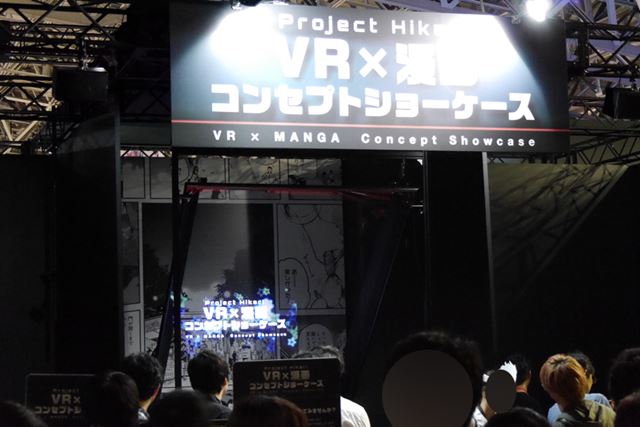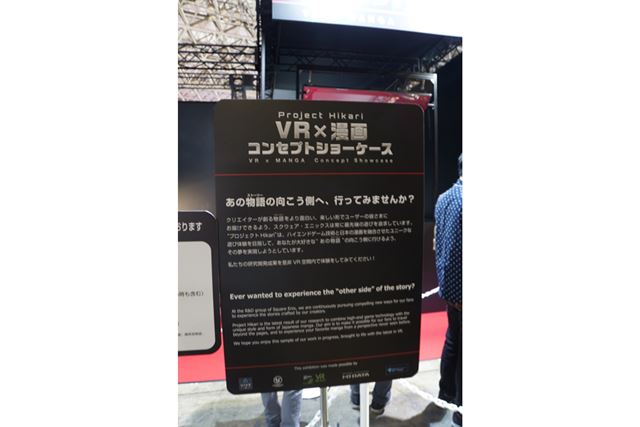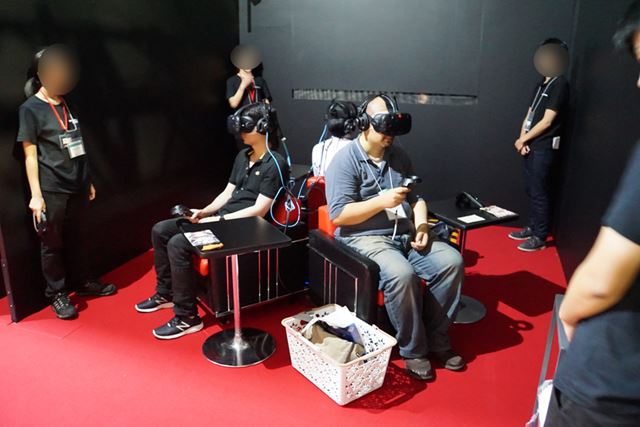 At Wargaming Japan's booth that handles " World of Tanks '' and " World of Warships '', you can experience " GET VIRTUALLY INSIDE WORLD OF TANKS '' where you can experience standing on a tank running through the battlefield and the battleship Yamato The company exhibited VR content such as "VR Special photo zone YAMATO" where you can experience the situation. The writer also experienced "VR Special photo zone YAMATO", but Yamato, enemy battleships, and fighter planes in the video are well reproduced in detail, as expected, such as Wargaming Japan. The contents of being able to aim at enemy battleships with HTC Vive's controller and shoot more and more without limit on the number of bullets was also very pleasant.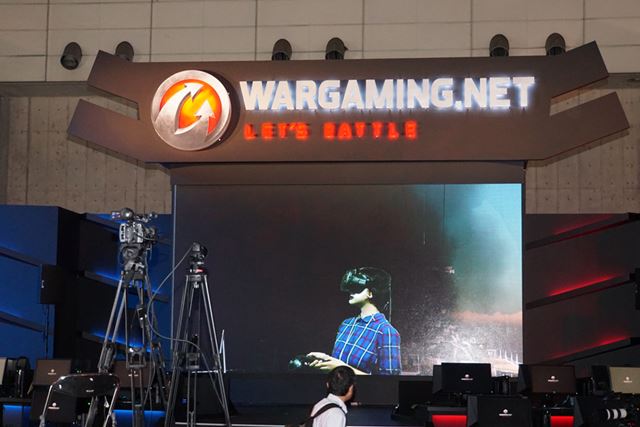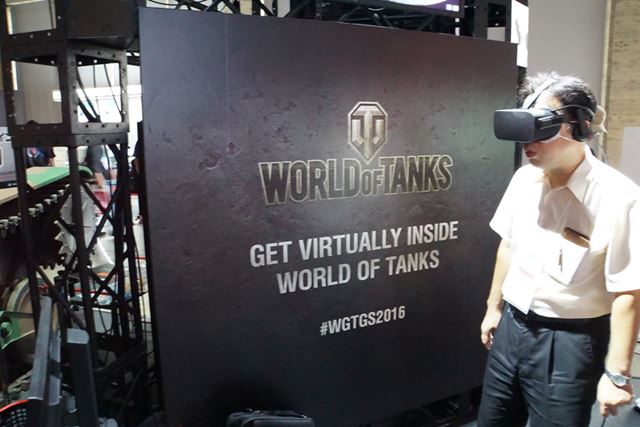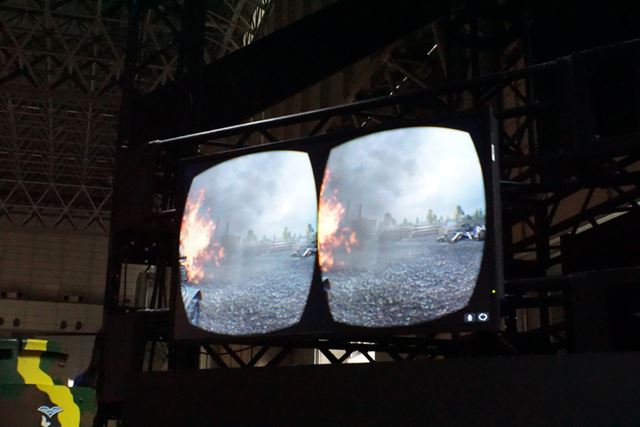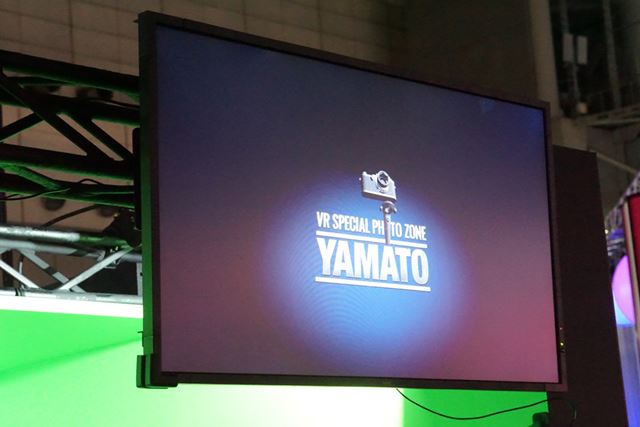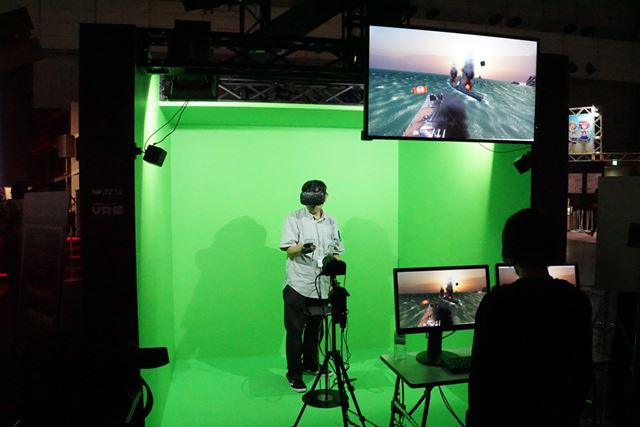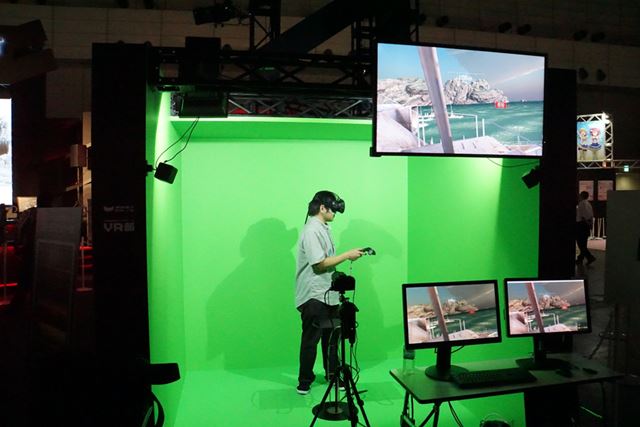 In addition, VR content [Voltage Booth] that allows you to experience "chair dong" that is not a wall donation by Eisuke Ichinomiya appearing in the smartphone app "Suite Mischievous Kiss", and a popular sword training simulation game " VR content [DMM GAMES booth] collaborated with "Touken Ranbu -ONLINE-" [common name: Tourabu], VR and the handshake event with Ichijo Shin appearing in theatrical animation "KING OF PRISM by PrettyRhythm" [common name: Kinpuri] There were also a lot of VR contents for women, such as the content [C's Reporters Booth]. For details on VR content for women, such as Chair Don and Torabu VR, see this article.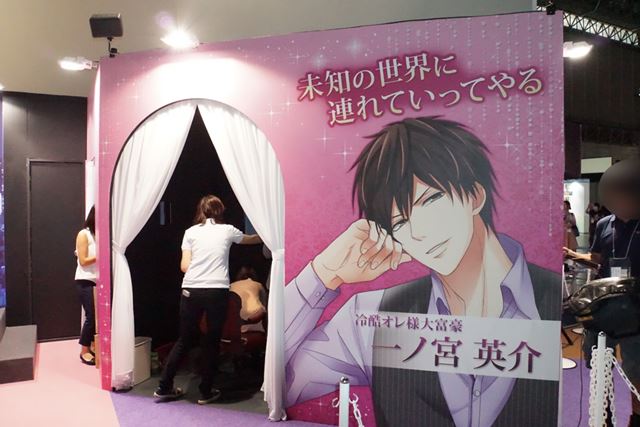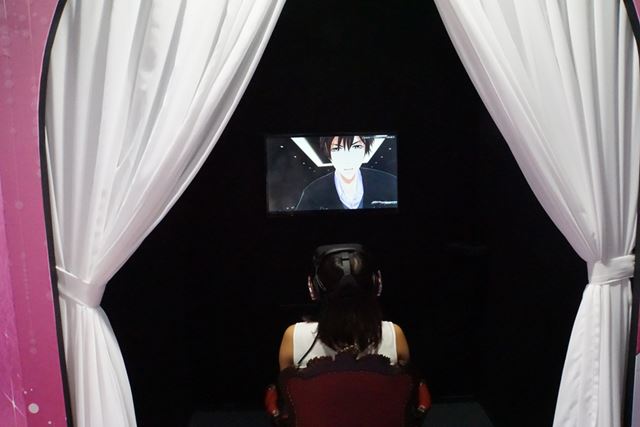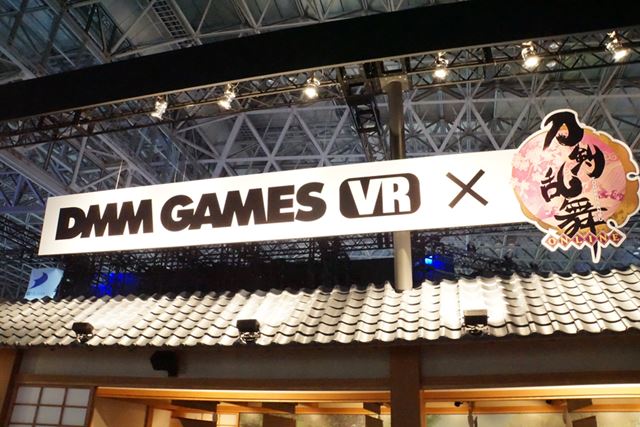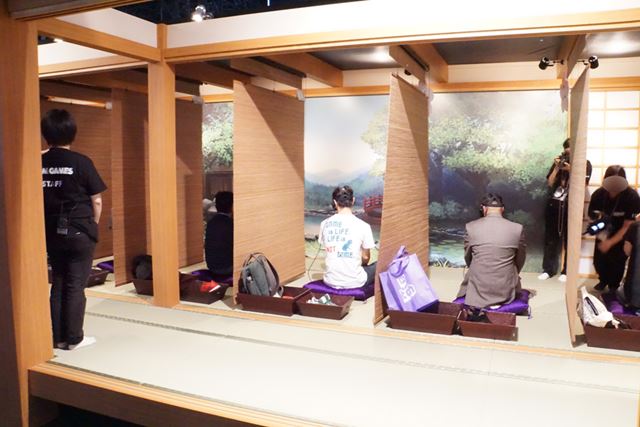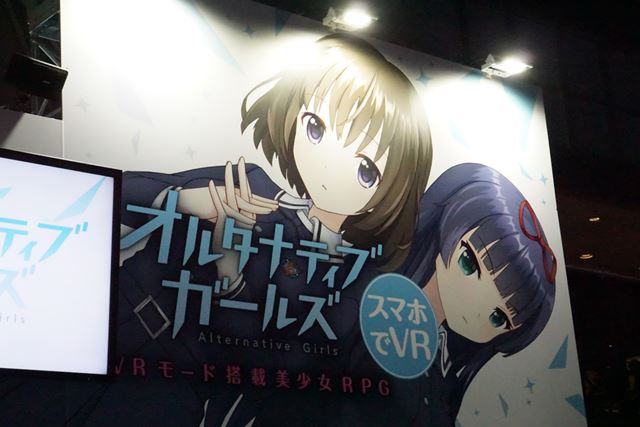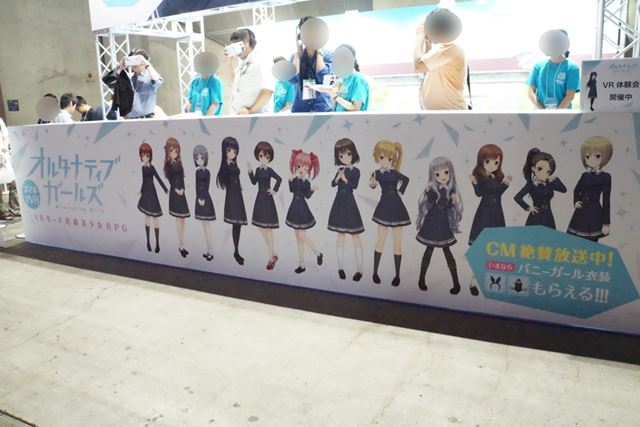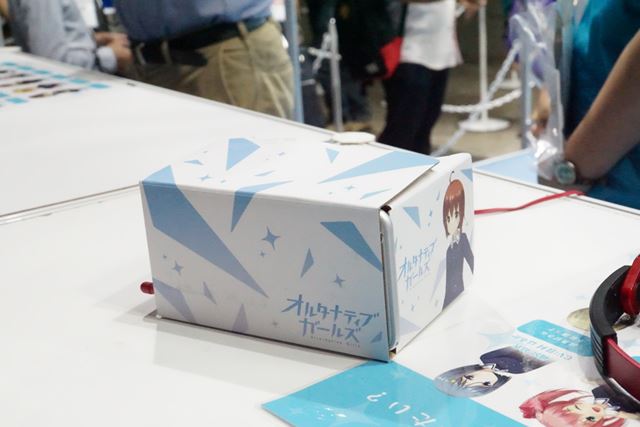 Experience content combining VR headset and experience machine!
At the Futuretown booth in Taiwan, demonstrations of sensation-type content combining VR headsets and sensation machines were performed.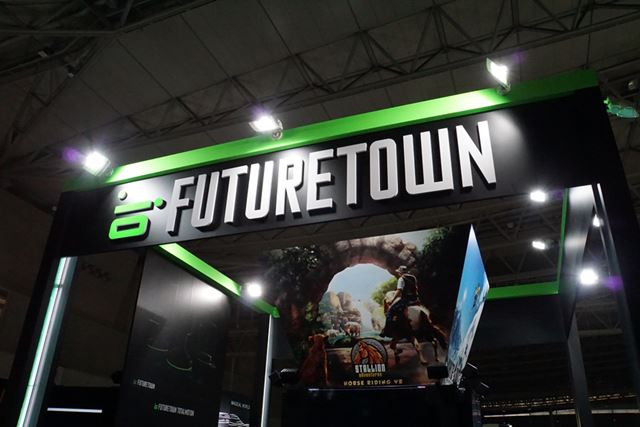 Futuretown with a booth in the VR corner
Demonstrations included " INFINITY RIDER: MotorbikeVR '' where you can enjoy riding through the course as a motorcycle rider, " Whiteout: Ski VR '' where you can enjoy a realistic skiing experience, riding a horse on the African land "Stallion Adventures: Horse RidingVR" where you can experience driving and "Wave Breaker: Surf VR" where you can experience surfing. In both cases, using a special bodily sensation machine, you can experience realistic feedback as if you were actually experiencing it.
There have been several ways to combine VR headsets such as HTC Vive and Oculus Rift with dedicated sensation machines as a way to further enhance the immersive feeling of VR, but it is different from VR games using a controller Very interesting with the experience. As one of the possibilities of VR, it is likely that this type of content will increase in the future.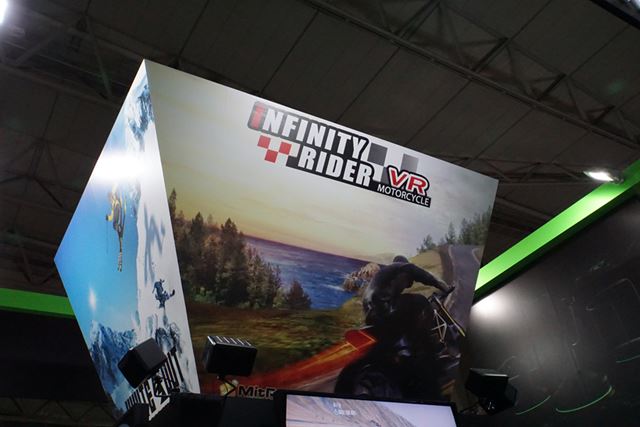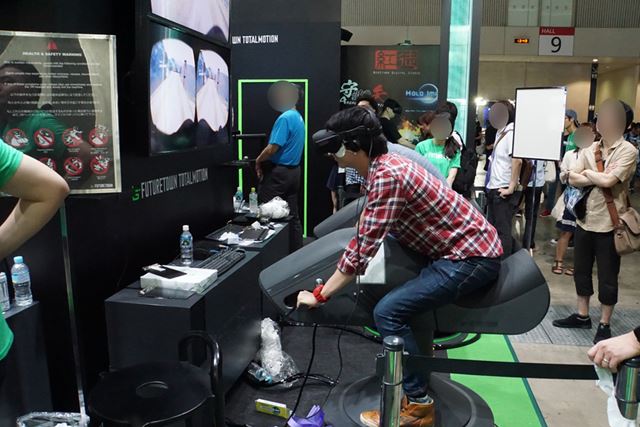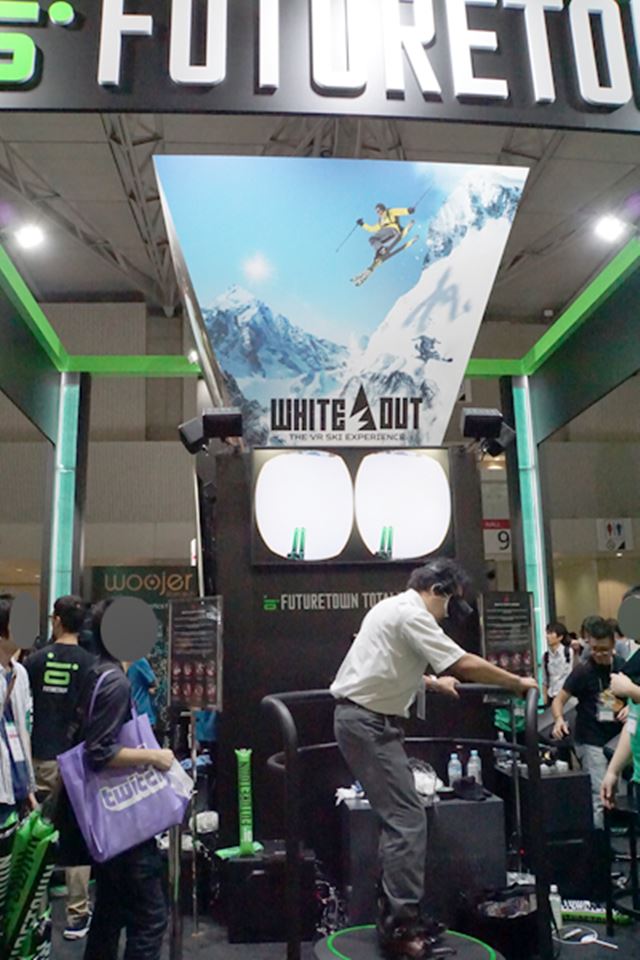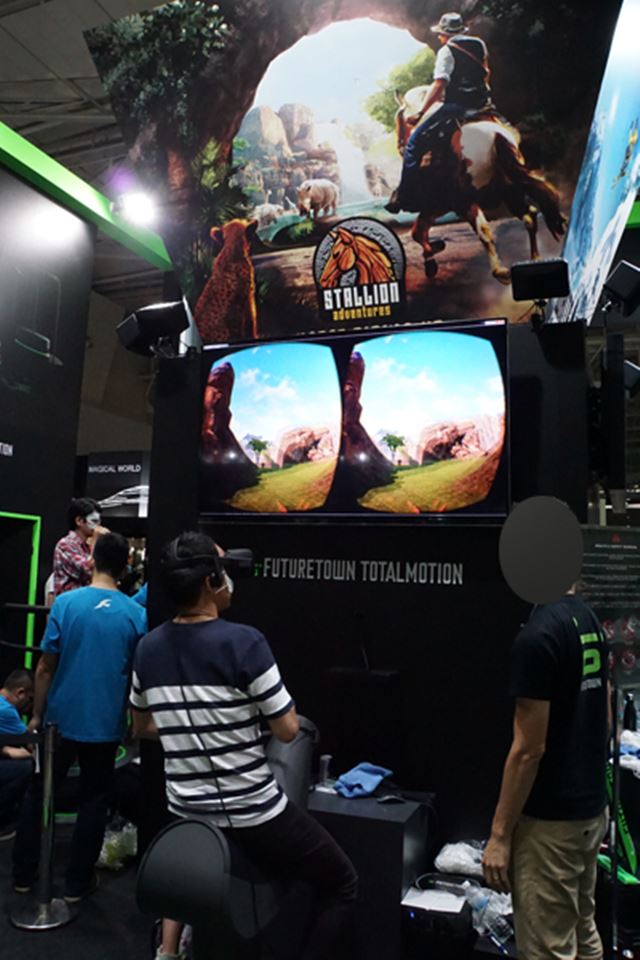 Not just content! Many new VR headsets such as eye tracking compatible and the world's lightest glasses-type device are also on display
At the venue, not only VR content but also a lot of new VR headsets were exhibited.
At the FOVE booth, we will exhibit a new VR headset "FOVE" equipped with gaze tracking that tracks eye movements and unique technology for judging eye blinks. Original content that made the most of the features of FOVE, such as a shooting game where the target can be adjusted only by eye movements, and a scroll action that switches the stage when blinking, was prepared. At the moment, there are still issues such as being unable to use glasses, but the technology itself is very interesting. Since it is scheduled to start in November, I would like to pay attention to future information.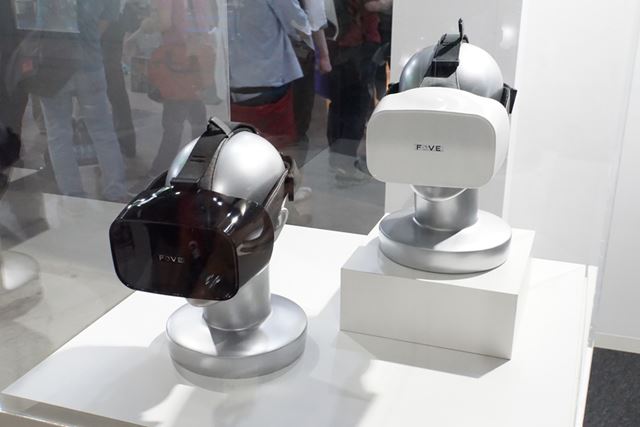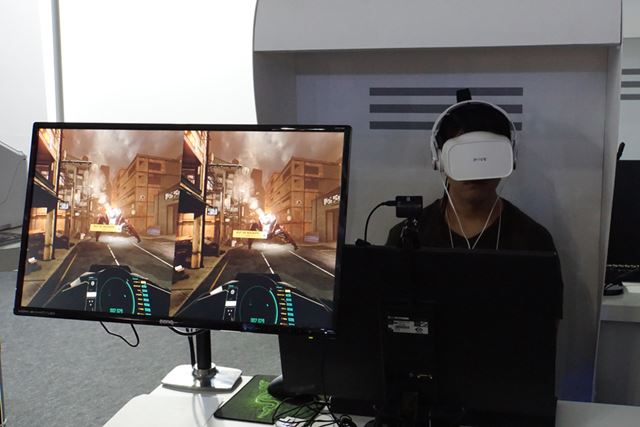 At the Shenzhen Dlodlo Technologies / Sojitz Planet booth, a number of new VR headsets planned for release were on display. Of particular note is the "Dlodlo V1", which weighs the world's lightest weight at 88g. While PS VR, HTC Vive, etc. are the types that can be worn from the head, Dlodlo V1 is characterized by the fact that it can be worn quickly with glasses. Although it is a very compact product, it also supports 2K + [2400 x 1200] resolution. Although it is necessary to send video wirelessly from a dedicated device, the fact that it can be quickly retrieved and used is a major attraction not found in previous VR headsets. The release in Japan is scheduled for 2017.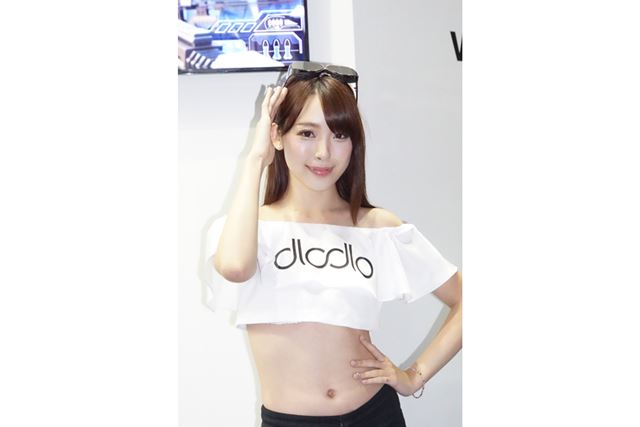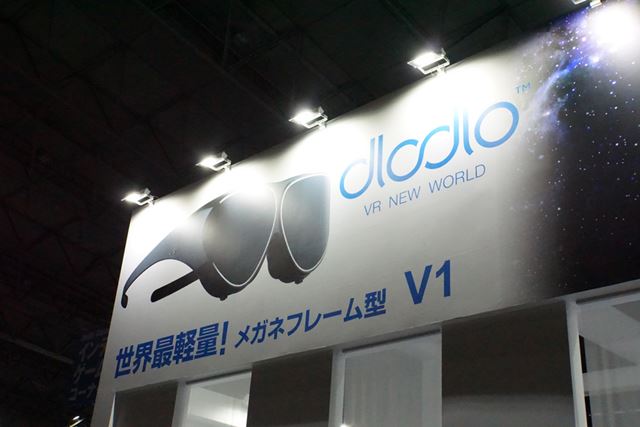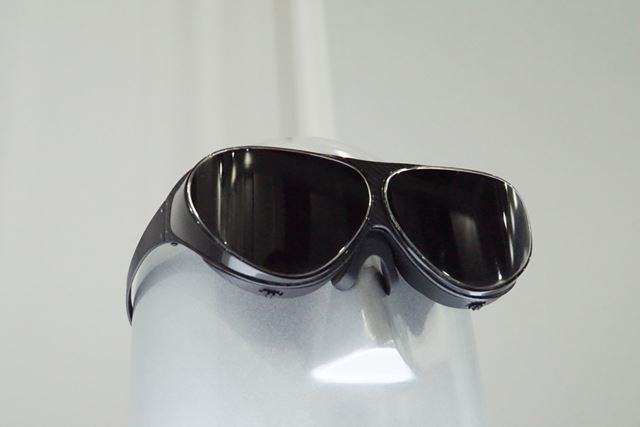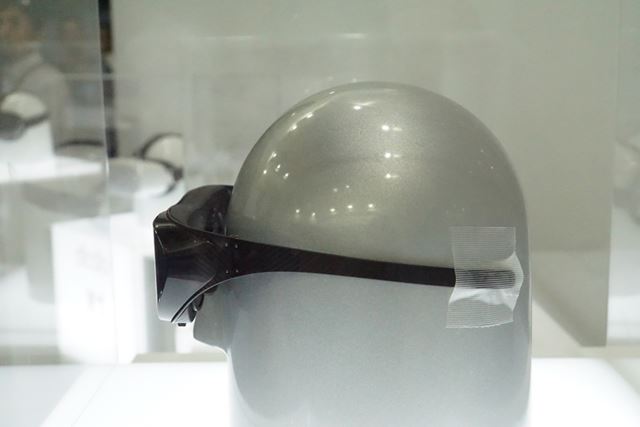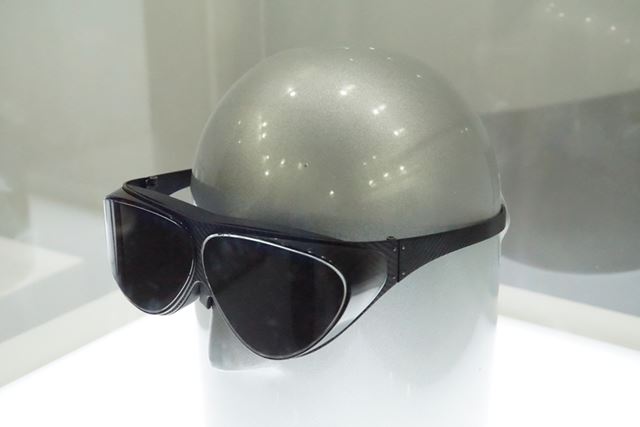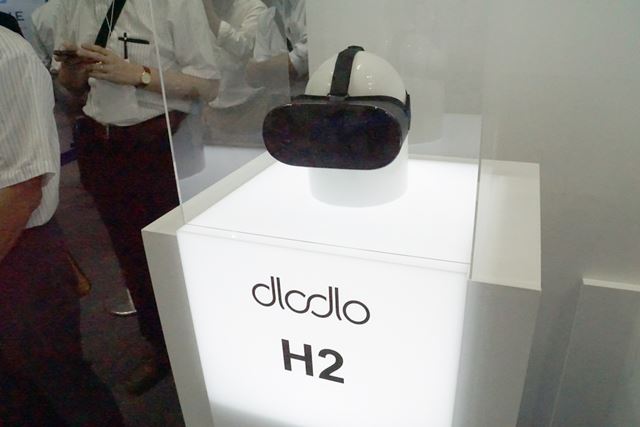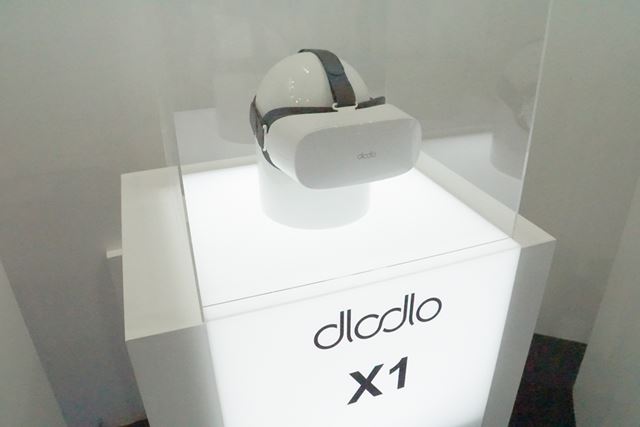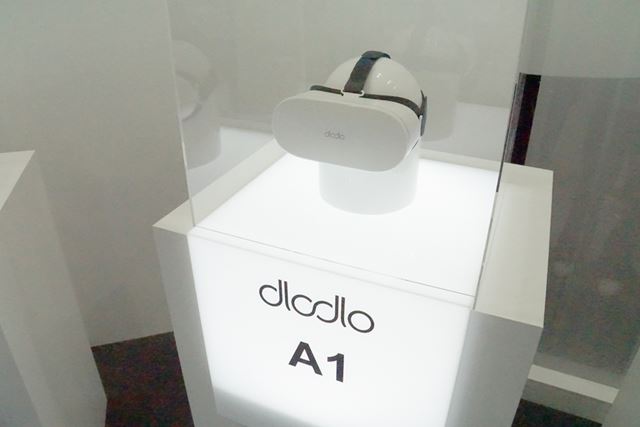 At the immerex booth, a prototype of the VR-type eyeglass-type VR headset "VRG-9020" announced at E3 2016 was displayed. Although it is still in the process of being developed, there are still many areas where the viewing angle and the feeling of wearing are still lacking, but it is still convenient to carry around and enjoy it. In the future, as the number of devices that can easily enjoy VR increases, the spread of VR is likely to gain momentum.