This time, we will introduce "Nintendo 3DS NFC Reader / Writer" that can add NFC function to old Nintendo 3DS.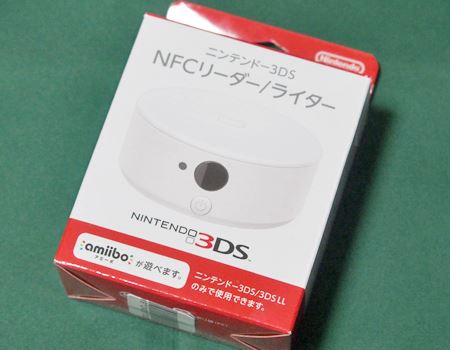 NFC Reader / Writer Package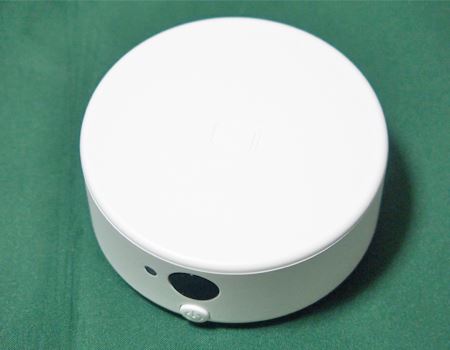 NFC reader / writer body
NEW In Nintendo 3DS, functions such as 3D blur prevention function and addition of C stick and ZR button have changed drastically, but the most significant change seems to be NFC support it might be.
By supporting NFC, amiibo, which had only played on Wii U, can now be played on Nintendo 3DS. With more characters, new maps and more courses, you can enjoy additional content with Nintendo 3DS titles. However, this was limited to NEW Nintendo 3DS, and those who had previous Nintendo 3DS (LL) could not enjoy it yet. Also, 2DS does not have this function.
It's a good idea to buy a new Nintendo 3DS, but it doesn't mean my Nintendo 3DS is broken, so I'm a little hesitant. This is where I thought of this Nintendo 3DS NFC Reader / Writer. If you put amiibo on this and read the data of amiibo to Nintendo 3DS by infrared communication, you can enjoy additional contents of amiibo compatible software.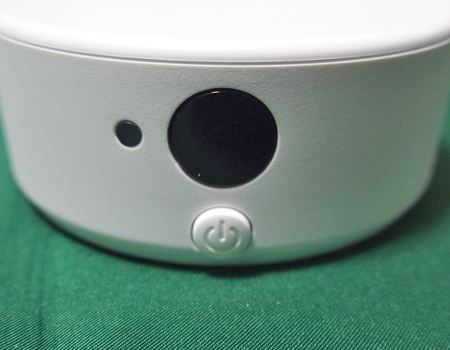 Power button and infrared sensor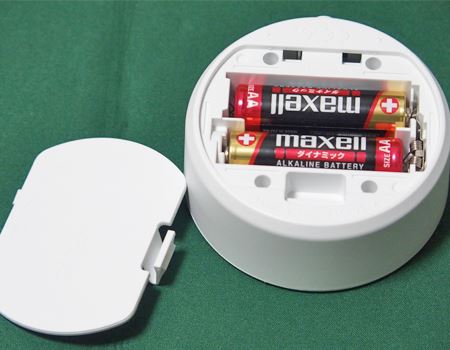 The power supply uses two AA batteries. Two batteries are included. There was maxell dynamic
However, it is not possible to pay for electronic money, another function of NFC of NEW Nintendo 3DS. If you have trouble paying with Nintendo Dope Repaid Card or credit card, and you want to be able to pay with e-money, you still have to buy NEW Nintendo 3DS.
At that time, I thought that Capcom's "Megame Meguri" (scheduled to be released on December 8), which can be played using transportation IC cards, could not be played, but information on transportation IC cards It seems that it can be read and reflected in the game. It was good news because I thought I had to buy a NEW Nintendo 3DS for "Megame Meguri".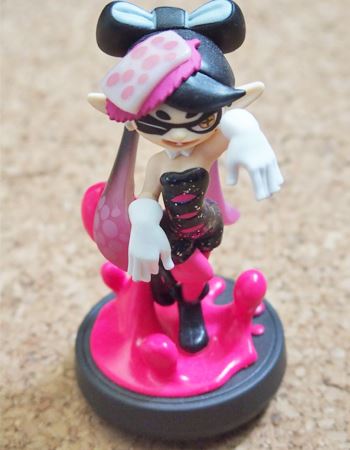 You cannot pay for transit IC cards, but you can use amiibo. This is Splatoon Aori amiibo
I put it on NFC reader / writer
Face the infrared sensor on the back of Nintendo 3DS and the infrared sensor of "NFC Reader / Writer". It's just right to communicate over this distance
So, I tried using it immediately. The amiibo we're at now is Splatoon Aori and fireflies. When you read amiibo information with the Nintendo 3DS application "NikoNico", you can see the Shio Colors live.
Actually, I started "Nico Nico" and loaded Aori with a reader / writer. The Shio Colors live started and we could see it. There are many other softwares that can be used, and there are cases where they will be compatible with software that will be released in the future.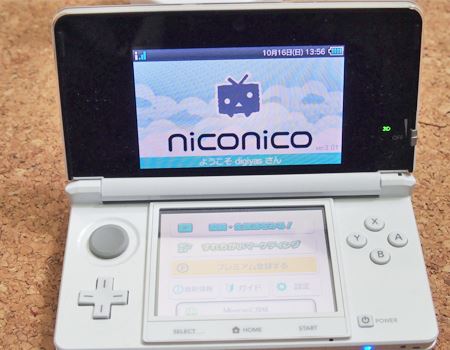 Start the Nintendo 3DS app "Nico Nico". If not, download it at the Nintendo eShop. "Nico Nico" itself is free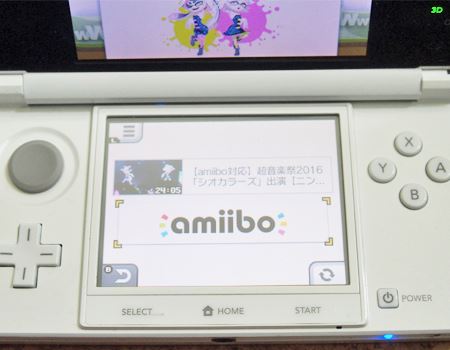 Select amiibo and turn on NFC reader / writer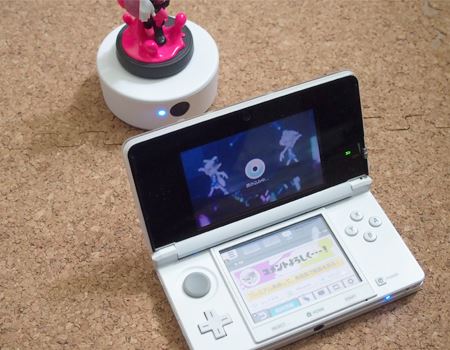 A live video of Shio Colors will be downloaded via the Internet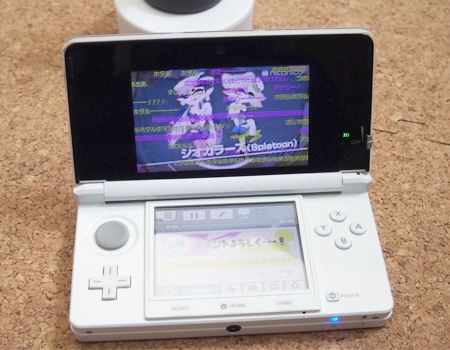 Shio Colors live performance has started. Since it is a live of Nico Nico Douga, you can also enter comments. By the way, you can listen to 6 songs in both Akari and Firefly, but 5 songs are common, 1 song is each solo song
The price is around 2,000 yen, so even if you finally purchase NEW Nintendo 3DS, I think that it is ants that you buy as a tether until then.
.