After a lot of speculation about a potential Switch Pro in the works at Nintendo, either before or after E3, we had a strange feeling of emptiness, being convinced that we were going to have some news about it. But it was on July 6, 2021 that we finally had the announcement of a new range for the Nintendo Switch: the OLED model! This announcement out of nowhere is obviously accompanied by a lot of expectations and hopes, therefore, what awaits us with this OLED range?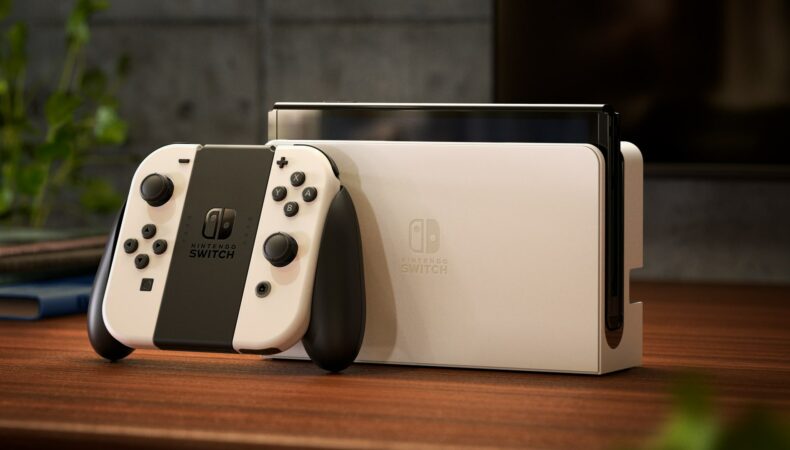 Certainly for the sake of making the nomadic aspect more ergonomic and comfortable, this Switch "Pro" offers us a much larger, adjustable support, which also seems much stronger than the old one. And this is also an important point to raise for this OLED range: everything looks much more refined, much better worked and finished according to the trailer. We have less the impression of having something fragile in hand. In addition, the dock also looks much better tweaked. What is clear is that the aesthetic aspect has been at the center of Nintendo's desires for this new version.
The screen has also been redesigned to allow the Switch to go upmarket at this level. Seven inches, a thinner screen, a much more intense color panel, everything is there to satisfy our eyes, and our ears, the sound capacities being also improved, which was clearly not too much (well, in theory, to see what it will be concretely, Switch OLED in our hands and our esgourdes).
The OLED Switch dock has also been changed a bit. Indeed, Nintendo has added a port for an ethernet cable. Surely in order to improve the internet connection of Switch players. Despite this fact, many players connecting to online games on the Switch (Super Smash Bros. Ultimate or Splatoon 2 among others) point to the internal problems of Nintendo servers. Adding an ethernet port may not be enough to address these annoying issues for gamers.
This OLED Switch sells us dreams on paper, Nintendo even offering itself the luxury of offering us images of Splatoon 3 and Zelda: Breath of The Wild 2. In any case, it will be very soon that we will be able to form a real opinion on this OLED range announced today. hui, because the latter was announced for October 8 !


Barth