Apple pretends to be soft, really showing off
Apple server is soft?
No, Apple is just trying to resolve the storm of public opinion at the least cost. Last night (November 18), Apple announced a 30% reduction in tolls, cutting half to 15%. Suddenly, almost the entire gaming circle was forwarding and debating passionately.
It can be roughly divided into two groups: supporters and mockers. The supporters are happy for Apple's softness, while the mockers think that Apple's move is like a show.
It is not difficult to find that Apple has formulated a strict policy, and manufacturers who can enjoy this preferential rate only have a natural annual income of less than 1 million US dollars.
This is precisely the reason why the sarcasm is fragrant.
Collect less taxes from the poor and buy people's hearts
I have to admit that Apple's smart methods have to be "respected" in this operation.
First, Apple never mentions Epic when explaining the reason for the policy. In an official statement, Apple stated that there are two reasons for issuing this policy.
One is that the epidemic has brought unprecedented challenges to the global economy; the second is that the online virtual world is becoming more and more important.
To this end, Apple hopes to empower small developers and entrepreneurs by reducing tolls so that they can better escape or expand their digital business.
Secondly, Apple claims that the App Store has unparalleled developer tools, including developing applications, programming languages, secure payment interfaces, and more than 250,000 necessary software building blocks (APIs).
The official statement also listed development tools similar to HealthKit, ARKit, and Core ML.
In short, developers enjoy convenience on the App Store. This is a feature not available on other platforms.
Apple CEO Tim Cook also said that the App Store, as a unique economic development engine, has created millions of new jobs, paving the way for entrepreneurs with brilliant ideas.
The implication at the moment is to look at the big guys. Apple is not a monopolistic villain. We support millions of small and medium-sized developers. Everyone must be grateful, and don't be tempted by others.
He went on to say that we support small and medium developers to develop boldly and try new ideas to make people's lives more colorful.
Emotional debt, sense of mission, this pressure is estimated to make many small and medium developers speechless.
With this wave of operations alone, Apple has successfully separated small developers from Epic. As a result, Apple was able to complete the task card of buying the hearts of the "poor".
If everyone thinks that Apple's reduction of tolls is just to put real money and silver on it, then it's really a trap of Apple. You know, Apple's cash cow has always relied on large families, and small fish and shrimps can't get into Apple's eyes.
Sensor Tower data shows that on the App Store in 2019, 97.5% of developers had income of less than $1 million. It is worth mentioning that the revenue contributed by this part of developers only accounts for 4.9% of Apple's application revenue.
A senior game practitioner told Jinghe that Apple's move was more aimed at calming public opinion. After all, the impact of Epic's news is large enough that some developers have turned their backs.
Some investors also believe that this move is most beneficial to independent game developers.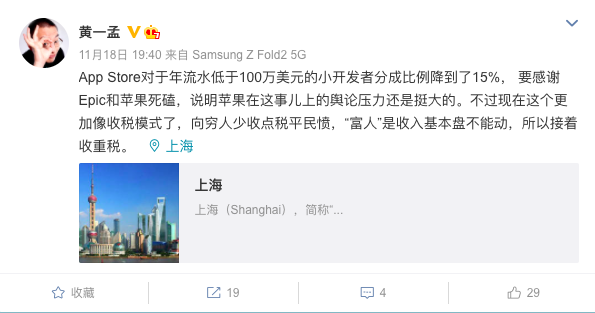 Xindong.com CEO Huang Yimeng also said on Weibo that this matter is due to Epic and Apple's smashing, indicating that Apple is under pressure from public opinion.
He emphasized that it is now more like a taxation model, and the common people are angry that the poor are less taxed. The "rich" are unable to move their income, so they continue to collect heavy taxes.
Epic is still struggling with Apple
The rebellion initiated by the rich continues. There is no doubt that Epic is the leader among the rich.
Sensor Tower data shows that since Epic's "Fortress Night" landed on the App Store in 2018, its total revenue has reached US$1.2 billion.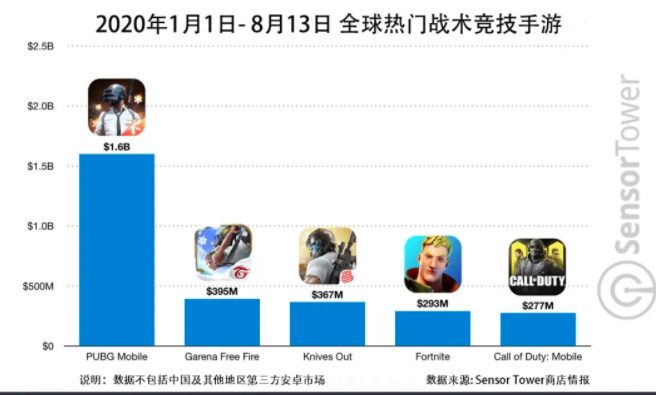 Since 2020, the total mobile revenue of "Fortress Night" is 293 million US dollars, of which nearly 283 million US dollars come from the App Store. Of the 31 million downloads this year, App Store contributed approximately 20 million.
Plates worth more than a billion dollars make Epic a lot of money. Originally, Epic chose to open its eyes and close its eyes, so it could continue to share profits with Apple.
But Epic chose no. It wants more, bypassing Apple.
On August 13, Epic added a new in-app purchase mechanism—V-Bucks in Fortnite. Through this mechanism, players can use a 20% discount to directly pay krypton to Epic, thereby avoiding 30% of Apple's revenue.
This blatantly provocative behavior was naturally hit back by Apple. Just a few hours after the new internal purchase went online, Apple immediately issued a related statement and directly removed "Fortress Night".
Immediately, Epic and Apple began to take up judicial weapons, from the United States to Australia.
On October 9, U.S. District Court Judge Rogers of California ruled that Apple can ban "Fortnite" from launching, but it must not harm Epic's developer tools business, including the "Unreal Engine" software used in hundreds of video games.
Epic did not give up. It sought Nvidia's help while continuing to raise its judicial weapons.
According to BBC reports, Epic will use Nvidia cloud gaming service GeForce Now to run "Fortress Night" in Apple's web browser Safari in a streaming manner, bypassing the App Store.
Before cloud gaming is mature, players use this way to experience, yet to be verified.
In addition, on Wednesday, Epic also announced a lawsuit against Apple in Australia. In the filing documents of the Federal Court of Australia, Epic claimed that Apple violated the Australian Consumer Law and the Competition and Consumer Act 2010.
In an interview with the "Sydney Morning Herald", Epic Games CEO Tim Sweeney said that in Australia, the mobile software industry is indeed very large and developing. There are many excellent game developers, all of whom are influenced by Apple and Google. % Rake is a heavy blow.
An Apple spokesperson said in a statement that Epic's payment by bypassing Apple was deceptive.
Domestic distributors are also not satisfied
The Epic battle channel has not been finalized yet, but a single spark has already started a prairie fire. The domestic CP manufacturers' attack on the channel is unscrupulous.
On September 23, Mihayou "Yuan Shen" announced that it would not be available on the Huawei and Xiaomi app stores. Almost at the same time, Lilith announced that it would not be available on the Huawei Game Center for the time being. She also posted on the official website that "The Awakening of Nations" was temporarily available on the App Store, official website, TapTap, and Jiuyou.
From the results, Mihayu and Lilith are undoubtedly successful.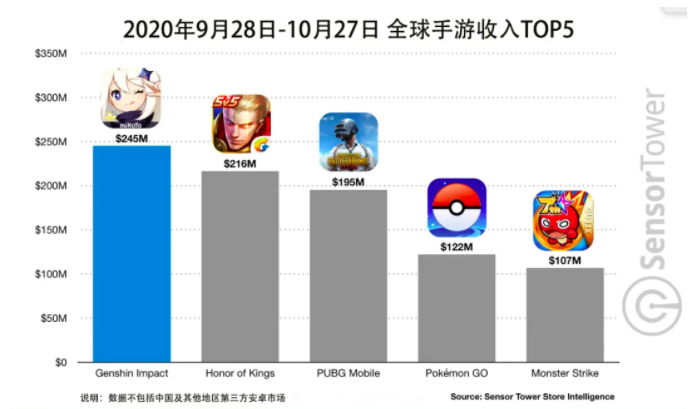 Sensor Tower data shows that since its launch on September 28, Mihayou "Original God" has quickly become one of the most popular games in the world, and it has attracted $245 million in gold within 30 days.
In its first week of listing, the game's global App Store and Google Play revenue has reached 60 million U.S. dollars. Since then, its popularity has not declined, but set a new high with the release of the new character on October 20.
As for the performance of "Awakening of Nations", the estimated revenue of the Chinese Apple Store in the first week of listing reached 13.5 million, exceeding the same period of "Three Kingdoms Strategic Edition" and breaking the first-week revenue record of domestic SLG mobile games.
Jinghe learned that some of the products of domestic middle and upper reaches of the game manufacturers have withdrawn from the Android channel at the earliest, starting with "Shenwu" of TOEIC, "Ball Battle" of Giant Network, and "Wen Dao" of Thunder game.
The follow-ups are NetEase, Tencent, and the Eagle Point network "Tomorrow's Ark" that was on fire last year. This year's summer file "The Strongest Snail" and other top products with monthly sales of over 100 million also collectively said NO to domestic Android channels.
In terms of head manufacturers, NetEase once negotiated some Android channels on major products such as "Fantasy Westward Journey" and "Westward Journey". It is rumored that the draw ratio has been reduced.
As the big brother of domestic games, Tencent has already started to act. In July last year, Tencent negotiated with domestic Android channels, requiring some of its games to enjoy a 70% share (previously 50%). The negotiation scope includes the big IP "Jian Wang 3: Fingertip Jianghu" and some new products that Tencent exclusively represents.
Recently, during a conference call with Tencent's Q3 earnings analysts, Tencent's chief strategy officer, James Michel, even spoke highly of the success of games such as "Original God" and "Awakening of Nations" by bypassing channels, and highly appreciated.
He said that if the platform can bring more new users to game companies, then their services will be of great value, and vice versa. There will be more refinement in the future of the channel distribution industry, which is more beneficial to everyone.
Generally speaking, most of the major domestic manufacturers and manufacturers with high-quality products have put their dissatisfaction with channels on the table. If it's not easy to agree on the share ratio, just break up.
Although Apple has lowered its share ratio this time, it means more for show. The CP war channel is far from the stage of armistice.

Source: Competition
Original: https://mp.weixin.qq.com/s/P3zpiVEyetXzEm70eUnwYA
.