Apple always tries to make each of its updates better than before. iOS 12 too, with this update, users can now enjoy a variety of features that make using their iOS devices a lot easier. Here is a list of great tips you can do with this new Apple update.
Set time limits on an application
Frankly, many of us are spending too much time on smartphone applications, such as Facebook. The problem is that you know this is not recommended, you realize that it is time to reduce the time you use these applications, but sometimes reason does not win the temptation. Don't worry, on iOS 12 there is a feature called Screen Time, allows you to reduce the time spent using any application on your device.
To use this feature, go to Settings -> Display time -> Application limit -> Add limit -> Select application -> Add -> Set time limit. The time limit you selected will be displayed at the top right of the time box and by swiping up or down, you can adjust each hour and minute individually.
You will also see the option Customize Days. This feature will allow you to apply just set time limits for the dates you want. For example, if you only want kids in your home to use certain apps within 1 hour on certain days of the week, tap on those days and the time limit will apply.
Set a time limit and when you select a different day of the week, the previous time limit is automatically saved. The time you set for each day of the week will be displayed on the same line as that day.
Section App & Categories will show you all the apps for which you have set a time limit. If you want to add or remove apps, tap the option Edit App. To To add the application you want to set a time limit for, use the Add button at the top right. To remove time limits for apps in the list, just click the option Delete Limit (See image above).
Details about battery
You start to notice that your battery is not as normal as something is wrong, and you immediately want to know which application is responsible for this. With iOS 12, you won't have to install any other application to manage all battery issues.
With this new update, you'll get more battery information than before, such as analytics and graphs that illustrate detailed usage information for the past twenty-four hours or eight days. Below the chart, you will also see the amount of time the screen is turned on, as well as the time the device is idle. This is also useful because you will know how you used your iOS device, too much or not.
Enable temporary do not disturb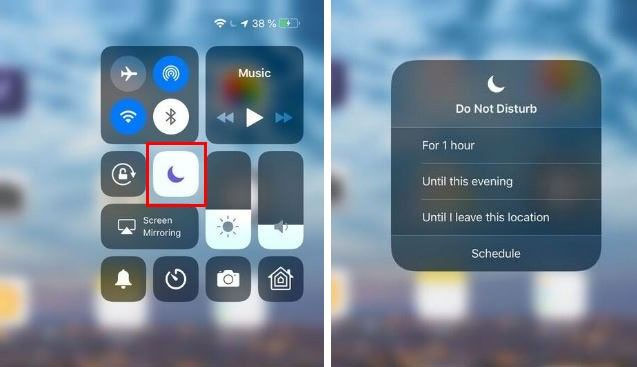 To temporarily set up don't disturb, swipe down from the top right of the screen to open the Control Center, then press and hold the moon icon. Depending on your location, status, and time, you will see different options.
As in the example above, you will get options like "Until this evening / afternoon / morning," "Until the end of this event," "For one hour," and "Until I leave this location". However, you may see different options depending on your specific situation.
Add shortcut for QR code in Control Center
Shortcuts for QR codes will not be in the control center by default that you need to manually add. Go to the section Settings -> Control Center -> More Controls -> Scan QR Code. Swipe down from the top right of your screen and a QR code shortcut will appear there.
Create self-destructing memos
Sometimes our memo items are often quite messy because old unused records have not been deleted. Remember that you can set these records to self-destruct after a certain amount of time. Access to Settings -> Voice Memos -> Clear Deleted and select the length of time you want to keep the memo before they are automatically deleted.
summary
These new features on iOS 12 will help users have a better experience with this already great ecosystem. Hopefully, in the next updates, iOS will have more features to further optimize the user experience.
See more:
How to create iPhone ringtones with iTunes
Top of the best iOS emulators to help run applications on Windows
Instructions on how to recover deleted messages on iPhone
How to switch 11-digit subscribers to 10-digit phone book contacts in iPhone
.