Beijing News Express On May 3, the WeChat public account of Shanghai Reading Information Technology Co., Ltd. released the "Notes on Unreliable Recent Rumors" to explain the reading contract discussed and questioned by netizens and whether it is free for all.
The full text is as follows:
Notes on recent untrue rumors
Fellow writer partners:
Hello everyone! We are very concerned about the reading contract discussed and questioned from April 28th and whether it is completely free. Here we also explain to you:
1. The contract that everyone is discussing is the contract launched in September 2019. It is not a new contract that was launched on April 28, 2020, as rumored in the outside world.
2. As the newly appointed management team on April 27, 2020, we received a lot of criticisms and comments on this old contract. We attach great importance to it and have started to re-examine. We will communicate extensively with the writers. We will make corresponding amendments to the unreasonable terms. Please rest assured.
3. From the beginning of the new team, we firmly believe that we must consolidate and maintain the payment model and explore innovative models. It is impossible and unrealistic to promote "all free reading" in the rumors of the outside world. Please don't believe it.
4. WeChat Reading is one of the partners of the reading channel. About the WeChat reading of everyone's attention. The limited time free operation of the copyright content of the reading is not the operation of the channel itself, but also the management error of our channel work. We have communicated with WeChat Reading and reached a consensus that the operation has been offline and will not have any impact on the writer's earnings.
5. The writer is the foundation of the reading platform. The content ecology is not just for reading, but for everyone. Now that everyone's opinions and criticisms are not cold, it is a very important gain to understand everyone's true voice. We will release the arrangement for reading a series of round-table talks between the new management and writers on May 3, hoping to get everyone's outspoken suggestions on the development of reading and discuss the future together.
A
After reading all the way to today, I have made mistakes and detours. We will face the challenge and hope to create a common future with you.
A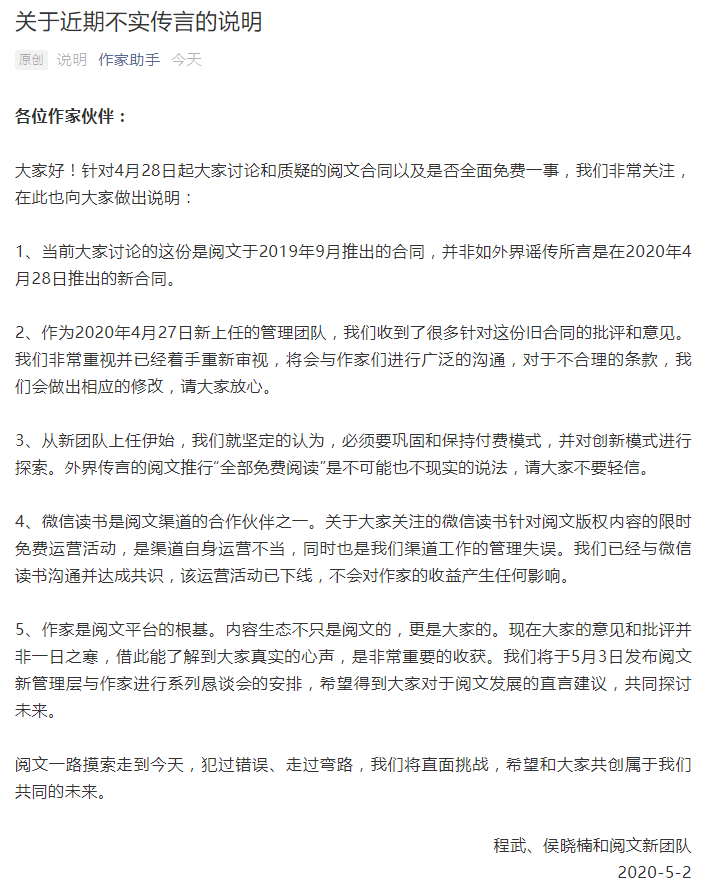 Edit Peng Qihang
Source: Author Assistant WeChat Official Account
Original title: Description of recent untrue rumors