It is no surprise that NVIDIA took advantage of its Computex online conference to present its two next high-end graphics cards: GeForce RTX 3080 Ti and 3070 Ti. The firm also took the floor regarding new laptops dedicated to gamers and content creators. And the icing on the cake: a zoom on the growing presence of its DLSS, ray tracing and Reflex technologies, and on a growing list of major titles compatible with these technologies.
Top of the range, always top of the range. This could be Nvidia's motto when it comes to its graphics cards. Forget the "super" suffix of the last generation of cards, it's Ti's turn to tell it to himself. So here comes the RTX 3070 ti and 3080 Ti. Two performance monsters, designed to hurt the competition, whether at PC or console level.
Giving a good boost compared to the previous generation, these cards are intended to be very versatile while being very efficient. The performance comparison chart below will convince you if you still had any doubts. Still the Advertised prices live up to technical promises: $ 1199 for the 3080 Ti (which will be available June 3) and $ 599 for the 3070 Ti (available June 10).
After this double announcement, Nvidia presented its range of GeForce RTX 30 laptops, geared towards content creators and gamers. In collaboration with Alienware for the x15 and Acer for the Predator Triton 500 SE, these two competition beasts are equipped with a GeForce RTX 3080 GPU and third generation Max-Q technologies to satisfy demanding gamers.
For creators, it was the HP Envy that was put forward. Available with a 14 or 15 inch screen, it runs with a GeForce RTX 3060, enough to ensure performance and versatility when it comes to video editing for example. MSI's Creator range has not been forgotten either, with the Creator Z16 which is also seen equipped with an RTX 3060.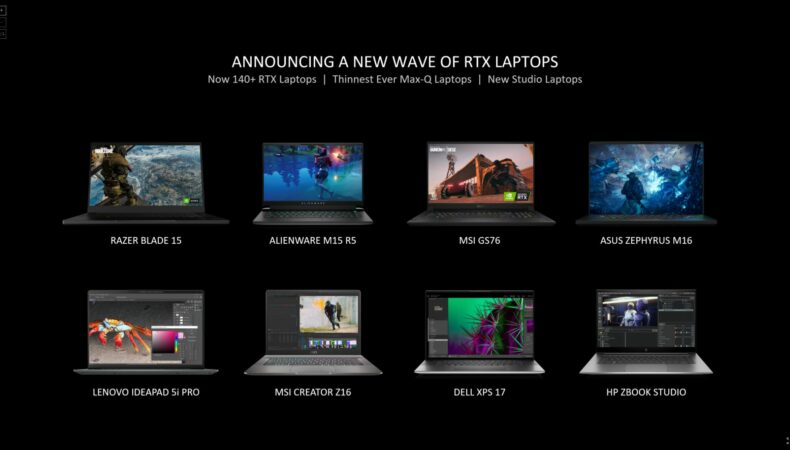 Finally, last but not least, the manufacturer has given us a list of games now compatible with its in-house technologies (ray tracing, DLSS, Reflex). We're not going to do a Prévert-style inventory, but just mention a few well-known names: Rainbow Six: Siege and Red Dead Redemption II will soon be upgraded thanks to DLSS, and Dying: 1983 and Doom Eternal will be boosted thanks to ray tracing. .
It was therefore a conference rich in announcements, which confirms the excellent shape of Nvidia both economically, medically and technologically. It remains to be seen how its competitors will be able to raise the bar and face this titan of the industry.


Kyujilo