If you do not know then 20H1 (May 2020 Update) will be the next major feature update of Windows 10, expected to be released by Microsoft next spring. Currently, this important update is still in the development stage, complete as well as basic testing, but promises to bring to Windows users around the world countless improvements and additions that are very noticeable.
According to some experts at Redmond, this update will focus primarily on improving platform elements to improve stability, performance, and user experience. Windows 10 operating system in general.
How to fix "You've been signed in with a temporary profile" on Windows 10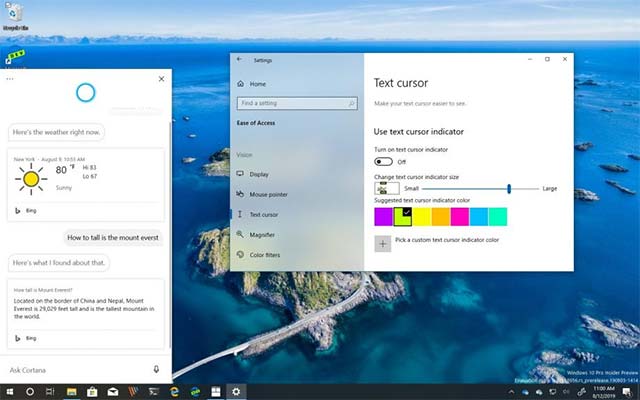 Windows 10 20H1 will be the biggest feature update for Windows 10 in the first half of next year
Recently, Microsoft has released a preview build of Windows 10 20H1, which helps users get an overview of some of the changes and the most notable improvements on this important update. So what are those changes? Let's take a look right below.
How to disable touch screen on devices running Windows 10
Windows Shell
File Explorer will have a new user interface for the search feature, supposedly inspired by the Windows Search system.
The touch keyboard will now have 39 additional languages ​​supported by SwiftKey technologies.
The Input Method Editor (IME) will be adding a number of enhancements to Japanese, Simplified and Traditional Japanese languages.
The spell check feature will support an additional 12 languages.
The list interface displays the WiFi connection will be edited in a more intuitive direction, the icons will also be replaced.
Windows Ink Workspace will be more minimalist, while providing direct access to Microsoft Whiteboard and Snip & Sketch.
The arrival of a whole new experience for the virtual assistant Cortana, with a redesigned user interface, a dark background, and so on.
Virtual Desktop (Virtual Desktop) can now be renamed and backed up during a system reboot.
New notification setting options have been added and allow users to control which applications can enable notifications, hide notification content and more.
Users will be able to add to-do events to the calendar application directly from the taskbar.
Overcomes the noted drawbacks of the 2-in-1 laptop's touch capabilities (both for laptops and tablets) when operating in desktop mode. The buttons and icons displayed on the taskbar and in File Explorer will be further enlarged.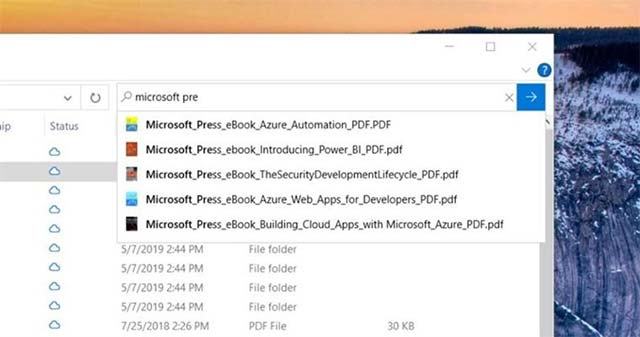 File Explorer will have a new user interface for the search feature
How to fix low FPS problem when playing games on Windows
Installation options and applications
Setting
If you find the password login feature too troublesome, Windows 10 20H1 will allow you to remove the traditional password option from the login screen, instead you will switch to using Windows authentication methods. Hello.
The overview settings area for the Languages ​​feature in Settings has been redesigned, allowing you to quickly know which language is used as the default for Windows, Regional format, Keyboard, and Speech.
The new Cloud Download option will allow you to easily restore and reinstall Windows without an ISO file. Everything will be downloaded from the Microsoft servers.
The area of ​​optional features has now been updated with a new user interface, multi-selection, search and many other useful changes.
The mouse pointer speed setting options are now available in the new Settings app.
The network status display window will be redesigned with a new user interface and more setup options.
Cloud Download will provide a system recovery option in case you reinstall your device.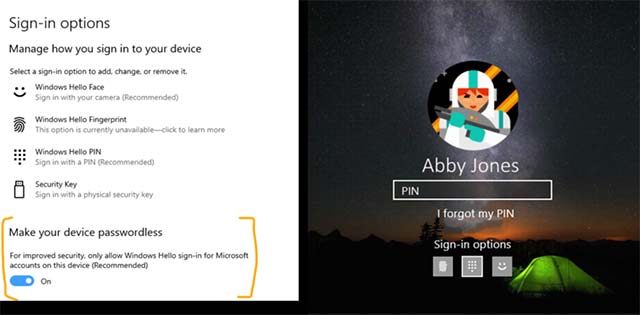 You can turn off login with password and switch to use Windows Hello authentication method
Windows 10 has just added the "Cloud Reset" feature and this is how to use it
Application
Disk type information will be displayed in Task Manager.
There are new download adjustment options for Windows Update in Settings.
The language area in Settings has been redesigned, making it easier and faster for users to see the current language setting status of the system.
The user interface for the zoom tool has been redesigned.
Snip & Sketch now supports one window mode, zoom and adds features to the key combination WIN + Shift + S.
Task Manager will display the GPU temperature in case a dedicated GPU (attached) is connected to the system.
Notepad will no longer be the default Windows application, but will be moved to the Microsoft Store, and will be updated independently instead of Windows as before.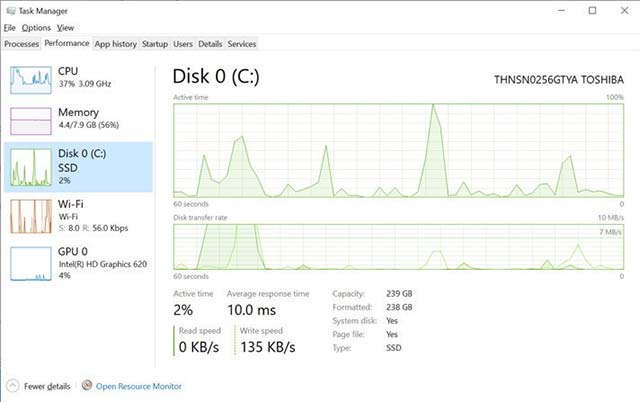 Hard drive information will be displayed in Task Manager
How to set up and use PPPoE Internet connection on Windows 10
Improvements in accessibility features
Narrator's ability to read information in tables will improve. Header information will not be repeated when navigating in the same row or column.
There will be a new command in Narrator to provide a summary, providing some information about the site such as hyperlinks, columns and titles.
Windows Magnifier will be adding a new feature, allowing to keep the text cursor in the middle of the screen to make typing easier and smoother.
Narrator can tell you the title information of the page being linked by pressing Caps + Ctrl + D.
Eye Control adds several new enhancements related to drag, drop, stop, and a number of other installation options.
Narrator will automatically read content on web pages and emails.
The Magnifier interface now adds text size options and a dark background mode.
Narrator improves the readability of content in Outlook and Windows Mail.
Narrator's ability to read the contents of Outlook folders has also been tweaked, for a more optimized handling experience.
You will be able to customize the text cursor with different colors and sizes in the Settings application.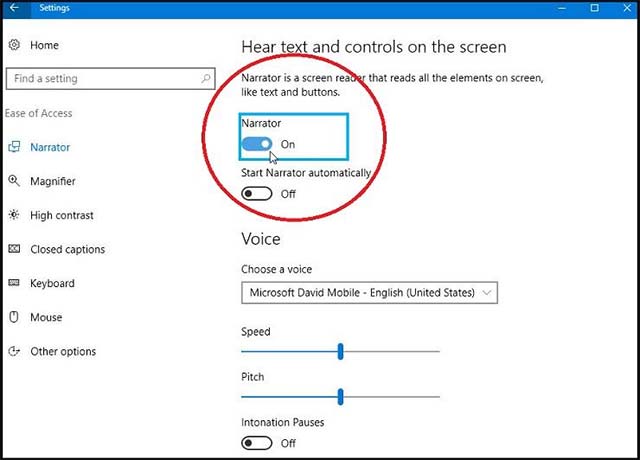 The Narrator tool will update a lot of improvements on Windows 10 20H1
How to open emoji tables, write special characters on Windows 10 very quickly
Some other minor changes
Windows Subsystem for Linux 2 will support Linux ELF64 binary files, and system performance has also been improved, along with compatibility with all system calls (system calls).
You will be able to connect to your WSL 2 Linux network applications using localhost.
Microsoft has tweaked its Microsoft account synchronization tool.
A new profile photo synchronization system has been added, allowing you to update your profile picture on Microsoft devices and services more quickly.
You will no longer have to enable the option to download applications when installing MSIX applications from outside the Microsoft Store.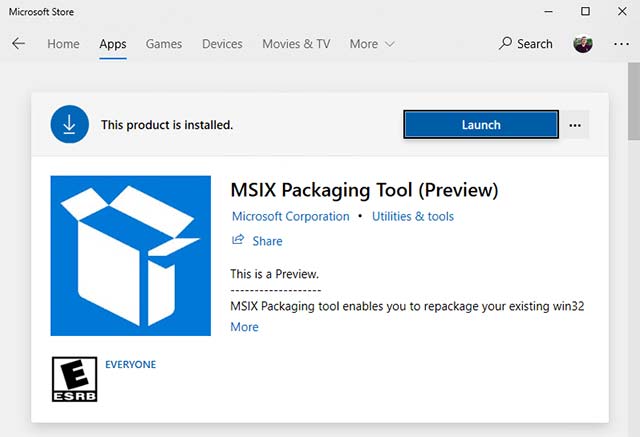 There is no need to enable the download option when installing an MSIX application from outside the Microsoft Store.
Above are all the noticeable changes that were noted on the Preview build of Windows 10 20H1. We will update this article periodically with noticeable new changes after each subsequent build, invite you to read.
.