The commercial computer market welcomes new forces, and Ziguang Computer launches new Unis products to make business office more "safe and efficient"
On November 17, the Management Committee of Zhengzhou High-tech Industrial Development Zone and Ziguang Computer jointly held a press conference in Beijing with the theme of "Intelligent Manufacturing New Tools·Digital New Points". At the press conference, Unisplendour officially announced its entry into the computer market with a new attitude-the new force of domestic brand commercial computers, and launched a new Unis series desktop and Unis series display products.
Stable and easy to use, the new Unis desktop products meet the differentiated needs of the industry
Based on its in-depth insight and research on the commercial desktop market, Ziguang Computer expects that the commercial desktop market will continue to shift to small and medium-sized chassis in the future. To this end, Unisplendour Computer launched the new Unis 526 series of commercial desktops at the press conference, including Unis 526S and Unis 526T, which are 8L and 15L in different sizes to meet the needs of different corporate customers.
The Unis 526 series of commercial desktop computers can adapt to the needs of light and heavy scenarios such as electronic classrooms, customer service centers, graphic design and financial analysis according to different configurations. It not only supports up to Intel's 10th generation Core i7 processor, but also supports SSD solid state drives and the latest Wi-Fi 6 wireless network. The ultra-high performance of the system itself, coupled with ultra-high-speed wireless connection, greatly improves the deployment speed and efficiency of enterprises. In addition, high scalability is also a major feature of the Unis 526 series of commercial desktops. It fully meets the needs of external expansion. It is equipped with 6 front USB 3.2 ports, 4 rear USB ports and 1 PS/2 port. , Unis 526 series of commercial desktops also have built-in expansion slots of 1 PCIe x16, 2 PCIe x8, 1 PCI, and standard VGA/HDMI/DP video ports to ensure the perfect combination of expandability and compatibility.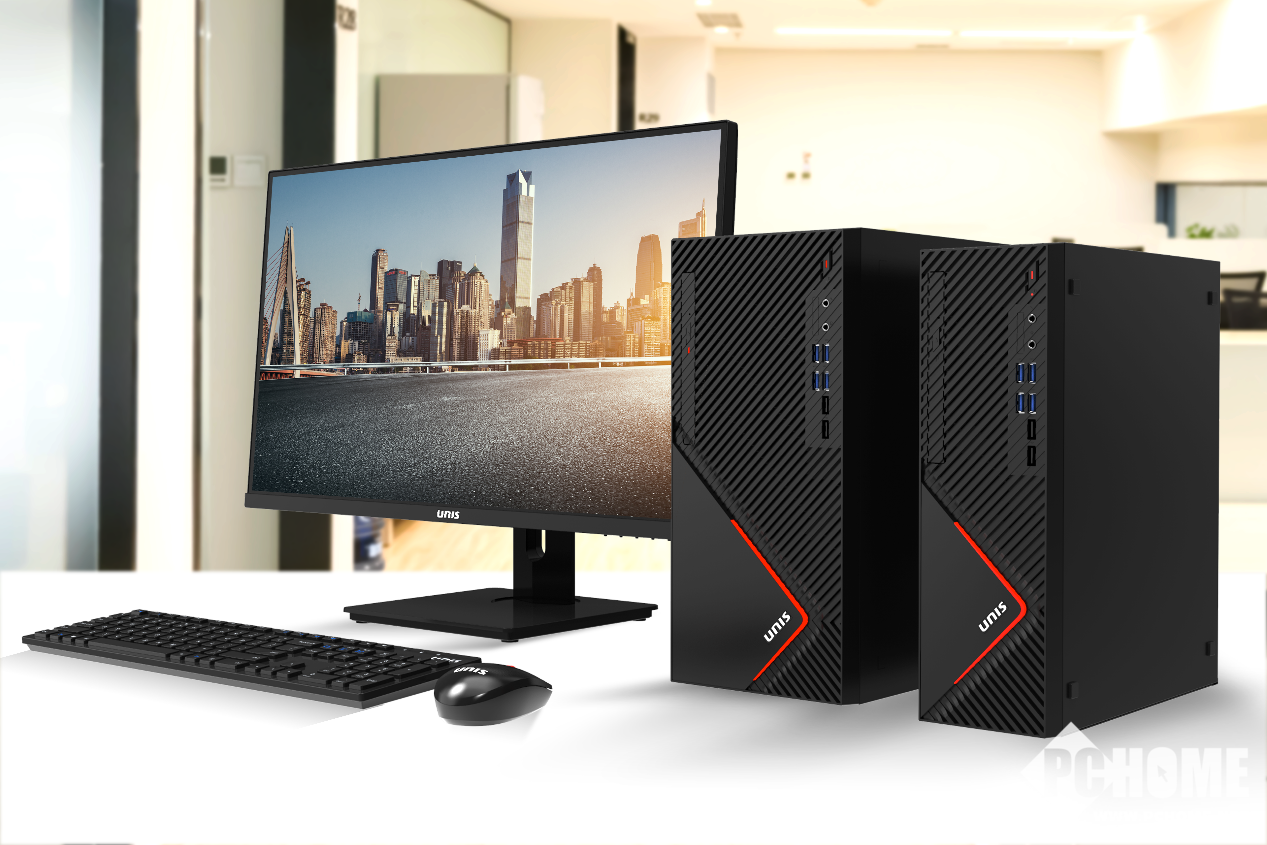 In addition to the two commercial desktop products mentioned above, Unisplendour Computer also launched Unis display products at this conference, including three models of V221F, V241F, and V271Q, covering three sizes of 21.5 inches, 23.8 inches and 27 inches. The needs of different office groups.
The three models all use IPS screens, narrow frame design, 72% NTSC color gamut, and support low blue light function. In terms of resolution, V271Q is a 2K display resolution, which can bring users a high-definition display experience. In terms of expansion capability, V221F and V241F support VGA+HDMI interface, while V271Q supports HDMI+DP interface, fully releasing the large-screen potential of multi-screen office.
Based on the two major categories of commercial computing and display, Unisplendour Computer will also deploy broader applications in the future, create more domestic brands of commercial computing "hard products", and promote China's commercial computing to a new level.
It is understood that on August 28 this year, the headquarters of Ziguang Computer Global R&D Center has settled in Zhengzhou Tianjian Lake Intelligent Networking Industrial Park and officially operated. There are multiple laboratories under it, which have the ability of quality testing, certification and pre-research. In the future, it will serve the company's R&D and technology companies around Zhengzhou to fully solve the problem of insufficient peripheral testing resources. Zhang Hongjun, Deputy Secretary of the Party Working Committee and Director of the Management Committee of the Zhengzhou Municipal Government High-tech Zone, pointed out: "The implementation of the project (Tsinghua Unigroup) will definitely promote the development of the high-tech zone, Zhengzhou City and even Henan Province's electronic information industry. ."
On the other hand, the commissioning of the headquarters of Unigroup Global R&D Center also indicates that the construction of Unigroup's computer industry chain has been fully launched. Lin Hao pointed out: "The mission of Ziguang Computer is to create safer, more agile, and more efficient computing terminal products and solutions for Chinese commercial customers, focusing on serving government and enterprise customers, and serving various industries such as education, medical care, manufacturing, and government departments. To solve their pain points, help them to go more smoothly on the road of digital transformation, become a computing terminal product and solution provider that understands the needs of customers in the Chinese industry, and empower customers with digital technology."
Of course, Ziguang Computer's future development layout will not be limited to computing terminals. Lin Hao said: "In the new digital era, enterprises need to deploy equipment at the edge of the cloud and network, and comprehensive upgrades of IT services are required. Ziguang Computer focuses on the terminal side and H3C will help companies solve various problems encountered in the process of digital transformation and provide Chinese companies with better services."
Therefore, in the foreseeable future, Ziguang Computer will rapidly grow into a leading digital IT solutions company. The entire layout is based on China, radiating Asia-Pacific, and global cooperation. Through the ever-increasing technology product portfolio and the alliance with strong ecological partners to accelerate the digital transformation process of Chinese enterprises, Lin Hao said: "The new Ziguang Computer has a stronger technical reserve, better development opportunities, and greater opportunities. Intensive policy support also has a clearer and more focused strategic positioning."
Finally, Lin Hao concluded: "Using Unigroup will not only provide customers with high-quality products and services with innovative technologies and strict standards, but also provide customers with advice and guidance with forward-looking industry insights, so that more Chinese Enterprises enjoy the dividends of digital transformation and contribute to the country's prosperity and national rejuvenation."
New infrastructure promotes a wave of digital economy transformation and releases huge reform dividends
The Fifth Plenary Session of the 19th Central Committee of the Party clearly stated that it is necessary to build a manufacturing power, a digital China, promote advanced industrial infrastructure, modernize the industrial chain, and improve economic quality, efficiency, and core competitiveness. The new infrastructure has become an outlet to promote economic structural adjustment and the conversion of old and new kinetic energy, which has attracted a high degree of attention in the society. At this press conference, a summit dialogue was launched around "new infrastructure". Huang Yiqun, general manager of OEM division of Microsoft (China) Greater China, Ju Shengli, product director of Intel's computer division, Sun Yuhui, executive president of Beijing Zhiyuan Huitu Technology Co., Ltd., and Chu Hanjin, executive president of Miaowei (Hangzhou) Technology Co., Ltd. From the perspective of the enterprise, this topic elaborated on the understanding of new infrastructure and the challenges and opportunities brought by the new infrastructure wave.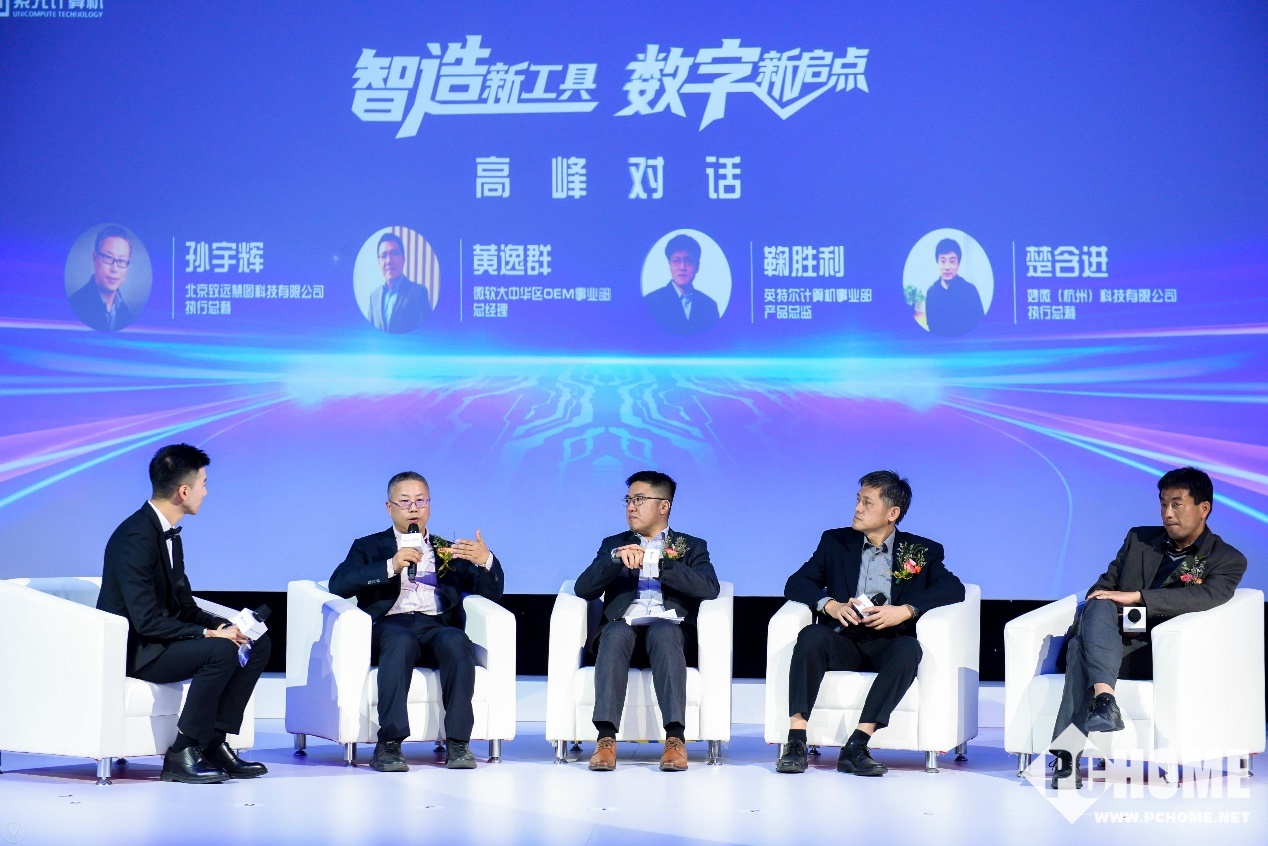 Huang Yiqun, general manager of the OEM division of Microsoft (China) Greater China, said in his speech: "New infrastructure is a very big topic. From Microsoft's point of view, there are two key points in this. The first is development, and the second is "high Quality development. "
In response to the impact of new infrastructure on enterprises and how to deal with challenges, Huang Yiqun pointed out that improving digital capabilities has become a must for enterprises to quickly respond to market challenges, seize market opportunities, and ensure business resilience under the new normal. condition. Because the traditional methodology of "cutting resources and keeping a low profile" is no longer applicable to enterprise development under the new normal.
Not only that, innovation is also increasingly important for enterprises! Huang Yiqun said that enterprises and institutions must integrate innovation into their core strategies and increase innovation in their own business models, operating models and management models to drive corporate growth, ultimately achieve digital growth, and build corporate resilience and rapid recovery capabilities. What Microsoft has to do is to help companies in the global industrial and supply chain to achieve this goal. We are also bringing solutions based on our own leading cloud computing and artificial intelligence technology to customers, partners and developers , To help them quickly master the knack of digital growth, and to meet future challenges with sufficient resilience.
The essence of the new infrastructure wave is the integration and upgrading of information technology and digital ecology as the core. How to deepen data processing capabilities is of paramount importance in the new era. Ju Shengli, product director of Intel's Computer Division, pointed out at the summit forum: "Data-driven infrastructure and upper-level applications are the future development direction. The most direct thing is to have data and professional data information processing. In addition, build openness. A standardized ecosystem is the core of the construction of high-tech industries. Following this line of thinking, better development can be achieved in the face of new technological waves."
Sun Yuhui, CEO of Beijing Zhiyuan Huitu Technology Co., Ltd., said: "The new infrastructure is artificial intelligence, computing power, and end-to-end integration capabilities. In this process, it is the communication capabilities of 4G and 5G. We must form intelligent capabilities. For an end-to-end capability, both the subsequent data processing capability and the front-end display capability must be considered.
Chu Hanjin, CEO of Miaowei (Hangzhou) Technology Co., Ltd., believes: "The new infrastructure has three levels: one is information infrastructure, whether it is artificial intelligence or 5G; the other is integrated infrastructure, which requires highways and tolls. The attributes of stations, cars, and people are integrated in the same industry; the third is how to innovate the so-called new infrastructure in this industry, innovation is to serve business, and innovation is to serve demand."
Assisting the digital transformation of Chinese companies
In 2020, with the rapid popularization of 5G, the global data volume will usher in a new round of explosive growth. At the same time, more and more companies around the world will promote the development of digital business as their primary business in the future. In China, with the government's call for new infrastructure, the transformation and upgrading of industries represented by new retail, new finance, new education, and new energy has become a new opportunity for Chinese companies to seek digital transformation.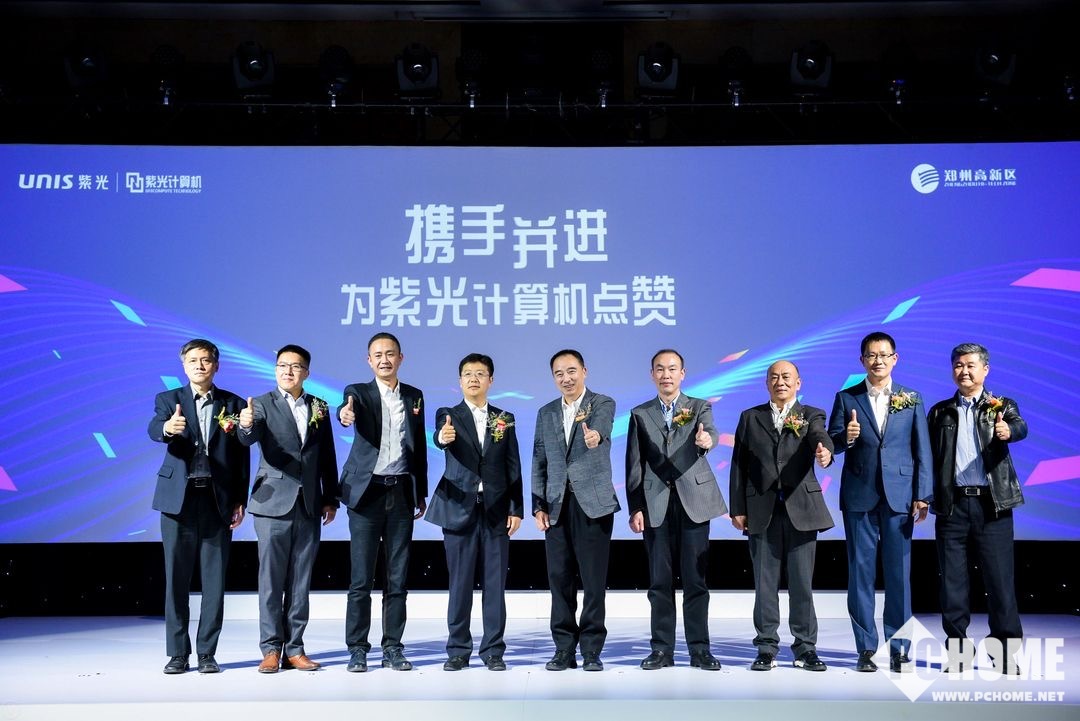 If Chinese companies want to better meet the challenge of digital transformation, the more they need to strengthen cooperation with the government, industry, and industrial chain to create the forefront of China's digital economy development, and build a deeper and more comprehensive scenario based on this Digital ecology.
Therefore, Ziguang Computer chooses to enter the computer market with a new attitude at this time, which can be said to have the right time and place. At the same time, the addition of Ziguang Computer has also injected new blood into the current competitive commercial computer industry. Tsinghua Unigroup will rely on the entire Tsinghua Unigroup's technical reserves and resources, as well as special services, to become a new force for domestic brand commercial computers, and it will surely set off a new round of industry storms in the commercial computer market. At the same time, it provides new choices for customers in various industries such as medical treatment and education, and accelerates the transformation of customers with technology empowerment.
For example, while Unis 526S and Unis 526T were launched by Unis 526S and Unis 526T, Ziguang Computer also launched service solutions for different enterprises according to local conditions: "Purple Disk Protection", "Purple Domain Electronic Classroom", The four characteristic services of "Ziyu Hybrid Cloud Desktop" and "Ziyu Network Video Conference" help enterprise customers to achieve rapid deployment while taking into account the characteristics of security and efficiency. This undoubtedly provides important for the digital transformation of Chinese enterprises support.
In addition to special services, Ziguang Computer will always stand on the needs of users, reduce the worries of enterprise customers through services, and reduce the pressure and cost of operation and maintenance.
For example, the convenient service network realizes nationwide coverage to ensure the timely response of on-site personnel; the flexible service method cooperates with industry-leading logistics providers to rationally deploy the warehousing and distribution system, optimizes the delivery mode of forwarding and repair services, and improves efficiency and customer satisfaction. "Repair" service will bring a brand new experience for customers; one-stop visualized service IT system, using intelligent insight system for data statistics and analysis, solving the data island problem of traditional manufacturers; long-term warranty on-site service, three years by default Door-to-door warranty service, providing 7-year maintenance service to ensure peace of mind; sticky service cooperation model, that is, a new model of integration of sales and service, helps channel business growth.
In the process of digital transformation of enterprises, Ziguang Computer will inherit and carry forward the precipitation and advantages of serving Chinese enterprises for many years. It will not only provide enterprise customers with highly efficient productivity tools and solutions, but also accelerate the process of digital transformation of Chinese enterprises. Realize common growth with partners.
.