According to the NDTVThe raid was conducted at 9:30 a.m. on February 9, at the NLD party headquarters in Yangon city.
At that time, there were no people in the headquarters.
Soe Win, a member of the NLD party, said a security guard detected the raid via security cameras, but was unable to intervene because the military authorities imposed a curfew (from 20 a.m. to 4 a.m.).
The next morning, when checking the headquarters, the NLD members found that the door lock was broken, many computers were lost, the wiring and server cables were cut. Bank documents from a safe were "wingless but flying".
Soe Win said the NLD intends to file a police complaint.
Myanmar girls wearing evening gowns to protest. Photo: BBC
The raid came after the Myanmar military stepped up tough measures to deal with protesters. Tornadoes, tear gas, and rubber bullets were used.
A doctor in Naypyidaw also confirmed the military's use of firearms severely injured two people, but footage showed protesters in the capital not flinched.
A woman shot in the head is still in critical condition.
In Mandalay, witnesses said security forces fired tear gas directly at protesters waving the NLD's red flag.
State media reported that the crowd used "obscene language" and threw objects at police, injuring four officers.
"Therefore, the police disbanded the crowd according to the method and the law," the paper said Global New Light Myanmar's report, without mentioning the police confrontation in other cities.
In the state of Kayah, dozens of policemen – instead of stopping the people – joined the flow of protesters with the slogan "We stand with the people", "We don't want dictatorships".
A protester at the scene told BBC that as many as 40 officers took part in protesting the coup, and tried to protect the protesters from the security forces.
Another witness said that the police participating in the protest were later arrested.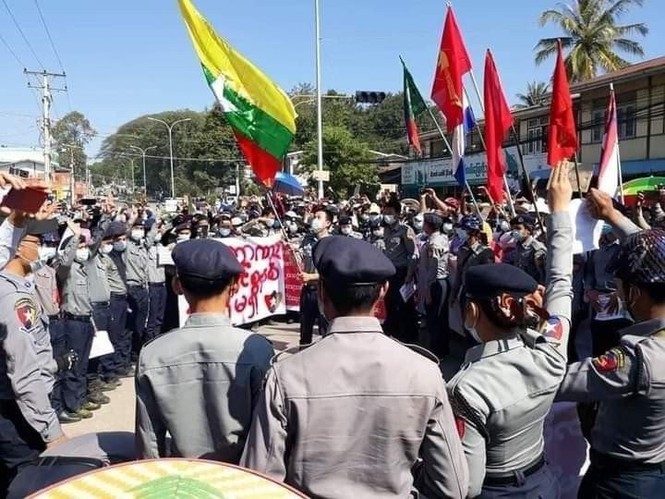 Kayah state police participated in the protest. Photo: Twitter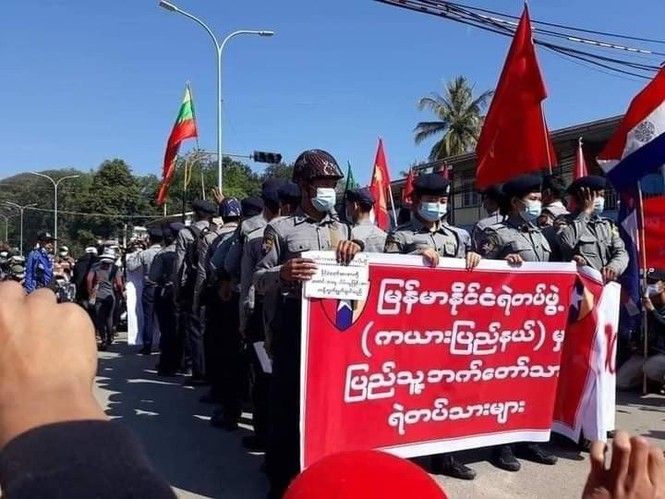 The police shouted slogans to stand side by side with the people. Photo: Twitter
The US, which has repeatedly condemned the coup, on Tuesday continued to call for free speech in Myanmar, and demanded that its generals resign.
The head of the European Union's foreign affairs agency, Josep Borrell, warned that the EU could impose new sanctions on the Myanmar military.
Meanwhile, New Zealand became the first country to move to isolate the military government by stopping all high-level contacts with Myanmar and imposing a travel ban on Myanmar military leaders.
According to SCMP, BBC
.