Now for gamers, gaming monitors are becoming one of the most expensive components, besides internal components like VGA or RAM. Simply because the rise of the action games and AAA games have beautiful graphics, if there is nothing to show all the shimmer, it is a waste. In particular, curved gaming monitors are very noticeable by gamers because of the eye-catching virtual world experience that it brings. And we had the opportunity to hand on such a curved gaming monitor from the "Red Dragon" brand name MSI Optix MAG 322CQRV.
Design
MAG 322CQRV is a curtain curved gaming screen large size up to 31.5 inches, giving a completely different experience to other types of 27-inch flat screens. When I first got my hands on and used the MSI Optix MAG 322CQRV, I felt that the 31.5-inch size of this curved monitor was completely different from the smaller monitors I was using.
After a few days, I adapted to a greater sense of openness and could begin to immerse myself to enjoy what I felt was a more wonderful and engaging gaming experience that MSI Optix MAG 322CQRV brings. The 31.5-inch size and moderate curvature really helped me to focus more on the game, especially in first-person shooters and role-playing games like Skyrim.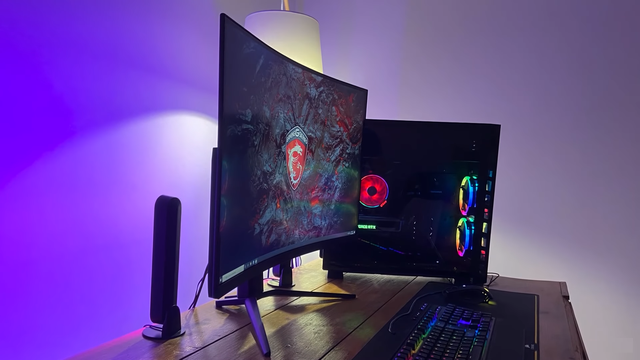 The curvature of the MSI Optix MAG 322CQRV is 1800R – similar to many other gaming monitors. I also did not notice any text distortion at the edges of the MSI Optix MAG 322CQRV display because simply, the curvature is too suitable for ordinary use. I used a curved TV screen last year and I was also skeptical when buying a curved screen whether it made a difference? And the answer is yes, the curved screen on a TV or gaming monitor offers a slight surround effect that you can really feel and enhance the experience a bit.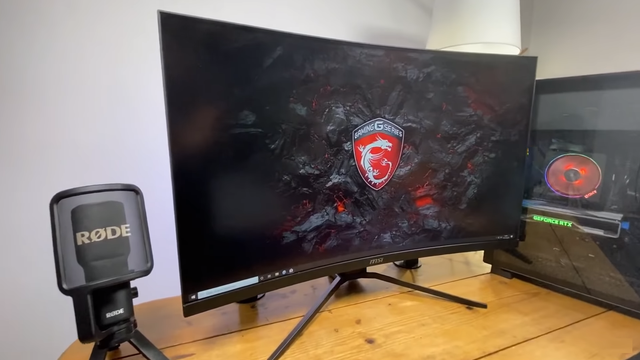 MSI Optix MAG 322CQRV has an ultra-thin border that creates a very sexy and classy sexy. The bezel is only a quarter inch so almost when in use, I no longer feel the black border of the MSI Optix MAG 322CQRV display because it's so thin. The monitor comes with a height adjustable stand, but it can only be adjusted within 5 inches. You can also rotate the screen if you want up to 5 to 20 degrees, very convenient to use to work. However, you will not be able to rotate the MSI Optix MAG 322CQRV body because this is a curved screen, if you want you will have to rotate the entire base.
Feature
On the back, MSI Optix MAG 322CQRV is equipped with a bit of RGB light for ambient light. The lights are only on one side and really enough to accentuate the glossy black design on the back. You can only turn this RGB off and on, so there are no special effects built into the screen to choose from.
Within the monitor settings, MSI has added a number of gaming options including some visual effects available for game genres like Racing or FPS. There is also a response time option to eliminate ghosting, Anti Motion Blur and zero latency to ensure images remain clear without any image lag.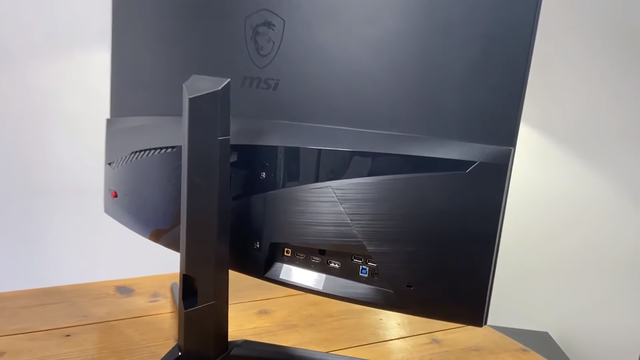 On the back, MSI Optix MAG 322CQRV is equipped with all "dissipated" ports including 2 HDMI 2.0 ports, 1 DisplayPort 1.2 port, 2 USB 2.0 ports and 1 large Type-B port for transferring data from a PC. These 2 USB ports will still work well for most peripherals, but if you transfer large files, the older standard may feel very slow. There's also a 3.5 headphone jack because the screen acts as an audio device but doesn't have any speakers of its own.
VA panel, for better quality than TN and equal to IPS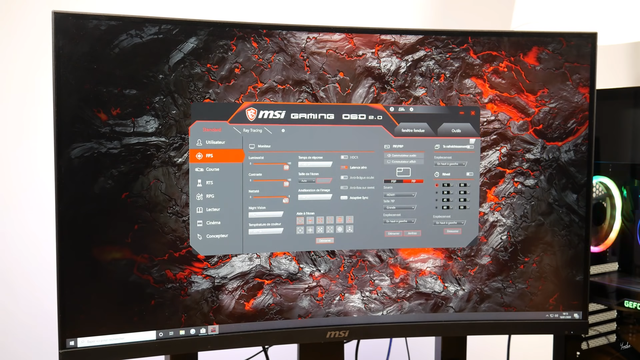 MSI has chosen the VA panel for MSI Optix MAG 322CQRV to enhance the sharpness in colors, contrast and viewing angles better than the TN panel used in conventional gaming monitors. VA is fast enough to play games as well as ultra-low latency, according to MSI, citing the response time of MSI Optix MAG 322CQRV is only 1ms, identical to the TN panel. Improved color reproduction and contrast also makes MAG 322CQRV suitable for graphic work if you prefer. According to MSI, the DCI-P3 color spectrum is at 92% and sRGB reproducibility is up to 122%. However, this screen does not support HDR, 8bit color depth and 300 nits brightness, so it is not best suited for professional graphics work.
Gaming performance
MSI MAG 322CQRV has a resolution of 2560×1440 (1440p or called 2K) with a maximum refresh rate of up to 144Hz. This is really a sharp gaming monitor that still has a high refresh rate to let you play shooters like CS: GO smoothly. MAG 322CQRV also supports AMD FreeSync for Red Team gamers. However, if you are using an Nvidia card, you will be lucky because MSI MAG 322CQRV also supports Green Team's G-Sync technology, which is great.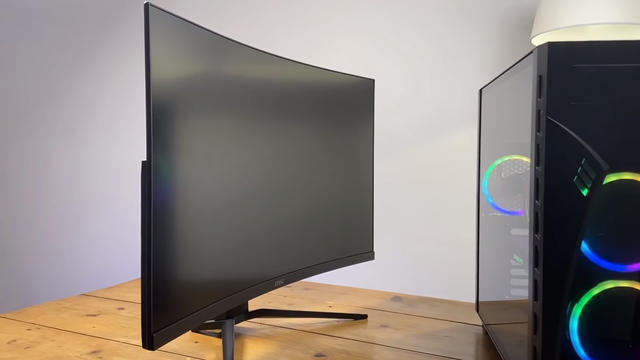 To test the screen, the genre I play would be a fast-paced first-person shooter. This is a genre that requires responsiveness and details to shoot down opponents quickly and climb the rankings. As a result, I spent the most time in GTA V and APEX Legends. I also tried Divinity: Original Sin 2 to experience the beautiful color on VA panels that MSI MAG 322CQRV brings. In GTA, the 1440p resolution looks great. The higher resolution allowed me to bring out more near and far details. FPS combined with FreeSync / G-Sync creates a smoother feeling, without tearing screen like other common screens.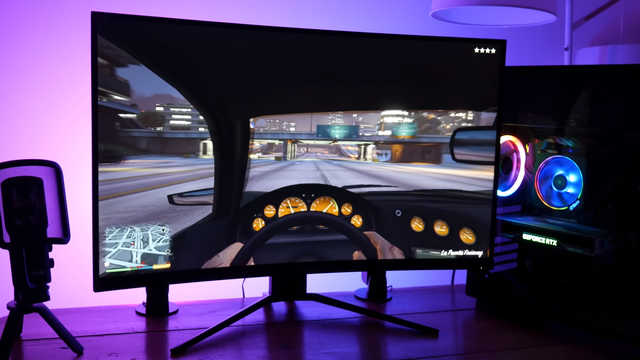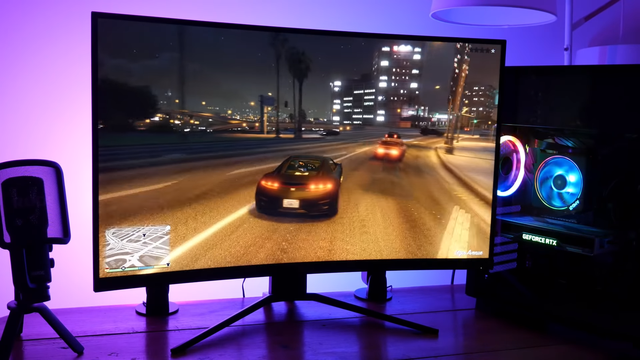 In APEX Legends, I was especially curious to see how quickly I could beat my opponent when playing with a 144Hz screen. In a game like this, theoretically, MSI MAG 322CQRV will help my chances of winning higher because of the high FPS, and the screen also provides improved color and contrast. See enemies at great distance.
Everything that MSI MAG 322CQRV gives me after the experience is amazing, from the 31.5-inch curved screen for a more expansive feeling, great VA panel colors and refreshing speed. up to 144Hz makes MSI Optix MAG 322CQRV undoubtedly the most worthwhile gaming monitor at the moment. During the COVID-19 season, why not buy yourself a gaming monitor like the MSI Optix MAG 322CQRV to satisfy during your holidays at home against the epidemic. What do you think?
Streamer experience MSI Optix MAG 322CQRV screen