MSI, the world's leading manufacturer of hardware for gamers, has "hit" sales of 3 million gaming monitors. Although MSI entered the realm of providing top-notch visual experiences for gamers years ago with reputable PC hardware devices. But in the field of gaming monitors, MSI only launched its first product in 2016.
Since then, MSI has always been a name that guarantees the quality and value of gamers. Over the years, MSI has constantly explored gamers' preferences and focused on designing the best monitors on the market.
These efforts have been recognized by the world today!
"MSI's 114% year-to-year growth outstrips the market average and is also the highest of the five biggest gaming monitor brands." – Trendforce.
MSI is proud to announce breaking the milestone of 3 million Gaming monitors sold in just 3 years! As a rookie entering the display technology market, it is an honor for the company to have invested a lot of time and effort to understand what gamers expect for Gaming Monitors.
Milestones: An extraordinary journey in search of perfection
When focused on the goal of delivering the ultimate gaming experience, it becomes the driving force behind MSI to achieve great achievements. A relentless journey towards perfection. It is worth mentioning that it all started in November 2016 with the launch of the MSI Optix G27C Gaming Monitor.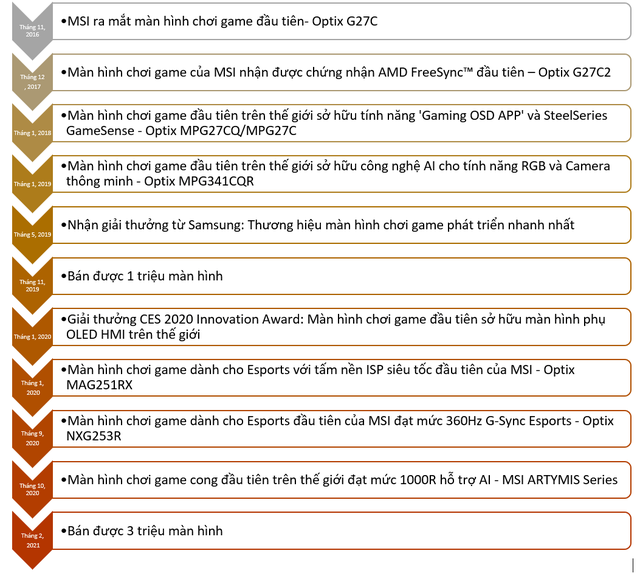 Gamers' choice: Take a look at MSI's most prestigious monitors
Most prominent products (as of 2020): Even though gamers like every MSI monitor product, there is one special favor over the other products. These MSI monitors have attracted the eyes of gamers around the world and are also the best-selling products in the MSI monitor product line over the years.
Optix G271
Optix G24C4
Optix G241
Optix G27CQ4
Optix G32C4
Featured new products: Although there are a lot of MSI hit products that have been on the market for a long time, the most prominent rookies have emerged and are slowly climbing higher rankings. Boasting excellent sales and top reviews, these are MSI's newest and greatest monitor products of 2021.
Optix MAG242C
Oculux NXG253R
Optix MAG274QRF-QD
MPG ARTYMIS 343CQR
Optix G273QF
Award-winning products: Some MSI monitors not only attracted the attention of gamers, but also received a lot of positive reviews from critics. These monitors win multiple Editor's Choice awards – Editor's Choice and Commenter are "great products" from major tech show and publishers – making them the real winner in the line. MSI monitor products.
Optix MAG274R
Optix MAG274QRF-QD
Optix MPG341CQR
Optix MAG322CQR
Optix MAG272CQR
Optix MAG251RX
Oculux NXG252R
Grow stronger together: Break out in display technology
On this occasion, MSI partners also reaffirmed their commitment to working together and continuing to deliver incredible gaming experiences. In particular, Microsoft has always been an indispensable partner, allowing MSI to design products for Gaming monitors that provide a more coherent, coherent experience for gamers when using the same Microsoft Windows operating system.
"Congratulations to MSI on selling more than 3 million gaming monitors. Microsoft is honored to see a milestone for our partner. We wish MSI more achievements in the future and bring them to the fore." more high-quality monitors for all gamers " – Cary Chen (Games Manager, Microsoft)
Samsung and MSI have worked closely together for many years, and both companies hope to develop and promote this relationship even further. Samsung's Big Display Business was also delighted to hear that MSI hit this huge milestone.
"Congratulations to Team MSI on selling 3 million products. It is an honor that together with MSI create such a historic record in the field of Monitors, I believe that we, MSI and Samsung Display, can make it. Another success story in the near future"- Ho Sun (Senior Vice President, Head of Sales and Marketing, Big Display Business, Samsung Display)
AMD has publicly pledged to provide gamers with an impressive top-notch gaming experience. This also goes hand in hand with MSI's dedication to providing gaming monitors with high frame rates and refresh rates, low latency, and technologies like AMD FreeSync ™ to deliver these features. best for gamers. Not the table!
Last but not least, NVIDIA also congratulates MSI on this important milestone. Both companies have worked tirelessly together to provide the best gaming experience possible for as many gamers as possible.
Whether in applying G-Sync technology to the display or delivering an ultra-fast IPS panel that offers a great combination of visual quality and motion smoothness – both companies do. to achieve your common goal.
A unique product for this special occasion: Limited Edition MSI Optix Monitor
At this historic moment, MSI would like to thank all of its engineers and staff, partners and of course, gamers who lack them will not have this remarkable success.
For even more fun, there's nothing more than jubilant red with the special edition MSI Optix MAG274QRF-QD Gaming Monitor with stunning all-red looks – they'll be limited edition MSI displays numbered from 3,000 .001 to 3,000,015.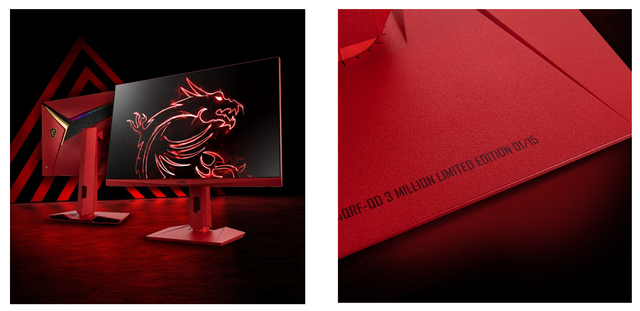 The limited edition Optix MAG274QRF-QD gaming monitor still boasts all the specs and features that make it so popular among gamers. The difference is the pure red glow to mark the occasion!
3 Million Displays sold is an impressive milestone. There's nothing to think about!
Even so, this is just the beginning of MSI's journey to equip every gamer in the world with the best display technologies. Team MSI promises to hear from gamers to ensure that we will design more advanced and high quality monitors in the years to come.