The Russian embassy in the United States on November 6 criticized major media outlets in the US for posting messages that it said were a campaign to spark anti-Russian sentiment in the United States.
"A series of anti-Russian articles have appeared on the leading US media channels, which have caught our attention. We think this is an organized effort to spark anti-Russian thought, "the embassy said in a post posted as a press release on Facebook.
Part of the Russian Embassy complex in Washington
Attached to the post are images of a series of headlines in major US newspapers such as the New York Times or the Wall Street Journal. The embassy also condemned the lack of a Russian perspective in the published articles, despite the fact that the Russian side was always ready to respond to requests for comment.
"Commentary requests for the Russian side are only made to create a look that looks like they are following certain" standards. " Most of our responses are too uncomfortable for them, so they are often garbled or removed from the post, "the press release said.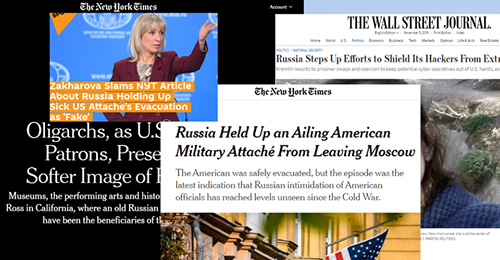 Pictures of headlines posted with the Embassy's press release
According to the diplomatic agency, these articles were issued under the instructions of the "Washington empire", based on the notion of Moscow's hostile position.
The embassy concluded the article by saying that Russia always supports compliance with international law, and that the preservation of essential agreements is the basis for world strategic stability.
Heroine