Officially on shelves on December 11, 2020, Playstation 5 (PS5) – the latest generation of Playstation consoles continuously falls into the situation of 'supply and demand' around the world. Due to the crisis of semiconductor chip shortage due to the impact of the COVID-19 epidemic, chip factories cannot meet enough orders for major partners like Sony. Not to mention, the situation of some users ordering PS5 in bulk to make a profit on the secondary market makes the situation of "out of stock" worse.
As a result, Vietnamese gamers have to wait until March 2021 to order genuine PS5 distributed by Sony. With advantages such as the selling price of only VND 14.5 million, significantly cheaper than portable goods, and a long warranty period, the genuine PS5 quickly became the most sought-after product in Vietnam at that time. . However, because the number of machines imported to Vietnam is too small, this game console model quickly "sold out" on both dealer channels and online sales channels.
The latest generation of consoles of the Playstation line is one of the most sought-after technology items in the world at the moment.
Worth mentioning, in the middle of June 2021 – more than 3 months since Sony started selling PS5 in Vietnam, buying a genuine PS5 is still really "arduous". Accordingly, the number of genuine machines distributed in Vietnam is still very small, accompanied by a much higher selling price.
No longer priced at 14.5 million dong, more expensive than portable goods
After the first pre-order (pre-order) in March, Sony Vietnam opened a second pre-order on May 17 on the Sony Store Online online sales site. Like the previous pre-order, PS5 continues to "sold out" when the number of products on sale cannot meet the needs of users.
Meanwhile, in the sales channel, which are official dealers authorized by Sony Vietnam, it is equally difficult to order a genuine PS5 at the present time. Most agents refuse to accept orders from customers on the grounds that there are not enough goods to sell. Particularly, with a few dealers still having enough stock, the price of genuine PS5 at these stores is also much more expensive than the listed price.
Specifically, PS5 version with Blu-ray drive (with 1 controller) is currently sold for 23.5 – 23.8 million VND. Compared to the price of VND 14.5 million offered by Sony Vietnam, users will in fact have to spend about VND 9 million more to own a PS5 with a 12-month warranty. In case users want to buy 1 more controller with 1 game disc, the amount of money can be up to 26 – 26.5 million VND.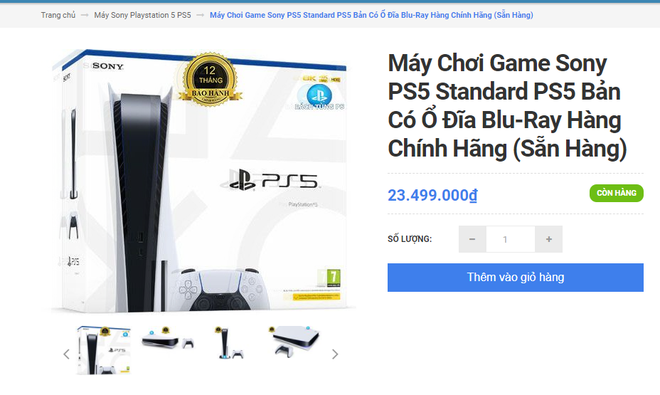 Some dealers in Hanoi currently offer genuine PS5 for sale at a price of VND 23.5 million (screenshot). In case you want to "save" more, users can use the service to order a portable PS5 from abroad, with a price of about 18 million VND for the version with Blu-ray drive.
A very notable point, is that this price is currently slightly higher than the selling price of the PS5 'portable', also known as 'imported' as described by some agents.
As noted by PV, PS5 models that are not officially distributed by Sony Vietnam are currently being sold by some stores in Hanoi with prices ranging from 20.5 to 21.5 million VND for the Blu-ray drive version. With the version without the drive (Digital Edition), the price is only about 19.5 million VND. Both of these 'imported' versions are warranted by the stores for a period of 3 months. In case users want to enjoy the 1-year warranty, the amount can be increased from 1-1.5 million VND – still significantly cheaper than the current actual selling price of the genuine PS5.
In fact, many users, after consulting the genuine selling price, have decided to buy 'portable' goods to save a lot of money.
"I think the quality of portable goods is also guaranteed to be the same as genuine goods, only the warranty period is shorter. Currently, the selling price of genuine goods is much more expensive than a few months ago, ordering online is also very difficult, so I decided to buy portable goods because it is up to 2.5 million cheaper. The seller also guarantees to exchange a new machine if the goods are defective within the warranty period.", said Vu Quoc Minh, a user in Hanoi.
Currently, it is not clear whether Sony Vietnam will open more genuine PS5 pre-orders in the near future or not. However, the number of devices distributed in Vietnam will likely still be very scarce, in the context that Sony has not completely solved the situation of "insufficient supply and demand". Most recently, Sony's chief financial officer had to admit that the PS5 shortage could last until 2022.