Capcom will hold "Monster Hunter Cross Real Meeting Hall" from January 8th to February 7th on January 6, 2016. Then announced. A tasting presentation for the media was held at the Pacera Resorts Ueno Koenmae store (Tokyo venue). Let's introduce the real meeting room and the collaboration menu that can only be eaten here!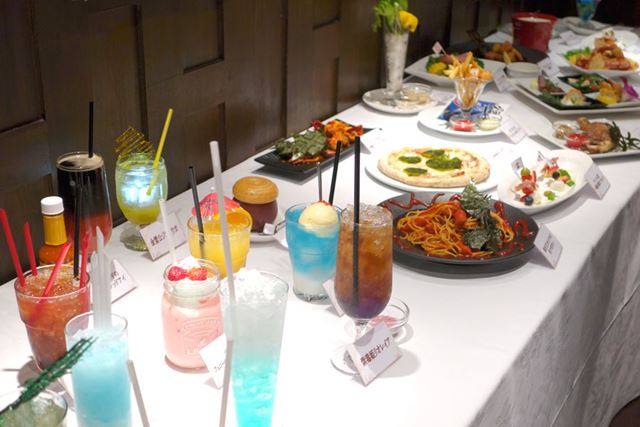 Full collaboration menu
Full of world view of Monhan Cross! Limited Airou DL
"Monster Hunter Cross Real Meeting Hall" will be held in Tokyo and Osaka from January 8th (Friday) to February 7th (Sunday). The venue is the Pacera Resorts Ueno Koen-mae in Tokyo, and the Karaoke Pasera Tennozu in Osaka. The admission ticket is 1,000 yen and includes 1 drink and souvenirs. Tickets for the Tokyo venue can also be purchased with Lawson tickets.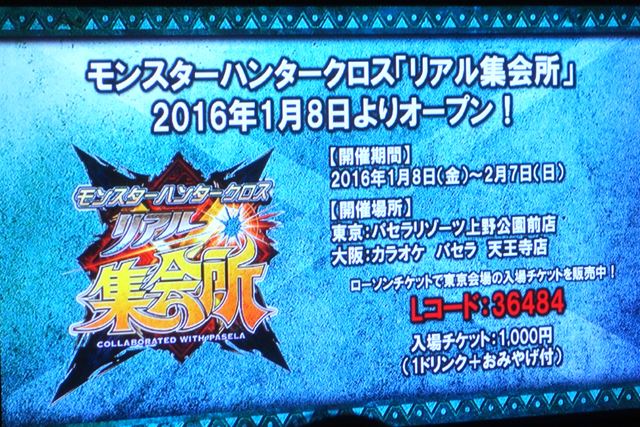 Start from January 8th!
The real meeting place of the Pacera Resorts Ueno Koen-mae store in the Tokyo venue is designed to express the world view of Monhan Cross, and just by being there, you can blend into the Monhan World. For example, the walls are decorated with tapestry that shows the real size of each monster at a glance, and monsters are also drawn on the tablecloth.
Monster comparison chart that shows the actual size of the monster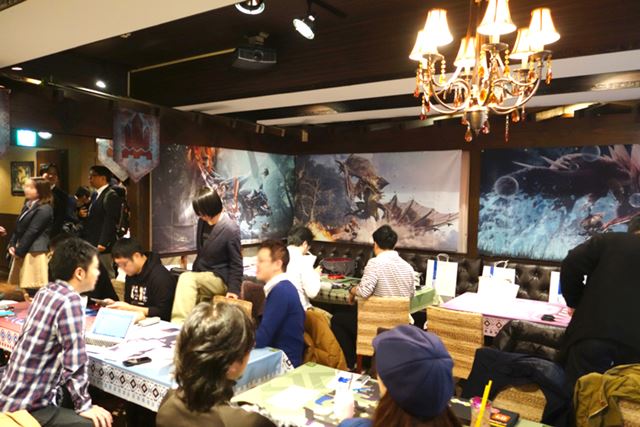 A huge poster of Monhan is stuck on the wall
In addition, as a special privilege for attending a real meeting place, you can download the limited Otomo Airu "Passelu". Passel's support trend is "recovery".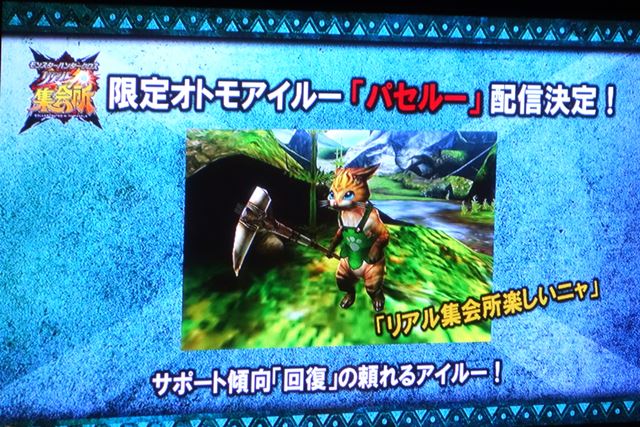 Passelu delivered only at a real meeting place
I ate a cocktail inspired by monsters and longing meat!
What you are interested in is the rich collaboration menu. Drinks include cocktails and soft drinks with the image of various monsters, and the food can be brought to the "kongari meat" that everyone can long for once! The following is a part of the menu.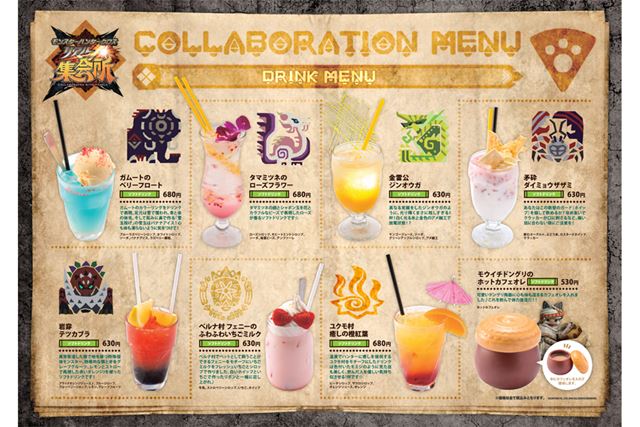 Soft drink menu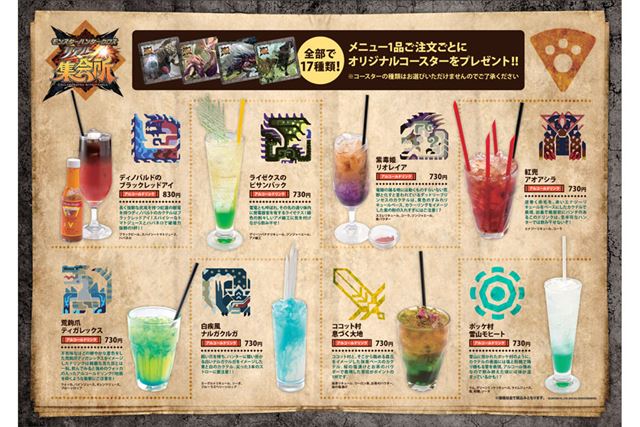 Alcohol drink menu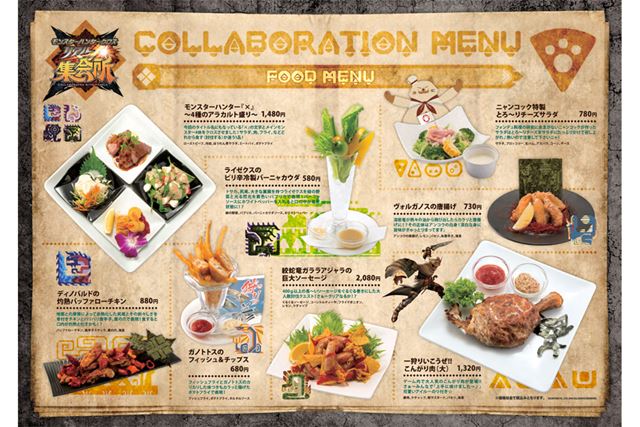 Food menu
All menus were sampled at the presentation, but I will introduce the menus that I personally noticed. First of all, in the food menu, it 's "Let 's go hunting! I wanted to eat that thick meat all the time, covering the big meat and recovering my physical strength. The actually eaten konbu-meat is a hamburger-like dish made from minced meat rather than chunky meat, and is gorgeous in appearance in the size of a palm. If you divide and share with several people, it will be exciting. In addition to this, "The Black Flame King Rioreus Flame Napolitan (980 yen), which is characterized by a flame coming out from the top of the pasta, is also worth noting.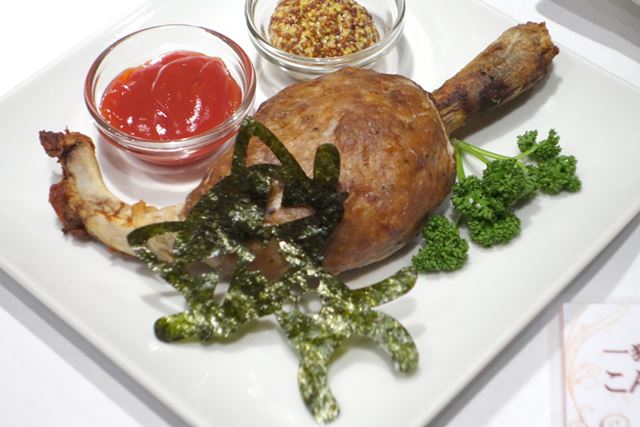 "One hunting let's go !!!! Kongari (Large)" is 1,320 yen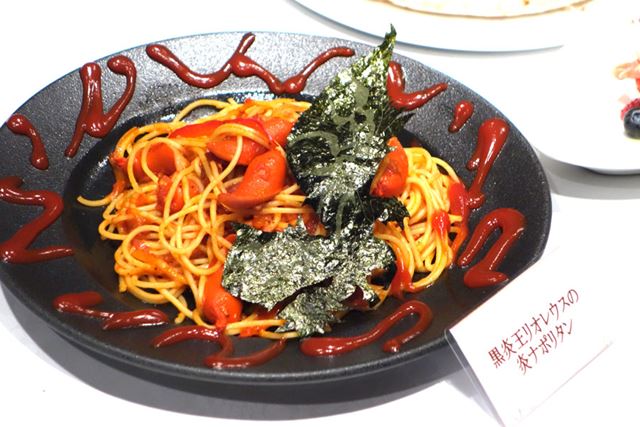 "Black flame King Rioreus flame Napolitan" is 980 yen
Many drinks, not only cocktails but also soft drinks, were colorful and cute. In particular, the "Tama Mitsune Rose Flower" (680 yen), inspired by the new monster "Tama Mitsune", is perfect for girls with a refreshing soda scented with rose and mint. What was a bit disappointing was the "Purple Poison Princess Rio Layer" (730 yen) that I ordered, but it was delicious with violet liqueur + cola + purple koji powder, but it looked just cola.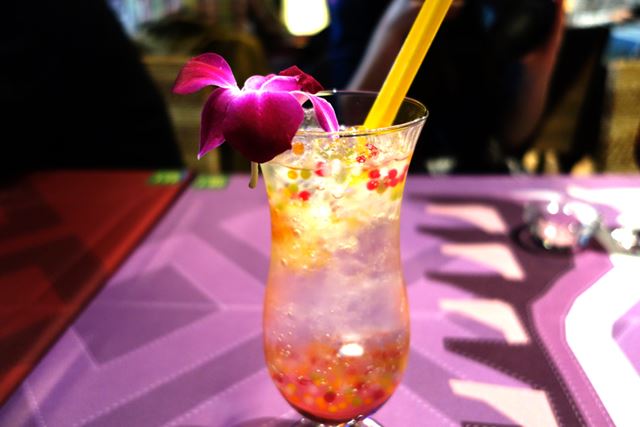 Ichioshi's "Tamamitsu Rose Flower" is 680 yen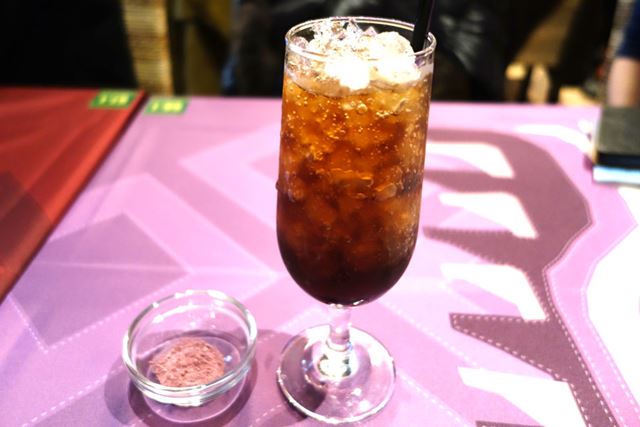 "Purple Poison Princess Rio Layer" is 730 yen. Purple did not come out beautifully
In addition, one collaboration menu is ordered for each order, and you will receive an original coaster. It would be interesting to collect coasters with 17 different monsters.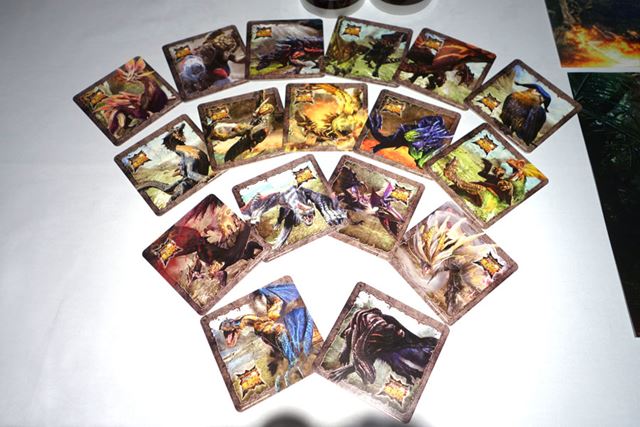 Original coaster
Monster Hunter Festa '16 guest decision!
In addition, at the presentation, guest information that appeared on the main stage of "Monster Hunter Festa '16" to be held in various places including the Tokyo venue on January 10th was released. At the Tokyo venue are Ayana Himehime, Aoi Inoue (Deputy Director) and Getters Iida. In the Osaka venue, DAIGO (BREAKERZ), who served as the CM character for "Monster Hunter Cross", appeared. In addition, the venues in Fukuoka are Mr. Makoto Sakurai (Dragon Ash), Ms. Yuwei (ROTTENGRAFFTY) and Ms. Yasushi Kiuchi (Sambo Master). The venues in Nagoya are Mr. Atsushi Inoue (Deputy Director), Mr. Norio Fujita (Total Ten Bosch), and Mr. Takahiro Kato (Chad Maraine). The Sendai venue is filled with gorgeous guests such as Yu Higuchi (Yoko Yoko), Yasuyuki Nasu / Shigeki Nakanishi (Nasanakashi), Chiaki Kiya. Monster Hunter Festa '16 is free to enter.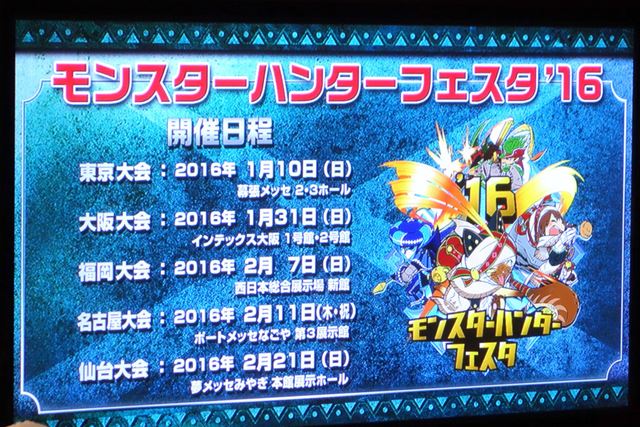 Schedule information for Monster Hunter Festa '16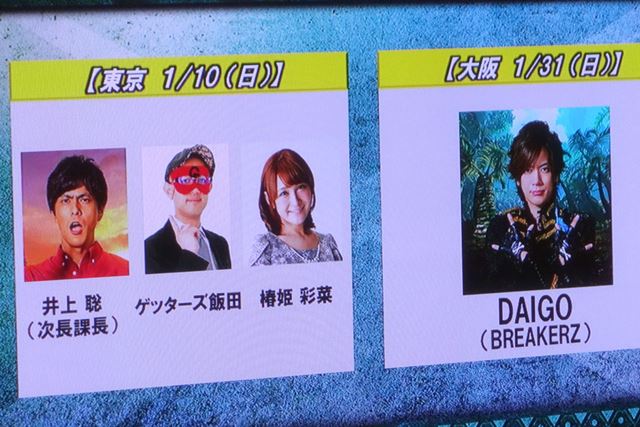 Guests at Tokyo and Osaka venues
In addition, Monster Hunter Festa '16 sells various collaboration items and commemorative goods, but I personally worried about the hoodie worn by producer Shintaro Kojima at this presentation. Is it completely based on the motif of two famous monsters, "White Ship Wind Naruga Kuruga"? Parker. want.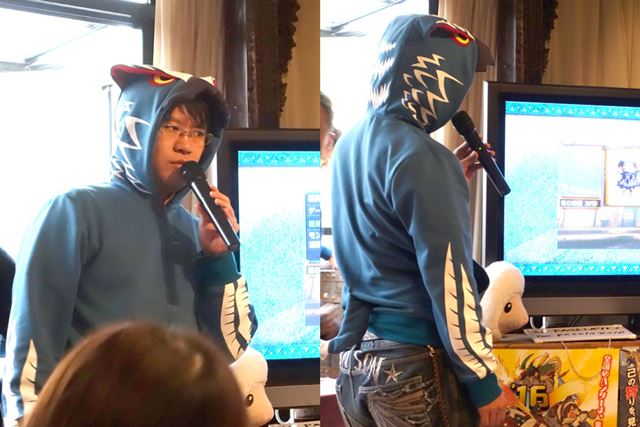 "Monster Hunter Festa '16 Memorial Full Zip Parker White Ship Wind Narga Kuruga" (size S / M / L / XL). 8,600 yen (tax included)