Except for Sony, all three major TV companies, Samsung, LG and TCL, are promoting miniLED backlight technology on their new LCD TVs. This will be a new confrontation in the TV market this year.
What is miniLED technology?
Every year, we are overwhelmed by TV manufacturers by the many new technologies that actually make no obvious difference. However, 2021 has a technology that promises to significantly improve high-end LCD TVs, not just a gimmick. Having been pioneered by TCL since 2019, the miniLED backlight has just become the focus at CES 2021.
Below are the comments of the independent review magazine Consumer Reports on new backlight technology, is expected to significantly improve the display quality of LCD TVs.
LED backlight on the TV
Two current LED backlight layouts (photo: LG)
For LCD TVs, light will be projected from either the back or the side. Using a voltage regulator to turn the pixels on or off will help block some light and let others pass through. However, for some very dark film scenes, the light cannot be completely blocked off and penetrates the liquid crystal layer. As a result, blacks are greyed out or have halos around some of the subjects in the frame.
To overcome the black decline, TV companies offer solutions to place the LED array at the back, and then add local dimming to help control the light leaks better. The LED backlight system is divided into partitions, independent on-off control. On these LCD TVs, halos are significantly reduced and blacks are deeper than those not present.
MiniLED technology appeared
When miniLED appeared on the basis of existing LED technology, people quickly thought of applying it to the LED backlight of LCD TVs. By shrinking the size of the LED chip, it is possible to cram more LEDs into a backlight system. LED density is now up to tens of thousands of chips, the number of dimming partitions increases from a few tens, a few hundred to thousands.
MiniLED technology is a new step to help LCD TVs improve picture quality (photo: TCL)
Therefore, LCD TV with miniLED backlight has better light control, effectively eliminating light leaks. Higher brightness as well as deeper blacks, thereby enhancing HDR image performance. As a result, we can clearly see darker details than before, closer to that of OLED.
According to Claudio Ciacci, who leads the TV test group at Consumer Reports, "miniLED technology can significantly improve existing local dimming, giving better black control in dark and dark scenes. In particular, halo phenomenon is greatly reduced." Thus, even though miniLED does not help LCD TVs catch up with OLEDs, it still delivers better display quality.
The battle for TV
From CES 2021, it's easy to see that there are three companies that have identified miniLED backlighting as the focus this year.
LG Electronics said its new group of QNED products will use miniLEDs. In the 86-inch top-end model, they pack close to 30,000 LED chips and offer 2,500 dimming zones. Along with that are two color enhancement technologies Nano Cell and quantum dot.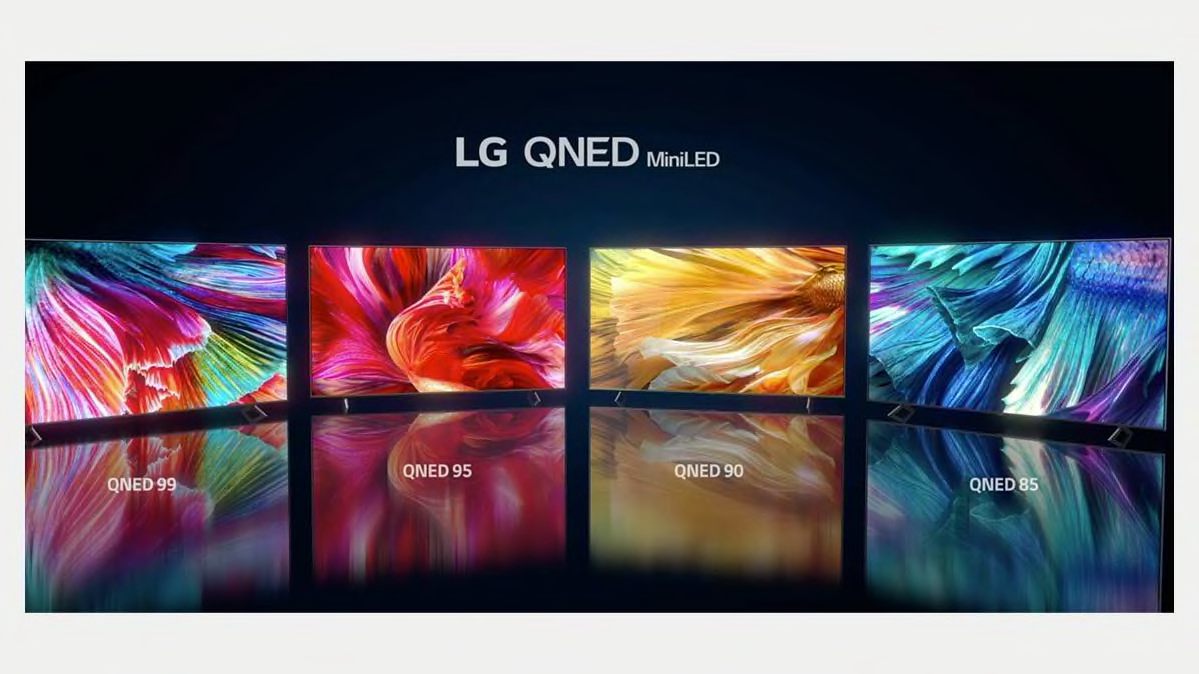 LG announced a new series of TVs using miniLEDs (photo: LG)
Samsung is also no less competitive when it comes to the Neo QLED line, a branch of its QLED brand that includes all 8K models and two of the highest-end 4K models. The company advertises that their LED chips are 40 times smaller than conventional LEDs, helping to precisely control the backlight, preventing light leakage.
Finally there is the TCL. The Chinese company is the first to introduce miniLED backlit TVs to the market in 2019. By 2021, TCL is back with a new step forward, "OD Zero". They eliminate the gap between the miniLED backlight system and the liquid crystal layer (LCD). According to the explanation, offers better brightness and contrast than the older generation.
While Samsung did not specify the number of dimming zones and the number of LED chips, its TVs will release in March. LG will sell in the third quarter of this year with 8K resolution. TCL plans to sell in the second half of 2021. According to DSCC, more than 4 million miniLED backlit LCD TVs will be sold this year, of which Samsung and LG are largely driven by a stronger brand name than TCL.
Ambitious Man