Sporty, powerful, a perfect combination of modern and classic touches, many people consider the Mercedes A-Class to be the most attractive option in the segment.
Introduction of Mercedes-Benz A-Class
Like recent Mercedes models, the Mercedes-Benz A-Class has an attractive design style that comes with a range of modern and comfortable equipment to provide a better driving experience and safer for users. By focusing heavily on the A-Class, Mercedes-Benz has somewhat succeeded in turning this model into a formidable rival of BMW 1-Series, Audi A3, Infiniti Q30 and Volvo V40.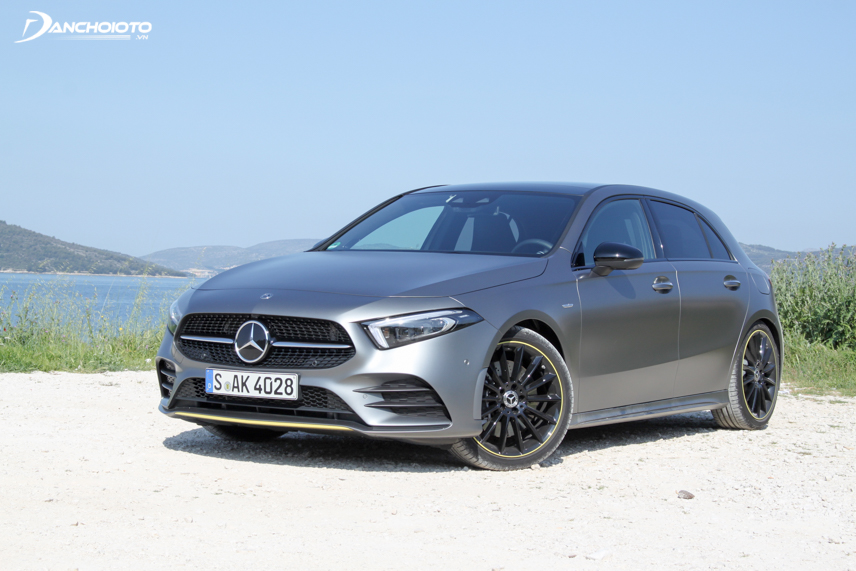 Mercedes-Benz A-Class
Evaluation of Mercedes-Benz A-Class on the exterior
In terms of exterior, the overall Mercedes-Benz A-Class model has Mercedes-Benz's Sensual Purity design philosophy. The strong design lines of the previous generation seem to have disappeared, replaced by a more mature and elegant aesthetic.
Top car
Assessing the Mercedes-Benz A-Class by car experts, the car has a strong front end with many intricate "carvings". The large grille stands out thanks to details like diamond-eye-catching extremely eye-catching details. The car has a capo section that slopes down more, bringing a dynamic appearance to the front.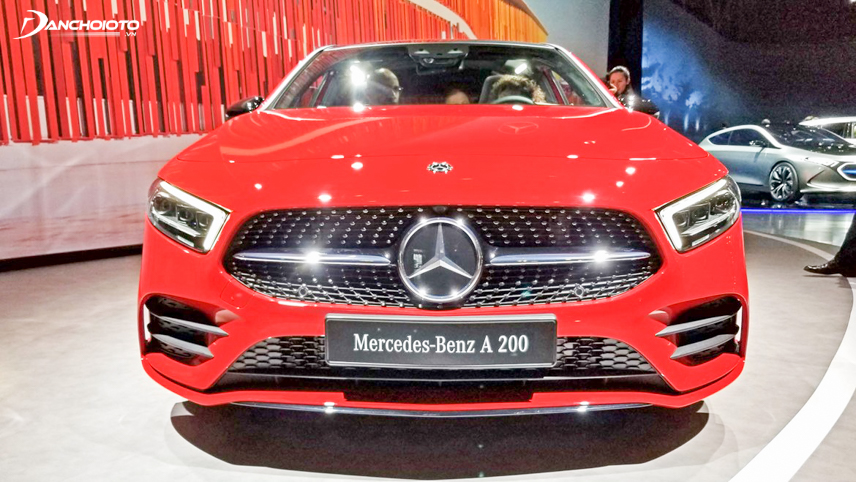 The eye-catching diamond spotted grille at the front of the vehicle
The A-Class front light cluster has an option of Multibeam LED smart lighting technology. This lamp technology automatically adjusts the projection areas in phase mode so as not to dazzle with vehicles running in the opposite direction. This is the new upgrade that Mercedes has for the A-Class, previously the Multibeam LED technology is only available on the high-end versions of the Mercedes S Class and Mercedes E Class.
Vehicle body
With dimensions including 4,549 mm long, 1,796 mm wide, 1,446 mm high and wheelbase still 2,729 mm. Therefore, the overall body of the Mercedes-Benz A-Class has a sporty, rigid design. Vehicles using large alloy wheels, wheel arches are also expanded to create a more sporty feel on the move.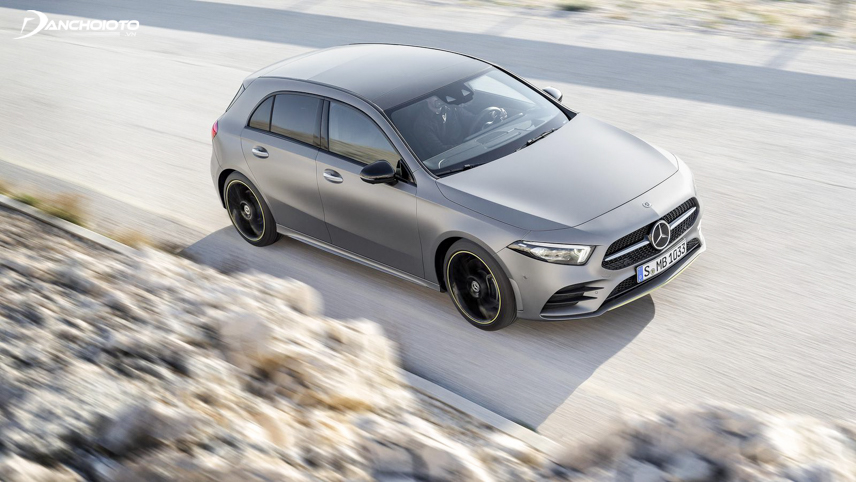 Body of Mercedes-Benz A-Class
Rear
New generation A-Class tail is more prominent, muscular and more eye-catching thanks to the slim two-branch tail light design using full LED technology. This light has a different style than the fuller style like in the previous generation. However, the overall rear of the car has not brought much sports to be able to match the body and the head. This may make many people regret.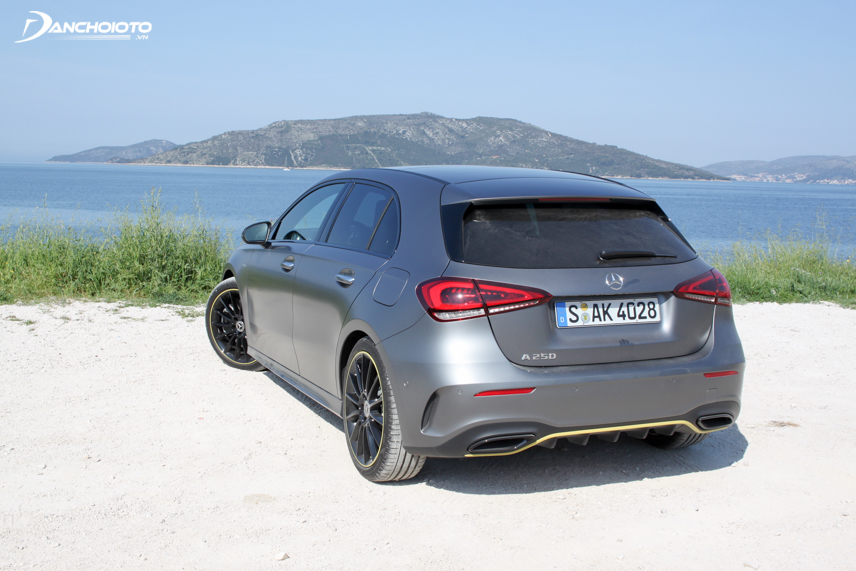 Tail of Mercedes-Benz A-Class
Mercedes-Benz A-Class evaluation of the interior
Interior space
Mercedes-Benz A-Class interior is highly appreciated in the segment, the shiny chrome details on the control buttons and steering wheel can make many people overwhelmed. The interior of the car is completely redesigned completely different from the previous generation. Maybe this design brings a bit of design direction from big brothers like S-Class and E-Class. Taplo is leather, speedometer cluster and entertainment screen together and air turbine-style air vents make the interior of the car become more eye-catching.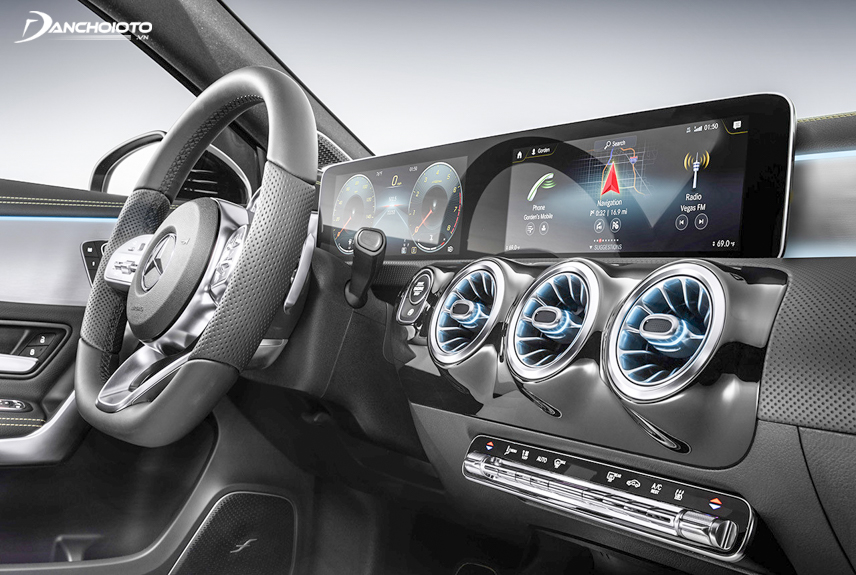 Air turbine turbine air outlet
The steering wheel of the A-Class is similarly modernly designed to the S-Class model and incorporates two additional touchpads to control the display interface and the entertainment screen. In addition, the interior of the car has 64 different colors customized, similar to the E-Class.
The car has a fairly sensitive touchpad that helps the operator to easily manipulate even while driving. Mercedes A-Class for custom equipment includes 64-color modern interior lights, high-quality leather seats and automatic air conditioning. The Mercedes-Benz A-Class has a wheelbase of 2,729 mm, giving users a more spacious passenger compartment. Space for the head, shoulders and elbows becomes more than the previous generation. The luggage compartment is also larger with 370 liters, 29 liters larger than its predecessor.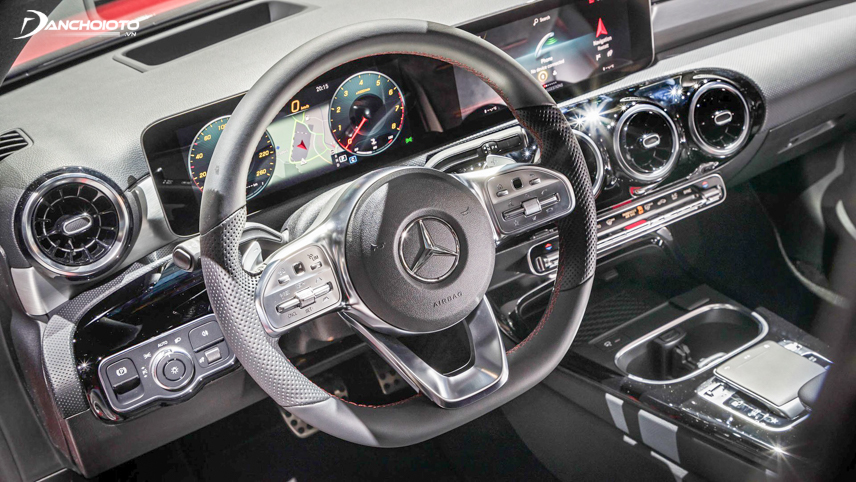 Beautifully designed steering wheel on Mercedes-Benz A-Class
Equipped with amenities
Mercedes-Benz offers Mercedes-Benz A-Class new generation three touch screen options including: 7 inch screen set; a 7inch screen and a 10.25inch screen; two 10.25inch large screens.
The most special feature in the comfort equipment of Mercedes-Benz A-Class is in the MBUX system (Mercedes-Benz User Experience) instead of the previous COMAND ONLINE type. This is a completely new infotainment system that appears for the first time in a model of this car company. This means that A-Class users will be the first customers to experience this advanced technology.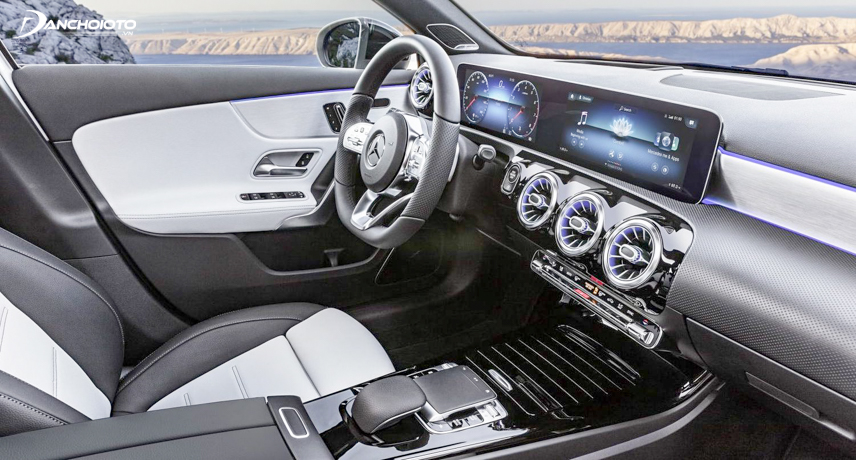 Set of two large size screens of Mercedes-Benz A-Class
In addition, Mercedes-Benz engineers also equip the A-Class with other impressive technology equipment such as rear-view entertainment screens, Car-to-X communication, positioning tracking. car decoration. Mercedes-Benz A-Class is also equipped with heated seats, air conditioning system for the seats and the Multicontour Seat package with massage function for the front seats.
Mercedes-Benz A-Class evaluation of engine / performance
Engine
The Mercedes-Benz A-Class is equipped with three engine version options including two A200 / A250 petrol engines and one A180d Diesel engine.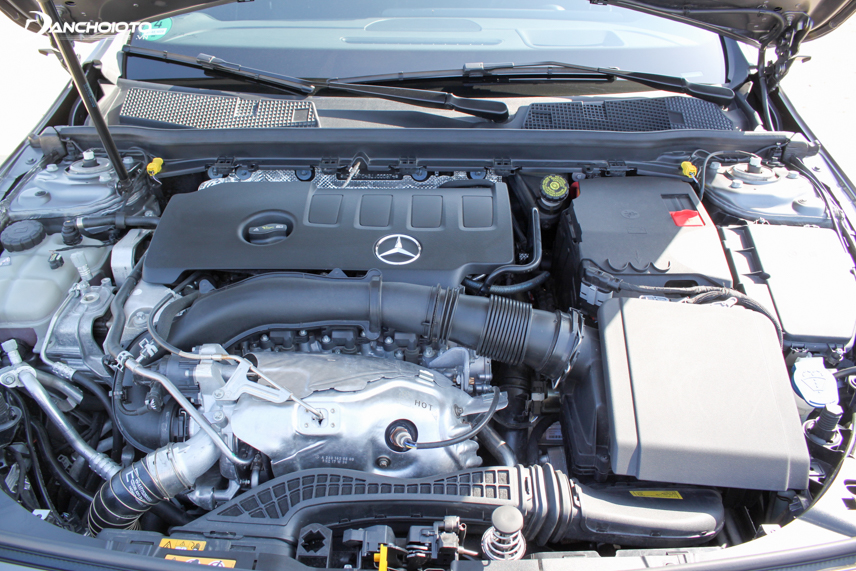 Engine block of Mercedes-Benz A-Class
| | | | |
| --- | --- | --- | --- |
| Engine | Capacity (horsepower) | Torque (Nm) | Gear |
| Gasoline – A200 1.4L | 160 max | 250 max | 6-speed manual / automatic transmission 7G-DCT |
| Gasoline – A250 2.0L | 221 max | 350 max | Automatic number 7G-DCT |
| Diesel – A180d 1.5L | 114 max | 260 max | Automatic number 7G-DCT |
Operate
Mercedes A-Class specifications from the manufacturer show that the model gives extremely good fuel economy. Vehicles consume an average of 5.6 L / 100km when using gasoline engines, 6L / 100km with A250 gasoline engines and 4.1L / 100km with A180d Diesel engines. A-Class 7G-DCT dual-clutch gearbox is considered by many experts to be able to change gears faster and smoother than the previous generation. However, this gear still has some disadvantages such as slow shifting in high rev range.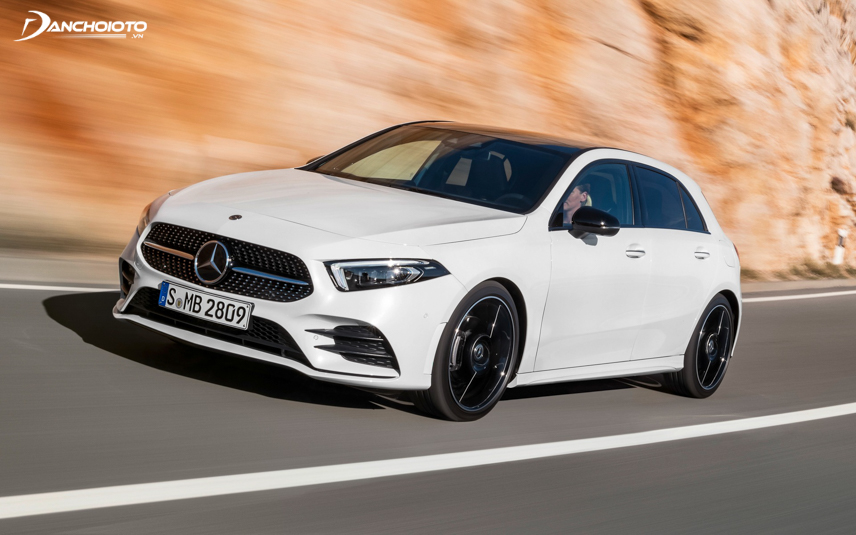 Mercedes-Benz A-Class is capable of stable operation
Another important change to make the driving experience more comfortable is that of the suspension. A-Class is equipped with a separate sub frame separate from the body. This change helps reduce noise and better shock absorbers. The Mercedes-Benz A-Class is agile and flexible, while also smoother and softer on the road. This makes the car feel right to drive what you expect in a Mercedes model.
Evaluation of Mercedes-Benz A-Class on safety equipment
In terms of safety equipment, the Mercedes-Benz A-Class is equipped with many safety technologies from the high-class S-Class. Equipments include active distance-keeping assistance, active emergency stop assist, lane-changing assist, and active brake assist. In addition, the Pre-safe Plus function on the Mercedes-Benz A-Class can help identify potential collisions from the rear and use the brakes effectively to minimize the risk of going forward.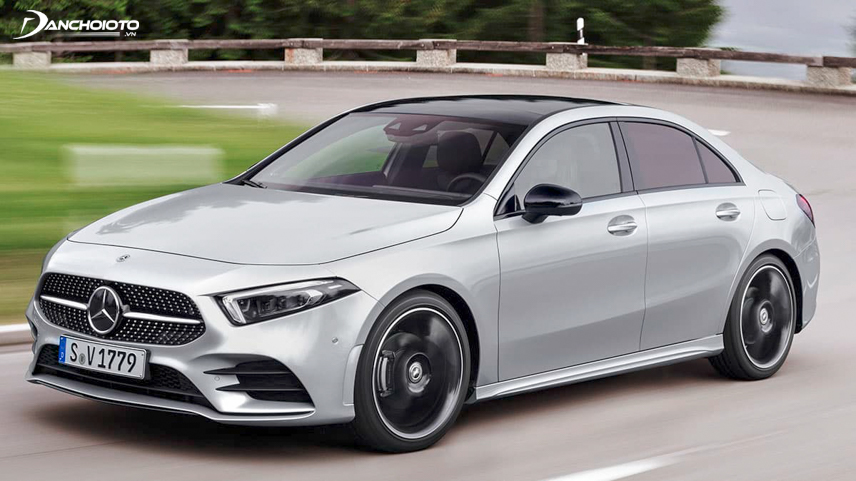 Mercedes-Benz A-Class has the ability to identify potential collisions
How much is the Mercedes-Benz A-Class?
Currently, the price of Mercedes A-Class cars announced in foreign markets starts at US $ 37,416 (about VND 870 million). The German luxury car has not yet appeared in Vietnam, but fans can refer to the current Mercedes-Benz A-Class car prices in our country as follows:
| | |
| --- | --- |
| Mercedes-Benz A-Class variant | Car price (million dong) |
| A 200 | 1,339 |
| A 250 | 1,699 |
| A 45 4MATIC | 2,249 |
In this price range, the Mercedes A Class proved to be more profitable than the competitors thanks to its extremely beautiful and modern interior design. Therefore, Mercedes-Benz A-Class is a good choice for a young, dynamic user.
Trung Dung