Wearing masks while going out has become mandatory in many cities around the world as governments try to contain the COVID-19 epidemic that has claimed the lives of over 800,000 people worldwide. However, health experts warn that the increase in temperature also means the health risk due to heat increases, especially when wearing a mask, as this summer is approaching to be one of the seasons. The hottest summer in history.
Catching the above urgent need, many Japanese companies have launched products that help the masks become cool and friendly to the user. In particular, sportswear brand Descente launched a mask containing cool packs.
Descente representatives said the company not only encourages sportsmen but also people who work outdoors to use its masks. The company has sold more than 1,000 units since the launch of these masks in early August.
Last month, household goods maker Big Bio started selling cooling sprays for masks. The liquid in a 50 ml bottle containing peppermint oil can lower the temperature of the mask to about 8 degrees C and have a cooling effect for 15 minutes. Big Bio has sold over 35,000 spray bottles and is expected to produce 40,000 this summer.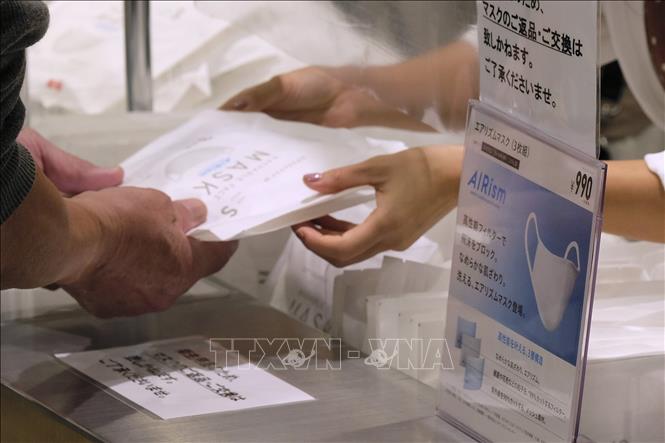 Similarly, another spray produced by the company known for its Kitami Hakka Tsusho menthol products has also become a sought-after commodity in the Japanese market. The company's representative said the sales of peppermint oil products have doubled or even tripled compared to last year. Kitami increased production to 10,000 products / day, more than 3 times the usual amount.
The Japanese fashion chain Uniqlo is not "inferior" when launching 3-layer Airism masks made of soft and absorbent material, creating a fever in this country in June. . Regardless of the rain, many Japanese people lined up outside Uniqlo's stores to buy them. The company said its products are being introduced to overseas markets, including the US and Singapore.
Over the past week, the heat in central Japan has risen to more than 40 degrees Celsius. The Japan Times newspaper reported that about 80 people, mostly the elderly, died from fatigue or heat stroke in Tokyo during the month. this.
It is not clear whether the masks equipped with "cooling accessories" are effective against the SARS-CoV-2 virus, but at least these products make Japanese people not feel "difficult to stay. "When I have to regularly wear a mask in hot weather.