#Marketing #Decoding丨 #women #easily #lie #winBrands #mistakes #wake


Text|Su Tingting,Edit|Qiao Qian
Another "accident" caused by offending female users caused word-of-mouth rollovers.
Recently, talk show actor Li Dan has promoted women's underwear brand Ubras on his personal Weibo, but the slogan "An equipment that allows women to easily lie down to win the workplace" has caused controversy, and related topics have also appeared on Weibo. Search on it.
Screenshot of Li Dan's Weibo
The brand party and Li Dan seem to want to use the "shaking wit" approach to a wave of topic marketing, but they did not expect it to be counterproductive. Some netizens think the advertisement has a tendency to "offend women", and some netizens do it under the Ubras brand and Li Dan Weibo. Protested, saying that he would not buy Ubras brand underwear again. People sigh, why is such a smart Li Dan so confused this time?
As the discussion about the incident continued to ferment, the brand immediately issued an apology statement on February 24: "Due to the improper wording in the marketing promotion, we apologize for the discomfort caused to everyone, and immediately download Related content".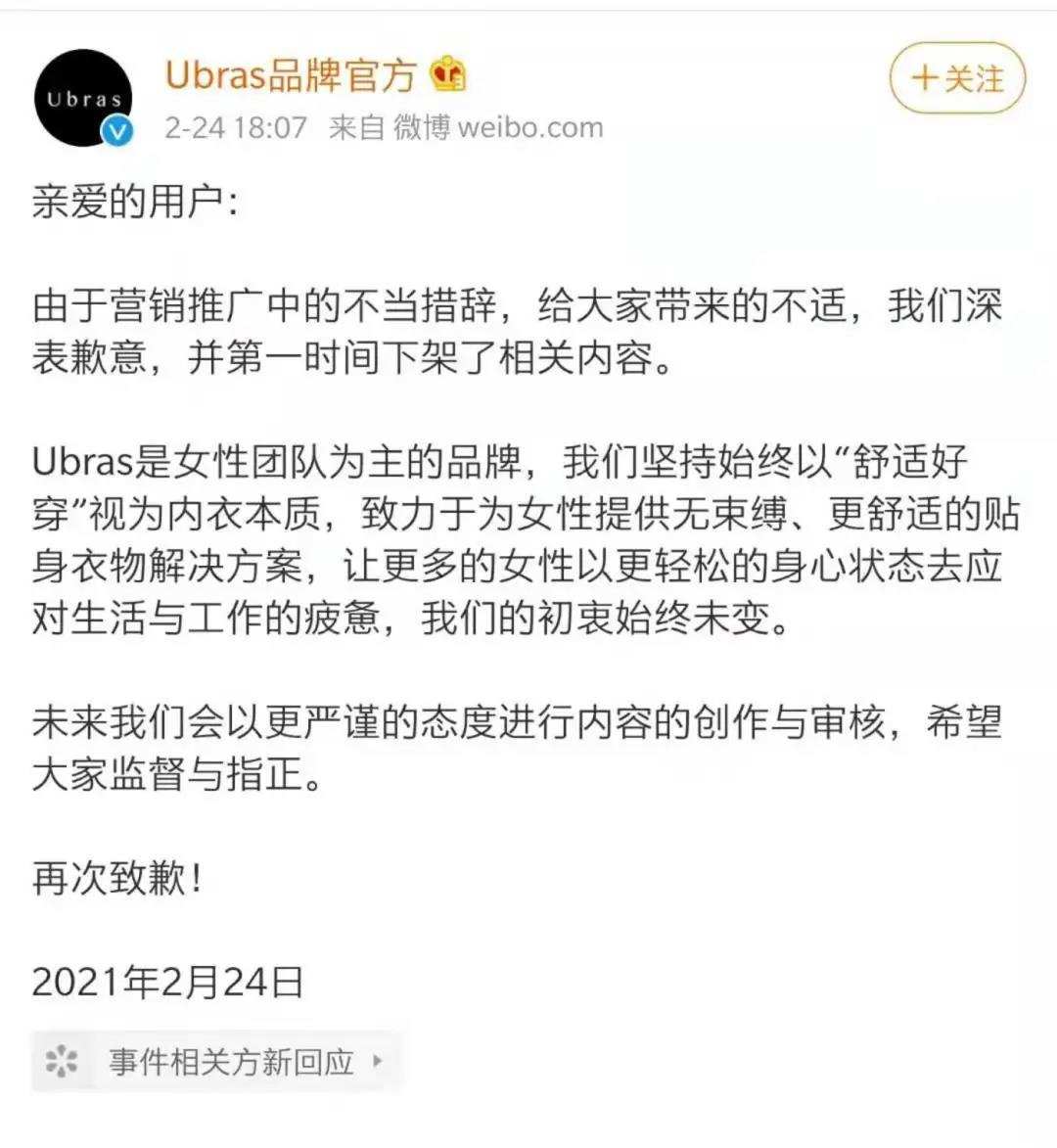 Ubras apology statement
Li Dan also forwarded Ubras's apology the next day, saying, "The wording is indeed inappropriate. As a language worker, when I got this copy, I should be more aware of its impact… This time it's my fault. , Introspect, thank you all for your criticism."
Ubras, a female underwear brand established in 2016, is loved by many female consumer groups with its design concept of "abandoning steel rings and thick sponges". According to Tianyan Check data, Ubras completed a 50 million yuan A round of financing in 2018, and completed a B+ round of financing in 2020 with an amount of hundreds of millions of yuan.
At present, Ubras has 3.21 million followers in Taobao flagship store. Among them, Ouyang Nana sells 50,000+ month-on-month non-size vest bras, and is ranked first on the Tmall list "Bra List".
36krypton mentioned in the article,The popularity of China's local comfortable underwear industry is behind a systematic transition of the times, which is the result of capital thrust and channel changes, but more core is the change in women's consumption and aesthetic concepts.
Ubras, which focuses on "pleasing oneself," has benefited from this change. No one thought that it would shout such slogans, leaving a frivolous impression of disrespect for women.
Marketing playing the "opposite card" is nothing new
In fact, there has long been a practice of using "the opposite sex" for marketing and promotion of consumer products aimed at women.
In 1996, the Japanese cosmetics company Kanebo invited Takuya Kimura, who was 24 at the time, to shoot a lipstick ad. Kimura Takuya became the first male star to endorse lipstick, which also changed the marketing thinking of the advertising industry at that time.
After the advertisement was broadcast, the "Kimura lipstick" was out of stock again and again. At that time, the head of the Kanebo Propaganda Department said: "It was the right choice to boldly use Takuya Kimura's contemporary spokesperson. In this industry, lipsticks can be considered as hot products as long as they sell 500,000. About 3 million pieces were sold within."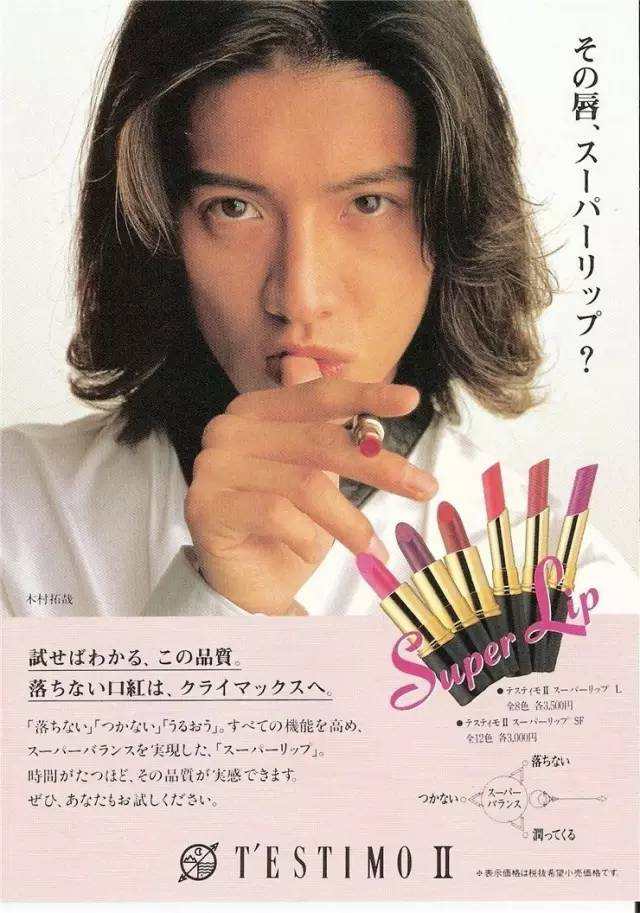 Kanebo lipstick poster
In the past two years, more and more Chinese male celebrities have joined the ranks of endorsement cosmetics. Liu Haoran once endorsed Maybelline New York Metallic Lipstick. In 2016, Guerlain officially announced Yang Yang as the full-line spokesperson. Estee Lauder also cooperated with Huachenyu Launched a limited edition Mars Red Lipstick in color number 310.
Male celebrities have become the favorite of beauty brands. These selected "niche" not only have good appearance conditions, but also have the most valued fan traffic of the brand, as well as the purchasing power of these fans "can invest wildly and spend generously".
Although not a well-known brand spokesperson, Ubras invites Li Xian to bring goods with similar logic.
According to the big data report on entertainment consumption released by Ali, "With the rise of the national trend, Chinese pop music, cross talk, folk art and other national arts and talk shows with Chinese characteristics have gradually become a boom in entertainment consumption. In the past year, the average per capita viewing performances of post-95s The annual consumption is as high as 893 yuan, the annual growth rate is 11% higher than the overall population, and the growth rate is 24% higher than that of the pre-80s population. It has become a new driving force for the growth of the spectator market."
Choosing Li Xian, Ubras strives for young women who like talk shows, have purchasing power, and are willing to spend money for their favorite brands.
Why did the car roll over this time?
Ubras's marketing rollover reveals the outdated and "full daddy" way of thinking of brand marketers——I thought that you would be able to get everything done by hiring today's popular talk show actors, but in reality, I completely ignored the current social atmosphere and reality.
On the one hand, with the rise of the "her economy", a large number of professional women have higher incomes, and then have the right to free consumption to match with them, and become consumer decision-makers in many social relations; on the other hand, with the recent In the past two years, feminist trends such as #MeToo# have swept the world, and women's issues have become sensitive and complicated.
But the proud brands seem to have repeatedly ignored the "danger".
Some time ago, the cotton era also released an advertisement. In the advertisement, the girl came home late at night, but was followed by a man in black. The girl was anxious to remove her makeup with wet wipes from the cotton era. After removing the makeup, she became ugly and saved the danger.This advertisement also sent the cotton era to the hot search on Weibo. Netizens believed that the advertisement was not onlyTo beautify tracking is to demonize women.
On January 8, the All-China Women's Federation newspaper "China Women's Daily" commented on the matter:"Women are consumers and not consumer goods. It is inevitable that'creative' advertisements that insult women will be criticized by public opinion. Offended female consumers will vote with their feet and will not pay for the insulting'creative'."
Soon after, Cha Yan Yue Se was also caught in a public opinion turmoil due to insufficient marketing creativity.On February 19, a Weibo netizen submitted a post saying that the advertising copy on the packaging of tea beauty mugs and tea bags, such as "picking baskets" and "I want to be an official," was suspected of discriminating and insulting women. In response, Cha Yan Yue Se Guan Bo issued two apology statements in the evening of the same day and in the early morning of the next day. Although the incident has subsided, some netizens said that there are so many milk tea brands, so you don't need to drink the tea.
A bigger disturbance occurred at station B. In January this year, the animation "Rebirth without a job" was broadcast, and it was accused of "three wrong views" and "Suspected of insulting women" and was removed from the shelves. Before the Lunar New Year, many brands such as Yokos, Shike Eyewear, and Sophie lined up to issue a statement announcing the termination of advertising cooperation with station B.
It's hard to say that the mass boycotts initiated by users are rational and without moral blemish, but the backlash against "gender issues" is enough to wake up platforms and brands.
Going back to the case at the beginning,What the brand did not think clearly is that in a highly competitive society, no woman can easily "lie down and win" in order to win respect. Staring at women with stale eyes will only lose them in the end.
Under the stimulus of traffic logic, many brand marketing are chasing "out of the box" and "out of the circle". After all, the audience's attention is limited, but this kind of thinking is easy to go wrong.The most important thing for brands to avoid the risks brought by gender issues in marketing is the old saying: be more sincere and less routine.
.