As soon as the Galaxy Note 10 duo and Note 10+ are officially released, we can easily see them in most media.
However, a series of users recently complained about being "spammed" about the Galaxy Note 10 series too much in the past few days.
Specifically, according to the shared information from the Androidpolice site, some users went to Twitter to complain that there are at least 3 pre-installed applications showing ads about Galaxy Note 10, including Samsung Pay, Bixby and Samsung Push service.
In it, Bixby wants you to ask about Note 10, Samsung Pay will add points when you see the product page of the phone and Samsung Push Service displays an advertisement banner for Note 10. Affected phones include Galaxy S10e , Note 9 and many other Galaxy devices.
Got this on my Note9. Not sure if it's because my Note9 thinks it's a Note10 or if it's an ad. pic.twitter.com/CeD2KfmidE

– Max Weinbach (@mweinbachXDA) August 9, 2019
Check this out. Did you know the 10 Note is at AT&T? Verizon? T-Mobile? pic.twitter.com/36GhYGA4Zn

– Jeff Springer (@ jspring86az) August 10, 2019
@SamsungMobile uh … Not really, but nice try. (forgot to disable Bixby ?) pic.twitter.com/mFdwUuqQDR

– GravX (@GravXReviews) August 9, 2019
What the heck is this trash?

And why cant you turn them off except by going into the Bixby settings? Sao này không có một này đã chọn Bixby đã thoát trong các phone này. pic.twitter.com/ChgvQUBmQB

– 14,23, b, i, g (@ 1423big) August 9, 2019
In addition, what makes users feel annoyed is that Samsung is making it more difficult to turn off ads and suggestions in Bixby than ever before, forcing users to go straight inside Bixby settings. To do this, we need to open Bixby, click on the menu icon on the right corner to go to Settings> Marketing Notice.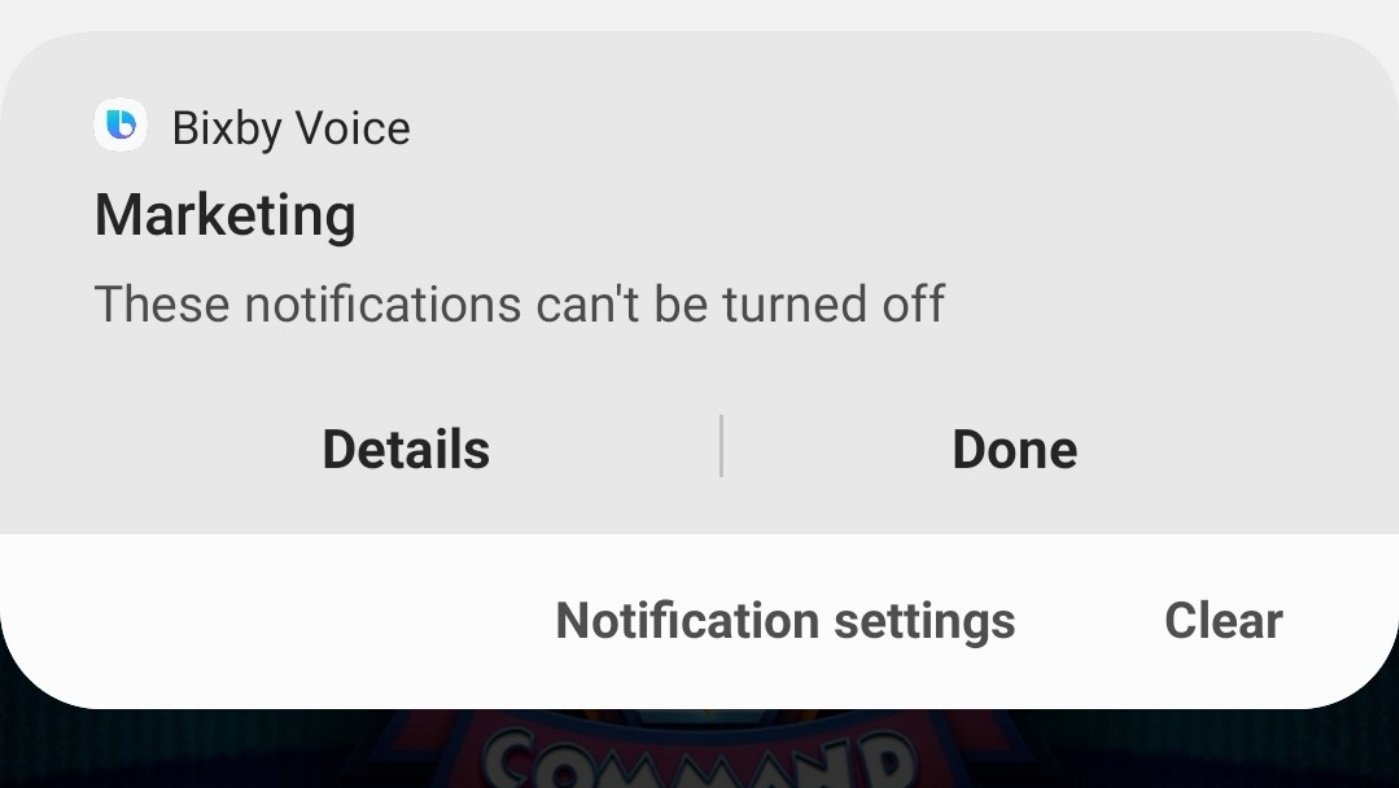 Actually, this is not the first time Samsung has sent ads to its Galaxy users. Previously, this Korean manufacturer had sent ads to users about the Galaxy S6 + Edge in 2015, "pre-installed game optimization service" was used to advertise the game. 2017 and Galaxy S9 ads appeared last year. And this received a lot of mixed opinions from the community about Samsung's "annoying" marketing campaign.
---
Currently, CellphoneS has officially opened the program "Put bricks" super cool Galaxy Note 10+ with a gift worth a total of up to more than 6 million. Brick laying program lasts from August 1 to August 14.
Gifts for customers who place tiles Galaxy Note 10+ including:
For further advice about the entire Galaxy Note "brick laying" program as well as receiving the best price in the market, customers can call the switchboard (free of charge). 1800.2097.
ORDER GALAXY NOTE BRICK 10/10 +
---
_ Join the group Discuss CellphoneS technology: Here
_ Like / follow fanpage Sforum.vn: FB.com/SforumTech


NTT