With the initial capital equal to the price of a midsize scooter, but the owner can drive a truck in the city at any time frame so that he can make millions of money per day.
The Covid epidemic is in danger of an outbreak, many industries are severely affected. However, the transportation of passengers and goods tends to grow, even increase because of the demand for delivery, transfer, change, place of residence,….
Achievements thanks to "know how to calculate"
"In fact, the truck market has many models and varieties, especially Chinese cars that are identical to Japanese cars, which are much cheaper. But with long-term driving experience, accepting to buy a Suzuki Carry with a higher price, in return this is a Japanese brand, genuine distribution, especially the floor of the vehicle's body made of galvanized steel sheet, anti-rust and eat. worn, highly durable, so just cleaning is like new, and this is the right decision when choosing this model "- A Super Carry Pro owner said
According to the share, the owner said that, compared to other cars in the same segment, the Suzuki Carry has a stable fuel consumption. If you calculate the car quickly, it only costs about 150,000 VND for about 100km in the condition of fully loaded operation, running on many different roads and gas price is about 19 thousand / liter. On average, such a trip brings in about 1.2 million VND, except for all expenses, the profit is about 1 million VND, and can recover capital in about 1 year.
According to Suzuki, the Super Carry Pro light truck is highly durable, rarely fails, and low maintenance costs in the first 5 years. Besides, thanks to the Japanese brand value, Suzuki Carry also has many advantages over other cars with the same model, especially the liquidity is also better.
Light quality, many benefits
With compact size, flexibility, and small turning radius, the Super Carry models are suitable for urban transportation, especially narrow roads in mountainous areas where the need to transport every day is increasing. With the Blind Van line equipped with 2-sided sliding doors convenient for loading and unloading goods and circulating 24/7 in the inner city, suitable for goods that need to be transported quickly such as stationery, parcels, food , …. The Blind Van line, suitable for transport operators with flexible transport capabilities. Thanks to the sturdy trunk and spacious cabin, the Carry Trucks are used to transport goods from agricultural products to bulky goods.
Super Carry Pro, on the other hand, has the ability to carry a variety of local areas, from plain to seaports, especially seafood thanks to the tank floor made of galvanized steel, primed and sealed under the vehicle. In addition, the height from the ground to the floor of the vehicle is reasonable (only 750mm), making loading and unloading goods easier.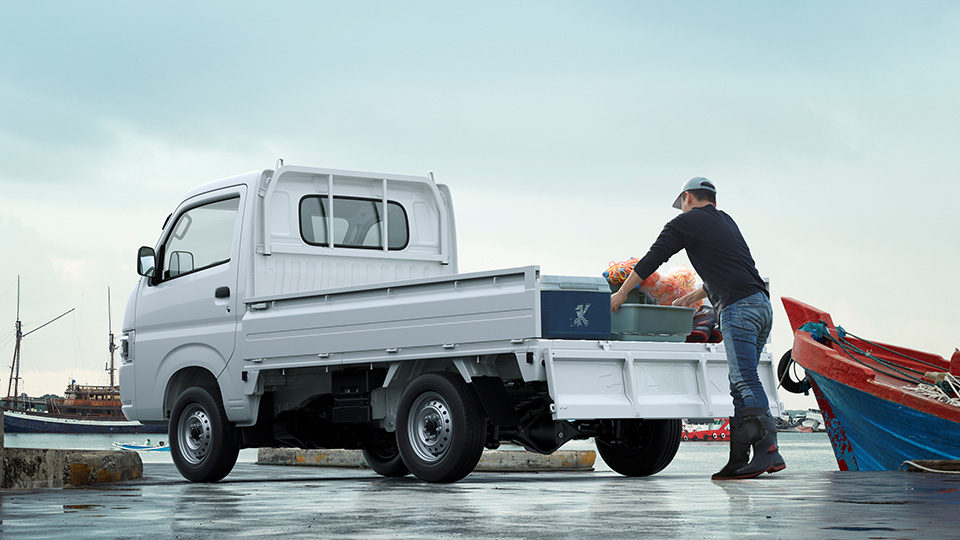 In addition to making it easier for users to access, in May, Suzuki has a support package when you only need to pay in advance from 47.3 to 62.4, you can own the Suzuki Carry light truck depending on the version with a new installment of about 3.1. to 3.8 million VND per month. This can be considered as the best support for starting a light truck start-up without having to worry about traffic time in the city.
Not only Suzuki light trucks are supported, but other models such as Ertiga, XL7, and Ciaz all offer monthly installments and prepayments, which support registration costs or bank interest.
.