5G phones are slowly becoming a common trend for the smartphone market this year. While users are wondering between Apple's 5G phones, Samsung or OPPO, … manufacturers are also very considerate when not knowing which chip to use for their device. So with me to find out, the top processors for 5G phones are the names that manufacturers have such headaches.
Note: The article is referenced and translated from the Gizchina technology site.
See also: Compare Snapdragon 870 5G Vs. Dimensity 1200: What will be the best flagship killer * chipset right now?
1. Samsung Exynos 1080 is not the most high-end but may be the most popular
Released in early December of last year (2020), the Exynos 1080 is the first chip to feature Samsung's new CPU architecture (1 + 3 + 4) and is manufactured on a 5 nm EUV process. With this new architecture, the chip will include: 1 Cortex-A78 core clocked at 2.8GHz, 3 Cortex-A78 2.6GHz cores and 4 Cortex-A55 2GHz cores. Thanks to that, I evaluate Exynos 1080 will help bring seamless multi-tasking experience as well as optimize and save energy.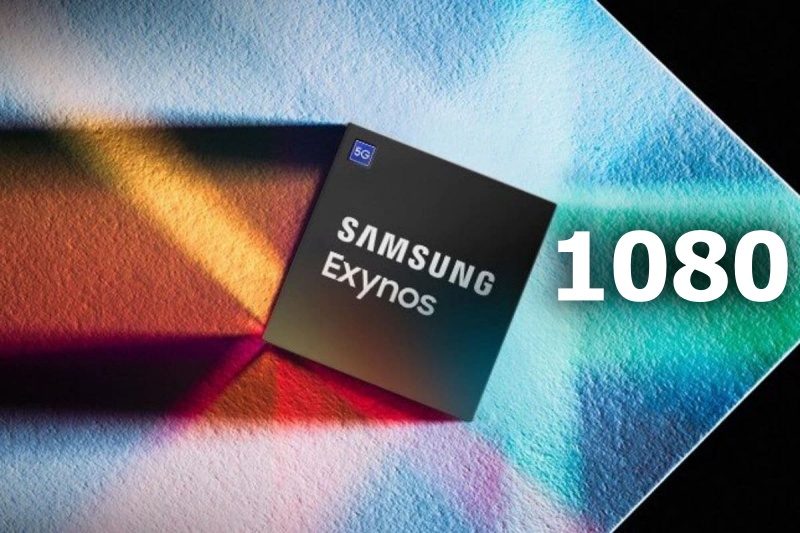 With Samsung's homegrown chip, I believe photography will be greatly improved. And it is true! The Exynos 1080 will support cameras with up to 200 MP sensors and will manage up to 6 cameras. At the same time, the chip of the Korean technology company also supports taking photos with 10-bit color gamut and video editing according to HDR10 + standard.
In terms of graphics power, the Exynos 1080 is equipped with a Mali-G78 graphics core. This is promised to deliver better overall performance compared to previous generations. In addition, Samsung also offers a high-performance game experience through the Amigo algorithm.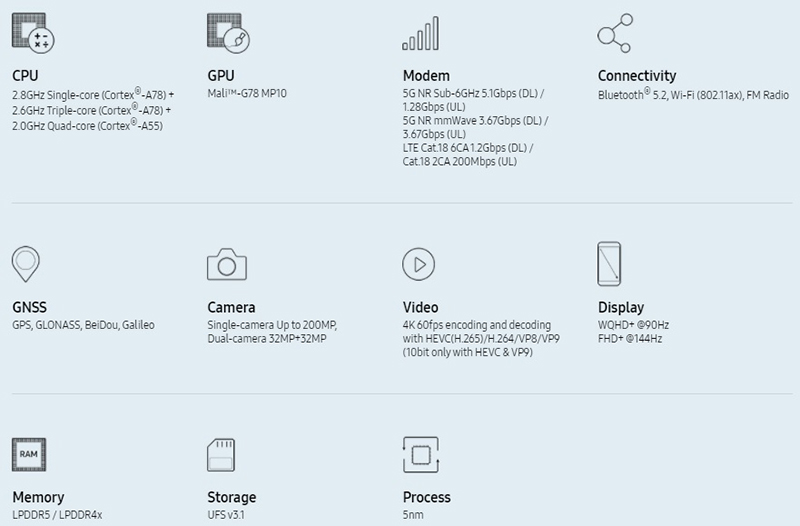 So far, the Vivo X60 Series is the first phone equipped with Exynos 1080. And I think, with the great advantages mentioned above, the Exynos 1080 will become the first choice for flagship killer 2021. Do you think the same way?
2. Samsung Exynos 2100 is the "top of the top" from Korean technology company
There is no doubt that the Exynos 2100 is the leading chip of the Korean technology company. Similar to the Exynos 1080, the new Samsung chip is manufactured using the 5 nm EUV process. As a result, this chip can save 20% power and 10% overall performance compared to the previous 7 nm chip.
The Exynos 2100 retains the same 1 + 3 + 4 structure as the 'predecessor', but the 'composition' is slightly different. Specifically, the Exynos 2100 will include 1 ARM Cortex-X1 super-core clocked at 2.9 GHz, three Cortex-A78 cores and four Cortex-A55 cores. The company also said that the Exynos 2100 will have 30% superior performance compared to the Exynos 990 found on the Galaxy S20 and Galaxy Note 20 Ultra series.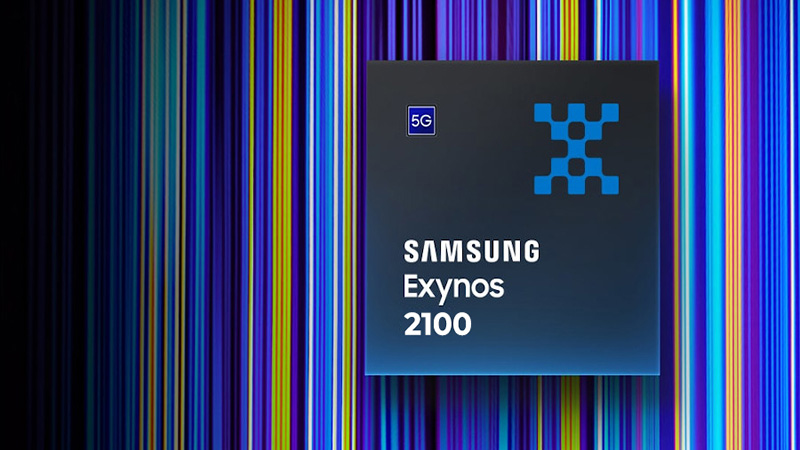 In terms of graphics processing power, the most powerful chip in the Samsung family will be equipped with ARM Mali-G78 GPU. With this upgrade, the chip is promised to improve the best graphics performance ever. Besides, Exynos 2100 also supports camera with 200 MP resolution.
So far, the Exynos 2100 has been found on the Galaxy S21 series of phones. However, I predict this chip will also be used on many high-end smartphone generations of Samsung in the future. And who knows, a smartphone with a 200 MP camera is rumored to use the Exynos 2100.
3. Qualcomm Snapdragon 888 possesses formidable power that cannot be ignored
The Snapdragon 888 is the 'on top' processor of Qualcomm's 8 series manufactured on a 5 nm process. In addition, the chip is also integrated with the latest generation 5G modem, Snapdragon X60. With this modem, the Snapdragon 888 will support both mmWave, Sub-6 GHz bands, and a standalone network – not independent.
In terms of architecture, the Snapdragon 888 is structured with 1 Cortex-X1 core clocked at 2.84 GHz, three Cortex-A78 2.4 GHz cores and four Cortex-A55 1.8 GHz cores. Besides, the Adreno 660 GPU will provide the graphics power to the chip.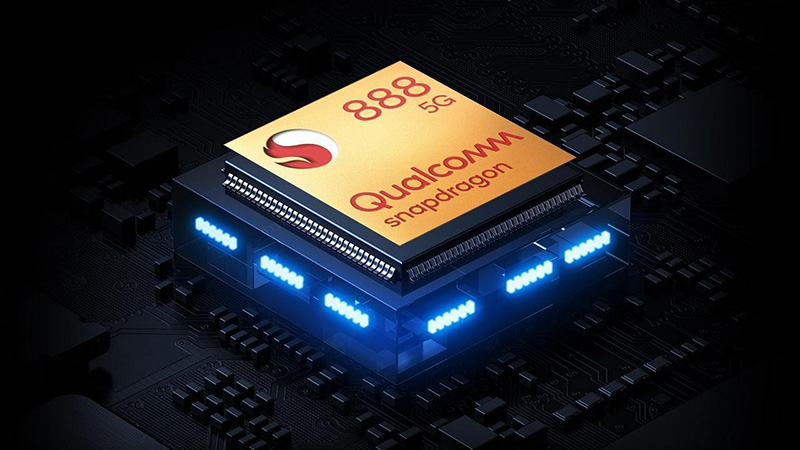 Qualcomm's most powerful chip is also equipped with 6th-generation AI capabilities. The system includes a Qualcomm Hexagon processor capable of 26 trillion operations per second. In addition, for gaming compatibility, the chip is also equipped with the third-generation Snapdragon Elite Gaming feature. These accompanying technologies will help the machine to handle the tasks well.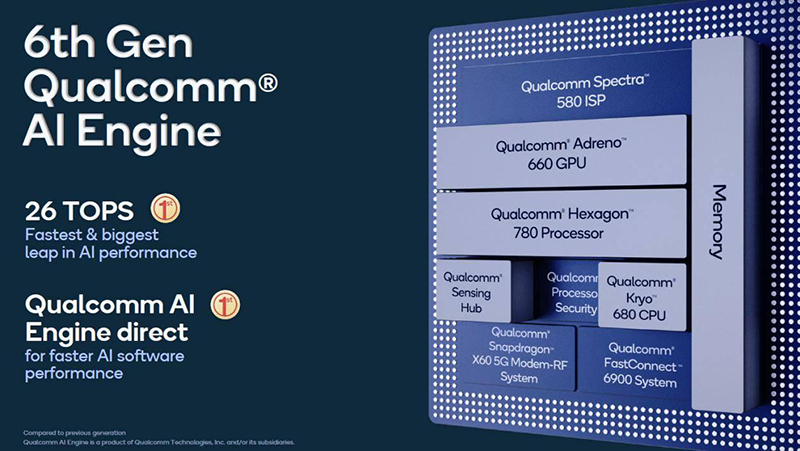 In terms of camera and image processing capabilities, the Snapdragon 888 features Spectra ISP technology. This technology will provide more optimal pixel processing speed. Finally, Qualcomm's flagship processors will also come with the latest generation of AI Engine. The processor offers significant improvements in artificial intelligence performance over its predecessor. After the launch, the top 8 series processor-equipped phones will include Xiaomi Mi 11, Samsung Galaxy S21 series (in select markets), Vivo X60 Pro Plus and iQOO 7.
4. MediaTek Dimensity 1200 put MediaTek back in the chip race
Correct! Dimensity 1200 is the most powerful chip of MediaTek up to now. In addition to being manufactured on TSMC's 6-nm process, the new chip will feature 1 Cortex-A78 core clocked at 3GHz, 3 Cortex-A78 2.6GHz cores and 4 Cortex-A55 cores. As a result, the performance of Dimensity 1200 has been increased by 22% compared to previous generations.
Besides, the machines equipped with Dimensity 1200 will have the boot speed and application loading speed will be significantly improved. Sounds attractive, doesn't it? But that's not all, thanks to the on-chip UltraSave technology, the phone is optimized and energy efficient.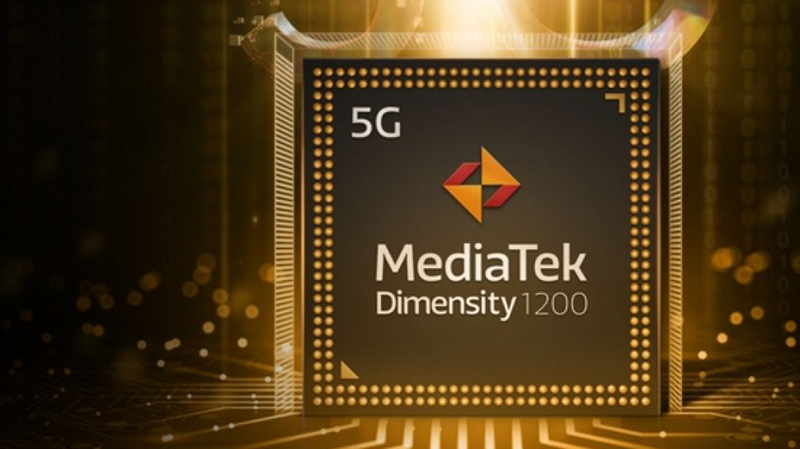 In terms of imaging capabilities, Dimensity 1200 is also provided with an intelligent image processing system with AI processor. Gaming is also optimized on four aspects including networking, picture quality, control and intelligent loading.
With the above significant upgrades of Dimensity, I would expect phone products equipped with this chipset. And I predict, the super products of Realme and Redmi this year will 'favor' using Dimensity 1200 as the processor.
5. MediaTek Dimensity 1100 is not inferior to you?
In addition to Dimensity 1200, a semiconductor chip maker from Taiwan also released Dimensity 1100. This processor is also manufactured on TSMC's 6 nm process. The CPU architecture consists of four Cortex-A78 cores clocked at 2.6 GHz and four Cortex-A55 cores clocked at 2 GHz. Dimensity 1100 will own G77 GPU and UFS 3.1 internal memory. The new chip is also integrated a 5G modem with the same technology as Dimensity 1200.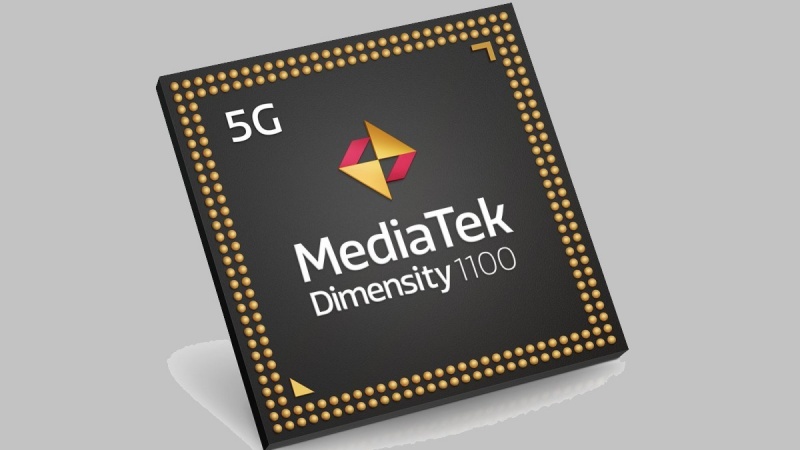 In terms of camera capabilities, the Dimensity 1100 supports cameras up to 108MP with APU 3.0 technology. Smartphones equipped with this processor will support technologies such as dedicated AI. Just hearing, I have been looking forward to experiencing the promising shooting capabilities soon on a phone using this chipset.
In addition, Dimensity 1100 also supports screen speed with 144Hz refresh rate, more than enough to 'balance' all kinds of entertainment smoothly for users. MediaTek HyperEngine 3.0 technology will contribute to improving the display quality for phones equipped with the above chipset.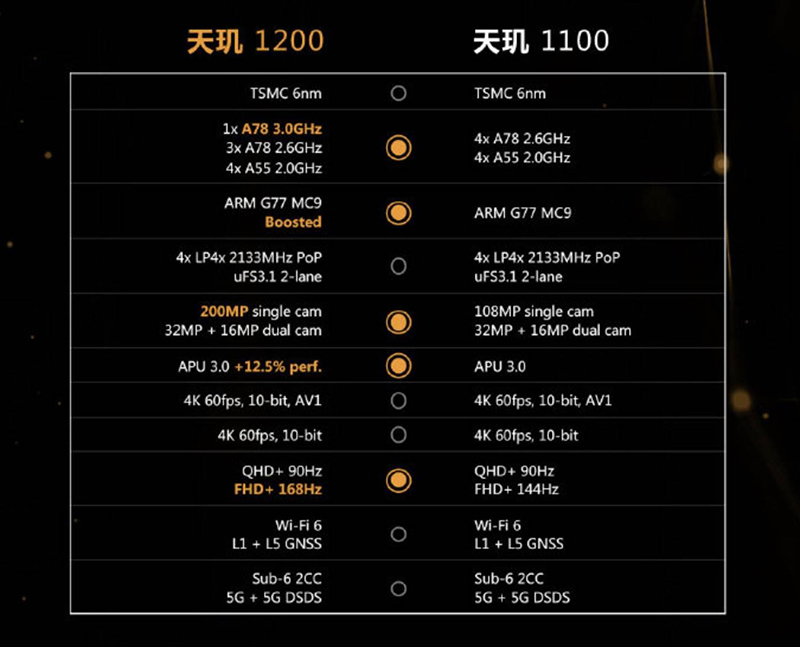 Similar to the man, Dimensity 1100 has not been equipped on any smartphone yet. So let's wait to see, but which smartphone in 2021 will choose the chip from MediaTek as the processor!
6. Qualcomm Snapdragon 870 has an incredible clock speed
Although the Snapdragon 870 is the latest high-end chip that Qualcomm has introduced this year, it is a pity that the processor is still only produced on a 7nm process. At the same time, the new chip is only getting an improved clock speed and basically this can be considered as Snapdragon 865 ++.
Obviously, with a clock speed of 3.1 GHz, Snapdragon 865+ was very respectable in the chip world, but I was surprised when it introduced the Snapdragon 870 clocked up to 3.2 GHz. This number still holds a unique position in terms of clock speed up to now.
In addition, the chip is also equipped with the core ARM Cortex-A77 architecture, refined from Snapdragon 865. As for the graphics, Qualcomm continues to put its trust in the Adreno 650. With these things I expect the Snapdragon 870 to have can operate strongly but will still maintain the same stability as the Snapdragon 865+ has done before.
Currently, there is no phone model equipped with Snapdragon 870. However, this year, it is difficult for phone manufacturers to ignore a chip with such a 'hegemony' clock. I predict, after confirming the use of Motorola's Snapdragon 870 for the Moto Edge S, it is likely that OPPO will be the next company to use this chip for its flagships.
summary
Above is a summary of the hottest chips at the moment. It's quite interesting that Samsung, Qualcomm and MediaTek all own two names on this list.
If equipped with any of the aforementioned chips, I am sure that phone will be highly anticipated and sought after. Personally, I really like the chips from Samsung. And you, if you are a phone manufacturer, which chip would you choose from above?
See also: What is Snapdragon 870 5G? Is performance equal to the Snapdragon 888 and will be the top choice on the flagship killer 2021?
Edited by Vu Truong An
Not satisfied with the article
397 views
Related posts
Vivo iQOO Neo5 uses Snapdragon 870 chip leaked at the time of launch, is it reasonable for the price to fluctuate in this range?


2




1 day ago

The new Xiaomi Mi 10 uses Snapdragon 870 chip revealed before the launch date, the rear camera cluster looks like Mi 11 and Redmi K40 series


1




6 days ago

iQOO Neo5 reveals actual photo: The front is similar to iQOO 7, the configuration is not the same as the Snapdragon 870 chip


08/02

Creating a flagship killer is the key to success for the big guys! LG or HTC, take a look at Motorola Edge S


2




08/02

iQOO Neo5 revealed the time of launch, the processor and fast charger only lost a little bit less than iQOO 7, how much price do you guess?


07/02

There is a new Vivo smartphone using Snapdragon 870 chip, hoping to sell as good as Motorola Edge S


06/02
.