Many scientific studies show that light is directly related to human health, emotions and how to operate the circadian clock. The physiological response of the body responds to the characteristics of light such as color, intensity and duration of illumination. Light is of such importance, but in modern life, people spend more than 80% of their time indoors where artificial light from lights is predominant. Therefore, Homa Techs has launched a unique line of LoneStar switches.
The Lonestar switch is compatible with most lamps on the market, supporting lighting of any space by adjusting brightness, changing color temperature or RGB colors. Besides, LoneStar switches are easy to install, overcome the biggest obstacle of construction infrastructure in Southeast Asian countries is that it is difficult to find cold wires available at the light switch position on the wall. This is not only difficult for the solution builders but also the main reason why customers are afraid to decide to upgrade their houses to smart because no one wants their house to be chiseled to find. cold wire. In addition, for houses that are about to be built, it may be easier to pull more cold wires but it will contribute to increase the cost of the project.
LoneStar switch has 4 main product lines, suitable for many customers.
1 / Line switch on / off intelligent: It is possible to turn all normal mechanical switches into smart, reuse the existing switch face without replacing them, compatible with square or rectangular sound substrates. The solution is suitable for projects that want to upgrade to smart but still retain the original design.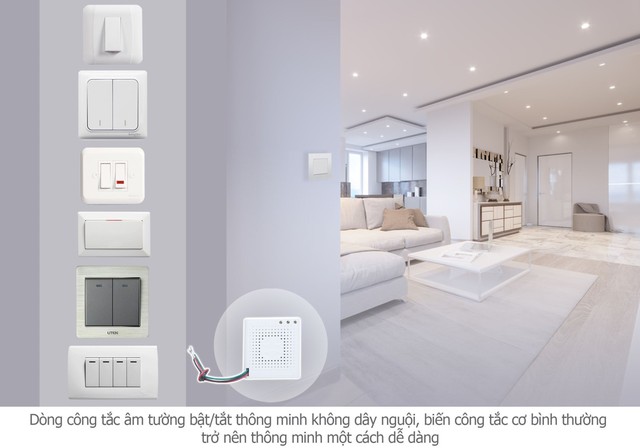 2 / Smart switch on / off switch: easily replaces the available indoor switch position without chiseling. With sophisticated design, black and white, suitable for many types of architecture, adds a modern and luxurious look to smart spaces.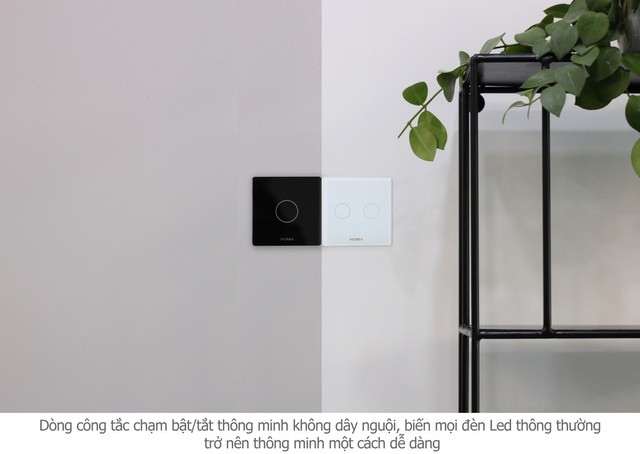 3 / Line intelligent two position switch: turn on and off the lights in 2 different places without the need for cold wires in the installation. Suitable for spaces that need to turn on the light in one place and turn the light off in another.
4 / Product line of Smart Switch (WheelTouch) Exclusive Homa, offers the ability to adjust the brightness, color temperature settings and RGB color changes for LEDs with wall switches. As the name "touch-rotate", just touch and rotate until you see the appropriate light effect appears. The touch-rotate line is divided into 3 main products, for 3 different types of LED lights:
The Dimmer switch allows controlling the brightness of any conventional LED light, helping you to get the right light intensity as well as good health while helping to save energy.
Dual White switches adjust the color temperature of the lights. Indoor lighting can now be flexibly changed from warm colors to cool or neutral colors thanks to this switch. Revealing, the yellow color will help the family meal space become more cozy so do not forget to fit them around the dining area.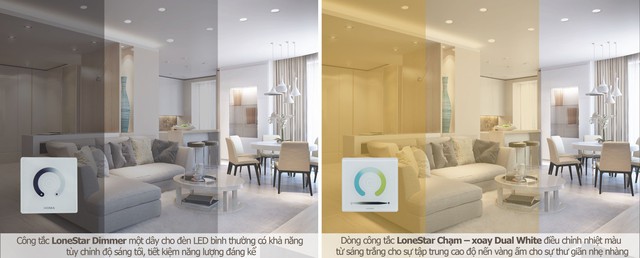 RGB switch Change color control for RGB LEDs. Users are free to mix lights to create their own entertainment space filled with colors.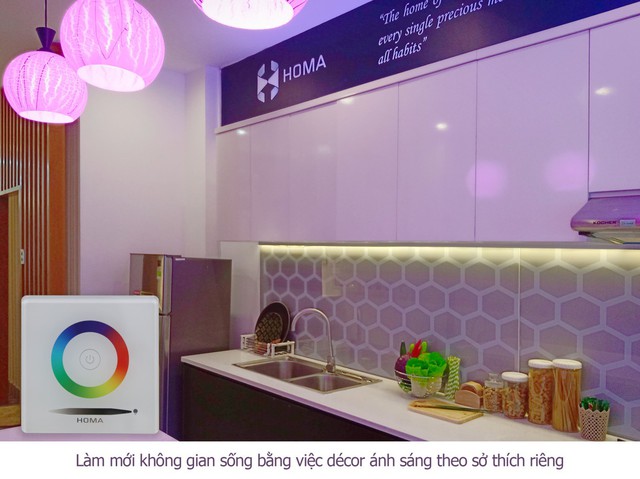 What's really impressive is that these Swivel-Touch switches have a hardware interface similar to Homa's Control App that makes it easier for users to feel familiar and use.
In addition, these switches have the ability to measure the energy consumption of the lights, making it easier to track monthly electricity costs. Not only that, when the light is broken, the switch will notify you (via Homa App) for timely repair.
With a cool wireless solution and luxurious design, LoneStar series of switches respect the aesthetics of the building whether new or finished. Installing Lonestar does not cost too much time, cost savings thanks to fast construction and no chiseling. This new product line demonstrates Homa's thorough criteria for creating a sophisticated space for a healthy, comfortable but cost-effective life.
For further information, please contact us:
Homa Vietnam – 3rd Floor, Mekong Building, 235 Cong Hoa, Ward 13, Tan Binh, Ho Chi Minh City
Website: www.homatechs.vn
Fanpage: www.facebook.com/homavietnam